Inner Mongolia Travel Tips & FAQs
Inner Mongolia is a vast and more natural travel destination popular among visitors to explore every year. So, what do you need to pay attention to before and during your Inner Mongolia discovery? Such as the weather condition, packing list, etc. Here we have the top useful Inner Mongolia travel tips and suggestions to help you know everything clearly before your Inner Mongolia trip in 2023!
1. Inner Mongolia & Mongolia, What's the Difference?
Outer Mongolia or Mongolia is an inland country embraced by China and Russia, the capital of which is Ulaanbaatar. While, Inner Mongolia is an autonomous prefecture in the northern territory of the People's Republic of China. Inner Mongolia and Outer Mongolia once both belonged to the ancient China and later were established as the Mongol Empire in 13th century by Genghis Khan. In 1911, Outer Mongolia declared independence to be the Mongolia as a country nowadays while Inner Mongolia continued to be a part of China. Both Inner Mongolia and Mongolia offer emerald lush grassland, wild desert, rich culture about Genghis Khan and the Mongolia Empire, nomadic life culture, and more for travelers' discovery.
More about Inner Mongolia and Outer Mongolia Map | Mongolia and China Map
2. When to Visit Inner Mongolia
Inner Mongolia spanning from the east to west part of China is really large and has different climate features. But usually summer, autumn and winter are suitable to visit those top popular destinations. Generally, grassland and wetland are recommended to go from June to September or October. Gobi deserts are great all around the year except spring. Forests and cities are suitable to visit almost all around the year.
• Summer (June ~ August): Hohhot, Baotou, Ordos, Hulunbuir (Manzhouli), Arxan, Ulanqab, Xilingol, Chifeng, Badain Jaran Desert, Kubuqi Desert, Bayannur, etc.
• Autumn (September ~ October): Hohhot, Baotou, Ordos, Hulunbuir (Manzhouli), Arxan, Ulanqab, Xilingol, Chifeng, Badain Jaran Desert, Ejina Banner, Kubuqi Desert, etc.
• Winter (November ~ March): Hulunbuir (Manzhouli), Arxan, Ulanqab, Chifeng, etc.
• Spring (April ~ May): Hulunbuir, Bayannur, etc.
More about Inner Mongolia Weather & Best Time to Go for Each Destination
3. What to Wear & Pack to Visit Inner Mongolia
The four seasons in Inner Mongolia has totally distinct weather conditions and temperature, so you need to wear and prepare the suitable seasonal clothing for cool and warm.
• Summer: Summer clothes like trousers, shorts, T-shirts, skirts, comfortable hiking / walking shoes, hats, etc. Long-sleeves and long pants are the best for grasslands, deserts or mountainous areas. Take a thin overcoat or sweater for the cool and even cold night and early morning. 
• Autumn & Spring: Long-sleeves, sweaters, coats, wind-proof overcoats, trousers, comfortable hiking / walking shoes, hats, scarves, etc. Thick clothes and thermal clothes in late October and April.
• Winter: Winter clothes like sweaters, down jackets, thermal clothes, trousers, wool socks, comfortable hiking / walking shoes, boots, wool hats, scarves, etc.
• Packing list: passport and other vital travel documents, seasonal clothes, moisturizer, sunblock, mosquito repellent (summer and early autumn), sand-proof masks (for desert visiting), umbrella, mobile phone with SIM Card of China, camera, chargers, a small and light bag, hot water bottle, tissues, etc.
4. What's the Accommodation in Inner Mongolia
Staying in Inner Mongolia can be called a kind of new experience.
• Urban Starred Hotels: There are abundant luxury starred hotels including some international brand chains in Hohhot, Baotou, Ordos, Hulunbuir, etc. Generally, hotels and hostels in city areas cannot match with those in large cities in Beijing and Shanghai, but majority of them offers good and basic equipment for your comfortable accommodation.
• Mongolian Yurts: Apart from that, the featured ethnic Mongolian yurts on grasslands and deserts makes your trip great. And you still have many kinds to select based on your interests and the levels of the yurts. However, you need to know that some local yurts accommodation named with luxury or similar words in Chinese in fact cannot compare with those international luxury yurts for vacation. But those better yurts still provide much more advanced facilities and services than the common ones, more suggested for international visitors. In the better leveled yurts, there are usually equipped with a double bed, private bathroom with shower and closestool, air-conditioner, etc. and good decoration. But some common ones may not convenient for showing.
• Russian Flavored Houses: Furthermore, there are Russian flavored Mukeden wooden houses, Cuoluozi houses in Hulunbuir region for your fresh try.
• Desert hotels, Resorts & Camping: Desert areas like Kubuqi, Badain Jaran, etc. offer different hotels, resorts and camping experience. But common hotels are relatively basic due to local environment protection and resource shortage.
Please notice that July to August is the peak season for Hohhot, Hulunbuir, Ordos, Xilingol in east and middle Inner Mongolia, late September to early October for Ejina, when hotel rates rise a lot. Therefore, it is highly recommended book your accommodation in advance. And lots of accommodation at the tourist area and Mongolian yurts are usually closed during November to the next April.
More details about Accommodation in Inner Mongolia & Where to Stay in Each Destination
5. What to Eat in Inner Mongolia
Food in Inner Mongolia is special but favored by international travelers. The diverse kinds of meat cuisines let you have a great feast, such as the roast lamb, mutton, stewed beefsteak, beef bone soap, etc. Easy to make your mouth watering. Besides, the fresh milk, goat's milk, mare's milk, Mongolian milk tea, cheese, etc. are nice to taste the nomadic flavor. Also, stir fried rice, Russian bread, Russian cuisines and so forth make Inner Mongolia a nice place of delicious food during your trip. Of course, some western restaurants can be available in the downtown of some cities.
6.Useful Travel Tips for Deserts in Inner Mongolia
1. Packing list:
• Clothing: outdoor windproof, sandproof, and quick-drying clothes, sunglasses (goggles), sunhat, sunscreen, headscarves, masks, etc. and remember to cover your neck. In the morning and evening, wear a light warm coat, or down jacket and take off at noon.
• Shoes: high-top climbing shoes or desert boots, a sandproof shoe cover.
• Water: carry as much as you can, and you can take two water bottles to fill them with water.
• Supplement: electrolyte tablets, energy drinks, energy bars, raisins, snacks.
• Other Items: walking stick, sleeping bags; medicine, toiletries, mosquito repellents, mobile power, camera, and sandproof covers, etc.
2. Avoid staying too long outside in the noon and early afternoon, especially in summer, due to the high temperature in the desert.
3. Camping in the desert is a cool and wonderful experience to get close to nature and enjoy the beautiful starry sky. But it is better to choose a camping site under the help of a local experienced guide for safety.
......
More about Travel Tips in Deserts in China
7. Bring Some Cash when Visiting Inner Mongolia
You can use credit card or mobile payment in Inner Mongolia, but only mainly in the city and larger counties and towns. When you get to some remote villages and areas with week cell phone signal or less coverage of the modern payment such like some desert places, cash - the Chinese RMB is the only way to pay.
8. Local Customs & Travel Taboos in Inner Mongolia
1. If a local herdsman offer milk tea to you for welcome, take it with both your hands to respect when you visit their home.
2. When meet some local livestock on the road, wait them to go and do not pass with a honk in case of frightening them.
3. When meet herds and flocks on the grassland, make a detour and do not pass through their group, which is thought as not respectful to the livestock hosts.
4. Enter the Mongol yurts from the left of the stove and sit on the west and north sides.
5. When the hosts offer hada to you, stand up facing them and bend a little to let him hang the hada on your hecks.
6. Do not clear your hands in the rivers.
......
9. What to Buy in Inner Mongolia
You can buy some local special food like beef jerky, kumiss (horse milk wine), Mongolian yogurt, Mongolian toffee, blueberry, etc. Besides, there are some interesting souvenirs about Genghis Khan, snuff bottles, saddles, etc. for you to play in your glass-front billboard!
Where to buy: local souvenir shops, Mengliang Ethnic Folk Park, etc.
How to Plan Your Inner Mongolia Tour?
Places to Visit in Inner Mongolia: Hohhot, Hulunbuir, Ordos, Baotou, Ulanqab, Badan Jaran, Ejina, Xilingol, Chifeng…
How to Get to Inner Mongolia: International and domestic flights to Hohhot, Hulunbuir…; Domestic flights to Xilingol, Chifeng…;High Speed Train to Hohhot, Ulanqab, Baotou, Ordos, Chifeng…; Drive to Badan Jaran, Ejina…
Best Time to Visit: April to October (especially from June to September for grasslands, June to October for deserts)
Inner Mongolia is so large and abundant with diverse distinct natural and cultural highlights, therefore, you can hardly discover all the bests in one single visit. It would take 3 days to more than 1 month for various needs. And your itinerary can be decided based on your trip length, interests and a major area of this vast destination.
Classic Inner Mongolia Tours - Middle Part (Hohhot, Baotou, Ordos...)
A classic Inner Mongolia tour usually starts from Hohhot, the capital of Inner Mongolia and most convenient traffic hub. Planning 3 days is popular for an essential discovery of Hohhot city highlights with surrounding grassland like Huitengxile or Xilamuren. 1-2 days extension to Kubuqi Desert in Ordos is also frequently chosen. And a 5-6 days trip including Hohhot, nearby grassland, Ulanqab volcanoes, Baotou and Ordos are the favorite one among travelers to discover grassland, desert, historical culture of Genghis Khan, Tibetan Buddhism, etc. in Inner Mongolia.
☛ 5 Days Classic Inner Mongolia Tour
☛ 6 Days Inner Mongolia Bests Discovery Tour (Hohhot / Ulanqab / Huitengxile Grassland / Baotou / Kubuqi Desert / Ordos)
Authentic Grassland, Wetland & Forest Park - East Part (Hulunbuir, Arxan...)
If you are interested in the most beautiful grassland, arrange 4-5 days to Hulunbuir to catch Hulunbuir Grassland and all the fabulous primitive nature and in-depth nomadic tribe culture highlights in Hailar, Ergun, Genhe and Manzhouli. If you have more time, add 2 more days to Arxan National Forest Park.
A middle and east Inner Mongolia discovery to Hohhot, Baotou, Ordos and Hulunbuir usually takes about 6-8 days, which helps you savor the top representative prairie sightseeing and culture of Inner Mongolia.
☛ 5 Days Best Hulunbuir Tour with Grassland Exploration
☛ 9 Days Hulunbuir In-depth Tour with Arxan UNESCO Global Geopark
Wild Desert & Golden Populus Forest - West Part (Badain Jaran, Ejina...)
The west Inner Mongolia is favored for seeking wilder sightseeing and adventure. If you want to discover China's most beautiful desert, a 2-4 days Badain Jaran Desert trip to the west Inner Mongolia is your best choice to go! Besides, the splendid Ejina Populus Euphratica Forest is quite hot for a 2-3 days' photography tour in autumn. If you want a longer vacation, plan as many other visitors to discover Badain Jaran together with nearby hot and convenient destinations like Xining, Zhangye, Dunhuang, Jiayuguan, etc. It usually needs 7 days for a Xining Zhangye Badain Jaran Desert trip.
☛ 5 Days Zhangye Danxia Badain Jaran Desert Geography Miracle Tour
☛ 7 Days Qinghai Lake Zhangye Danxia Badain Jaran Desert Wonders Tour
☛ 4 Days Ejina Populus Euphratica Forest Photography Tour
If you are seeking more authentic sightseeing and deeper Inner Mongolia culture and history highlights, it is also popular to discover Chifeng and Xilingol for 4-5 days.
Besides, it is also a great idea to extend to more popular destinations in China to appreciate more wonderful nature, culture, history and food of this vast country, such as Beijing, Shanghai, Xian, Chengdu, Xinjiang, Gansu, Tibet, Yangtze River, Yunnan, Guilin, Zhangjiajie, Huangshan, etc.
Huitengxile Grassland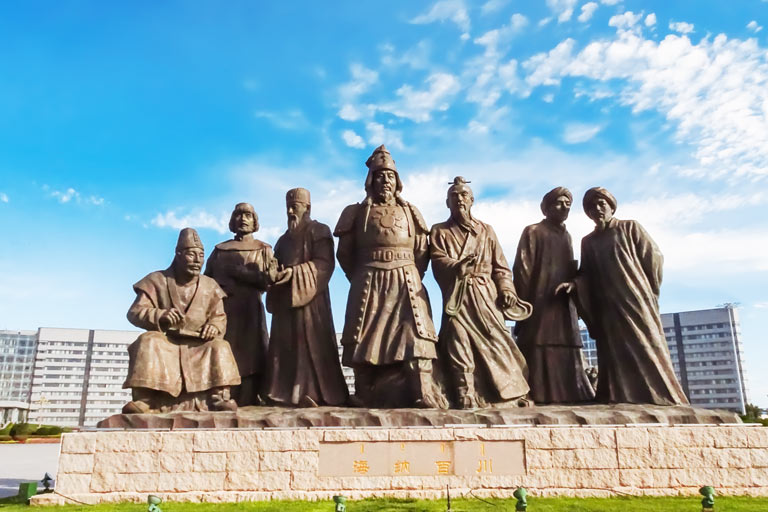 Genghis Khan Statue in Ordos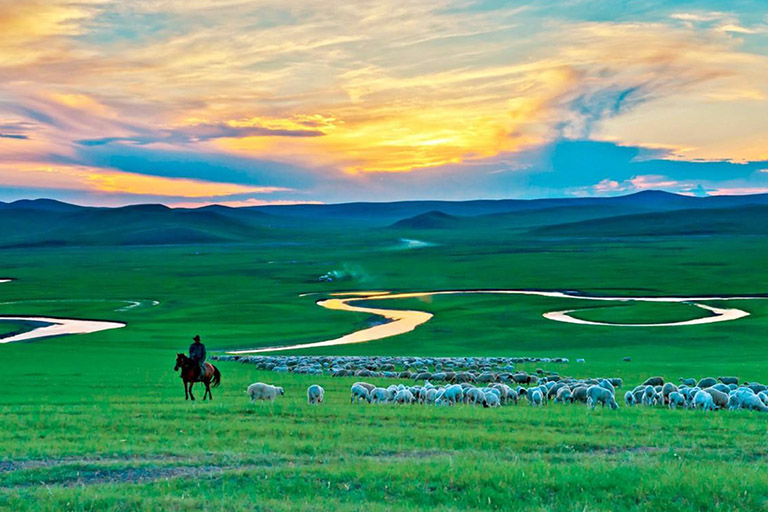 Hulunbuir Grassland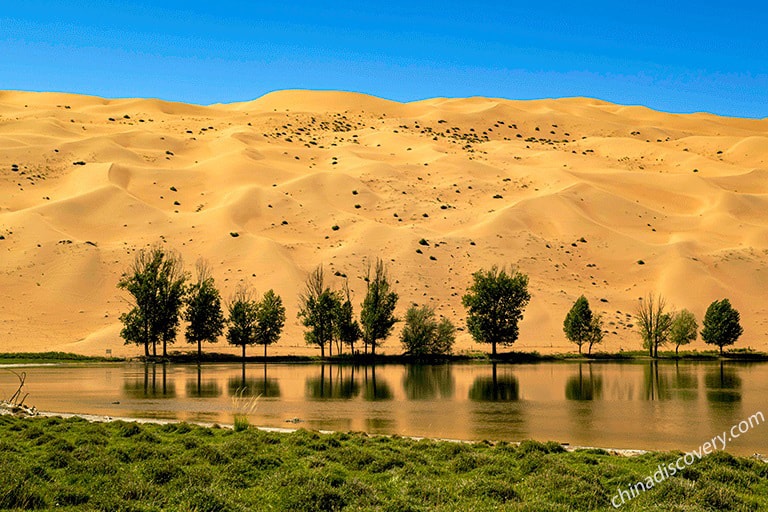 Badain Jaran Desert
Travel Inner Mongolia with China Discovery
Have your own ideas of where and what to discover in Inner Mongolia? We China Discovery offers many popular and valuable private Inner Mongolia tour packages taking you to enjoy wonderful exploration of the best highlights of Hohhot, Hulunbuir, Ordos, Baotou, Ulanqab, Badain Jaran, Ejina, Chifeng, Xilingol, etc. And our professional travel team with experienced travel expert, local English-speaking travel guide and driver and non-smoking comfortable licensed private vehicle will help you throughout the trip from the planning, navigation, hotel arrangement and scenic spot visiting. So you will have the much better travel experience in the large and beautiful Inner Mongolia. You can check our tour packages to get some inspiration. All tours can be tailor-made according to your group size, time, physical condition, plan, interests, budget and any other special need! Please feel free to contact us to customize your own Inner Mongolia trip or if you need any help!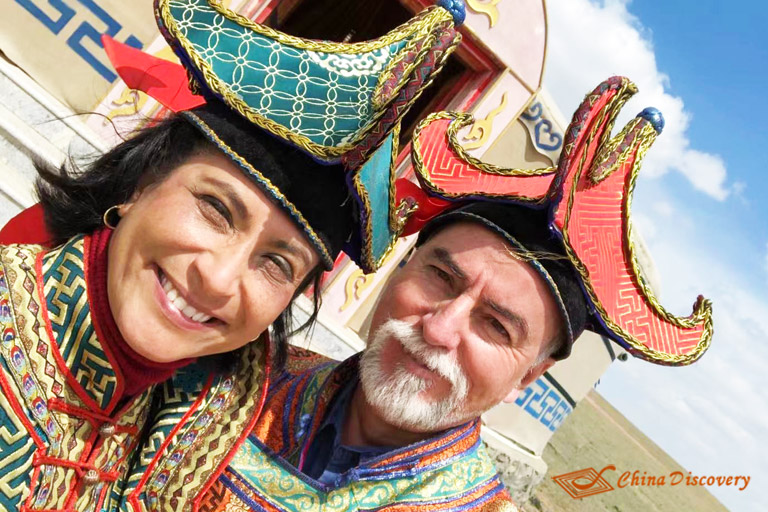 Our Customers Enjoying Their Trip to Inner Mongolia Grassland in April, 2021
More about Inner Mongolia Travel Guide
Inner Mongolia Cities' Travel Guides & Tours
Hottest Attractions in Inner Mongolia
Recommended Inner Mongolia Tours
Top 3 Inner Mongolia tours chosen by most customers to explore Inner Mongolia in the best way. Check the detailed itinerary, or tailor your own trip now with us.
5 Days Classic Inner Mongolia Tour

Hohhot / Huitengxile Grassland / Yemingsha of Kubuqi Desert / Hohhot
6 Days Inner Mongolia Bests Discovery Tour

Hohhot / Ulanqab / Huitengxile Grassland / Hohhot / Baotou / Yemingsha of Kubuqi Desert / Ordos
5 Days Best Hulunbuir Tour with Grassland Exploration

Hulunbuir / Erguna / Manzhouli / Hulunbuir
Start planning your tailor-made holiday to China by contacting one of our specialists. Once inquired, you'll get a response within 0.5~23.5 hours.
Customize a Trip
Have a question? Get answers from our travel experts or guests
Your Question:

Your Name:

Your Email: