Why visit Hulun Lake, Hulunbuir?
With a length of 93 kilometers and a maximum width of 41 kilometers, Hulun Lake (呼伦湖), covering an area of 2,339 square kilometers with broad water area, continuous swamps and wetlands, is the largest lake within thousands of miles of northern China. It is the largest lake in Inner Mongolia, the 5th largest lake and the 4th largest fresh water lake in China.
Located in the hinterland of Hulunbuir Grassland, Hulun Lake is being praised as the "Pearl of the Grassland" and the "Kidney of the Grassland", plays an important role in regional ecological environment protection, maintaining the biodiversity of the Hulunbuir Grassland and enriching animal and plant resources. Meanwhile, Hulun Lake is also the main birthplace of many nomadic ethnic groups in the north. Donghu, Xiongnu, Xianbei, Shiwei, Turkic, Khitan, Jurchen, Mongolia and other ethnic groups have multiplied and lived here.
In summer, the climate of Hulun Lake is warm and cool. It is a great place to escape the summer heat. At the turn of spring and summer, taking a boat and cruising on the ocean-like lake, watching birds fly and fish leap, riding horses freely along the lake, tasting the appetizing fish banquet. What a pleasant resort for vacation!
River System of Hulun Lake
Hulun Lake is a flexible and permeable lake. Since its appearance, the area and territory of Hulun Lake have had unique periodic changes under the influence of natural factors such as crustal movement and climate change. The largest area of Hulun Lake in history is much larger than the area of Hulun Lake today (about 2 times).
The water system of Hulun Lake belongs to the Ergun River system of Heilongjiang Basin. Besides the direct bearing of meteoric precipitation, the water replenishment source of Hulun Lake mainly depends on the recharge of groundwater and surface runoff. The structure of the bottom of Hulun Lake is special, and there are more than 30 springs to supply groundwater. The surface water system of Hulun Lake is composed of 80 rivers, large and small, with a total length of 2374.9 kilometers, and a total drainage area (domestic part) of 37,214 square kilometers. Among them, the Kerulen River and the Ursen River are the main replenishing rivers, and the Xinkai River and the Dharamora River are the main regulating rivers.
Attractions & Things to Do in Hulun Lake
There are eight famous sights in Hulun Lake, including Hulun Lake Sunrise(水上日出), Hulun Lake Mirage (湖天蜃楼), The Hitching Post along Hulun River Side (石桩恋马), Jade Beaches and Waves (玉滩淘浪), the Tiger Roaring Stone (虎啸呼伦), the Elephant Mountain and Full Moon (象山望月), Birds Roosting in Reed Marshes (芦荡栖鸟) and listen to the Melody on the Seagull Island (鸥岛听琴).
Hulun Lake Xiaohekou Scenic Spot (呼伦湖小河口景区)
Hulun Lake covers a large area, and there are many small scenic spots along the lake. The most popular scenic spot for tourists is Hulun Lake Xiaohekou Scenic Spot, which is closest to Manzhouli City (about 40 kilometers away). This spot is suitable for photographing the sunrise and sunset over Hulun Lake. Visitors can rent and wear Mongolian costumes, gallop on horses, ride a Bactrian camel or roam in a primitive LeLeChe. You can also paddle a boat in Hulun Lake and try fishing, watch horse-racing, Mongolian wrestling and Wulan Herd Ride Performances, etc. There is nothing more poetic than attending a prairie bonfire party, where visitors can sing and dance to their heart's content. You can also buy a variety of tourist souvenirs with ethnic characteristics in the small shops along the lake.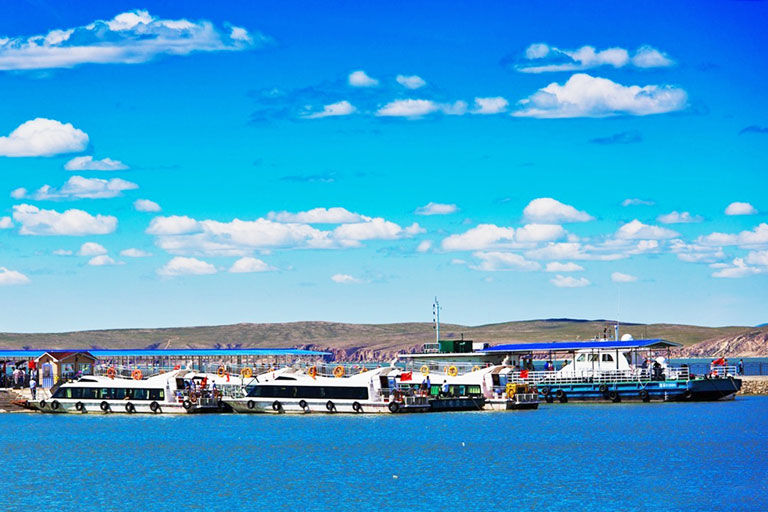 Xiaohekou Scenic Spot in Hulun Lake
Besides the Xiaohekou Scenic Spot, there are also several small scenic spots along the Hulun Lake that are recommended for free travelers (independent/tailor-made/self-driving tour), such as Shuanmazhuang (拴马桩), Niaogang (鸟岗) and Wulanpao (乌兰泡), etc.
Shuanmazhuang: The Hitching Post (Shuanmazhuang) is located on the west bank of Hulun Lake. It is said that it was once the stone post where Genghis Khan tied his 8 horses when he was resting in the garrison here, so it is also called the Hitching Post of Genghis Khan. The post stands on the shore of more than 10 meters east of the cliff on the lake. It is surrounded by the lake on three sides. The surface is uneven and crisscross like rope marks. The shape is peculiar and the surrounding natural scenery is beautiful, which is worth appreciating.
Niaogang: Every July and August, visitors can go to Niaogang, a river branch of Hulun Lake to Buir Lake. You will see flocks of fish, scrambling to and crowding in front of the fish fence, jumping up. It is really an extraordinary sight to see.
Wulanpao: Between Hulun Lake and Buir Lake, there is a narrow and long lake with an area of 70 square kilometers, like a pearl, closely tied to the silver belt of Ursun River. This is the mysterious Wulanpao, or "Ulan Nuir" in Mongolian, which is praised as the kingdom of birds. In the Hulun Lake District, the best place for bird-watching is Wulanpao.
Hottest Hulun Lake, Hulunbuir Tours:
☛ 9 Days Hulunbuir & Arxan UNESCO Global Geopark Highlights Tour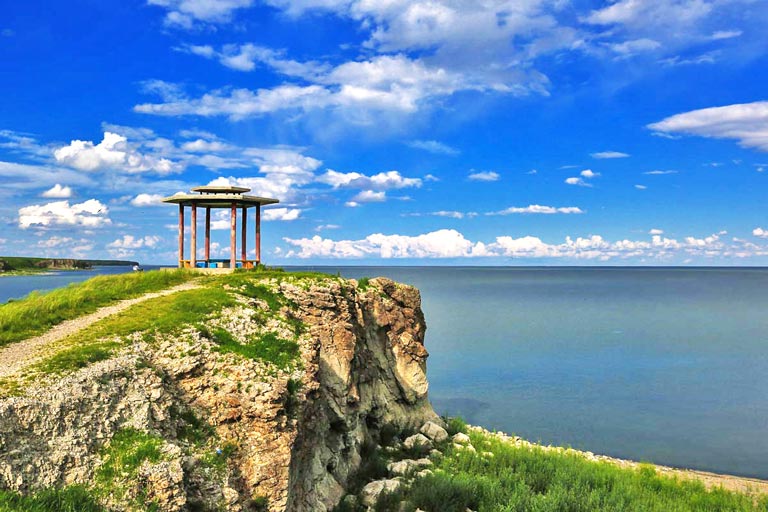 Shuanmazhuang - The Hitching Post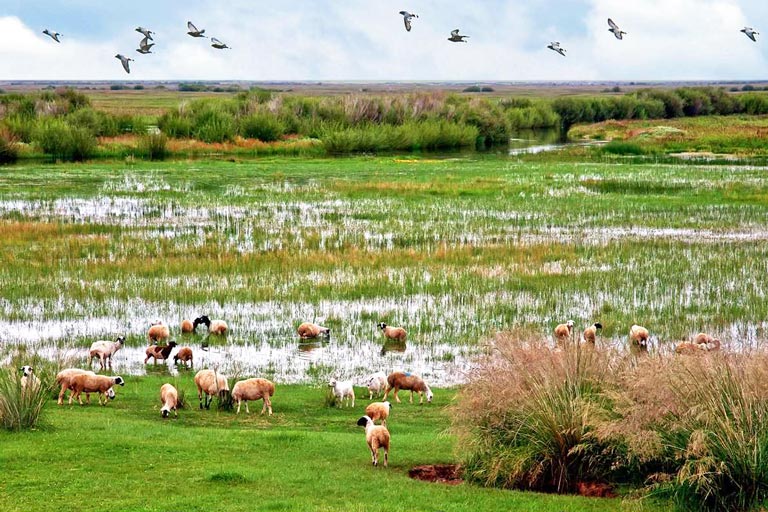 Wulanpao - Birds' Kingdom
Hulun Lake Weather & Best Time to Visit
Hulun Lake belongs to the continental grassland climate in the middle temperate zone and is located in the middle and high latitude temperate semi-arid region. Winter is long and cold from mid-October to next year early-May (about 210 days), spring is dry and windy from May to June (about 50 days), summer is warm and cool but short (only around 40 days from late-June to early-August), temperature drops sharply in autumn and frost comes early (from mid-August to early-October). Sunshine is abundant throughout the year.
Summer is the best time to visit Hulun Lake. With moderate temperature and fine weather, visitors may take a boat, cruise on the lake, wander along the lake shores, enjoying the stunning sunrise and sunset of the ocean-wide lake, standing on a rock and feeling the wind breath on your face...
Check more about Weather, Climate & Best Time to Visit Hulunbuir >>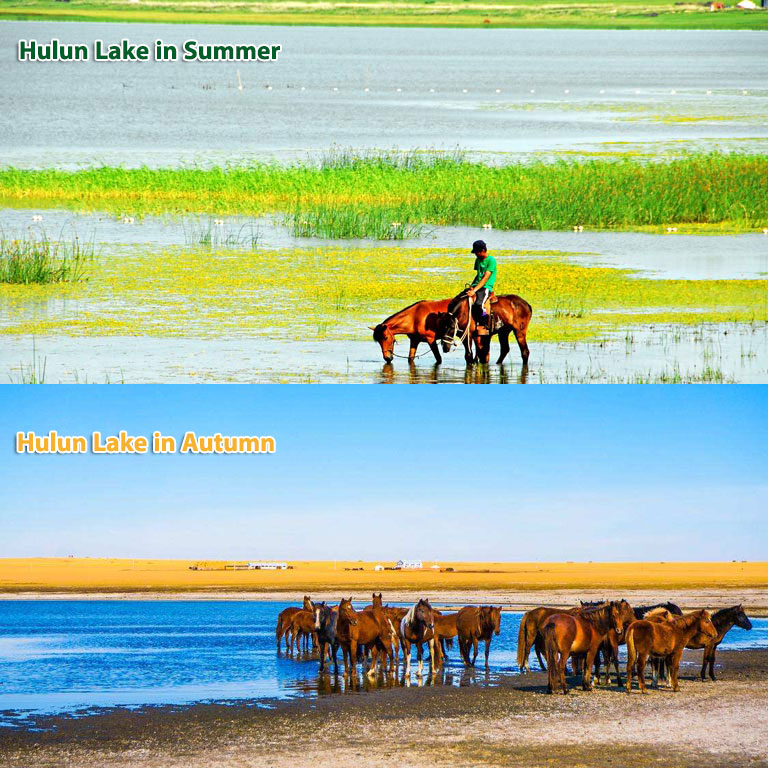 Hulun Lake in Summer and Autumn
How to Get to & Travel around Hulun Lake
The Hulun Lake is located in the west of Hulunbuir Grassland among New Barag Right Banner, New Barag Left Banner and Jalainur of Manzhouli City, Hulunbuir. The tourist center on the north bank of Hulun Lake is about 40 km (1 hour by car) away from Manzhouli city, about 20 km (30 minutes by car) away from Jalainur District, and about 190 km (2.5 hours by car) away from Hulunbuir city center - Hailar District.
As the largest lake in Inner Mongolia, Hulun Lake has become one of the must-visit scenic spots for people who travel to Hulunbuir. Tourists are recommended to
transfer
to Hulun Lake
from Hulunbuir city (Hailar District) and Manzhouli city
. There is no direct train or bus that can take you to Hulun Lake. Therefore, the most convenient way to get there is by taking a private car (
private tour package with car services included
).
Check more details about How to Get to and Get around Hulunbuir >>
Hulun Lake is vast like an ocean, and there are only a few fixed scenic spots and with no public transport connecting, so renting a car to travel around the lake is the best way to explore the beauty of the lake. Contect us to book a private car >>
Hulun Lake Tourist Center (Xiaohekou Scenic Area) - Shuanmazhuang: The driving distance is about 55 km, which takes 2.5~5 hours by car.
Hulun Lake Tourist Center - Wulan Nuir Wetland: The driving distance is about 220 km, which takes around 3 hours by car.
Click to Enlarge Hulun Lake Location Map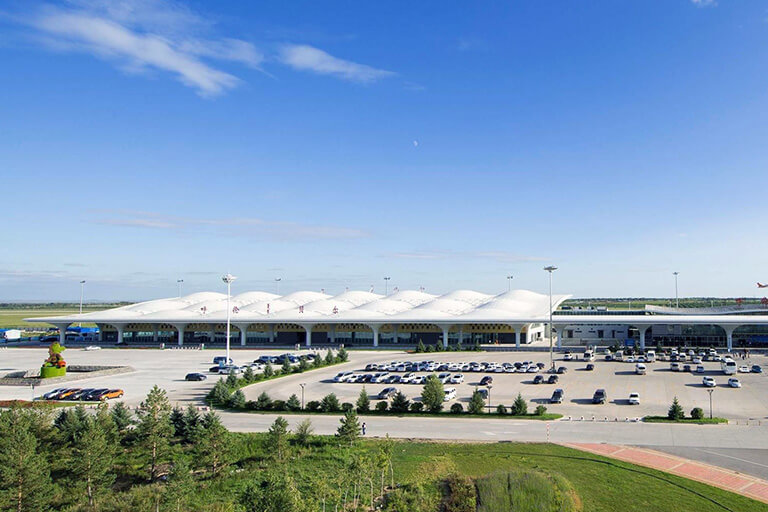 Hulunbuir Dongshan International Airport
Hulun Lake Photography Tips
There is an observation platform deep into Hulun Lake in the Xiaokhekou Scenic Spot, from which you can take a panoramic view of Hulun Lake. Since the lake is broad, it is recommended to carry a tripod in the shooting process, use a wide-angle lens, pay attention to the overall layout, add the foreground appropriately, and choose the angle that can reflect the overall landscape perfectly to adjust the shooting.
No matter whether it's summer or winter, the sunrise and sunset of Hulun Lake are all beautiful. Photographers can choose early morning or late afternoon to take pictures. Due to the instantaneous change of light and shadow during shooting, the appropriate exposure time can be adjusted continuously according to the side light, so that the picture will not be too bright or too dark.
The plants in the lake, birds, nearby yurts and some horse and camel riders are all good photographic material. Those materials can be shot separately or embellish the whole with parts to make the picture more artistic and interesting.
Attractions & Hot Tourist Destinations Nearby Hulun Lake
Generally, first-time visitors to Hulunbuir will choose to visit Hulun Lake and Hulunbuir Grassland, and then because Hulun Lake and Manzhouli city are also close to each other (only about 40 km away), tourists usually visit these 3 highlights of Hulunbuir together...
Hulunbuir Grassland
Location: The first level highway of Hailar to Manzhouli, New Balhu Left Banner, Hulunbuir; about 40 kilometers and 1 hour or so from Hailar District (downtown area of Hulunbuir City).
Driving Distance to Hulun Lake: 45 km; about 50 minutes by car.
Hulunbuir Grassland is the most abundant grassland pasture in China. Because there is almost no pollution in the grassland, it is also called "the purest grassland". Nourished by thousands of rivers and rivers, you can ride horses and camels in Hulunbuir Grassland, watch Mongolia wrestling, horse racing and Wulan Horse Riding performances, and eat the "Feast of Whole Lamb", etc. In the evening, the hedge fire party will also give you a chance to fully enjoy the unique customs of nomads.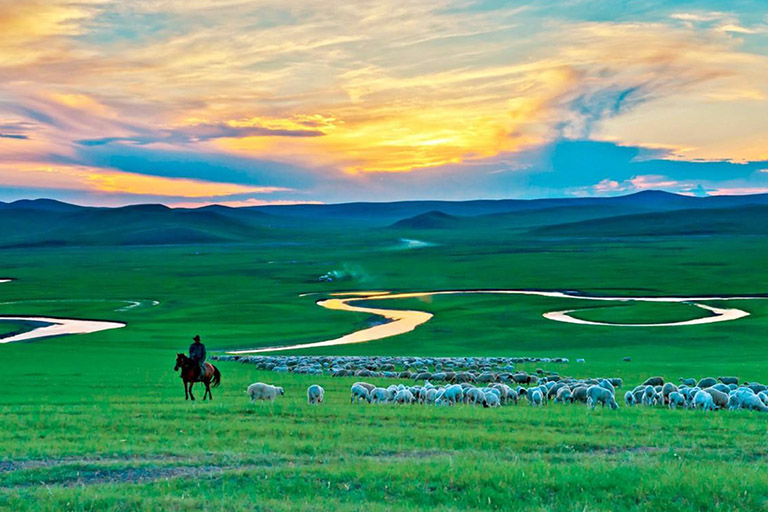 Amazing Hulunbuir Grassland & Morigele River
Manzhouli City
Location: Manzhouli City, Hulunbuir City, Inner Mongolia; about 200 kilometers and 2.5~3 hours or so from Hailar District (downtown area of Hulunbuir City).
Driving Distance to Hulun Lake: 46 km; about 50 minutes by car.
Manzhouli (满洲里市) is the largest land port city in China with a history of a hundred years, being praised as the "window of Asia". Located at the traffic hub of the first continental bridge in Asia and Europe, Manzhouli is endowed with unique tourism resources and infinite charm. The Russian Matryoshka Square is full of exotic customs; The National Gate is solemn and serene; Jalainur culture, inheriting ancient civilization, has a long history; The blending of Chinese and western urban style has its own peculiar enchantment...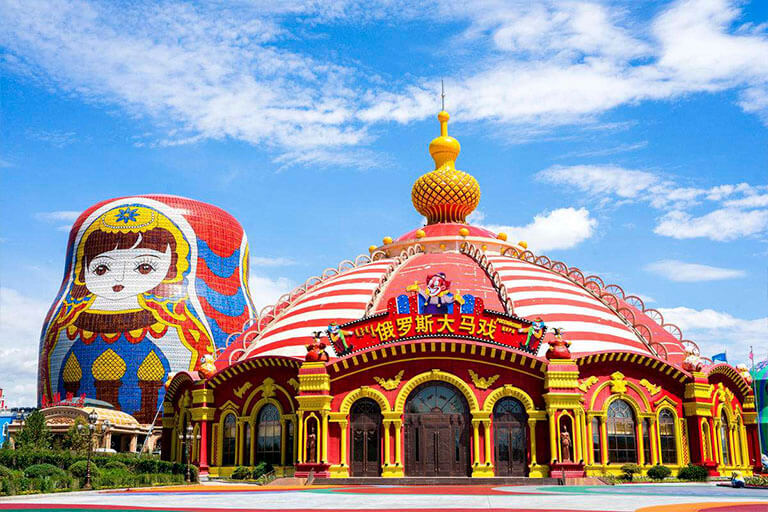 Russian Matryoshka Square in Manzhouli City
How to Plan a Hulunbuir Tour?
Visitors usually spend 4~5 days on a Hulunbuir Grassland Tour, including 2~3 days on the grassland and 2 days more to the surrounding wetlands, forests and Russian Towns.
During the days on the grassland, they will visit the highlights like Morigele River, Heishantou and the tribes. A classic 5 Days Hulunbuir Tour also includes a half-day visit to Eerguna Wetland, the No.1 Wetland in Asia located on the way from Morigele River to Heishantou Town.
☛ 5 Days Best Hulunbuir Tour with Grassland Exploration
☛ 6 Days Hulunbuir & Greater Khingan Highlights Tour
Apart from the classic route, there are also a South Route and a North Route. The north visiting route takes you to explore the forests and Russian Towns, like Shiwei Russian Town and Moerdaoga Forest Park. And the south visiting route takes you to explore the lakes and national parks, like Arxan Mountain, etc. The south route and north route needs 5~8 days to fulfill in separate.
☛ 9 Days Hulunbuir In-depth Tour with Arxan UNESCO Global Geopark
Besides, you can visit the deserts near Hohhot and Hulunbuir together, thus you will get the superb experience of both adventure fun and sightseeing release in Inner Mongolia!
☛ 6 Days Inner Mongolia Best Desert & Grassland Tour (Hohhot to Hulunbuir)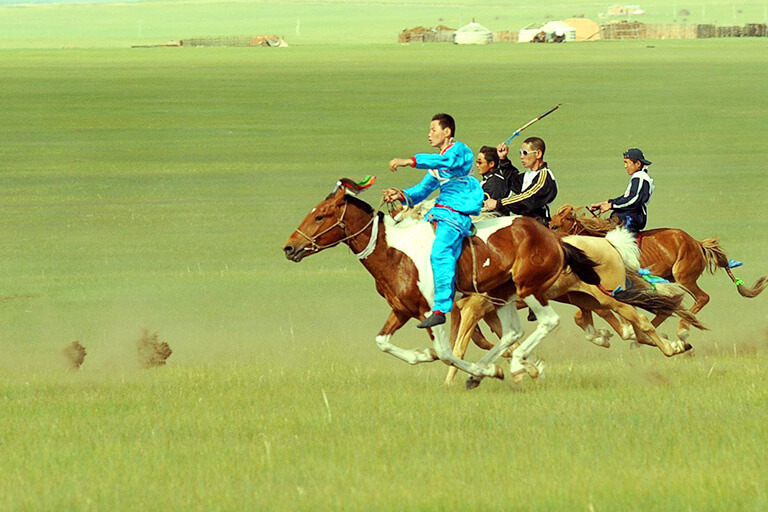 Horse Racing on Hulunbuir Grassland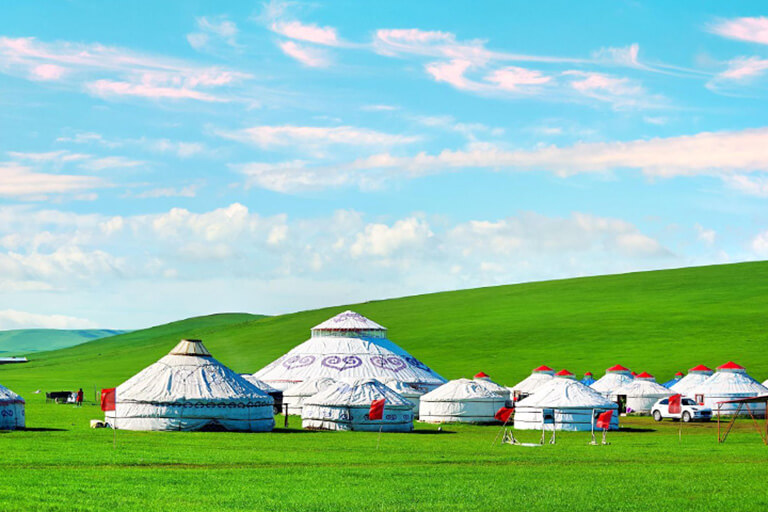 Mongolian Yurts at Inner Mongolia Grassland
Travel Hulunbuir with China Discovery
Looking for a Hulunbuir Grassland tour but feel hard to arrange your day by day itinerary and site to site transportation? Travel with us China Discovery and let our experienced travel consultant help you. We know Hulunbuir and Hulunbuir Grassland much and we have helped numerous visitors to enjoy a tour there. If you go with us, we will customize a Hulunbuir Tour for you! Your guide will accompany you all the way and show you the best viewing and photography spots. And your driver will take you to cross the grassland along the driving road in the middle of the grassland.
The tour is tailor-made according to your interests, budget, group size and every special need! If you are interested, please feel free to contact us!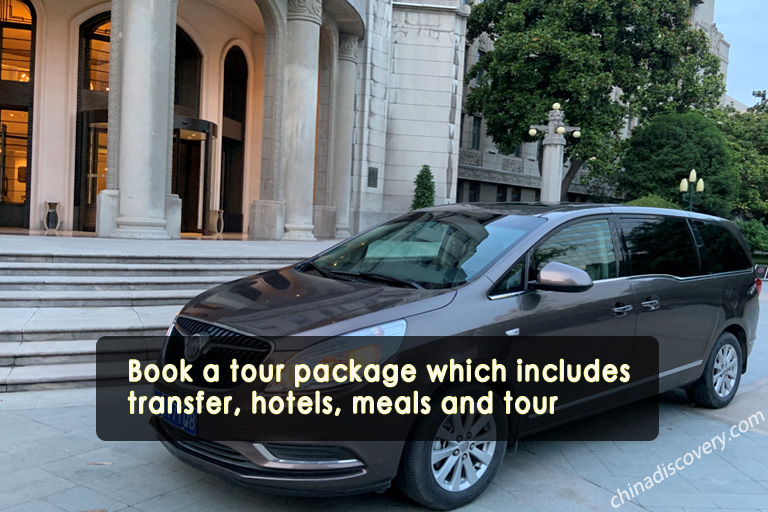 Local Private Transfer Service
Hulunbuir Travel Guide
More about Inner Mongolia Travel Guide
Recommended Hulunbuir Tours
Top 3 Hulunbuir tours chosen by most customers to explore Hulunbuir in the best way. Check the detailed itinerary, or tailor your own trip now with us.
5 Days Best Hulunbuir Tour with Grassland Exploration

Hulunbuir / Erguna / Manzhouli / Hulunbuir
9 Days Hulunbuir In-depth Tour with Arxan UNESCO Global Geopark

Hailar (Hulunbuir) - Erguna - Shiwei- Manzhouli - Arxan - Hailar (Hulunbuir)
7 Days Joyous Kid-Friendly Hulunbuir Family Tour

Hailar / Hulunbuir Grassland / Erguna / Genhe / Greater Khingan / Shiwei / Heishantou / Manzhouli / Hailar
Start planning your tailor-made holiday to China by contacting one of our specialists. Once inquired, you'll get a response within 0.5~23.5 hours.
Customize a Trip
Have a question? Get answers from our travel experts or guests
Your Question:

Your Name:

Your Email: