Ergun, or called Erguna or E'erguna (额尔古纳; pinyin: é ěr gǔ nà), is a county-level city in Hulunbuir City, Inner Mongolia, China. The city is named after the border river of the same name - Argun River or Ergun River. "Ergun" literally means "offering" in Mongolian, which implies the river is the mother river nurturing the people of this region. Ergun City neighbors Hulunbuir Grassland in the south and Argun River in the west and north. The city is the northernmost border city in China, facing Russia across the Argun River!
Wetlands, white birch forests, grasslands, lakes and rivers… Its natural advantages endow Ergun City with beautiful scenery. Besides, thanks to its close distance to Russia, Ergun also boasts a strong Russian flavor.
Why Visit Ergun, Hulunbuir, Inner Mongolia, China?
The No.1 Wetland in Asia - Ergun Wetland is praised as the No.1 Wetland in Asia! It is also the best-preserved and largest wetland in China! In this vast wetland region, there are two main wetland scenic areas, including Ergun Wetland Scenic Area and Genhe National Wetland Park. Each of them boasts broad view of meadows with swaying bushes, shrubs, flowers and winding rivers, which is truly a sight to behold!
Stunning Natural Scenery - Besides the wetlands, Ergun also has awe-inspiring forests, rivers and islands. Each corner of them guarantees you a fantastic nature tour and a perfect shoot. Photography lovers prefer Egret Island in Mordga National Forest Park. Couples love the White Birch Forest…
Russian Flavor - When it comes to savor the strongest Russian flavor in China, Ergun is the best choice. Here are two best Russian Towns - Shiwei and Enhe waiting for your exploration!
Close to Hulunbuir Grassland - Hulunbuir Grassland, China's largest and most beautiful grassland, borders Ergun in the north. From Ergun, you can get to Morigele River and the surroundings, the most beautiful part of Hulunbuir Grassland, in merely 1.5 hours by car!
Top Attractions in Ergun, Hulunbuir, Inner Mongolia
Highlights in Ergun include the famous Ergun Wetland Scenic Area, White Birch Forest Scenic Spot, Shiwei Russian Town, Enhe Russian Town, Heishantou Ruins, Mordga National Forest Park, etc.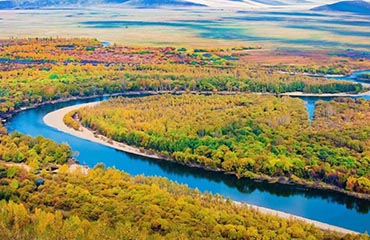 Ergun Wetland Scenic Area
Ergun Wetland Scenic Area (额尔古纳湿地) is located in the downtown area of Ergun City. Root River (Genhe River) runs through the flat meadow, just like a sliver jade belt. On the two banks of the river are lush forests with trees and bushes in green, yellow, red, brown colors. At the viewing platform on upper region, you can get a paranoia view of this breathtaking scenery.
Heishantou Ruins
Heishantou Ruins (黑山头遗址) is located at where Hulunbuir Grassland meets Ergun. This ruin site is said to be the fief of Hazar about 700 years ago. Hazar is the brother of Genghis Khan. At present, nothing of the ancient city is remained except for the mounds. However, the sunset view at the nearby hills are the best of this region, which really worth a visit.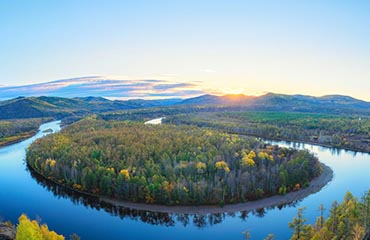 Mordga National Forest Park
Mordga National Forest Park (莫尔道嘎国家森林公园) is one of the largest forest parks in China. Egret Island of the forest park, which is said to be magically transformed from a grey wolf, is an ideal site for photography. Other tourist sites include Hongdou Slope, Longyan Mountain, etc. You can follow the wooden trails to enjoy hiking at the hug of lush trees and forests.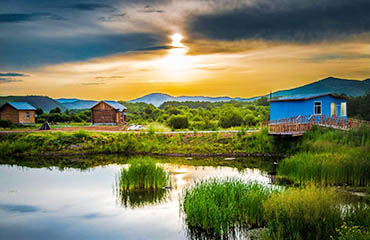 Shiwei Russian Town
Shiwei Russian Town (室韦俄罗斯族民族乡) is located at the bank of Argun River, the Sino-Russia border river. Opposite the river is Oloch Town in Russia. This small town has well-preserved Russian buildings, traditions, food and culture, and thus you can get a glimpse of Russia here. Staying overnight at one of the unique Mukeden houses here is a must try.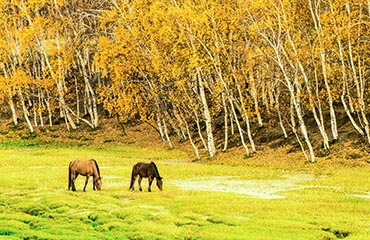 White Birch Forest Scenic Spot
White Birch Forest Scenic Spot (白桦林景区), as its name implies, is a scenic area full of white birch trees. The forest covers a large area of 70,000 hectares. Green leaves and white trunks of the trees create an atmosphere of serenity and purity, and thus attract numerous visitors, especially couples and families, to come.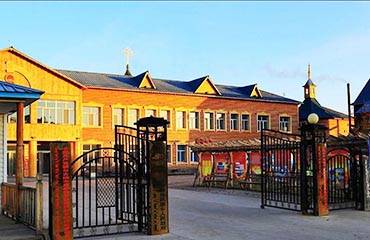 Enhe Russian Town
Enhe Russian Town (恩和俄罗斯族民族乡) is another Russian town in China with strong Russian flavor. Compared with Shiwei, Enhe is relatively closer to Ergun and Hulunbuir Grassland. Besides, it is close to the most beautiful section of the border driving road along the Argun River.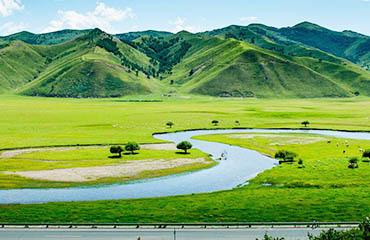 Argun River
River of the Mongolian Nation. It originates from western foot of the Daxingan Mountains and wind to Hulunbuir. At the northeast corner of Hulunbuir, it joins the Shilka River from Russia and then winds further east. For visitors, you will get the best views of the river on the border road west of the Hulunbuir Grassland and at Ergun Wetland Scenic Area.
Featured Activities in Ergun, Hulunbuir, Inner Mongolia
Rich natural wonders and strong Russian flavor make it possible to have diverse of fun in Ergun. Here is a list best featured activities in Ergun for your reference!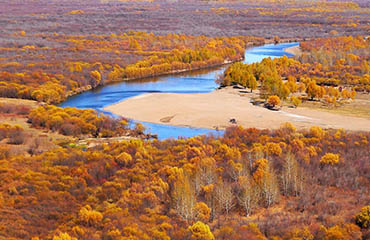 Explore the Wetland & Forest
From any direction of Ergun, you can step into the lush wetland and forests. Ergun Wetland Scenic Area is the most popular natural site, and then the Mordga National Forest Park (especially the Egret Island) and White Birch Forest Scenic Spot…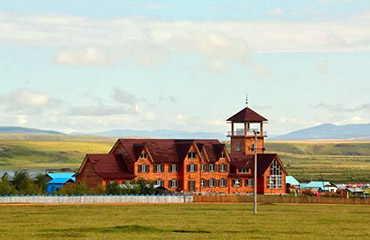 Visit the Russian Towns
Driving north from Ergun, you will meet with two Russian Towns, firstly the Enhe Russian Town, and then the Shiwei Russian Town on the Sino-Russia border. Choose your favorite town to explore the well-kept colorful Russian-style buildings and delicious Russian foods.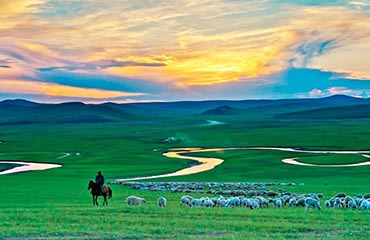 Take Side Trips to Hulunbuir Grassland
Visitors usually travel Hulunbuir Grassland and Ergun together. In such a classic tour, you get the best grassland and best wetland in China together. Horse riding, wetland photography, sunrise and sunset over meadows and Mongolian welcome dinners are all included.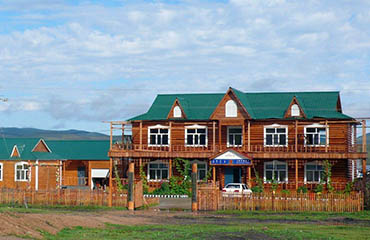 Stay Overnight at the Mukeden Houses
Mukeden Houses are typical Russian folk houses. Rows of tree trunks form the walls of the house. The pointed roofs are also in wooden structures. Here in Ergun, you can accommodate at Mukeden Houses at the Russian Towns and near the forest areas. Those at the Russian Towns are the best picks.
Ergun Weather & Best Time to Visit Ergun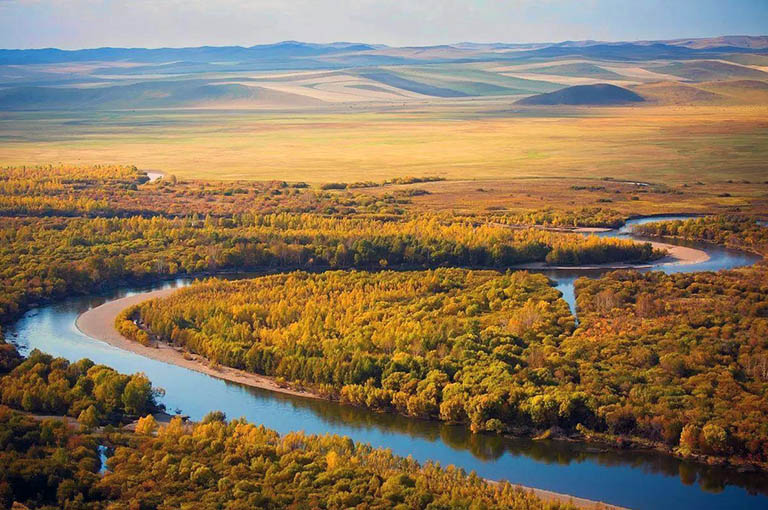 The downtown area of Ergun belongs to the mid-temperate continental grassland climate, while the Mordga Town and its further north region belongs to cold temperate monsoon coniferous forest climate. The average temperature of Ergun varies from -27.7℃ to 19℃. The best time to visit Ergun is usually from May to the mid-September every year. The flowers begin to blossom from May, and the grasses gradually turn green from this month. The forests in Ergun are in beautiful autumn colors of yellow and red in September, which is the best time for photography. Those months from December to February of next year is good for ice and snow lovers. However, please be aware that Ergun, especially the forest areas, is very cold during then, with average temperatures in all regions lower than -15℃.
Ergun Transportation: How to Get to/around Ergun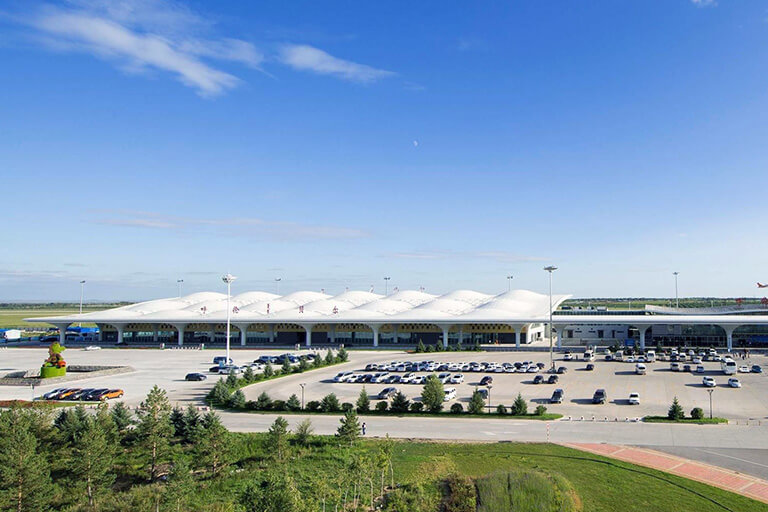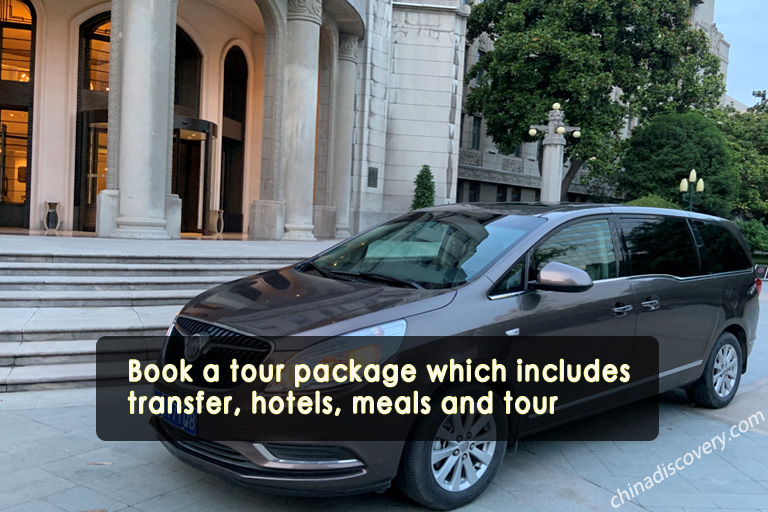 Ergun City has no airport or train station. However, it is close to Hailar, the downtown area of Hulunbuir with frequent flights. Visitors can get to Hailar first, and then visit Ergun from Hailar.
How to Get to Hailar
The best way to get to Hailar is by flight. Hailar Dongshan International Airport, or called Hulunbuir Dongshan International Airport, has flights to/from Beijing (2.5 hrs), Hohhot (2.5 hrs), Harbin (1.5 hrs), etc. There are also normal trains from Beijing, Harbin, Hohhot, etc. However, the train travel takes you more than 30 hours.
If you coming from the nearby Hinggan League, you can also choose the car. Travelling Arxan National Forest Park in Hinggan League and Hulunbuir & Ergun together is also a hot tourist route. Driving from Arxan to Hailar needs 5 hours or so.
Hailar to Ergun
From Hailar to Ergun, you can ride a coach or hire a private car. Every day, Hailar Bus Station (海拉尔客运站) has about 20 coaches to Ergun City. The coach ride takes about 2 hours around. Compared with the coaches, private cars are more popular for the journey, because on the way from Hailar to Ergun you will pass through Hulunbuir Grassland and you cannot make middle stops if you go with the coaches. However, if you go with the private cars, you can feel free to stop at the grassland area and take an enjoyable sightseeing tour there before heading further north to Ergun. We China Discovery also offer such fantastic tour packages about Hailar and Ergun with private car service included. If you are in need, please contact our professional travel consultant for help!
Ergun Accommodation & Where to Stay in Ergun
Hotels in Ergun is never of that luxury in modern cities like Beijing, Shanghai, etc. And this city doesn't has that many accommodation choices. However, you can still find several 4-star hotels and many 3-star and 2-star hotels there. Besides, Ergun offers unique Mongolian yurts and Russian-style Mukeden Houses for you to choose.
Where to Stay in Ergun?
There are 4 best areas to stay in Ergun, including the Ergun downtown, Heishantou Town, Russian Towns like Shiwei and Enhe and Mordga Town (also known as Mordoga Town). Ergun city center has the largest amount of hotels and the most luxury hotels of this city. Heishantou Town offers Mongolian yurts for those who are heading for the best sunrise and sunset views. Shiwei and Enhe have Russian-style Mukeden Houses for visitors to savor the Russian flavor. Mordga Town also has several 3-star hotels and budget hostels. They are good choices for those visiting the Mordga National Forest Park.
Ergun Maps
For a better understanding of the location of Ergun and how to travel in Ergun, here we provide some useful English Ergun Maps for you, including Ergun China Map, Ergun Inner Mongolia Map, Ergun Hulunbuir Map, etc.
Top Destinations in Inner Mongolia
Ergun is in northeastern Inner Mongolia and it is usually reached by car from Hulunbuir Grassland and Hailar. If you want to get more about Inner Mongolia, you can travel to Hohhot in the middle of the autonomous region and Ejina and more cities in the western part.
Other Popular Destinations in China
China is vast and diverse. You can choose your favorite destinations among more than 70 tourist destinations and regions, like Beijing, Shanghai, Xian, Chengdu, etc. Following are 4 popular destinations you may be interested in. Check all destinations in China.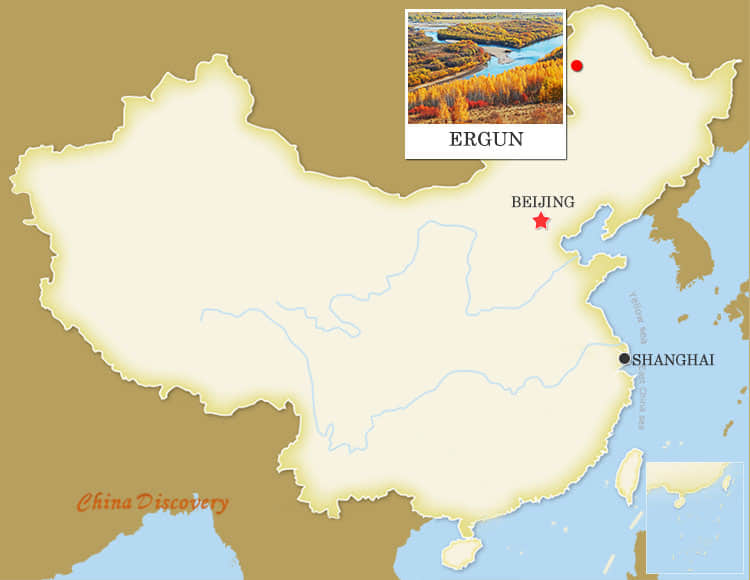 Chinese Name: 额尔古纳
Chinese Pinyin: é ěr gǔ nà
English Name: Ejin Banner, Ejina, Ejina Qi
Population: about 80,000
Language: Mandarin & Inner Mongolian Dialect
Tel Code: 0470
Zip Code: 022250
Time Zone: (UTC+8)
Plan Your Ergun Tour
An Ergun tour usually starts from Hailar. Visitors usually travel Hulunbuir Grassland near Hailar and Ergun together. Such a classic Ergun Tour needs 4 days around, including 2 days around on the grassland and 2 days more to the Wetland and Heishantou in Ergun.
If you have 1~2 days more, you can add Manzhouli, where China, Russia and Mongolia meet, into your trip. In this itinerary, you will get a classic round trip of the grassland and never travel the places you have already get to. The border scenery along the Argun River is also a gift.
For an in-depth visit of Ergun, you are suggested to spend 1~3 days more to the further north region of Ergun to explore the forests and Russian Towns. Want more surprises? Extend your trip for a half-day tour to nearby Aoluguya Reindeer Village to date with adorable reindeers and experience the life of mysterious Ewenki branch.
Besides, you can travel Ergun and its surroundings with more wonders in China, like the deserts near Hohhot, the Great Wall and Forbidden City in Beijing, the Yungang Grottoes in Datong and so forth. Have your preferences? Please contact us and customize your tour!
Recommended Tours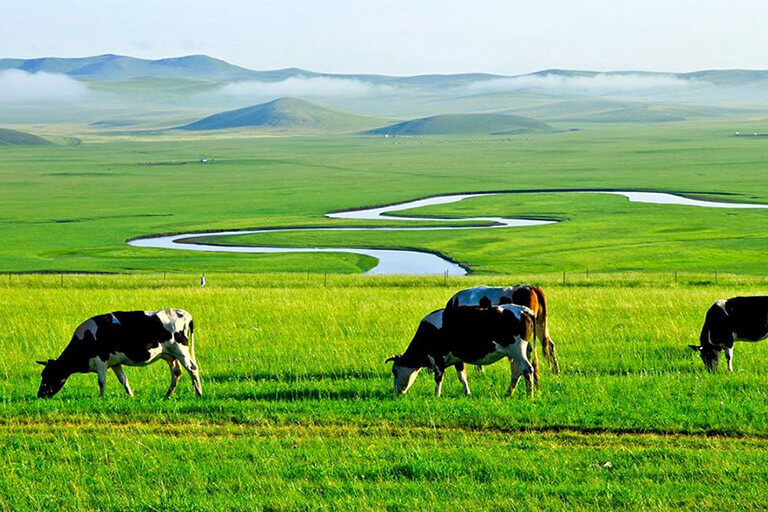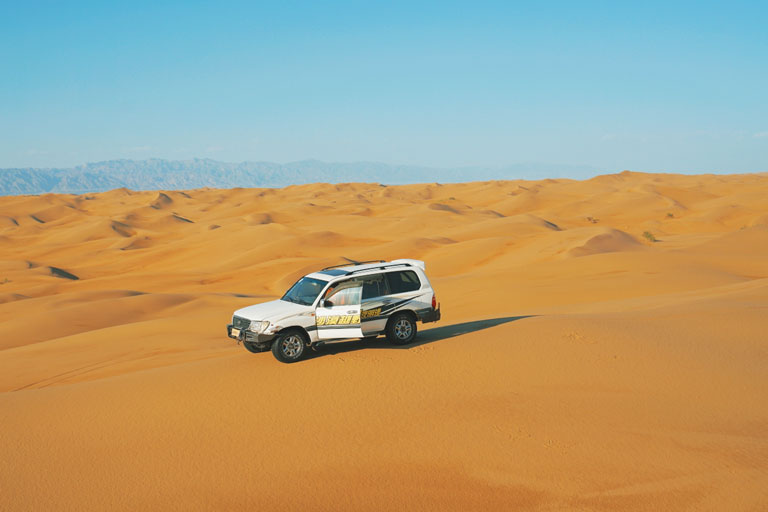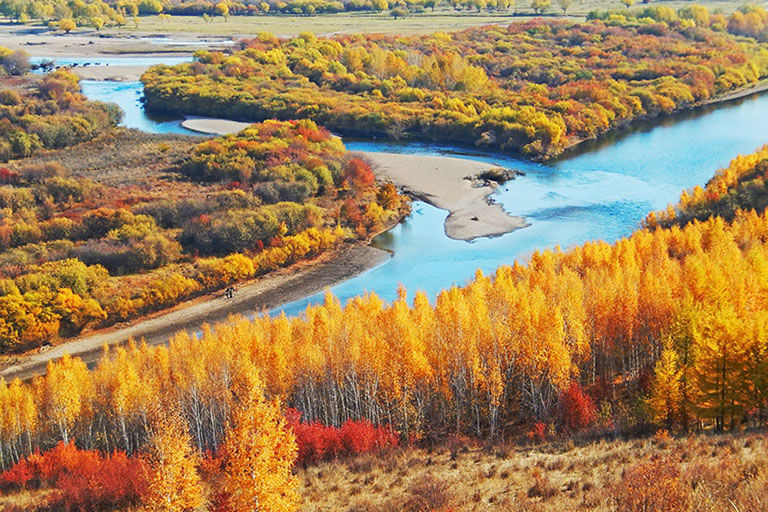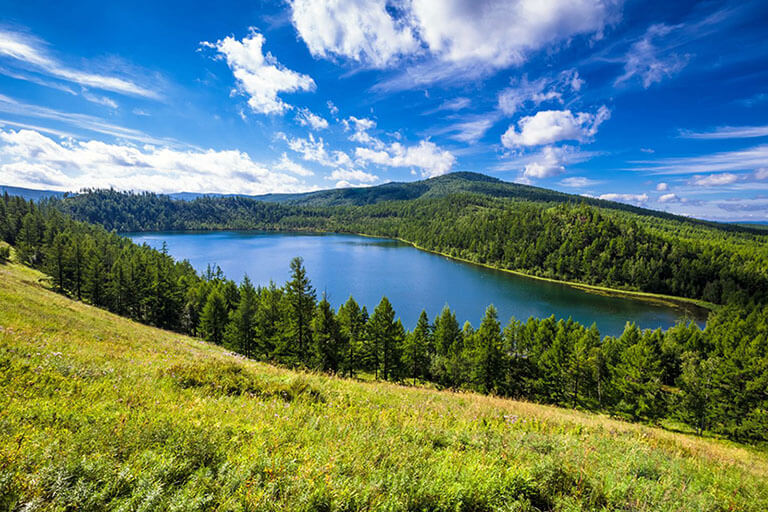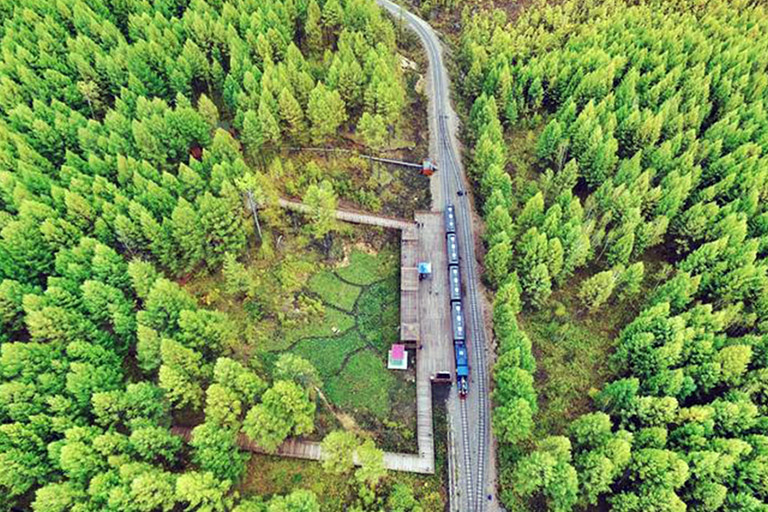 MORE