Why Visit Huitengxile Grassland?
Huitengxile Grassland means "cold plateau" in Mongolian. With an average altitude of over 1,800 meters, Huitengxile Grassland is a typical and rare mountain meadow steppe in the world. It is One of the Three Best-preserved Alpine Meadows in the world. There are 99 natural lakes dotted on Huitengxile, making it both vigorous and elegant. Amongst all the grasslands near Hohhot, Huitengxile Grassland has the most natural grassland scenery. It is also less crowded. Besides, what makes Huitengxile Grassland stand out most is its Yellow Flowers Valley filled with beautiful flowers for many, many miles. Yellow Flowers Valley also has a spectacular geo-park, which gains the reputation of "Grand Qingshan Geological Museum".
Every year from May to September, the whole grassland is like a beautiful painting - flowers blossom everywhere, breeze blowing, cattle and sheep grazing freely, herdsmen singing merrily…
Top Huitengxile Grassland Attractions
Besides the vast and fertile grassland and 99 lakes, there are many historical relics to explore, like great wall ruins of the Warring States Period and Qin Dynasty, Woyang City Ruins in Han Dynasty; stone pavilion built when the first emperor of Northern Wei saw the 99 lakes; Dianjiang platform, armory, watchtowers, fort left in past wars. Moreover, Aobao and Mongolian yurts, wind power plants are situated here.
99 Lakes - "Mirrors on Grassland"
There are 99 natural lakes like mirrors situated on this grassland. Actually, there are more than 99 ones and some have vivid names, like Stone Gate Lake, Swan Goose Lake, Horsetail Lake, Little Green Lake, etc. Different kinds of flowers are blossom around the lakes, making it very beautiful and elegant.
Yellow Flowers Valley
There is a winding valley called Yellow Flower Valley located in the west side of Huitengxile Grassland. The valley is about 10 kilometers long and 300 meters deep and 100~200 meters wide, with unique geology and beautiful landscape. Stepping into the valley, travelers can see steep cliff, overlapping peaks, absurd stones, green trees and fresh grass, clear springs. You won't miss the highlighted sites, like Double Hump Peak, Sword Gate Peak, One-Mirror Sky, The Goddess Cave, Shencong Peak, Three-step Waterfall, etc.
Yellow Flowers Geological Park
The Yellow Flowers Geological Park is located close to the north entrance of the Yellow Flowers Valley. The park is full of strange stones of all kinds of shapes. According to scientists, they are the remains of the Quaternary Glacier, which implies the long history of hundreds of millions of years! At the park, you can follow a path hugged by those stones zigzagging to the top of this region to have a panorama view of the surroundings.
Wind Power Plant
Wind power plant is the symbol on Huitengxile Grassland with over one thousand wind power car. Since Huitengxile is at a high altitude and windy spot, the wind power resource is abundant. It is the largest wind power plant in Asia. Travelers can have a walk getting close to the wind power car and take some great pictures with them.
Huitengxile Grassland Lakes
Yellow Flowers Valley
Wind Plant in Huitengxile
Featured Activities on Huitengxile Grassland
1. Relax at the Grassland
Enjoy your free time at the grassland. You can hike or ride horse as you like. The broad views, gentle breezes and the large groups of wind power plants will leave all your bad memories and emotions ahead.
2. Explore the Yellow Flowers Geo-park
Yellow Flowers Geological Park is the one of the greatest highlights of Huitengxile Grassland. Here, you will certainly get impressed a lot by the superlative craftsmanship of nature. Strange stones are everywhere.
3. Watch the Meeting at Aobao Show
There is no better way to learn the history of Inner Mongolia than watching a show. Everything is perfectly explained by the shows, including how they dance, sing, work, live and love.
4. Hop on a Mini Train & Take Selfies
At the Yellow Flowers Valley, there are unique Mini Trains running at the grassland, which offer fantastic angles for selfies. If you like, you can hop on a mini train.
5. Enjoy a Natural Hiking at Niudangou Ecological Valley
Niudangou Ecological Valley is one of the major scenic areas of the Yellow Flowers Valley. Here, you will get stunning natural views of forests and rolling mountains. Enjoy a leisure hiking at this beautiful world is really amazing.
Mini Train & Wind Power Plant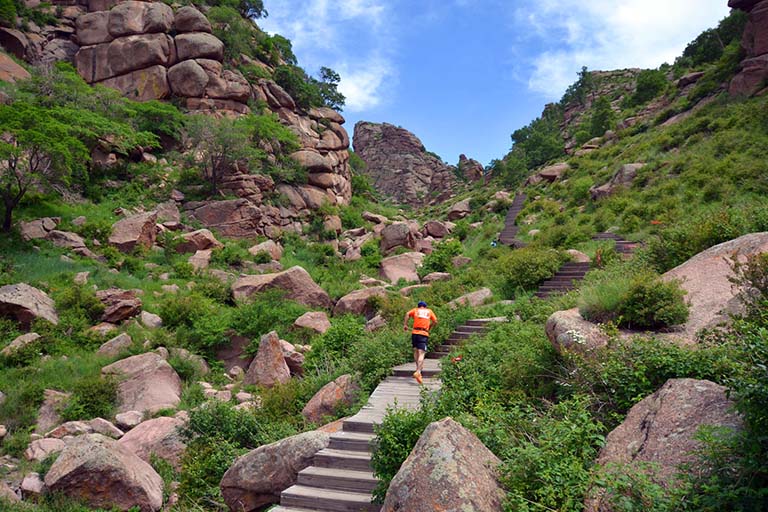 Yellow Flowers Geo-park
Naadam Festival
The Naadam Festival, which is held from 4th of June by lunar calendar (usually happens in July or August) and lasts for 5 days, is the biggest festival for Mongolians. Naadam in Mongolian means "games" and the most famous games are "Three Games of Men" - Mongolian wrestling, horse racing and archery. When this grand festival comes, all the grasslands in Inner Mongolia will hold cheerful games, and Huitengxile Grassland is no exception. If you are interested, you can have a try to join in the matches. Check more details about Naadam Festival >>
Archery Perfored in Naadam Festival
Best Time to Visit Huitengxile Grassland
The best time to visit Huitengxile Grassland is in summer and autumn, especially from June to September. During this period, the grass is green everywhere, flowers are blossom around the emerald lakes and the Naadam Festival is held in late July and early August.
Where to Stay at Huitengxile Grassland
The traditional Mongolian yurts are your choices to stay your night at Huitengxile grassland. Travelers can get a different kind of experience as local Mongolians. Usually, the yurts are divided into Standard Yurt and Luxury Yurt. The living conditions can fulfill your basic needs and requirements.
The Yellow Flowers Valley at Huitengxile Grassland offers the largest kinds of yurts for you to choose. The yurts there are also the bests of this region. Besides, there are also hotel-like wooden houses offered. Therefore, you are suggested to stay at the yurts or wooden houses at Yellow Flowers Valley.
Mongolian Yurt in Huitengxile Grassland
Huitengxile Grassland Location & Transportation
Huitengxile Grassland is located in south central of Chahar Right Middle Banner, Ulanqab, about 110 kilometers from Hohhot and 425 kilometers from Beijing.
Distance from other Famous Grasslands:
About 110 kilometers from Hohhot;
About 90 kilometers from Ulanqab;
About 100 kilometers from Wulanhada Volcano Geopark;
About 139 kilometers from Gegentala Grassland;
About 209 kilometers from Xilamuren Grassland.
Transfer to/off Huitengxile Grassland:
There is no direct bus to Huitengxile Grassland and travelers should take bus from Hohhot Bus Station to Chahar Right Midlle Banner first and then take local minibus to Huitengxile Grassland. For the inconvenient transportation, China Discovery suggests you use our private service with own car, driver and tour guide to visit Huitengxile Grassland. It needs 2 hours' drive from Hohhot to Huitengxile.
Huitengxile Grassland Location Map
Useful Huitengxile Grassland Travel Tips
1.What to Pack
The altitude of Huitengxile is around 1800 meters to 2100 meters. The ultraviolet is strong and travelers should take sun cream, sun hat and sun glasses to protect yourselves. The temperature of Huitangxile is about 5 ℃~10 ℃ lower than Hohhot and weather changes frequently and travelers should take light jacket, umbrella or raincoat.
2.To be closed during winter time
Since Huitengxile Grassland is situated at a relatively high altitude and it may be closed during winter time (around early December to the end of February of next year) for the cold weather. If you plan your Inner Mongolia grassland tour during this period, you'd better ask detailed information from our professional travel consultants and they will give you useful suggestions and arrange the tour for you.
3.Customs
In the traditional welcome ceremony, the local Mongolians will present a silver cup of wine. Travelers should take the wine with two hands and sip a little to show your respect towards the Mongolians.
How to Plan a Huitengxile Grassland Tour?
Normally, visitors spend half day or one day around for a Huitengxile Grassland Tour. Some visitors take half day to take a short tour to the grassland for the broad view, while more visitors spend one day around (including one night stay) to visit the grassland and its Yellow Flowers Canyon.
☛ 2 Days Huitengxile Grassland Tour from Beijing by Bullet Train
Only the grassland visit is always far from enough. Travelers prefer to visit the highlights in Hohhot together, like Dazhao Temple and Inner Mongolia Museum. Such a Hohhot & Huitengxile Tour needs 3~4 days around.
☛ 3 Days Best Hohhot Grassland Tour with Huitengxile Landscape
If you have 1~2 days more day, you are highly suggested to add Kubuqi Desert into your trip. Kubuqi Desert is one of the best deserts in China. You can enjoy colorful activities there, like riding camels, hiking, playing sands, etc.
☛ 4 Days Huitengxile Grassland & Kubuqi Desert Tour from Hohhot
☛ 5 Days Classic Inner Mongolia Tour
Feel not enough? You can spend one day more to Ordos to explore the legend of the great Mongolian conqueror Genghis Khan, 1~2 days more to Xilingol to discover the UNESCO World Cultural Heritage Site - Site of Xanadu, 2~3 days more to Hulunbuir to meet the most beautiful grassland in China and visit Russian Nationality Villages. Have your preferences about Hohhot and Inner Mongolia? Please feel free to tell us your likes and let our experienced travel consultant customize a tour for you!
Huitengxile Grassland
Huitengxile Grassland Horse Riding
Travel Huitengxile Grassland & Inner Mongolia with China Discovery
Inner Mongolia differ a lot with the classic China you know. And it is not an easy job to arrange the daily flight, train and car travel at this relatively vast land. Therefore, travel with a professional travel agency is usually the best way to visit there. We China Discovery know Hohhot and Inner Mongolia a lot and we are experienced in organizing tours to this region. If you need any help, please feel free to contact us! Private cars, one-to-one guide and travel consultant…
Everything is only for you and your group or family! The tour is customized by your interest, budget, plan and every special need!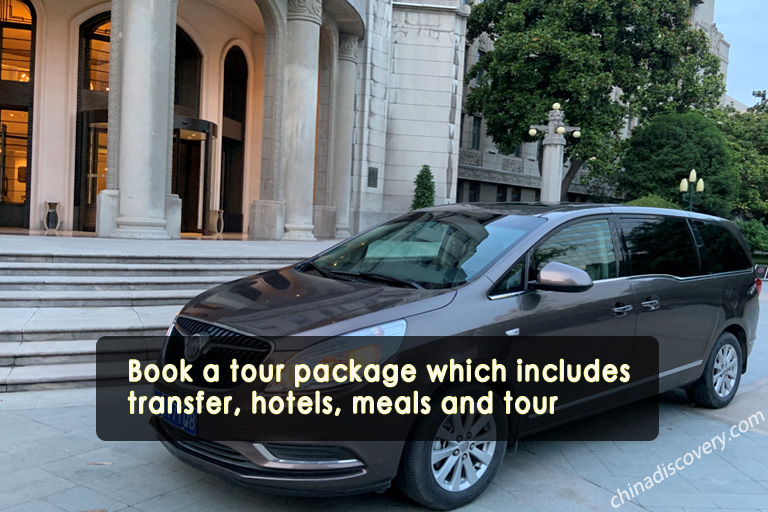 Local Private Transfer Service
Hohhot Travel Guide
More about Inner Mongolia Travel Guide
Recommended Hohhot Tours
Top 3 Hohhot tours chosen by most customers to explore Hohhot in the best way. Check the detailed itinerary, or tailor your own trip now with us.
4 Days Huitengxile Grassland & Kubuqi Desert Tour from Hohhot

Hohhot / Huitengxile Grassland / Yemingsha of Kubuqi Desert / Ordos
4 Days In-depth Hohhot Xilamuren Tour with Grassland Activities

Hohhot / Xilamuren Grassland / Hohhot
4 Days Inner Mongolia Naadam Festival Tour

Hailar / Hulunbuir Grassland / Ergun / Hailar
Start planning your tailor-made holiday to China by contacting one of our specialists. Once inquired, you'll get a response within 0.5~23.5 hours.
Customize a Trip
Have a question? Get answers from our travel experts or guests
Your Question:

Your Name:

Your Email: