Why Visit Ulan Butong Grassland?
Ulan Butong Grassland situated in Chifeng City in Inner Mongolia is the closest grassland from Beijing, which is 432 kilometers away with about 7 hours' driving distance (about 400 kilometers). It is a vital part of the more famous Bashang Grassland in northern China for urban people to escape to the nature. Advantageously featured with the picturesque European styled grassland scenery, Ulan Butong is extremely favored as the backyard garden for cities in northern China, and also the heaven for photographers and painting artists. Plus, being a part of the once important hunting ground for the royal family heroes in the past Qing Dynasty hundreds of years ago, Ulan Butong is particularly great to seek the authentic ancient imperial culture and war history of that era. Thus, many national famous films and TV series have filmed at Ulan Butong for its typical imperial prairie splendor of the ethnic leader family, thus making Ulan Butong Grassland a world-famous film and television base on location!
What to See at Ulan Butong Grassland
General Lake
It is the historical site to hear the war of Emperor Kangxi. However, the best highlights of such a glistening resort is the large herd of muscular horses running toward the lake for drinking water every late afternoon. You will see the beautiful splashing water with sunset glow!
Hamaba
Hamaba is a gently rising slope with valleys and lowlands on the three sides. The rich spread of white birches are the leading roles there, especially in autumn period when all the birches are dyed into golden, yellow, orange, light purple, olivine, etc. by the side of the fiery red leaves and dozens of thatched cottages are revealed among, which is a natural made oil painting with the most harmonious hue and the pleasant song of autumn. If you are fond of shooting, Hamaba is a treasured place.
Hongshan Military Horse Ranch
Hongshan Military Horse Ranch located at the core area of Ulan Butong Ancient Battlefield has fascinating European grassland sightseeing for admiration. Luxuriant grass there will give you the cool soak in of the emerald natural carpet. You can ride on a horse to wander leisurely or gallop around the vast grassland.
Five Colors Mountain
It is also called Yujia Mountain and is a key area to appreciate the secondary forest. However, it is most beautiful from late September to early November, when the full mountain is dressed into dreamy colors like emerald, yellow, red, etc. with different layers.
Princess Lake
Prince Lake is a top beautiful place at Ulan Butong. The shimmering lake water, lush grasses and trees and the reflection of the surrounding plants and blue sky makes this place an ideal fairyland. Summer and Autumn are the best time to enjoy the lake view.
Besides the above top popular spots, Ulan Butong also has more beautiful places for your extensive discovery, such as Jiapigou Scenic Area with yellow flowers, Huamugou National Forest Park with splendid golden forest in autumn, Panlong Valley with nice forest and grassland, etc.
☛ 4 Days Bashang Grassland Unparalleled Landscape Tour
☛ 5 Days Classic Hexigten Scenic Tour with Wulan Butong Grassland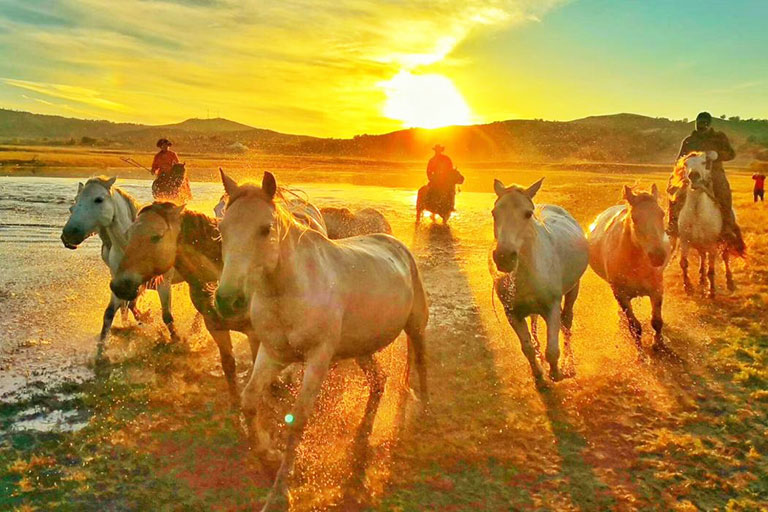 General Lake ©you.autohome.com.cn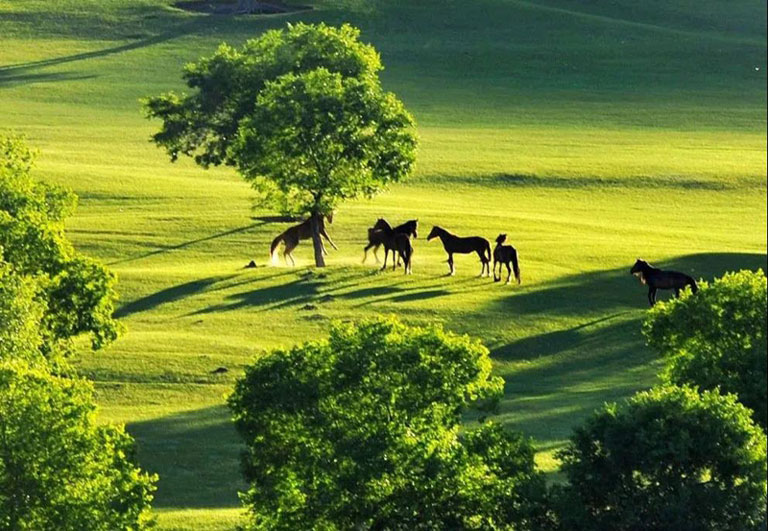 Hamaba ©chifeng.gov
Five Colors Mountain ©chifeng.gov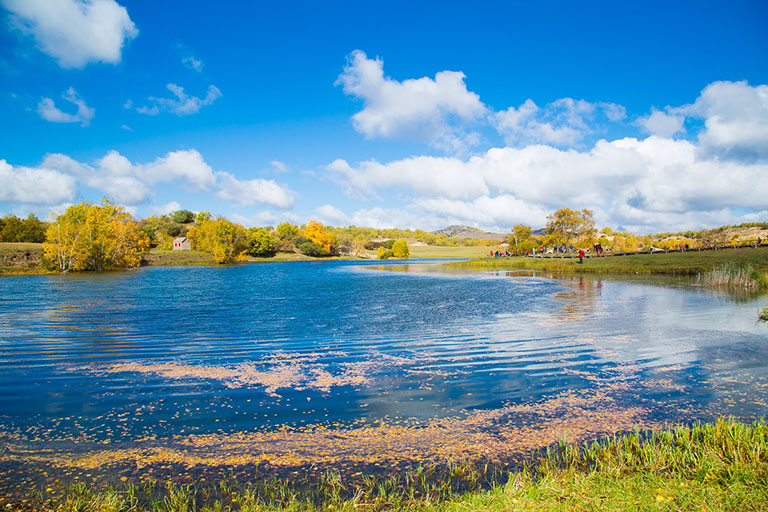 Princess Lake ©meipian
How to Get to Ulan Butong Grassland
Ulan Butong Grassland is situated at the southwest part of Hexigten Banner, Chifeng City, Inner Mongolia in north China. It is about 300 kilometers northeast from Beijing, 140 kilometers west from Chifeng downtown, 180 kilometers southeast from Xilinhot.
Travelers can arrive in Beijing, Chifeng or Xilinhot by flight / train first and then transfer to Ulan Butong Grassland by private car or local distance coach. But public distance coach are limited, and the schedule is changeable in peak and shoulder season. Please contact us to know more transportation
Travel Ulan Butong Grassland with China Discovery
If you want to get rid of hustle of public transportation and troublesome navigation, you can book a private tour package with us which covers sightseeing, dining and transfer. Our local tour guide and driver will take care of all the details. You just need to focus on sightseeing. Choose a tour in our Chifeng Tour Packages.
Check more about:
How to Get to & Around Beijing
How to Get to & Around Chifeng
How to Get to & Around Xilingol
☛ 5 Days Classic Hexigten Scenic Tour with Wulan Butong Grassland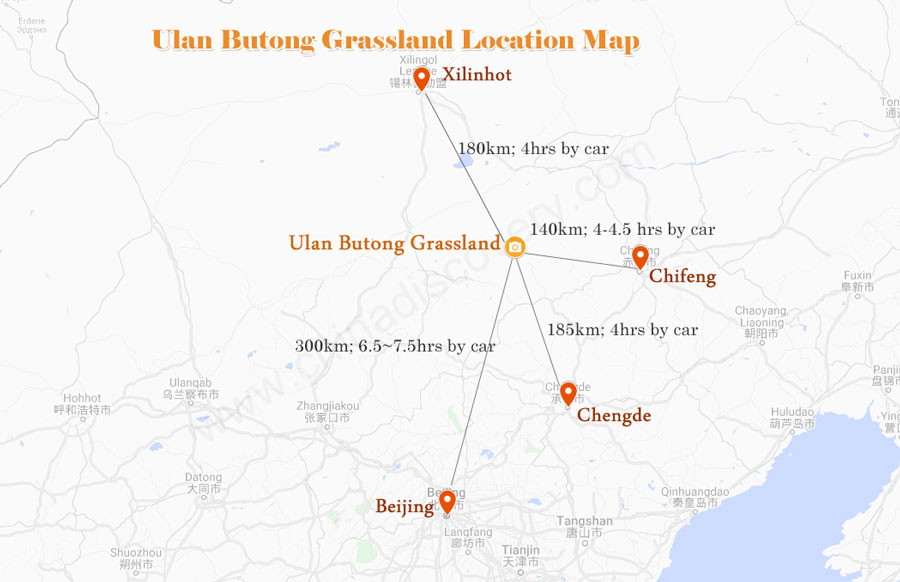 Click to Enlarge Ulan Butong Grassland Location Map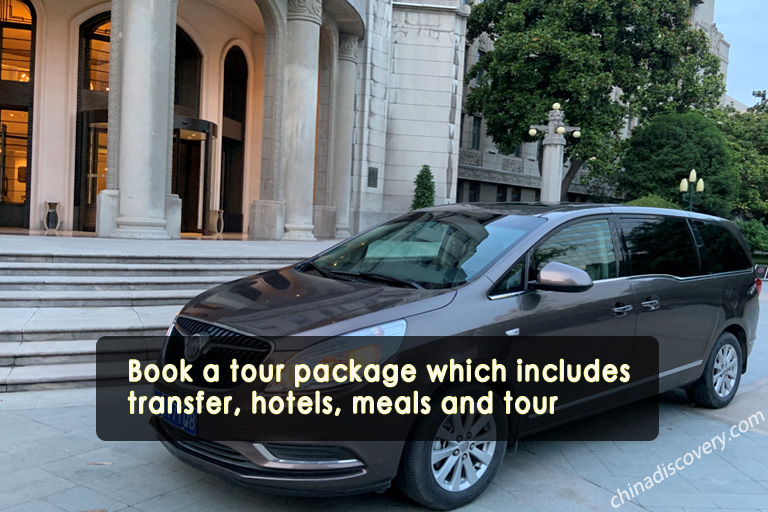 Local Private Transfer Service
When to Visit Ulan Butong Grassland
It is suitable to visit Ulan Butong Grassland in summer, autumn and winter and Ulan Butong has distinct sightseeing in each season. Among them, summer and autumn are comfortable with great scenery, and early autumn is the most beautiful time for photography.
• Summer (June ~ early September): the lush emerald grassland view with abundant flowers, flocks and herds under clear blue sky, peak season;
• Autumn (middle or late September to October): rich warm hues and golden forest and grassland with peaceful lakes and slopes for the best photography pictures, peak season;
• Winter (November to March): snow covered white grassland with rime forest, and fewer visitors.
Check more about Chifeng Weather & Best Time to Go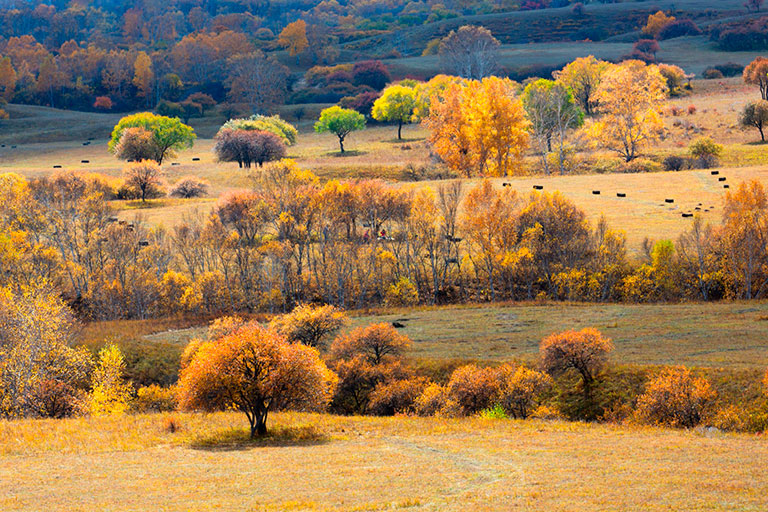 Ulan Butong Grassland in Autumn ©大金子 / mafengwo
Ulan Butong Grassland Accommodation
Ulan Butong Grassland Scenic Area and surrounding has abundant accommodation choices. And Hongshan Army Horse Ranch is the most chosen area for stay, where offers most selections from higher standard hotels, budget hotels, hostels to Mongolian yurts for your easy choice. Also, Yuanbaoshan Village and some other nearby villages provide some themed hotels and budget choices. However, the facilities, equipment and service standards can not match those in Chifeng downtown or even other large cities such as Beijing or Shanghai. Basic access to hot water, Wi-Fi, and so on are almost offered for your needs.
Check more about Chifeng Accommodation
Ulan Butong Grassland Nearby Attractions
Hexigten Global Geopark
Hexitgen UNESCO Global Geopark has more wonderful natural wonders besides Ulan Butong Grassland. The fabulous Dalinur Lake with birds and the nearby vast Gonggeer Grassland with primitive rural simple vibrance, and so forth makes Hexigten a fascinating resort for relaxation and release.
Site of Xanadu
Site of Xanadu in Zhenglanqi of Xilingol is a UNESCO World Cultural Heritage to seek the authentic site of the past palace of Shangdu Capital of Yuan Dynasty and learn more about the brilliant culture and historical stories of Kublai.
Xilingol Grassland
Xilingol Grassland in Xilingol is one of the four great grasslands in China, where to admire the authentic and luxuriant prairie landscape with belt-like winding river, flocks and herds grazing under the azure sky, dotted Mongolian family yurts, etc. for a worthy visual and mind satisfaction.
Check more Chifeng Attractions
☛ 6 Days Inner Mongolia Authentic Nature & Dynasties Culture Tour from Chengde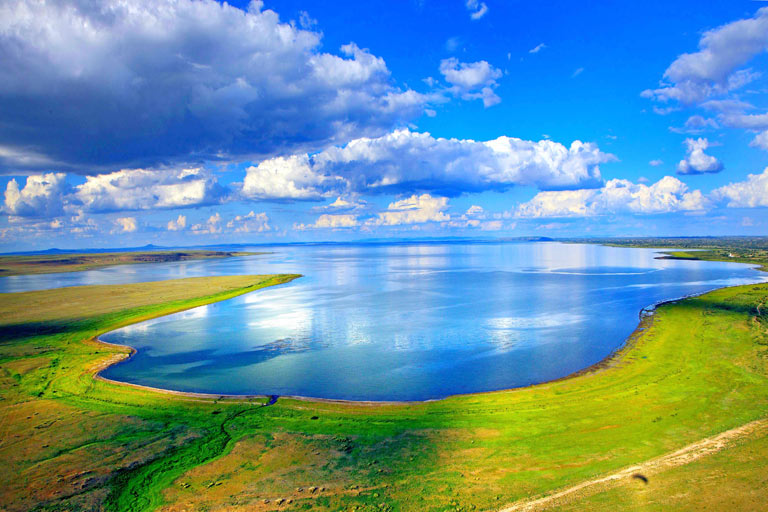 Dalinur Lake in Hexigten Banner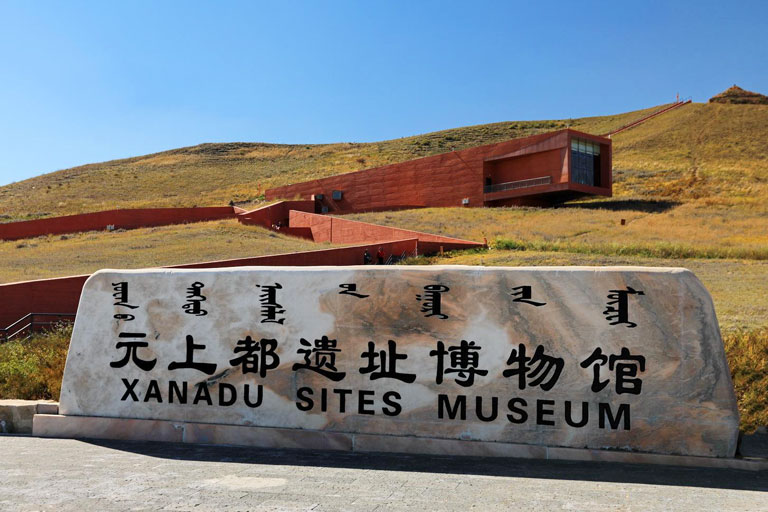 Site of Xanadu in Xilingol ©行者橙色咖啡 / sohu
Useful Ulan Butong Grassland Tips
Wear comfortable shoes for grassland walking and horse riding, long-sleeves and trousers, and prepare your mosquito repellent;
Prepare sunblock, hat, umbrella, etc. to protect your skin and eyes;
Ride horse within appointed area in case of getting lost;
Book your accommodation at least more than one month in advance, especially if you visit in the peak season.
How to Plan a Chifeng Tour
Best Time to Visit Chifeng: All year round; middle June to August for emerald grassland; September to October for autumn photography; November to next February for birding and winter scenery and activities.
How to Get There: Fly to Yulong Airport from Beijing (1.5hrs), Shanghai (3 hrs), Qingdao (2 hrs), Dalian (1 hr & 15 mins), Tianjin (1 hr & 20 mins), Zhengzhou (2 hrs & 10 mins), Hohhot (1 hr & 15 mins), Hulunbuir (1 hr & 45 mins), etc.; bullet trains to Chifeng Railway Station from Beijing (2.5 hrs), Shenyang (3 hrs), Dalian (5 hrs)...
Visitors usually plan 4-6 days in Chifeng to discover Yulong Sand Lake with top highlights in Hexigten Global Geopark like Dali Nur Lake, Asihatu Stone Forest, Huanggangliang Forest Park, Gonggeer Grassland and more highlights on the way by car. If you are interested in Liao Dynasty culture, you can add 1 day to enjoy the temples, towers and museums in Ningcheng and Badan Left Banner.
☛ 5 Days Classic Hexigten Scenic Tour with Wulan Butong Grassland (Chifeng)
☛ 4 Days Bashang Grassland Unparalleled Landscape Tour (Chengde - Chifeng)
Besides, it is popular to travel Chifeng with nearby Xilingol in 4-6 days for a more wonderful Inner Mongolia grassland, nature wonders and historical culture exploration. If you got a longer vacation, it is highly recommended to travel to Hulunbuir and Arxan to soak in the beautiful and luxuriant Hulunbuir Grassland, wetlands, forest, rivers, etc.
☛ 6 Days Inner Mongolia Authentic Nature & Dynasties Culture Tour from Chengde (Xilingol - Chifeng)
☛ 5 Days Best Hulunbuir Tour with Grassland Exploration (Hulunbuir)
☛ 9 Days Hulunbuir In-depth Tour with Arxan UNESCO Global Geopark (Hailar - Ergun - Manzhouli - Arxan - Hailar)
☛ 6 Days Inner Mongolia Best Desert & Grassland Tour (Hohhot / Baotou / Kubuqi Desert / Hulunbuir)
Moreover, many people like travel Chifeng with more hot places such as Beijing, Chengde, Xian, Shanghai, Chengdu, etc. to catch more wonders in the vast country. Please tell us if you have any interested destinations or idea about your trip planning!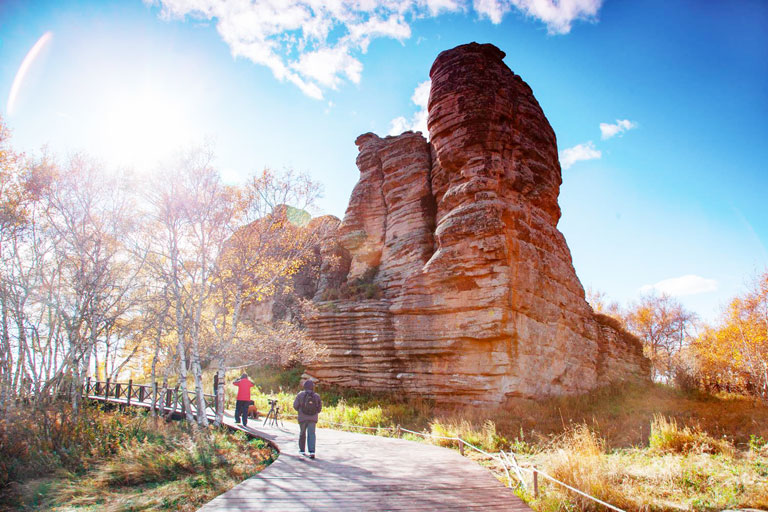 Chifeng Asihatu Stone Forest (Autumn)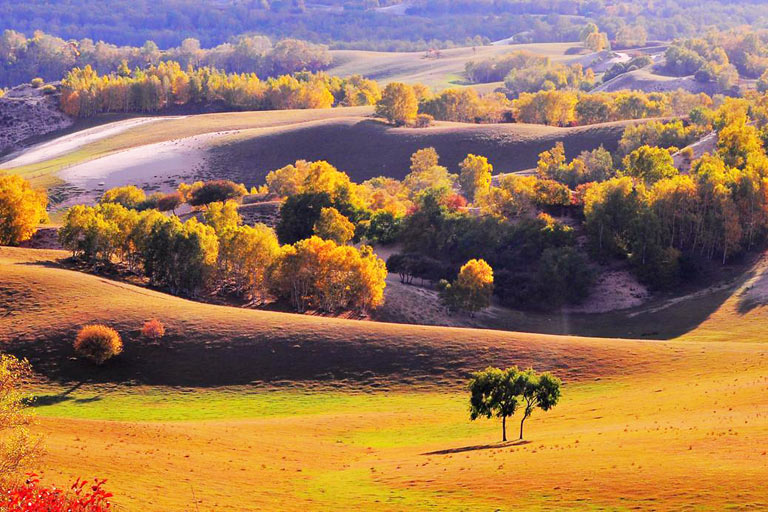 Wulan Butong Grassland in Autumn
Travel Chifeng with China Discovery
Have your own ideas of where and what to discover in Chifeng and Inner Mongolia? We China Discovery offers many popular and valuable private Inner Mongolia tour packages taking you to enjoy wonderful exploration of the best highlights of Chifeng, etc. And our professional travel team with experienced travel expert, local English-speaking travel guide and driver and non-smoking comfortable licensed private vehicle will help you throughout the trip from the planning, navigation, hotel arrangement and scenic spot visiting. So you will have the much better travel experience in the large and beautiful Inner Mongolia. You can check our tour packages to get some inspiration. All tours can be tailor-made according to your group size, time, physical condition, plan, interests, budget and any other special need! Please feel free to contact us to customize your own Chifeng trip / Inner Mongolia Trip or if you need any help!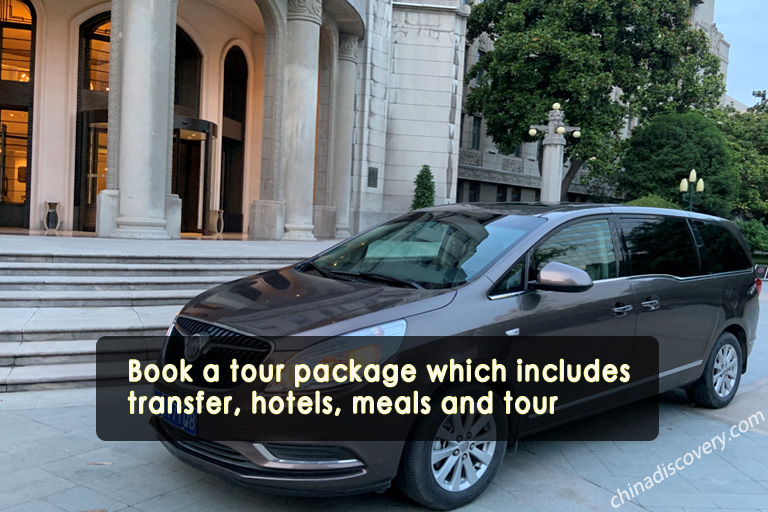 Local Private Transfer Service
Chifeng Travel Guide
More about Inner Mongolia Travel Guide
Recommended Chifeng Tours
Top 3 Chifeng tours chosen by most customers to explore Chifeng in the best way. Check the detailed itinerary, or tailor your own trip now with us.
4 Days Bashang Grassland Unparalleled Landscape Tour

Beijing / Chengde / Bashang / Beijing
5 Days Classic Hexigten Scenic Tour with Wulan Butong Grassland

Chifeng - Wulan Butong - Hexigten - Chifeng
6 Days Inner Mongolia Authentic Nature & Dynasties Culture Tour from Chengde

Chengde - Xilingol - Hexigten - Chifeng
Start planning your tailor-made holiday to China by contacting one of our specialists. Once inquired, you'll get a response within 0.5~23.5 hours.
Customize a Trip
Have a question? Get answers from our travel experts or guests
Your Question:

Your Name:

Your Email: