Chifeng Maps, Chifeng Tourist Maps 2023
Chifeng City in the southeast part of Inner Mongolia is in fact an attractive and abundant travel destination to discover the diverse geological landscapes and rich Liao and Yuan dynasties culture and history remains. So where is Chifeng specifically? Here we collect the useful Chifeng location maps, Chifeng tourist maps, Chifeng transportation maps and more planning tips for you to understand its place, major attractions and detailed transportation! Let's check all Chifeng maps at below to plan your Chifeng tours and Inner Mongolia tours 2023/2024!
All Chifeng maps are detailed, downloadable, printable and in English! Please feel free to use them when planning your Inner Mongolia Chifeng trip!
Hot Inner Mongolia Tour Package:
Chifeng Location Maps
Chifeng is situated at the southeastern Inner Mongolia Autonomous Prefecture in north China, with Liaoning Province to the southeast, Chengde City (Hebei Province) to the southwest and Xilingol League (Inner Mongolia) to the northwest. It is 615 kilometers east from the prefecture capital - Hohhot (10 hours by car), 780 kilometers south from Hailar (Hulunbuir), 295 kilometers southeast from Xilinhot (Xilingol) (4 hours by car), 340 kilometers northeast from Beijing (5.5 hours by car), 375 kilometers northeast from Tianjin (6 hours by car), 380 kilometers from Shenyang (5.5 hours by car).
Chifeng Tourist Maps
Chifeng is a wonderful destination with various sightseeing highlights, particularly the Hexigten Global Goepark with Asihatu Store Forest, Wulan Butong Grassland, Dali Nur Lake, Huanggangliang National Forest Park, Hunshandake Tibba, Xilamulun Grand Canyon, Gongger Grassland, etc. Also, the Red Mountain Park, Yulong Sand Lake, Zhaomiao Temple, Talinhua, etc. Are top popular among visitors and shutterbugs. Check the detailed location of the top attractions in and around Chifeng.
Hot Inner Mongolia Tour Package:
Chifeng Transportation Maps
Chifeng has Chifeng Yulong Airport, Chifeng Railway Station and Chifeng South Railway Station (Chifengnan) linking some major destinations within China, including Beijing, Hohhot, Shenyang, Dalian, Baotou, Shijiazhuang, etc. Check the following maps to know the locations of Chifeng airport, railway station, and downtown, and more transferring info.
How to Plan a Chifeng Tour
Best Time to Visit Chifeng: All year round; middle June to August for emerald grassland; September to October for autumn photography; November to next February for birding and winter scenery and activities.
How to Get There: Fly to Yulong Airport from Beijing (1.5hrs), Shanghai (3 hrs), Qingdao (2 hrs), Dalian (1 hr & 15 mins), Tianjin (1 hr & 20 mins), Zhengzhou (2 hrs & 10 mins), Hohhot (1 hr & 15 mins), Hulunbuir (1 hr & 45 mins), etc.; bullet trains to Chifeng Railway Station from Beijing (2.5 hrs), Shenyang (3 hrs), Dalian (5 hrs)...
Visitors usually plan 4-6 days in Chifeng to discover Yulong Sand Lake with top highlights in Hexigten Global Geopark like Dali Nur Lake, Asihatu Stone Forest, Huanggangliang Forest Park, Gonggeer Grassland and more highlights on the way by car. If you are interested in Liao Dynasty culture, you can add 1 day to enjoy the temples, towers and museums in Ningcheng and Badan Left Banner.
☛ 5 Days Classic Hexigten Scenic Tour with Wulan Butong Grassland (Chifeng)
☛ 4 Days Bashang Grassland Unparalleled Landscape Tour (Chengde - Chifeng)
Besides, it is popular to travel Chifeng with nearby Xilingol in 4-6 days for a more wonderful Inner Mongolia grassland, nature wonders and historical culture exploration. If you got a longer vacation, it is highly recommended to travel to Hulunbuir and Arxan to soak in the beautiful and luxuriant Hulunbuir Grassland, wetlands, forest, rivers, etc.
☛ 6 Days Inner Mongolia Authentic Nature & Dynasties Culture Tour from Chengde (Xilingol - Chifeng)
☛ 5 Days Best Hulunbuir Tour with Grassland Exploration (Hulunbuir)
☛ 9 Days Hulunbuir In-depth Tour with Arxan UNESCO Global Geopark (Hailar - Ergun - Manzhouli - Arxan - Hailar)
☛ 6 Days Inner Mongolia Best Desert & Grassland Tour (Hohhot / Baotou / Kubuqi Desert / Hulunbuir)
Moreover, many people like travel Chifeng with more hot places such as Beijing, Chengde, Xian, Shanghai, Chengdu, etc. to catch more wonders in the vast country. Please tell us if you have any interested destinations or idea about your trip planning!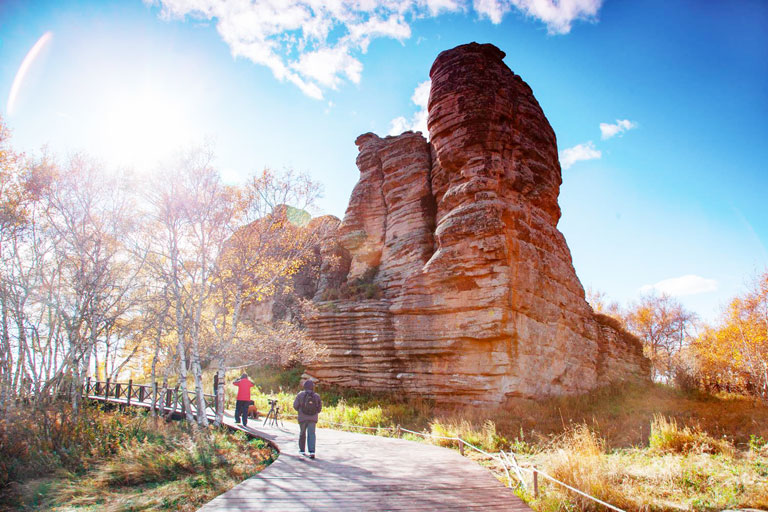 Chifeng Asihatu Stone Forest (Autumn)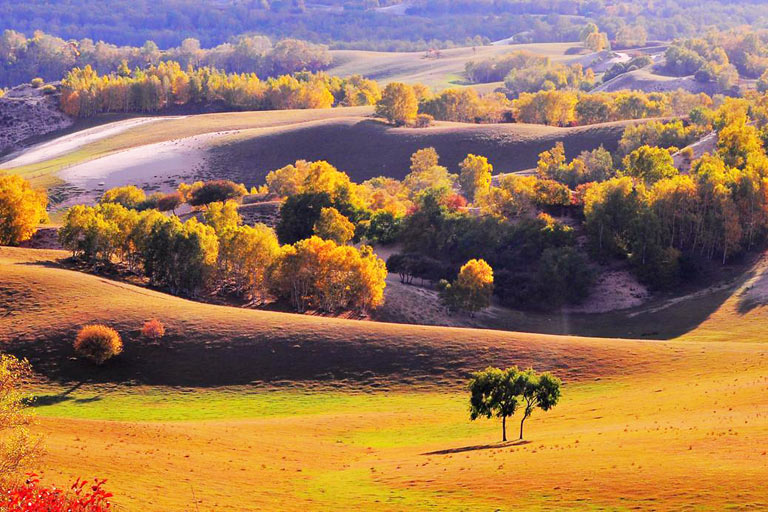 Wulan Butong Grassland in Autumn
Travel Chifeng with China Discovery
Have your own ideas of where and what to discover in Chifeng and Inner Mongolia? We China Discovery offers many popular and valuable private Inner Mongolia tour packages taking you to enjoy wonderful exploration of the best highlights of Chifeng, etc. And our professional travel team with experienced travel expert, local English-speaking travel guide and driver and non-smoking comfortable licensed private vehicle will help you throughout the trip from the planning, navigation, hotel arrangement and scenic spot visiting. So you will have the much better travel experience in the large and beautiful Inner Mongolia. You can check our tour packages to get some inspiration. All tours can be tailor-made according to your group size, time, physical condition, plan, interests, budget and any other special need! Please feel free to contact us to customize your own Chifeng trip / Inner Mongolia Trip or if you need any help!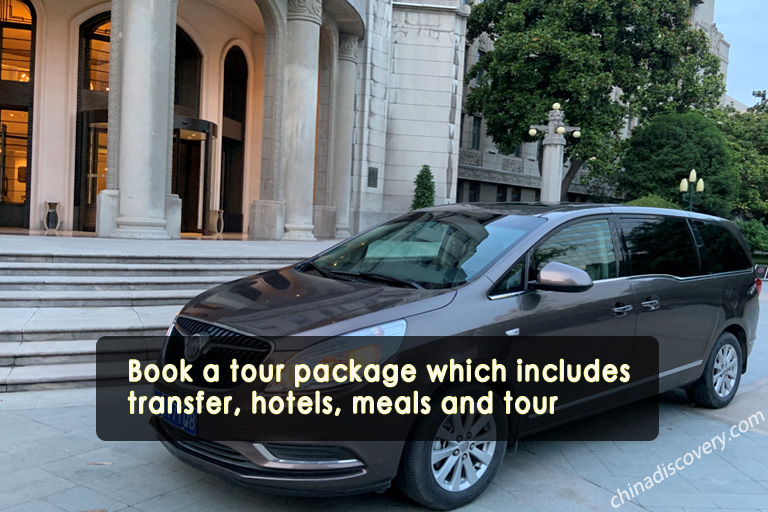 Local Private Transfer Service
Chifeng Travel Guide
More about Inner Mongolia Travel Guide
Recommended Tours
Top 3 tours chosen by most customers to explore in the best way. Check the detailed itinerary,or tailor your own trip now with us.
6 Days Inner Mongolia Bests Discovery Tour

Hohhot / Ulanqab / Huitengxile Grassland / Hohhot / Baotou / Yemingsha of Kubuqi Desert / Ordos
5 Days Best Hulunbuir Tour with Grassland Exploration

Hulunbuir / Erguna / Manzhouli / Hulunbuir
5 Days Classic Hexigten Scenic Tour with Wulan Butong Grassland

Chifeng - Wulan Butong - Hexigten - Chifeng