Inner Mongolia Maps 2023: Updated, Detailed and Downloadable
Lying in the northern border area of China, Inner Mongolia is China's third largest region by area. It forms an arid buffer zone between the rest of China and Mongolia & Russia to the north.
In Inner Mongolia, the most visited destinations are the capital of Inner Mongolia – Hohhot, Baotou, Ordos, Wulanchabu, Hulunbuir etc. Our Inner Mongolia Maps which include Inner Mongolia China Map, Inner Mongolia Travel Map, and Inner Mongolia Grassland Map, etc. will help you understand Inner Mongolia better and transfer to the cities easily. All the maps are downloadable and printable. Please feel free to use them when planning your Inner Mongolia trip!
Inner Mongolia Location Map - Where is Inner Mongolia on Map?
Inner Mongolia spans China's north and northeast edge for about 2,400 kilometers. It borders the Mongolia to the north and Russia to the northeast. Its capital, Hohhot, is only a 2~3-hour high speed train ride or a 1.5-hour flight ride from Beijing.
Inner Mongolia Tourist Map - Attractions in Inner Mongolia
The Inner Mongolia Autonomous Region is popular with its rich and beautiful natural landscapes like epic grassland, desert, forest, wetland, volcano, great Genghis Khan Culture and nomadic culture, strong border flavor, etc. Popular tourist destinations in Inner Mongolia include Hohhot (the capital), Hulunbuir, Ordos, Baotou, Ulanqab, Xilingol, Alxa, Xing'an Leadge, Tongliao, Chifeng, etc.
Check more about Top 20 Attractions in Inner Mongolia >>
Inner Mongolia Transportation Map - How to Get to /around Inner Mongolia
Hohhot and Hulunbuir are the two most popular landing cities to visit Inner Mongolia. If you are heading to visit the grassland and desert near Hohhot and the best museum and mausoleum, you are suggested to go to Hohhot first. Hohhot has frequent flights and trains to be reached, especially from Beijing. Hohhot is also the best choice for the visitors who want to visit the highlights near Hohhot and in Hulunbuir together, because there are more flights from Hohhot to Hulunbuir than from Hulunbuir to Hohhot. For those who only want a visit Hulunbuir to explore China's Largest and Most Beautiful Hulunbuir Grassland and the nearby forests, wetlands and Russian towns, landing in Hailar, the central area of Hulunbuir, is the best choice.
Check more about Inner Mongolia Transportation >>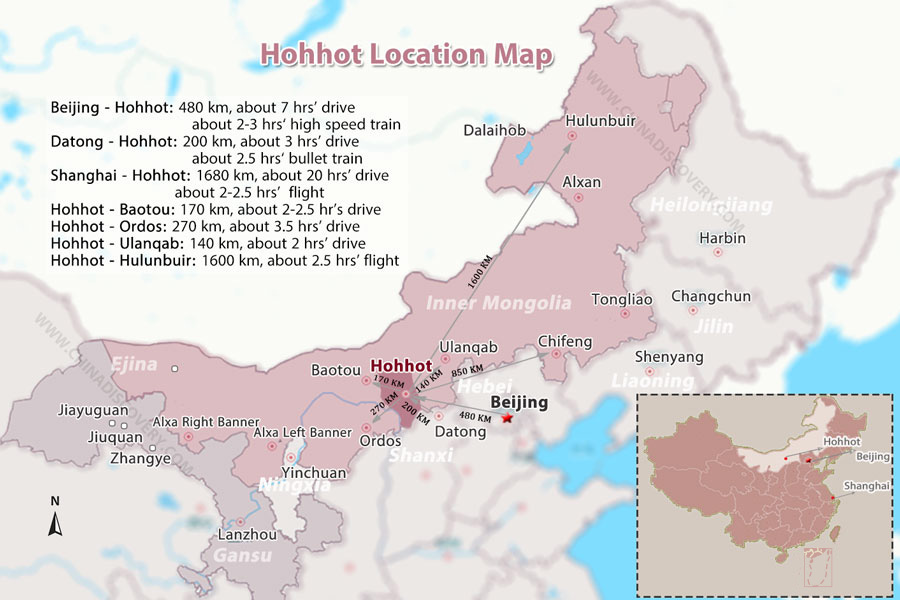 Hohhot Transportation Map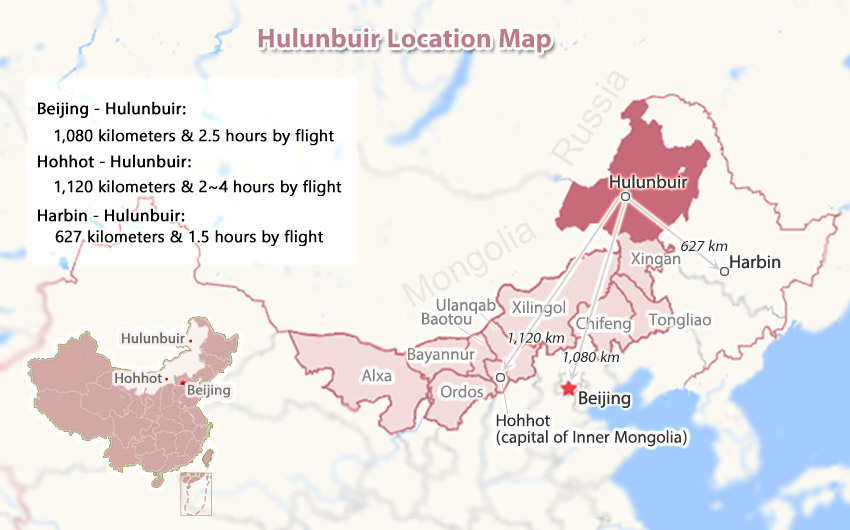 Hulunbuir Location & Transportation Map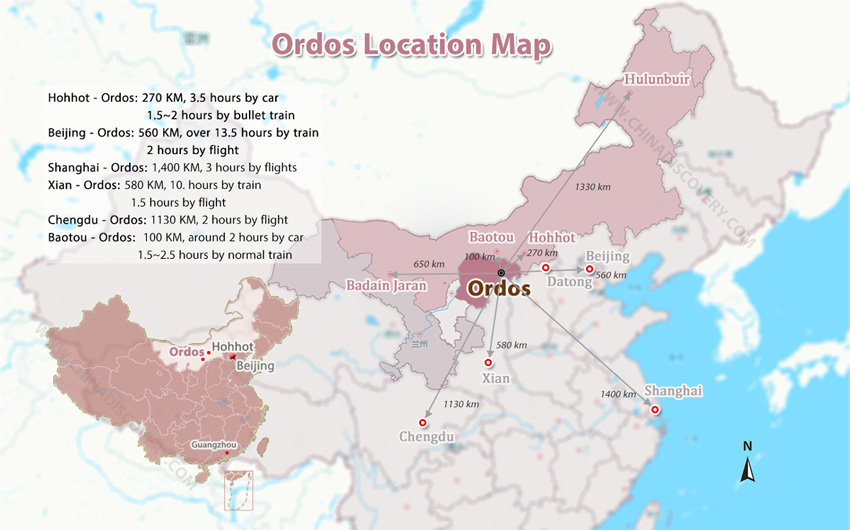 Ordos Location & Transportation Map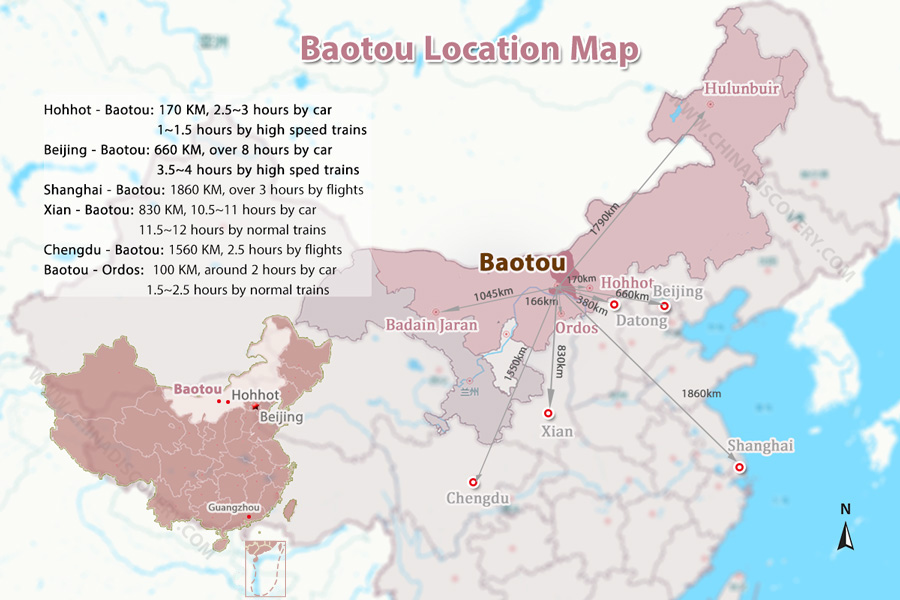 Baotou Location & Transportation Map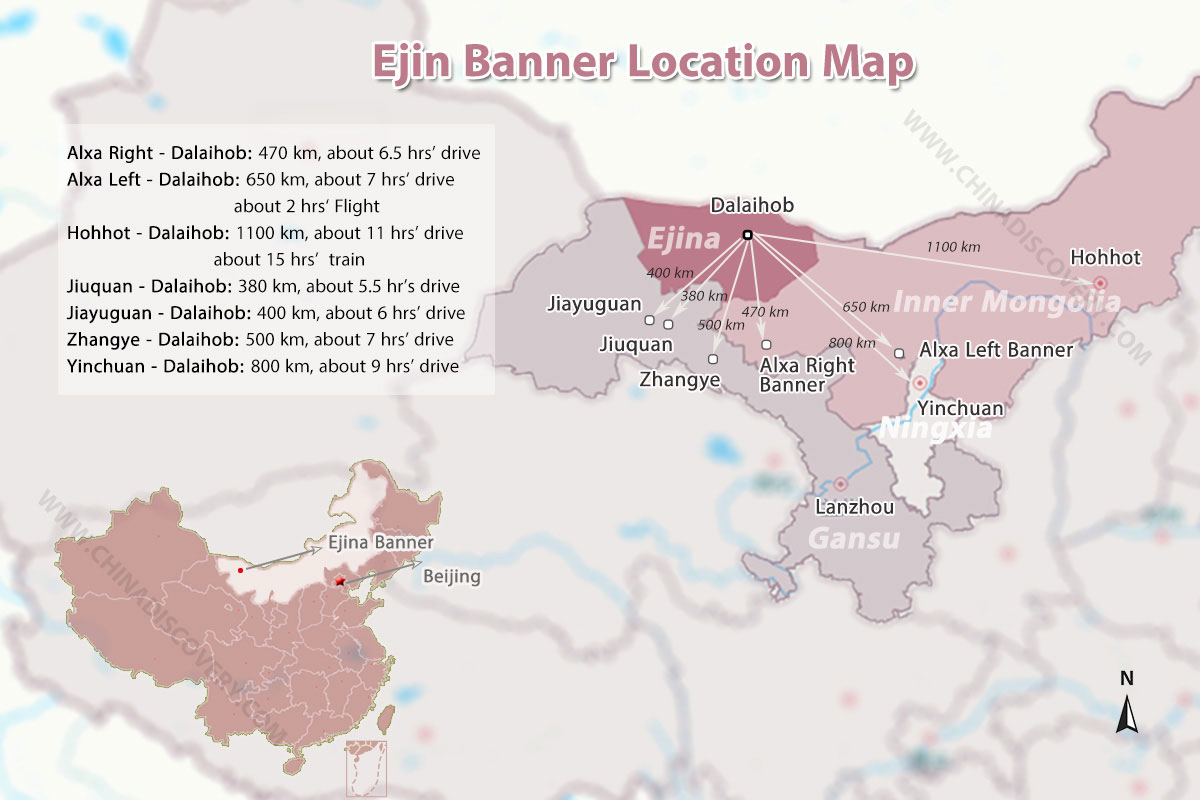 Ejin Banner Location & Transportation Map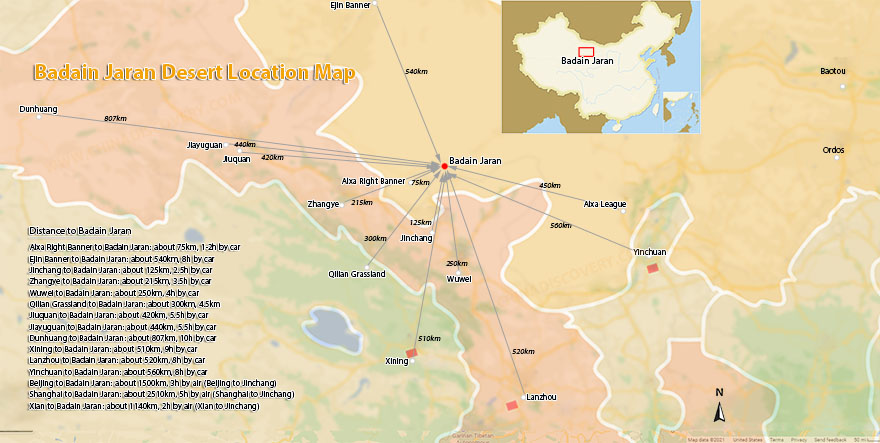 Badain Jaran Desert Map
How to Plan Your Inner Mongolia Tour?
Places to Visit in Inner Mongolia: Hohhot, Hulunbuir, Ordos, Baotou, Ulanqab, Badan Jaran, Ejina, Xilingol, Chifeng…
How to Get to Inner Mongolia: International and domestic flights to Hohhot, Hulunbuir…; Domestic flights to Xilingol, Chifeng…;High Speed Train to Hohhot, Ulanqab, Baotou, Ordos, Chifeng…; Drive to Badan Jaran, Ejina…
Best Time to Visit: April to October (especially from June to September for grasslands, June to October for deserts)
Inner Mongolia is so large and abundant with diverse distinct natural and cultural highlights, therefore, you can hardly discover all the bests in one single visit. It would take 3 days to more than 1 month for various needs. And your itinerary can be decided based on your trip length, interests and a major area of this vast destination.
Classic Inner Mongolia Tours - Middle Part (Hohhot, Baotou, Ordos...)
A classic Inner Mongolia tour usually starts from Hohhot, the capital of Inner Mongolia and most convenient traffic hub. Planning 3 days is popular for an essential discovery of Hohhot city highlights with surrounding grassland like Huitengxile or Xilamuren. 1-2 days extension to Kubuqi Desert in Ordos is also frequently chosen. And a 5-6 days trip including Hohhot, nearby grassland, Ulanqab volcanoes, Baotou and Ordos are the favorite one among travelers to discover grassland, desert, historical culture of Genghis Khan, Tibetan Buddhism, etc. in Inner Mongolia.
☛ 5 Days Classic Inner Mongolia Tour
☛ 6 Days Inner Mongolia Bests Discovery Tour (Hohhot / Ulanqab / Huitengxile Grassland / Baotou / Kubuqi Desert / Ordos)
Authentic Grassland, Wetland & Forest Park - East Part (Hulunbuir, Arxan...)
If you are interested in the most beautiful grassland, arrange 4-5 days to Hulunbuir to catch Hulunbuir Grassland and all the fabulous primitive nature and in-depth nomadic tribe culture highlights in Hailar, Ergun, Genhe and Manzhouli. If you have more time, add 2 more days to Arxan National Forest Park.
A middle and east Inner Mongolia discovery to Hohhot, Baotou, Ordos and Hulunbuir usually takes about 6-8 days, which helps you savor the top representative prairie sightseeing and culture of Inner Mongolia.
☛ 5 Days Best Hulunbuir Tour with Grassland Exploration
☛ 9 Days Hulunbuir In-depth Tour with Arxan UNESCO Global Geopark
Wild Desert & Golden Populus Forest - West Part (Badain Jaran, Ejina...)
The west Inner Mongolia is favored for seeking wilder sightseeing and adventure. If you want to discover China's most beautiful desert, a 2-4 days Badain Jaran Desert trip to the west Inner Mongolia is your best choice to go! Besides, the splendid Ejina Populus Euphratica Forest is quite hot for a 2-3 days' photography tour in autumn. If you want a longer vacation, plan as many other visitors to discover Badain Jaran together with nearby hot and convenient destinations like Xining, Zhangye, Dunhuang, Jiayuguan, etc. It usually needs 7 days for a Xining Zhangye Badain Jaran Desert trip.
☛ 5 Days Zhangye Danxia Badain Jaran Desert Geography Miracle Tour
☛ 7 Days Qinghai Lake Zhangye Danxia Badain Jaran Desert Wonders Tour
☛ 4 Days Ejina Populus Euphratica Forest Photography Tour
If you are seeking more authentic sightseeing and deeper Inner Mongolia culture and history highlights, it is also popular to discover Chifeng and Xilingol for 4-5 days.
Besides, it is also a great idea to extend to more popular destinations in China to appreciate more wonderful nature, culture, history and food of this vast country, such as Beijing, Shanghai, Xian, Chengdu, Xinjiang, Gansu, Tibet, Yangtze River, Yunnan, Guilin, Zhangjiajie, Huangshan, etc.
Huitengxile Grassland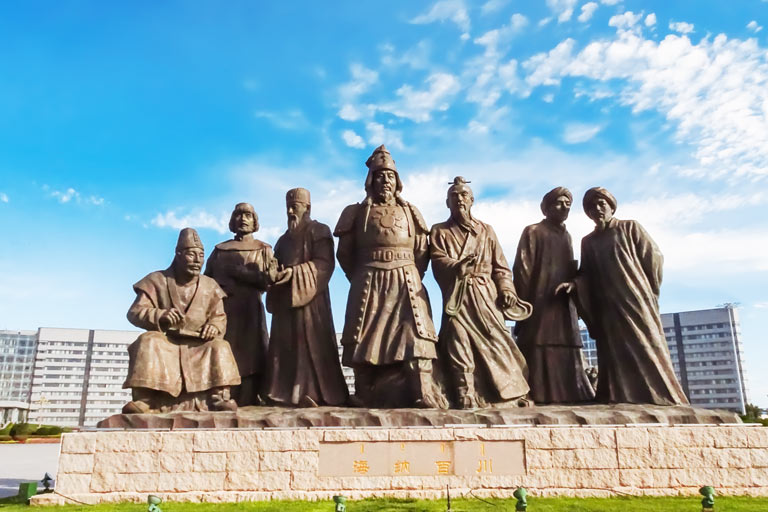 Genghis Khan Statue in Ordos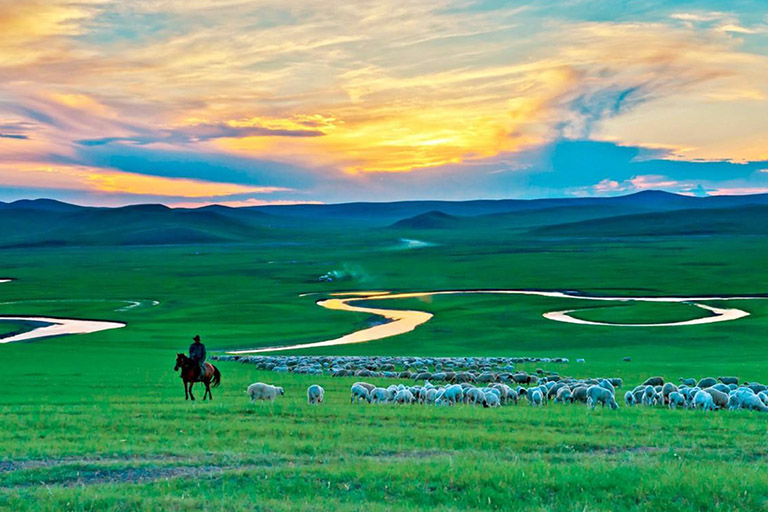 Hulunbuir Grassland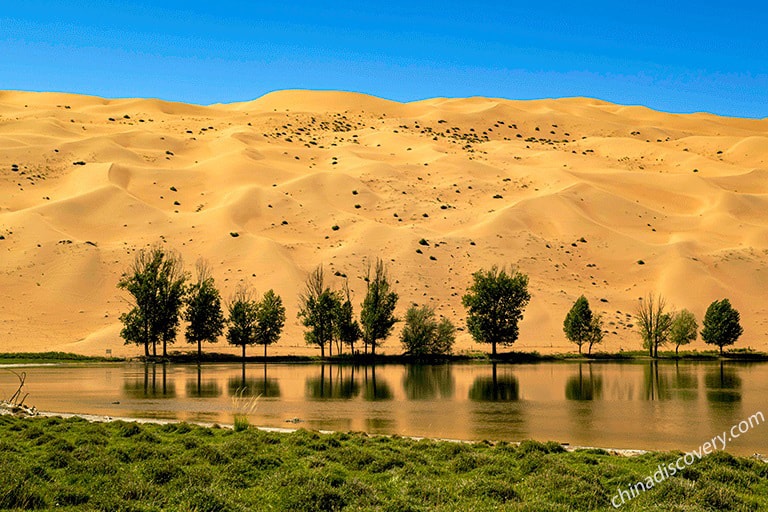 Badain Jaran Desert
Travel Inner Mongolia with China Discovery
Have your own ideas of where and what to discover in Inner Mongolia? We China Discovery offers many popular and valuable private Inner Mongolia tour packages taking you to enjoy wonderful exploration of the best highlights of Hohhot, Hulunbuir, Ordos, Baotou, Ulanqab, Badain Jaran, Ejina, Chifeng, Xilingol, etc. And our professional travel team with experienced travel expert, local English-speaking travel guide and driver and non-smoking comfortable licensed private vehicle will help you throughout the trip from the planning, navigation, hotel arrangement and scenic spot visiting. So you will have the much better travel experience in the large and beautiful Inner Mongolia. You can check our tour packages to get some inspiration. All tours can be tailor-made according to your group size, time, physical condition, plan, interests, budget and any other special need! Please feel free to contact us to customize your own Inner Mongolia trip or if you need any help!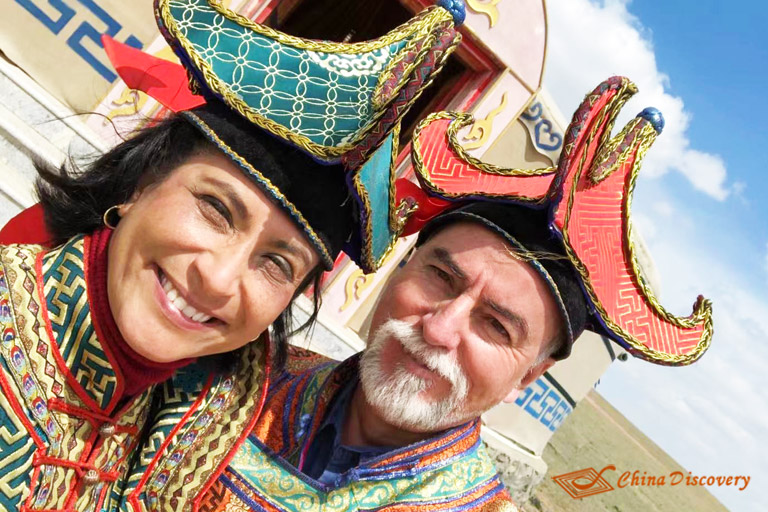 Our Customers Enjoying Their Trip to Inner Mongolia Grassland in April, 2021
More about Inner Mongolia Travel Guide
Inner Mongolia Cities' Travel Guides & Tours
Hottest Attractions in Inner Mongolia
Recommended Inner Mongolia Tours
Top 3 Inner Mongolia tours chosen by most customers to explore Inner Mongolia in the best way. Check the detailed itinerary,or tailor your own trip now with us.
6 Days Inner Mongolia Bests Discovery Tour

Hohhot / Ulanqab / Huitengxile Grassland / Hohhot / Baotou / Yemingsha of Kubuqi Desert / Ordos
5 Days Best Hulunbuir Tour with Grassland Exploration

Hulunbuir / Erguna / Manzhouli / Hulunbuir
4 Days Inner Mongolia Grassland & Genghis Khan Culture Tour

Hohhot / Huitengxile Grassland / Ordos