Inner Mongolia Cities: Top 12 Inner Mongolia Destinations 2023
Inner Mongolia situated in the northernmost China is particularly large and boasts plentiful of distinct wonderful places to visit for a nice exploration of its diverse nature, culture, history and modern industries. So what are the top Inner Mongolia destinations? Hohhot as the prefecture capital in the central part symbolizes the ethnic culture and heroic history of the large area and is pleasantly embraced by the top popular grasslands. Hulunbuir at the northeast has the best grassland and a series of competitive natural wonders. While, Badain Jaran Desert< at the southwestern part is terrifically popular for a wild desert adventure. Much more than that, profound lively history of the generation of ethnic hero and various tribes, treasurable national geoparks, splendid populas forest, enormous prairies scatters around within, stunning lakes and more make abundant cities and regions in Inner Mongolia the unique amazing destinations to discover, such as Ordos, Baotou, Ejina, Xilingol, and so on! Let's check the detailed top 12 Inner Mongolia Destinations to go to plan your coming Inner Mongolia tour 2023/2024!!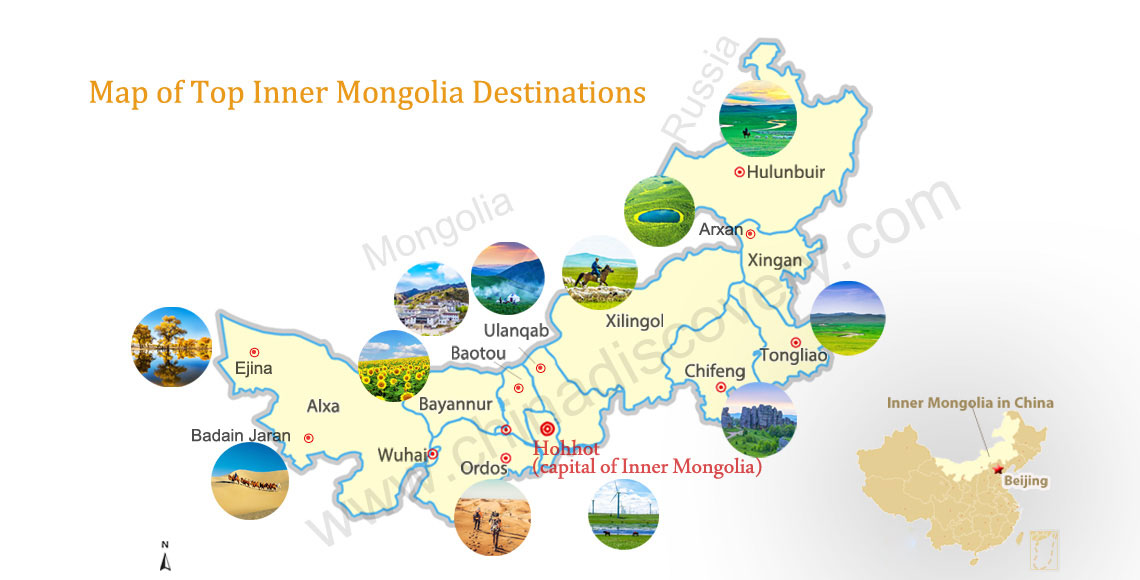 Huitengxile Grassland nearby Hohhot
Inner Mongolia Museum
Hohhot as the capital of Inner Mongolia prefecture is usually the first stop for visitors seeking for a classic Inner Mongolia discovery. Regarded as "Blue City", Hohhot has pleasant weather and environment for your first soak in the emerald and pleasant charm of Inner Mongolia. Since it is only 1.5-2.5 hours' car distance to the top popular grasslands - Huitengxile Grassland and Xilamuren Grassland, Hohhot is really hot to get close to the refreshing and emerald prairie and simple pasture life. If you do not know where to visit in Inner Mongolia, just decide on Hohhot! In addition, this well-developed city still preserves the hundreds-of-year old delicate or worn-out temple sites to express the rich Buddhist culture and mixed belief of Tibetan religion and Mongolian opinions. However, it gives you the best comprehensive preview of entire Inner Mongolia before your personal exploration, no matter the geological features, conflicts and reunion of diverse ethnic tribes, typical life on grassland, historical feasts and influences during past eras, and more. Besides the visual and mental supplement in the city, Hohhot also provides the convenient access to the nearby Ordos, Baotou and Ulanqab for your brief savory of the top essences of Inner Mongolia, namely grasslands, desert, Genghis Khan culture and more change of the valuable high-yielding region on the barren wild nature.
• Highlights: Inner Mongolia Museum, Dazhao Temple, Five-pagoda Temple, Zhaojun Tomb, Suiyuan General Yamen, Xilituzhao Temple, Yili Milk Factory, etc.
• Recommended Trip Length: 2-3 days
• Best Time to Visit: summer to autumn, especially May to October
Hulunbuir Grassland
Ergun Wetland in Autumn
Hulunbuir located in the northeast of Inner Mongolia can be listed as one of the most beautiful destinations within Neimenggu. The globally well-known Hulunbuir Grassland is the best signature of Hulunbuir, since it is one of the four largest grasslands in the whole world and also the largest one in entire China. No visitors visiting there during June and September have felt any upset in front of its outstanding luxurious and glossy endless grassland spectacle. Only those innocent lovely flocks and herds grazing and wandering along the winding river can melt your heart immediately and make you dream of the idyllic pasture life on the boundless emerald wonderland. Moreover, Hulunbuir is praised as the "Green Pure Land" quite ideal for living and is abundance in fascinating natural resources such as forests, rivers, lakes, wetlands, snow, ice, etc. to give the superb spa for your eyes and mind. With the Great Khingan stretching within, Hulunbuir keeps the cherished culture and traces of those ethnic tribes in Northern China who have lived in the deep forest in the past centuries, such as Sirb, Khitan, Jurchen, etc. However, as standing at the junction of Mongolia, Russia and China, Hulunbuir is also the harmonious incredible sweet home for different ethnic minorities. For you, Russian styled towns in Ergun is the most recommended to get the new experience!
• Highlights: Hulunbuir Grassland, Ergun Wetland, Russian Flavored Towns (Shiwei, Enhe, Linjiang...), Moerdaoga National Forest Park, Aoluguya Reindeer Village, White Birch Forest, Manzhouli Matrioshka Square, Hulun Lake, etc.
• Recommended Trip Length: 4-6 days
• Best Time to Visit: All around the year, especially May to October
Badain Jaran Desert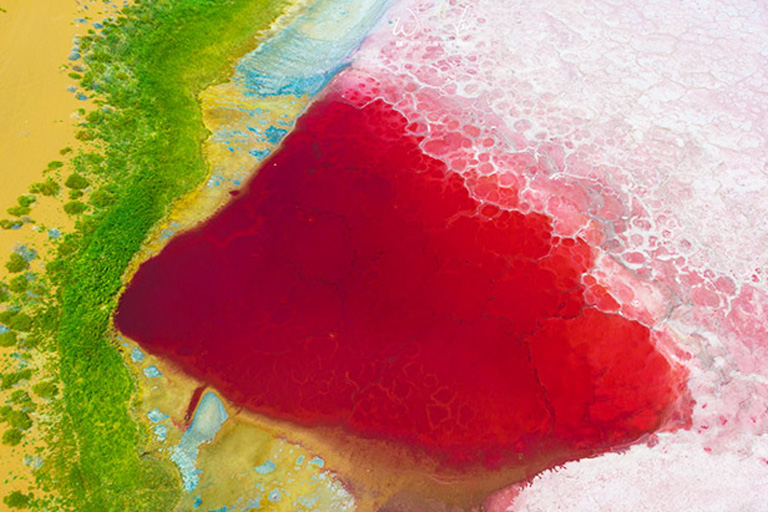 Badain Jaran Desert
Badain Jaran Desert in Alxa Right Banner in the western Inner Mongolia is the third largest desert in China by area and has more than 140 desert lakes to update people's impression on deserts. Complimented as the most beautiful desert in entire China and stunned the world, Badain Jaran has its unique and famous five wonders, namely sandy peaks, singing dunes, colorful lakes, clear springs and ancient temple. Ordinary photographers and nature visitors will treat your camera and eyes with the neat curves and clean color lumps of the golden and coffee desert, blue sky, lakes in golden, pink, sapphire, gray, etc. The Badain Jaran Temple standing off the clear lake makes this wild sand sea holy and peaceful with rich human culture. Also, Badain Jaran Desert has the world's highest sand dune - Bilutu (altitude: 1611 meters), which is treated as The Everest in Desert and is worth to discover its mystery why wind cannot blow the sand on the peak away. What's more exciting! This endless soft and solid "sea" is a challenging and joyous playground for wild sand off-riding driving, which gives you the incomparable thrilling feeling of rushing up the peak and quickly down to the valley for a heart beat testing! Before you come back to earth, the gem-like blue lake shows in the brown land to soothe your stress in quick succession.
• Highlights: Badain Jaran Geo-park Museum, Badain Lake, Dagetu Lake, Fairy Peak - Yinderitu Spring, Bilutu, Badain Jaran Temple, etc.
• Recommended Trip Length: 2-4 days
• Best Time to Visit: Spring and Autumn; June to October is the peak season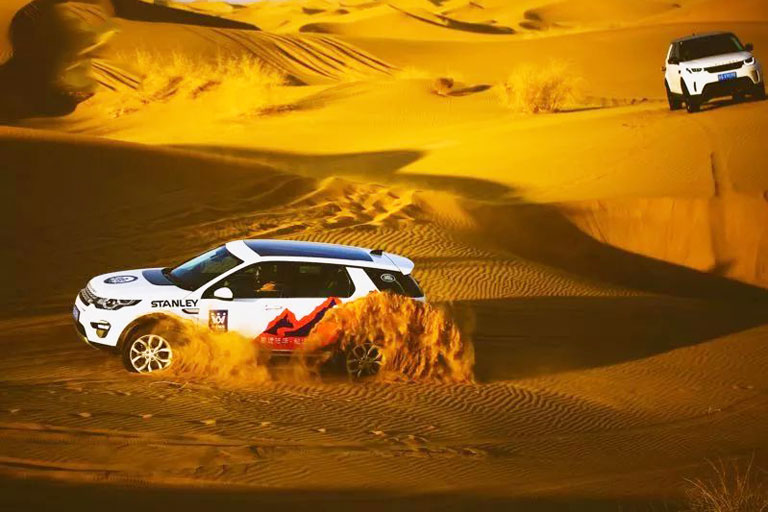 Kubuqi Desert
Mausoleum of Genghis Khan
Meaning "Multiple Palaces" in Mongolian, Ordos is featured far more than the luxury royal emperor culture and historical feasts. Refreshing grasslands and diffused magnificent Kubuqi Desert coexist there to show the widely different landform and natural splendors of this old and new city. Together with Hohhot and Baotou to form the most dynamic area of "Golden Triangle" in Inner Mongolia, Ordos is quite popular to be put on the list after a Hohhot tour or Baotou tour. Especially to hear the legendary life story of worldly famous and significant Genghis Khan who was the leader of the Mongolian people and the emperor of Yuan Dynasty 600 years ago. Moreover, it is more popular to enter the hinterland of Kubuqi Desert to appreciate the authentic desert sightseeing and experience the fun and exciting jeep driving among each high sand dunes. Possessing the national proud brands, Ordos demonstrates its excellent industries in fashion, mineral, architecture, etc. for a new understanding of the thriving ability of northern Chinese cities!
• Highlights: Mausoleum of Genghis Khan, Kubuqi Desert (Yemingsha, Xiangshawan, Engebei, Qixinghu...), Kangbashi District, Ordos Museum, etc.
• Recommended Trip Length: 1-3 days
• Best Time to Visit: June to October
Huitengxile Grassland in Ulanqab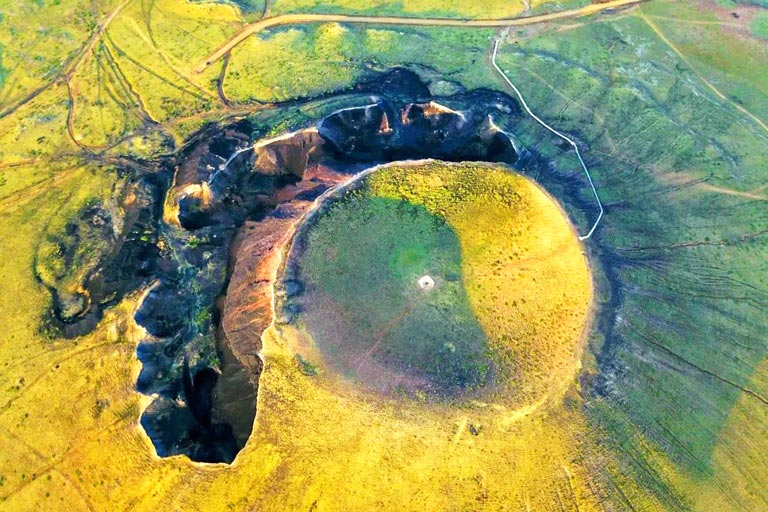 Wulanhada Volcano Geopark in Ulanqab
Wulanchabu, also known as Ulanqab, means "the top of the red cliff" in Mongolian. Huitengxile Grassland as the most beautiful grassland nearby Hohhot is the best golden card of Ulanqab. Every summer, the boundless grassland changes her refreshing emerald costume with abundant bright yellow flowers decorated on to welcome a large number of grassland and freedom lovers seeking their releasing and pleasant summer vacation. The wide spreading white windmills turning in the wind is the symbolized wonder there. Also, the rarely seen valley, cliff, rocks and trees will refresh your understanding of a traditional grassland, which makes Huitengxile the beautiful and interesting geological park for both grassland scenery and walking fun!
• Highlights: Huitengxile Grassland, Wulanhada Volcano Geopark, Daihai Lake, Sumu Mountain, Ulanqab Museum, etc.
• Recommended Trip Length: 1-2 days
• Best Time to Visit: June to October, especially July to September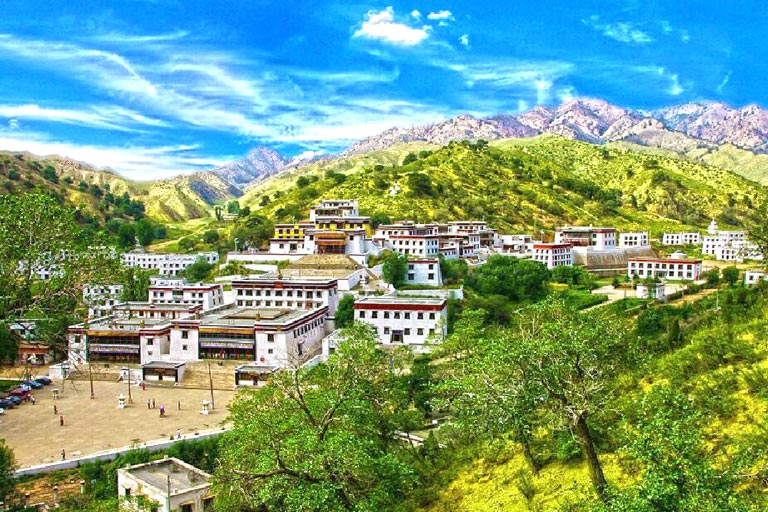 Visit Wudangzhao Lamasery in Summer
Xilamuren Grassland
Baotou located in the middle part of Inner Mongolia is the famous "Steel Capital on Grassland" and the "Capital of Rare Earth". More than its outstanding industrial manufacture, Baotou is also the home of the famous Xilamuren Grassland where visitors have great fun with diverse joyous activities and sports on grassland, such as horse riding, archery, etc. and enjoy great time experiencing the special themed Mongolian yurts. Moreover, Baotou still preserves rich Buddhist culture since hundreds of years ago to show the rich culture and great inclusiveness of people living there. Wudangzhao Lamasery and Meidaizhao Monastery are the two most famous temples in Baotou. Wudangzhao (or called Badekar Monastery) of over 300 years old is highly listed as the four famous Tibetan Buddhist temples in China, together with Potala Palace, Taer Temple and Labrang Monastery. Having received the Union Nations World Habitat Awards, Baotou perfectly explains the combination of hard and soft, authentic and innovative.
• Highlights: Xilamuren Grassland, Wudangzhao Lamasery, Meidaizhao Monastery, Saihantala Park, Baotou Museum, Baiyun Ebo, etc.
• Recommended Trip Length: 1-2 days
• Best Time to Visit: June to September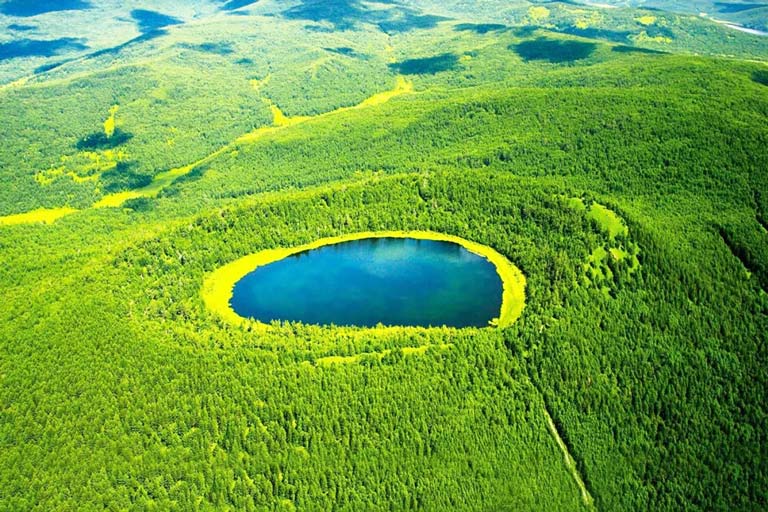 Arxan National Forest Park
Arxan City, Switzerland in Orient
Arxan City situated in the northwest part of Hinggan League in northeast Inner Mongolia is probably the city with the richest European flavor since all architectures there are built into that exotic romantic style and colors to match the pure and fabulous sightseeing background of Arxan National Forest Park. All travelers come to Arxan for the forest park which has totally different but terrific scenery among the four seasons, flowery spring, refreshing verdant summer, glorious colorful autumn and pure fairytale snowy winter. Meanwhile, the precious volcanic landform at the core part is the best highlights of Arxan Mountain. The Heavenly Lake is just like a priceless blue diamond inlaid on the dense emerald forest and attract you immediately. A trip to Arxan can be said as a purification trip for eyes and mind above the earth!
• Highlights: Arxan National Forest Park (Heavenly Lake, Azalea Lake, etc.), Arxan Railway Station, Rose Peak Stone Forest, Haosengou National Forest Park, etc.
• Recommended Trip Length: 2-3 days
• Best Time to Visit: May to early October
Ejina Populus Euphratica Forest
Ejina Strange Forest
When it comes to Ejina, the first image in one's mind is the brilliant golden populus euphratica forest on desert and under clear blue sky in the clear autumn. Yes, Ejina has the most beautiful populus euphratica forest scenery around the entire China. And its unbelievable shapes of the trees, glittering golden leaves and reflection of the forest and blue sky on the lake make every image a brilliant photography work like an oil painting. That is the awesome gift for life from nature on the barren wild desert in northwest China! But the scenic time of Ejina Populus Euphratica Forest is quite short, only from the late September to early or middle October every year. Short, precious but worth! Take your camera and enjoy happy shots!
• Highlights: Populus Euphratica Forest, Strange Forest, Juyan Lake, Heicheng Historic Site, etc.
• Recommended Trip Length: 2-3 days
• Best Time to Visit:late-September to mid-October
Xilingol Grassland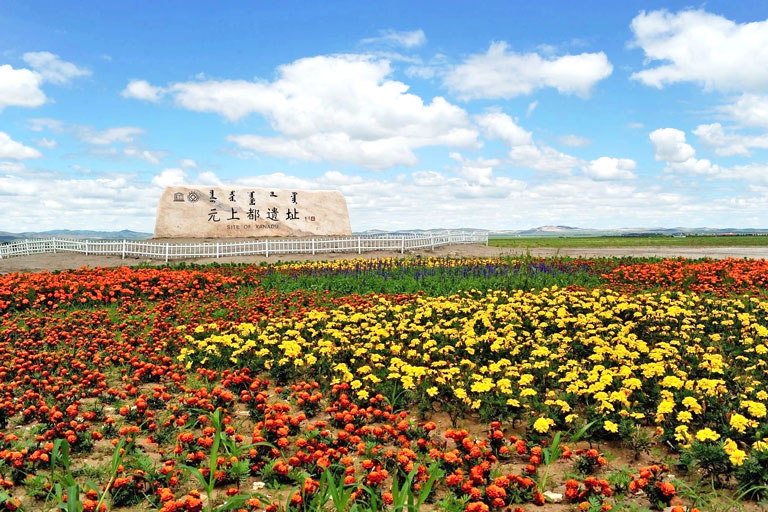 Site of Xanadu
Xilingol in the middle Inner Mongolia is a favored destination to seek the standard nice grassland. Xilingol Grassland reaching beyond to Mongolia is one of the six most beautiful grasslands in China, and never stops showing its beauty with emerald grass skin, elegant outlines by rolling hills, twisting river, groups of fresh mushrooms, and dotted herds and Mongolian yurts under and vast azure sky! Also, from east to west, you will be amazed by its diversity in grass types, including forest grassland, meadow grassland, typical grassland, desert grassland, etc. And the highlighting Baiyinxile Grassland Ranch is quite often planned for the experience of pasture life on the soft grass world. However, The lovely view of golden lotus flowers blooming all over the prairie would probably attract your first sight, but the valuable Site of Xanadu listed as a UNESCO World Culture Heritage will finally catch your interests to explore the mysterious old stories of that once globally influential but later fading Mongolian Empire in Yuan Dynasty 600 years ago.
• Highlights: Xilingol Grassland, Site of Xanadu, Huishandake Sandy Land, Pingding Mountain, Erenhot National Gate, etc.
• Recommended Trip Length: 2-3 days
• Best Time to Visit: June to September
Hexigten UNESCO Global Geopark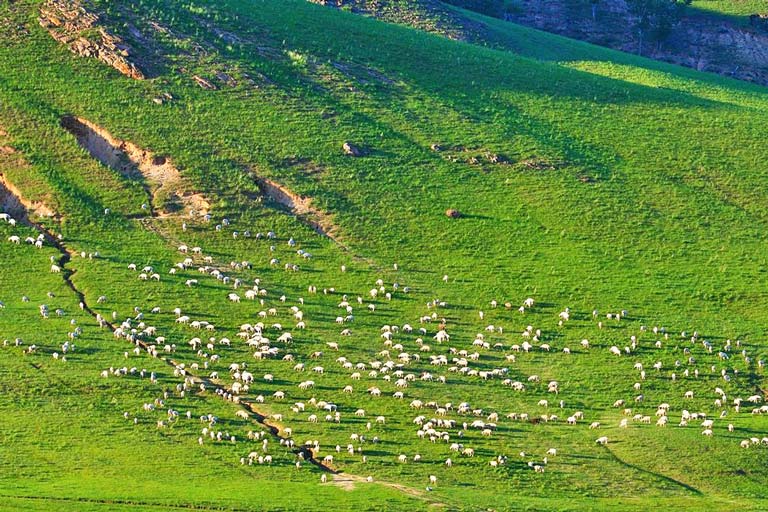 Wulan Butong Grassland
Chifeng City lying in the southeast part of Inner Mongolia is rich in wonderful geological spectacles. Meaning "Red Mountain", Chifeng exactly has a magnificent red mountain as its city symbol, which also demonstrates the prehistoric civilization in northern China. However, its more appealing Hexigten UNESCO Global Geopark favored by nature creator boasts outstanding alpine forests, grasslands, lakes, rivers, gorges, stone forests, sandy lands, springs, cirque glaciers, etc. for a terrific worthy exploration of the forms of our globe. Dalinur Lake or Asihatu Stone Forest within there is not to be missed. Moreover, Chifeng is also home to the famous Wulan Butong Grassland which is called the "backyard garden for Beijing citizens" and is extremely hot among modern city people escaping from the concrete cities of Beijing, Tianjin and Hebei! Furthermore, Chifeng keeps the important remains and national capital features for your analysis of the key historical culture of the Khitan Liao Dynasty (907AD ~1,125 AD).
• Highlights: Hexigten Global Geopark (Dalinur Lake, Ashihatu Stone Forest, Huanggangliang...), Wulanbutong Grassland, Red Mountain National Forest Park, etc.
• Recommended Trip Length: 1-2 days
• Best Time to Visit: All year round, especially May to October
Yinshan Rock Painting
Sunflower Planting Base on Hetao Plain
Meaning "fertile lake" Bayannur in west Inner Mongolia is a charming and less known destination for both wild nature and northern Chinese culture exploration. Ulansuhai Nur (Ulansu Lake) is not only the pleasant habitat for birds or a nice postcard photography site for but also the favored home for a large spread of populus euphratica trees for best autumn sightseeing admiration. More mysterious and amazing is the left Yinshan Rock Painting in Dengkou, which is the fantastic historical song about the remote nomadic life there, life hunting, war, dancing, etc. While, the valuable Hetao Plain with important northern Hetao Civilian is gorgeous so much in summer since the China largest plantation base of sunflowers are completely dyed into the brightest golden hue to match the sunshine of the vibrant season.
• Highlights: Ulansuhai Nur, Yinshan Rock Painting, China Museum of Hetao Culture, etc.
• Recommended Trip Length: 1-3 days
• Best Time to Visit: summer and autumn, especially June to October
Horqin Grassland
Genghis Khan & Kublai Khan Statues on Kehan Mountain
Located at east Inner Mongolia, Tongliao is a modern city rose from the grassland. However, the legendary Horqin Grassland makes it the idyllic producing origin of delicious tender beef and the great right place to seek the royal traces of past warriors and Mongolian leaders in Qing Dynasty 200-300 years ago. Besides, the annual grand Naadam Festival is held there to show the bravery and muscular of Mongolian men and outstanding artistic talent of all Mongolian people. Jarud Banner and Holin River area still keep the primitive grassland view for your admiration. And in fact, Tongliao is the hometown of Xiaozhuang Empress who was one of the most famous empresses in Qing Dynasty. However, if to be some gossipy, Horqin Grassland can be called the origin of Imperial concubines in Qing Dynasty since lots of historically recorded empresses and concubines were elected there. You may visit Tongliao and Horqin to see if Mongolian girls there are pretty, modest and elegant.
• Highlights: Zhurihe Grassland, Hometown of Xiaozhuang Empress, Horqin Grassland, Naadam Festival, etc.
• Recommended Trip Length: 1-2 days
• Best Time to Visit:May to October
How to Plan Your Inner Mongolia Tour
Inner Mongolia is so large and abundant with diverse natural and cultural highlights, so, you can hardly discover all the bests in one single visit. It takes 3 days to more than 1 month for various needs. And your itinerary can be decided based on your trip length, interests and a major area.
Classic Inner Mongolia - Middle Part (Hohhot, Baotou, Ordos...)
A classic Inner Mongolia tour usually starts from the capital Hohhot. Planning 3 days is popular for Hohhot city highlights with nearby grassland (Huitengxile or Xilamuren). 1-2 days to Kubuqi Desert in Ordos is also favored. And a 5-6 days trip to Hohhot, a grassland, Baotou and Ordos are the favorite one among travelers to enjoy grassland, desert, Genghis Khan culture, Tibetan Buddhism and culture in one go.
☛ 3 Days Best Hohhot & Huitengxile Grassland Tour
☛ 5 Days Classic Inner Mongolia Tour
☛ 6 Days Inner Mongolia Bests Discovery Tour
Authentic Grassland & Forest Views - East Part (Hulunbuir, Arxan...)
Interested in the best grassland? Plan 4-5 days to Hulunbuir to catch Hulunbuir Grassland and all fabulous primitive nature and nomadic tribe culture bests in Hailar, Ergun, Genhe and Manzhouli. Adding 2 more days to Arxan Forest Park is hot. A middle and east Inner Mongolia trip to Hohhot, Baotou, Ordos and Hulunbuir takes about 6 days.
☛ 9 Days Hulunbuir & Arxan Geopark Tour
☛ 6 Days Hohhot to Hulunbuir Tour with Grassland & Desert Highlights
Wild Desert & Golden Populus - West Part (Badain Jaran, Ejina...)
If you want to discover China's most beautiful desert, plan 2-4 days trip to Badain Jaran Desert! Besides, Ejina Populus Euphratica Forest is quite hot for a 2-3 days' photography tour in autumn. If you want a longer vacation, plan as many other visitors to discover Badain Jaran with nearby hot and convenient places like Xining, Zhangye, Dunhuang, Jiayuguan... It usually needs 7 days for a Xining Zhangye Badain Jaran trip.
☛ 5 Days Zhangye Danxia Badain Jaran Desert Geography Miracle Tour
☛ 4 Days Ejina Populus Euphratica Forest Photography Tour
Besides, it is also a great idea to extend to more popular destinations in China to appreciate more wonderful nature, culture, history and food of this vast country, such as Beijing, Shanghai, Xian, Chengdu, Yunnan, etc.
Travel Inner Mongolia with China Discovery
Have your own ideas of where and what to discover in Inner Mongolia? We China Discovery offers many popular and valuable private Inner Mongolia tour packages taking you to enjoy wonderful exploration of the best highlights of Hohhot, Hulunbuir, Ordos, Baotou, Badain Jaran, Ejina, etc. And our professional travel team with experienced travel expert, local English-speaking travel guide and driver and non-smoking comfortable licensed private vehicle will help you throughout the trip from the planning, navigation, hotel arrangement and scenic spot visiting. So you will have the much better travel experience in the large and beautiful Inner Mongolia. You can check our tour packages to get some inspiration. All tours can be tailor-made according to your group size, time, physical condition, plan, interests, budget and any other special need! Please feel free to contact us to customize your own Inner Mongolia trip or if you need any help!
More about Inner Mongolia Travel Guide
Start planning your tailor-made holiday to China by contacting one of our specialists. Once inquired, you'll get a response within 0.5~23.5 hours.
Customize a Trip
Have a question? Get answers from our travel experts or guests
Your Question:

Your Name:

Your Email: