What to Pack for a Trip to Zhangjiajie
Zhangjiajie is well-known to the world with its exquisite forests, odd-shaped peaks and rocks, the beautiful canyons, the limestone caves, and the breath-taking panoramic views on the top of mountain. It has always been a hot destination for travellers from all over the world.
When you are going to have a travel to Zhangjiajie, you must be worried about so many questions. What's the current weather and suitable dressing in Zhangjiajie? What useful stuff should I take? Indeed, packing well always helps you have a pleasant and smooth travel. So, remember that, travel light and take useful items as much as possible. It is the most important principle of packing ideas for a Zhangjiajie tour. Read the following packing list to get clear about what you should pack before setting out.
Zhangjiajie Packing List
Normally, an international travel requires you bring lots of accessories, including proper clothes, shoes and daily items, not to mention you will have a hike on the Mountains with lots of steps. Knowing how to pack for a trip to Zhangjiajie can make your trip a success.
1. The Essentials
♦ ID & Important Documents: Your valid passport. Copies of passport and other documents, such as credit card numbers, embassy contact info, etc (also save docs on a USB thumb drive and your email account).
♦ Visa: You need to prepare the Chinese Visa.
♦ Useful Guide: Useful guidebook of Zhangjiajie
♦ Alternative map: Google is blocked in China. Download alternative options that Chinese locals use.
♦ Money: ATM/credit cards & some cash ( because some vendors/shops only accept cash)
♦ Personal Safety: Travel insurance
♦ Phone: Mobile Phone, SIM Card of China
♦ Tissues: Public bathrooms and casual restaurants don't always provide tissues, so it's smart to always have some on-hand. You could also buy some at supermarket in China. (Notice: In response to environmental protection, all hotels in Zhangjiajie do not provide disposable toiletries.)
Other Useful Links
>> Chinese Visa
>> Travel Guide Article of Zhangjiajie
>> Zhangjiajie Maps (Transportation, Tourist, etc.)
2. Electronics
♦ Plug adaptor
♦ All necessary chargers
♦ A digital camera that can take good photos. Charging Cables and spare battery of camera are needed.
♦ Portable recharger: It is advised to take a small-sized one.
♦ A Mobile Phone loaded with an offline Translator App, currency converter, phrasebook, copies of passport and travel docs, insurance card, contact info for friends, etc.
3. Suitcase & Backpack
You can bring big suitcase and backpack. When you arrive at Zhangjiajie, you could store them in your hotels. Apart from that, it is highly recommended to bring a light daypack, so that you could put some food, drink and other necessary stuff in it and just take it when you hike many stairs up and down the mountain. It would be very painful to carry much when go hiking. You could also put some necessities you will use on the flight in the small bag and put the bag in the flight. Then the big suitcase can be checked before boarding.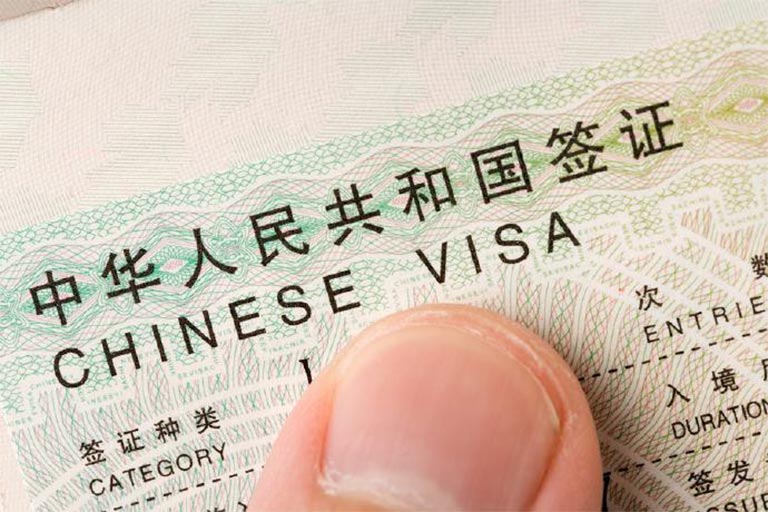 Chinese Visa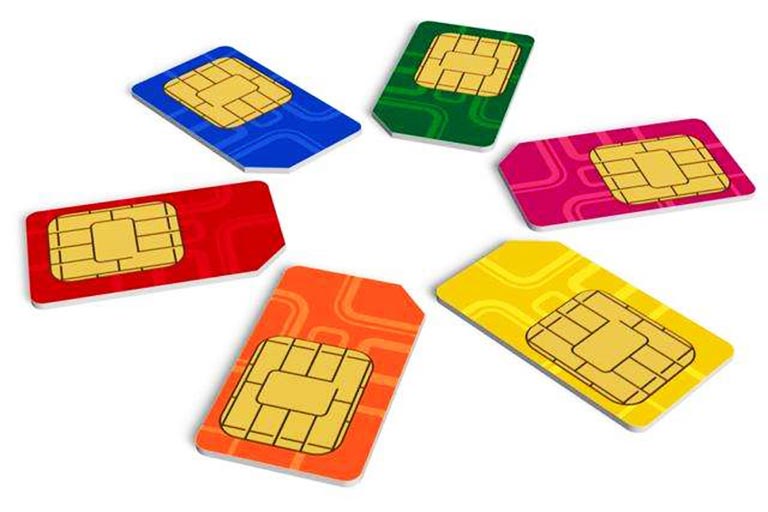 Chinese SIM Card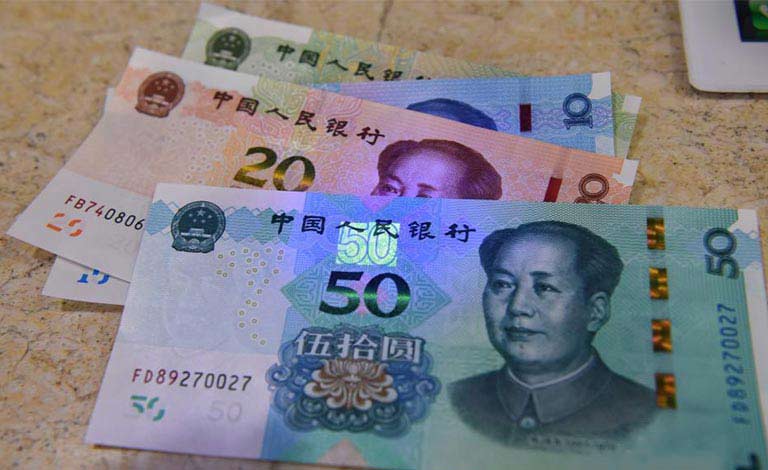 RMB Issued in 2019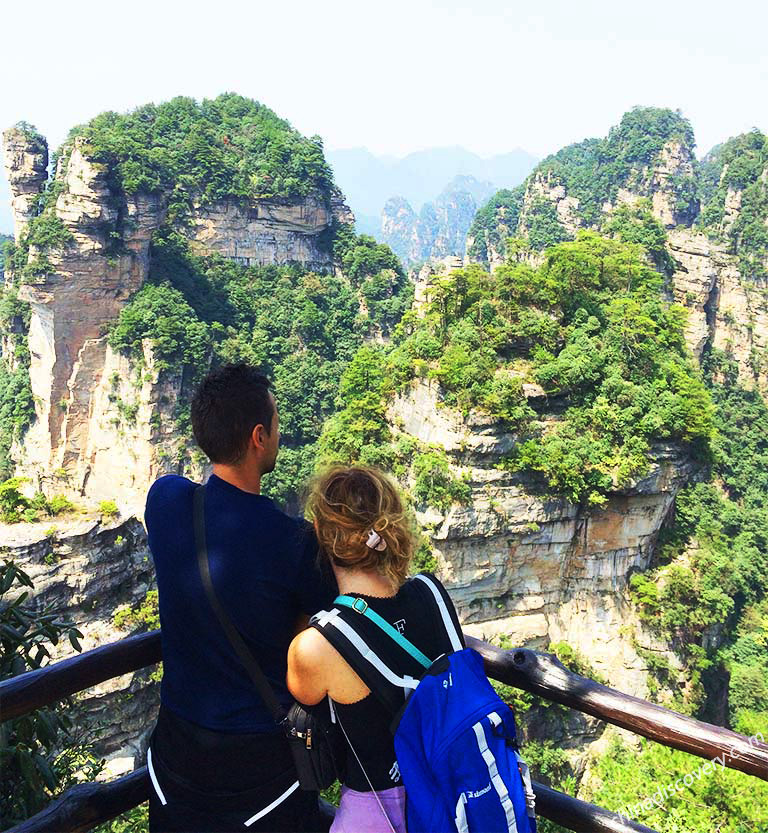 Light Daypack for Zhangjiajie Tour
4. Clothing & Footwear
You need to wear right according to the temperature. Apart from that, two notes on clothing before we dive into the list:
Firstly, Pack sweat-wicking materials whenever possible and remember that quick dry fabrics are your friends. You'll find washers, but rarely driers (Except in some star-rated hotels) and, depending on the climate, getting things dry can be a challenge.
Secondly, plan to dress in layers so you're prepared for whatever Zhangjiajie weather dishes out.
Springtime / Autumn Consideration (March~May/Sept~Nov)
During Spring or Autumn in Zhangjiajie, the average max temp is about 23℃ (73℉) and the average min temp is about 14℃ (57℉). The weather is warm, but it will be cold in mountain region. It is very suitable to visit Zhangjiajie. The best outfit is long sleeves and jacket or jeans. It is advised to wear comfortable sports shoes. Meanwhile, take a raincoat or umbrella in case of unexpected rain.
Summertime Consideration (Jun~Aug)
During Summer in Zhangjiajie, the average max temp is about 33℃(91℉) and the average min temp is about 23℃ (73℉). The weather in mountains can be cooler than in the downtown. Wear anything in summer will be fine, but it may be little cool when the sun set down or in the forest, mountain region, a light overcoat is suggested to take when it is necessary. Hats and sunglasses could be worn depend on the weather. In addition, you need to take umbrella or raincoat in case of unexpected rain. Comfortable and water-proof shoes are advised to wear.
Wintertime Consideration (Dec~Feb)
During winter in Zhangjiajie, the average max temp is about 11℃ (52℉) and the average min temp is about 4℃ (40℉). Therefore, you need to keep yourself warm by wearing thick clothes as sweater and quilted jacket. Besides, wear skid proof shoes for visiting in Zhangjiajie since it may involves in some mountain roads or sharp turn roads. Gloves and wind-proof hat are also needed for you.
Sun Protection is needed when you have outdoor activities, especially in Summer. Sunscreen and Sunglasses can be packed. Sunhat is especially suggested during summer when the UV rays are the strongest.
Other Useful Links
>> Zhangjiajie Weather and Season
>> Zhangjiajie Weather, Temperature in Spring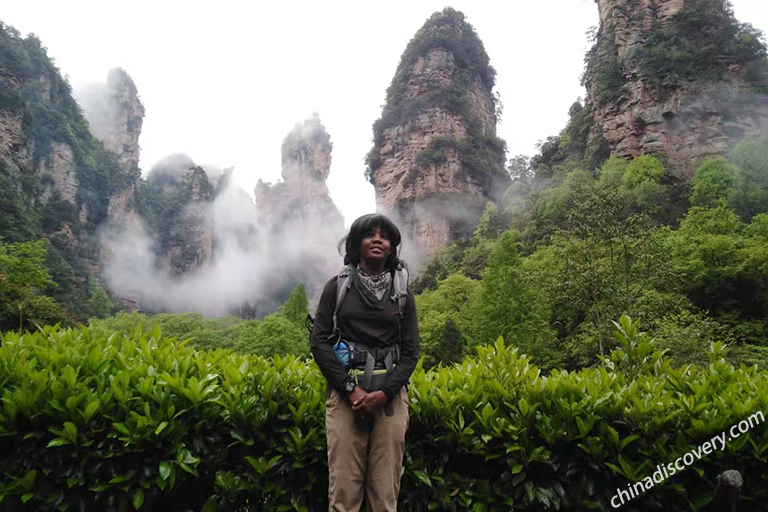 What to Wear in Spring/Autumn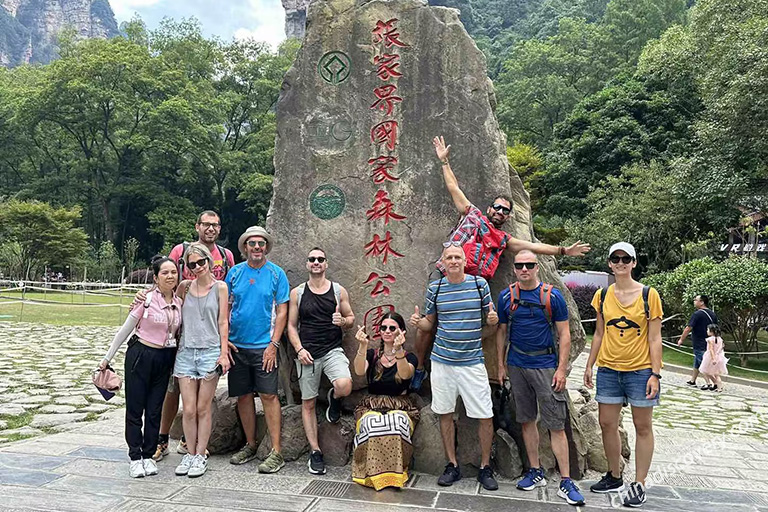 What to Wear in Summer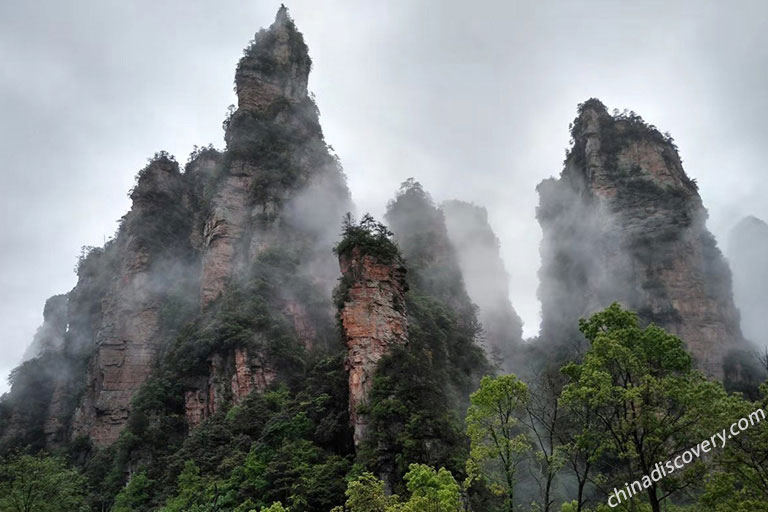 What to Wear in Winter
Warm Tips
● Pack as light as possible:
1.Don't bring too many clothes.
2.Don't pack lots of electronics.
3.Don't bring too much cash.
● Mosquito Repellent Wristbands is needed in Summer. It is also recommended to bring mosquito repelling spray (You could also buy it in China) to be sure to prevent getting bitten.
● Else articles: Toiletries, Toilet Paper, First-aid Items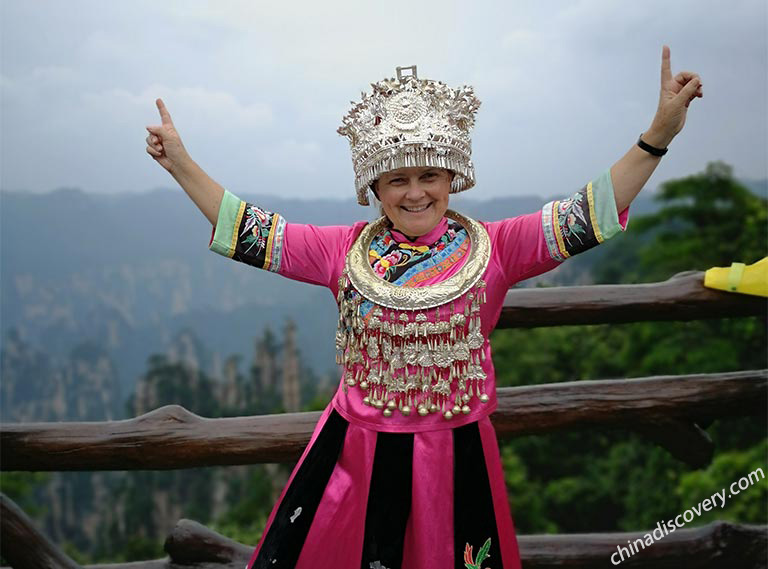 Dressing Ethnic Clothing in Zhangjiajie
How to Plan a Zhangjiajie Tour
Tianmen Mountain Cableway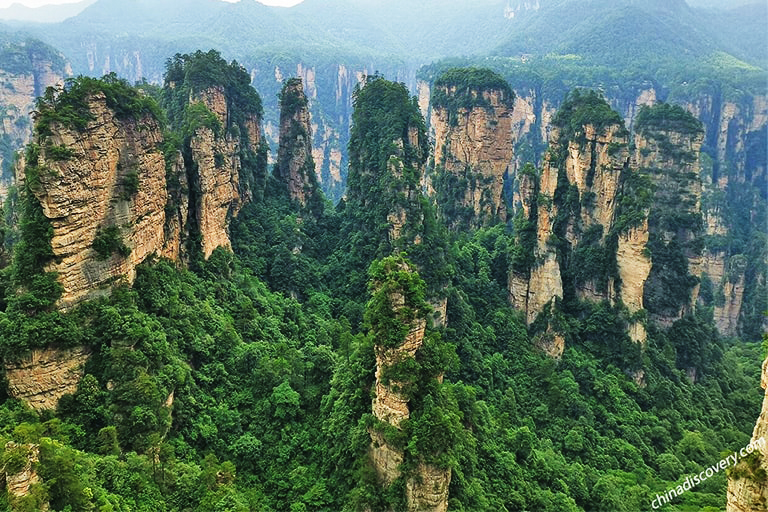 Zhangjiajie National Forest Park
Travel with China Discovery
You may be confused about how to plan a Zhangjiajie tour, as the transportation there is not so convenient. Meanwhile, you could find that you couldn't know well about so many scenic spots. Then you could think about us - China Discovery. We could help you to resolve all problems you worried in your trip. You could take the licensed private car of us, and the driver will escort you between your last destination and the next destination. Our local private tour guide will explain you each scenic spot you will meet. The most important thing is that you will have your own professional private consultant to help you plan your trip according to your own interest and budgets. Along your trip, all you need to do is just playing well. Don't hesitate, just feel free to contact us for more details.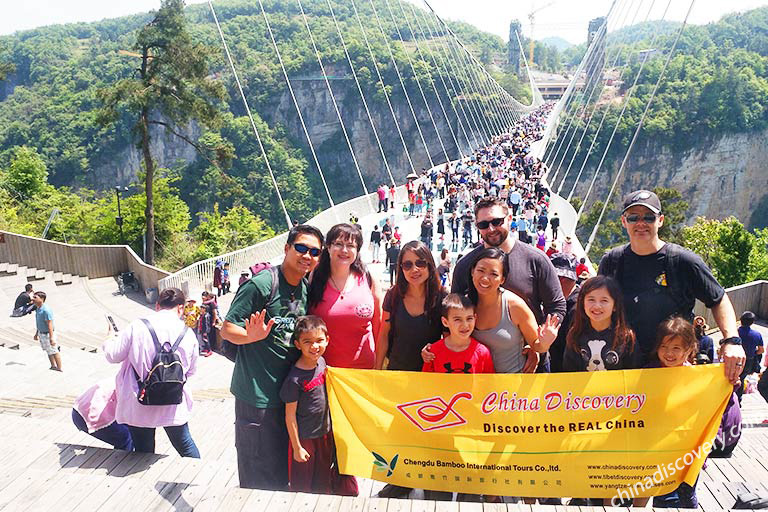 Photo at Zhangjiajie Grand Canyon
Useful Zhangjiajie Travel Articles
Read More about Zhangjiajie Transportation
Keep Readings on Zhangjiajie Tours
Recommended Zhangjiajie Tours
Top 3 Zhangjiajie tours chosen by most customers to explore Zhangjiajie in the best way. Check the detailed itinerary, or tailor your own trip now with us.
3 Days Classic Zhangjiajie Natural Wonders Tour

Zhangjiajie
Start planning your tailor-made holiday to China by contacting one of our specialists. Once inquired, you'll get a response within 0.5~23.5 hours.
Customize a Trip
Have a question? Get answers from our travel experts or guests
Your Question:

Your Name:

Your Email: