Bailong Elevator: Facts, Location, Map, Construction, Cost & How to Visit
Have you ever watched the movie Avatar? If yes, can you image to embed a towering super-modern elevator to the cliff of floating Hallelujah Mountains? It may sound crazy, but such a bold vision has already come true in Zhangjiajie. In this guide, we will introduce you this marvelous creation - Bailong Elevator (also known as Bailong Lift or Hundred Dragons Elevator)! Keep reading and get more about its facts, how to get there and how to plan a tour to visit it!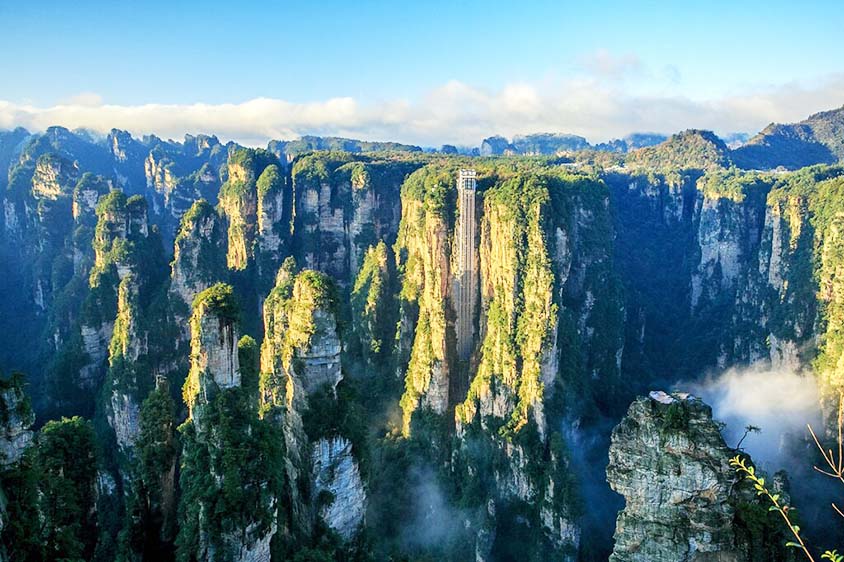 Bailong Elevator in Yuanjiajie, Wulingyuan Scenic Area, Zhangjiajie
Bailong Elevator Facts - Construction, Location & Cost
Construction: 1999.9 - 2002.4
Ticket: CNY65/person for one-way up or down
Opening Hours: 07:00-18:00
Duration: about 2 minutes
Location: Yuanjiajie, Wulingyuan Scenic Area, Wulingyuan District, Zhangjiajie (张家界武陵源区武陵源景区袁家界,百龙电梯)
The name Bailong means A Hundred Dragons in English. Therefore, Bailong Elevator is also known as Hundred Dragons Elevator. The elevator is located in the World Heritage site Wulingyuan Scenic Area. It took a mere three years to build this architectural marvel! When the proposal of creating such an elevator appeared, the engineers just wanted to help tourists enjoying the scenery in ease and convenience. With the discussion went on, more and more environmental ideas were added. Considering not to upset the natural balance of the neighborhood, half of the elevator was embedded in and half out of the cliff. In order to perfectly "hidden" in the surroundings, all of the elevators were fitted with glass windows. And finally, such a special elevator created.
The ticket price of the elevator is about CNY 65 per person for a single journey. There is no discount when you book round-trip tickets. So you are suggesting to book the tickets when you want to experience it!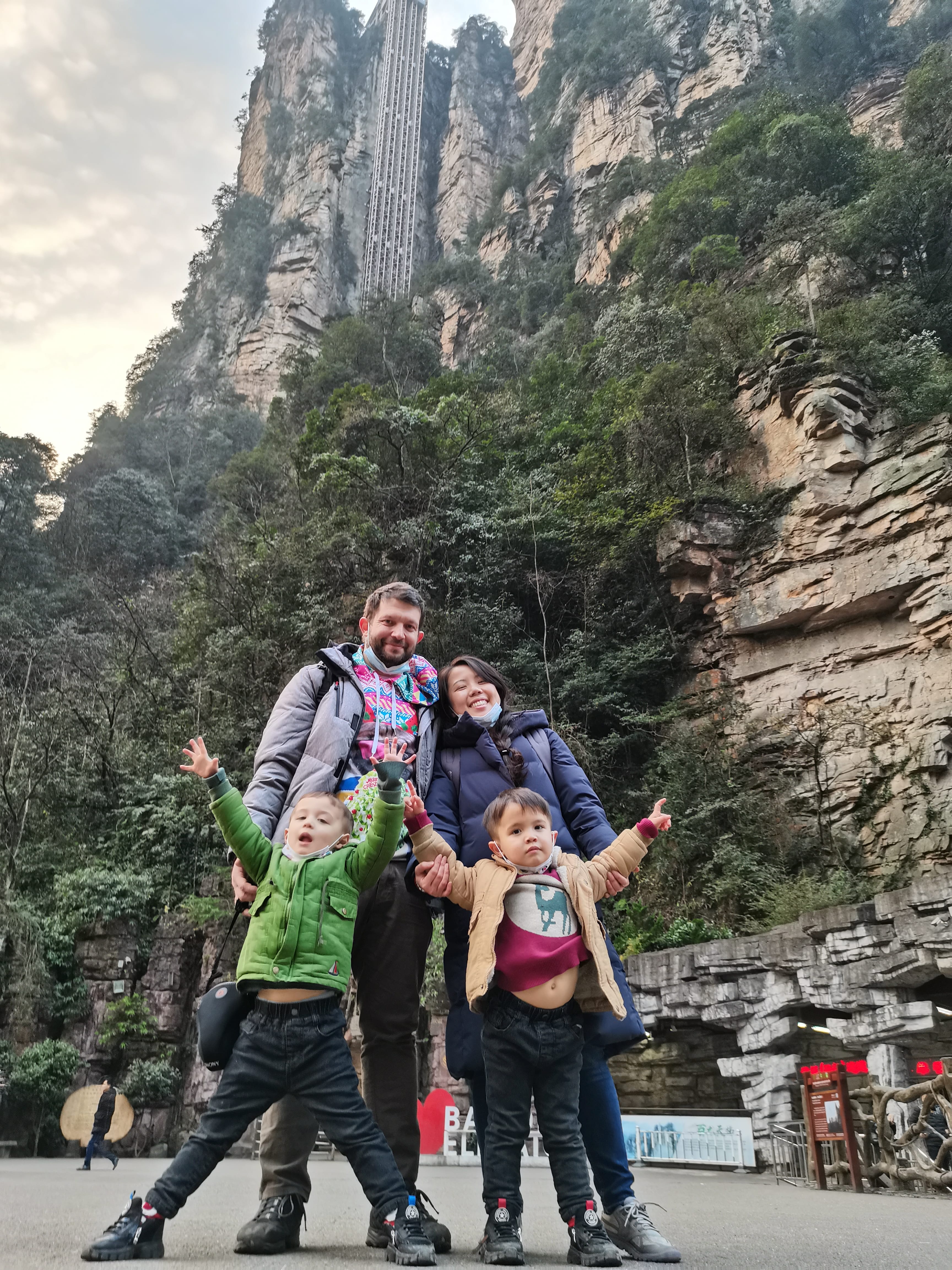 Bailong Elevator
>> 4 Days Zhangjiajie Highlights Tour with Fantastic Hiking Experience (Route A)
Why Visit Bailong Elevator
Three Guinness Book of World Records Awards
Bailong Elevator wins not one but three Guinness Book of World Records awards, the tallest full-exposure outdoor elevator, the world's tallest double-deck sightseeing elevator, and the world's fastest passenger traffic elevator with the biggest carrying capacity. Only the visit to this record-breaking creation itself can be thrilling!
Unique Angle for Sightseeing
When the lift is in motion, you could appreciate the vertiginous outside Avatar Mountains from the glass windows. Wulingyuan Scenic Area is a huge natural system. You can take a visit by hiking, riding cable car and catching free sightseeing buses! However, the gratefulness brought by Bailong Elevator is unique. Only by taking Bailong Elevator can you have a comparison of the Mountain View from the bottom to the top in a minute! The last half of the ride is extremely appealing.
Time-saving and Energy-saving Way to Reach Hallelujah Mountain
Usually, hiking from the bottom of Yuanjiajie to its top needs about 2 hours. And it needs about 1.5-2 hours more to catch the highlights on the mountain's top, such as Hallelujah Mountain, No.1 Bridge in the World and Fascinating Platform, etc. On the way from the bottom to the top, you couldn't find any other alternative vehicles to jump up to, meaning you should and have to finish the hiking journey by yourself. It may be a horrible thing if you get tired on the middle way. However, things change when Bailong Elevator appears. You can easily travel to the mountain top in 2 minutes now! During the rest of the day, you can get really relax when exploring the highlights of Yuanjiajie. If you want, you can also have time to visit Tianzi Mountain or Yangjiajie!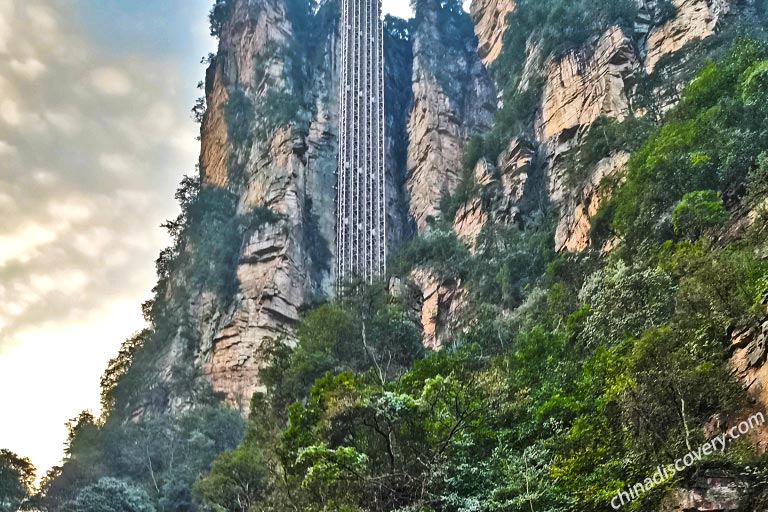 Bailong Elevator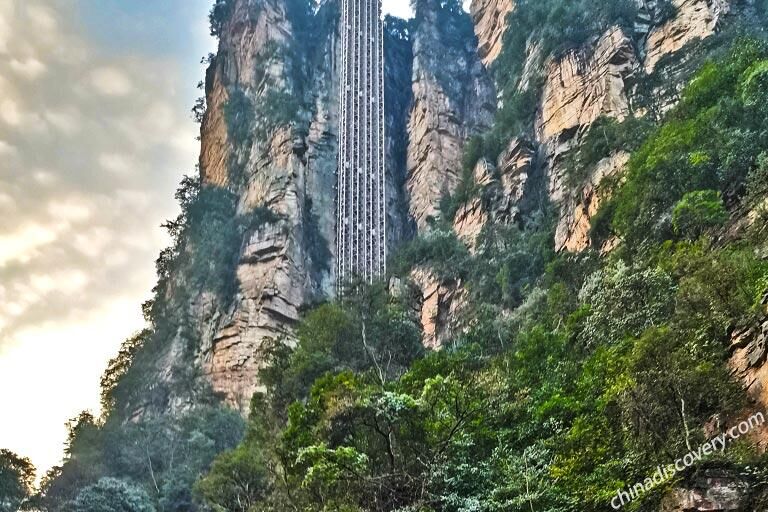 Bailong Elevator
Bailong Elevator Location & How to Get There
Bailong Elevator is settled in Yuanjiajie of Wulingyuan Scenic Area, and Wulingyuan Scenic Area has altogether 5 ticket stations. The nearest and most convenient ticket stations to Bailong elevator are the south gate Zimugang Ticket Station (梓木岗门票站) and the east gate Wujiayu Ticket Station (吴家裕门票站). Other ticket stations are settled far from Bailong Elevator. Therefore, it is not recommended to get to the elevator from another ticket station.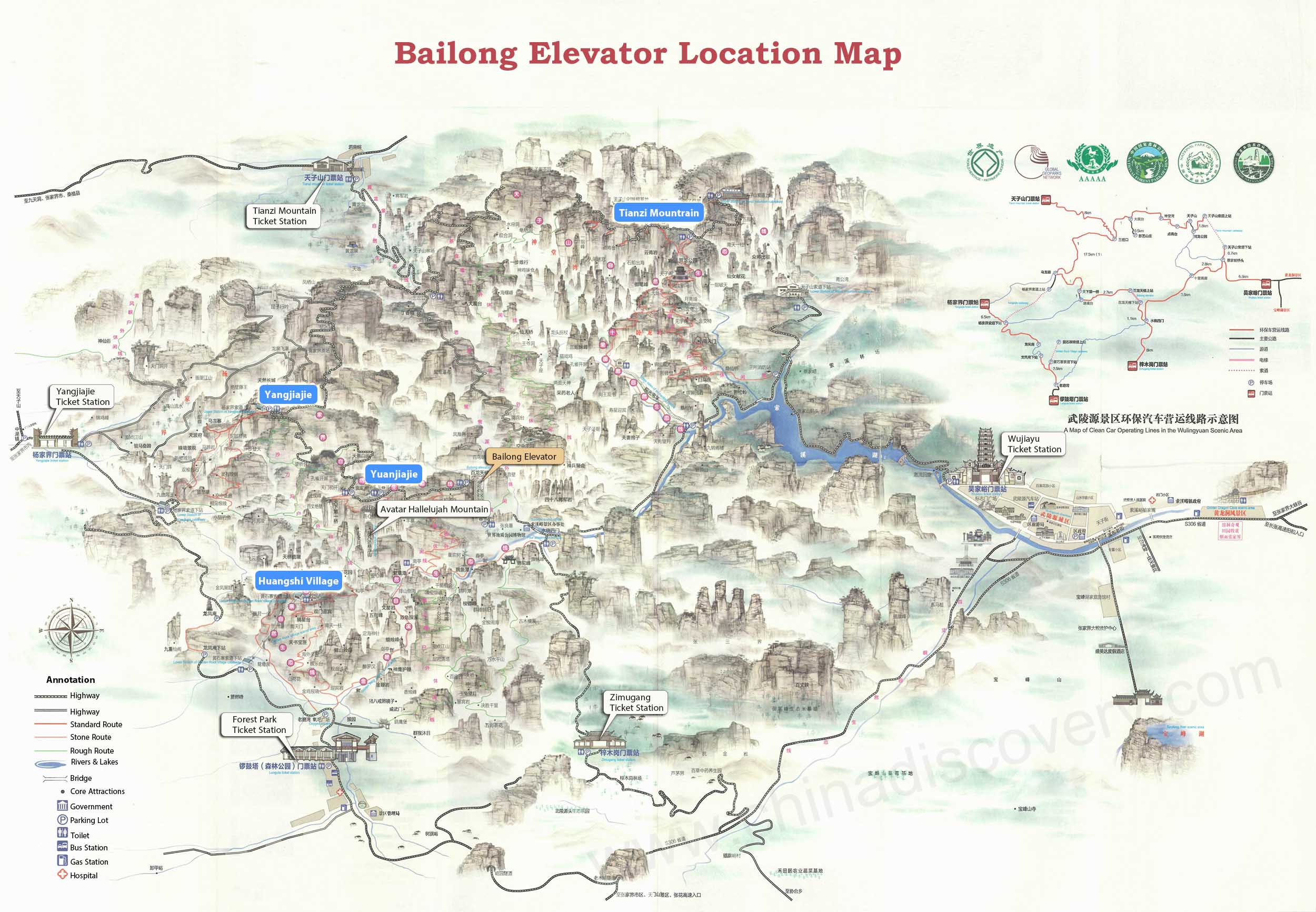 Bailong Elevator Location Map
How to Visit Bailong Elevator - Up or Down?
Bailong Elevator is an attraction itself. Besides, it is also a time-saving way for you to get up or down the hill. Usually, you are suggested to experience the elevator at least once, and the journey from bottom to up is more recommended. If you ride the elevator to the mountain top of Yuanjiajie, you can save a lot of time and energy to explore the wonders like Hallelujah Mountain, No.1 Bridge in the World and Fascinating Platform there. In that day, you could also have time to extend your tour to visit Tianzi Mountain or Yangjiajie.
>> 4 Days Zhangjiajie Discovery Tour (Route B)
However, if you choose to visit Tianzi Mountain or Yangjiajie first, and then make a transfer to Yuanjiajie, you are suggested to ride Bailong Elevator to go downhill instead of heading back to get down. Get more travel ideas of Wulingyuan Hiking Routes & Map >>
Warm Tips of Riding Bailong Elevator
1. Try to be the first one to enter the elevator and stand beside the window so that you can get the broadest view.
2. The experience may be not that cheerful during peak seasons, because you may encounter with crowds and need about 1-2 hours to queen for a ticket. However, it is still worth a try if you are looking for the easiest way to get up or down the mountain.
3. Bailong Elevator may be suspended at snowy days and other bad weathers.
4. Fields in the Air (空中花园) at Tianzi Mountain Laowuchang (老屋场) is the best place to admire the moving Bailong Elevator and take photo of it.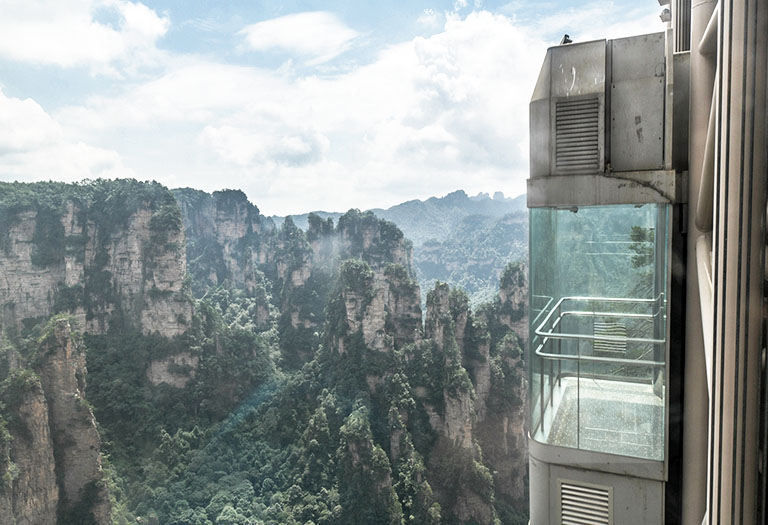 Bailong Elevator
Travel Bailong Elevator with China Discovery
Looking for an amazing Zhangjiajie tour with the best arrangement to visit Bailong Elevator? Travel with China Discovery, and then you can get really relax during the trip. You can focus all of your energy to explore the stunning Avatar Mountains, Glass Bridges, caves, canyon, etc. Our professional tour guide will arrange everything well for you, so you can get rid of the hassle of choosing hotels to stay and ways to travel around.
Besides, we will customize the best touring hiking route according to your time, physical condition, plan, budget and interests. If you are interested, please feel free to contact us and let us customize a memorable tour for you!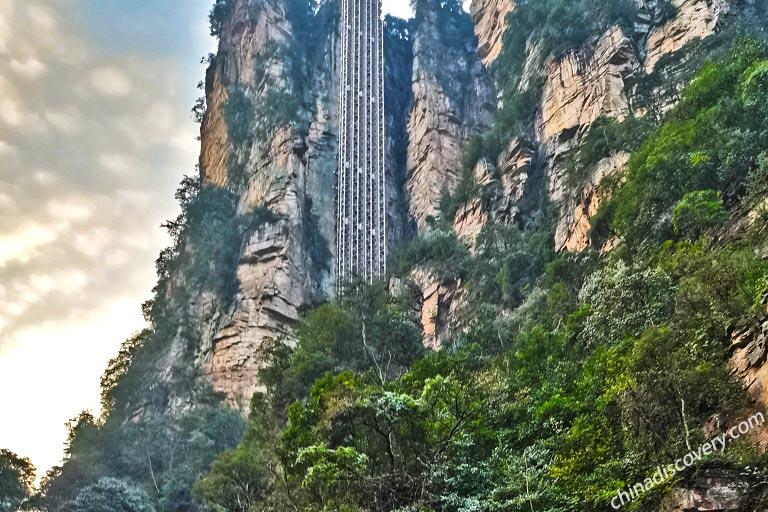 Bailong Elevator
Extension Reading of Zhangjiajie Travel
Read More about Zhangjiajie Transportation
Recommended Zhangjiajie Tours
Top 3 Zhangjiajie tours chosen by most customers to explore Zhangjiajie in the best way. Check the detailed itinerary, or tailor your own trip now with us.
3 Days Classic Zhangjiajie Natural Wonders Tour

Zhangjiajie
Start planning your tailor-made holiday to China by contacting one of our specialists. Once inquired, you'll get a response within 0.5~23.5 hours.
Customize a Trip
Have a question? Get answers from our travel experts or guests
Your Question:

Your Name:

Your Email: