Why Visit Baofeng Lake
As a part of Wulingyuan Scenic and Historic Interest Area, Baofeng Lake, or Baofeng Hu, is distinguished for its beautiful water scenery. It is about 20km away from Zhangjiajie National Forest Park and about 30km away from Tianzi Mountain. As one of the few relaxing attractions of Wulingyuan scenic area, it will be a best place for you to relax in the lap of nature after a long hiking.
The water of the lake is sublimely clean as it's an alpine lake. The green water of the lake gives the feeling of a jade surrounded by mountains on all its sides. It used to be a peaceful gorge, and then locals built a reservoir to store water for irrigation. Now its beauty reach far more than they expected. Taking a boat ride to appreciate those strange-shaped stone hills could be an interesting way for pleasure. On the way, you will not only see so many vivid stones as they named after, but also have the chance to enjoy the melodious folk song sung by local youth. You could also sing with them and see who's the best singer here. Furthermore, you could appreciate the Water Curtain Cave owned by Monkey King in 'Journey to the West' or explore the village where robbers used to live in.
Baofeng Lake is waiting for your visit!
Recommended Tours
>> 4 Days Zhangjiajie Classic Discovery Tour
>> 5 Days Zhangjiajie Ultimate Adventure Tour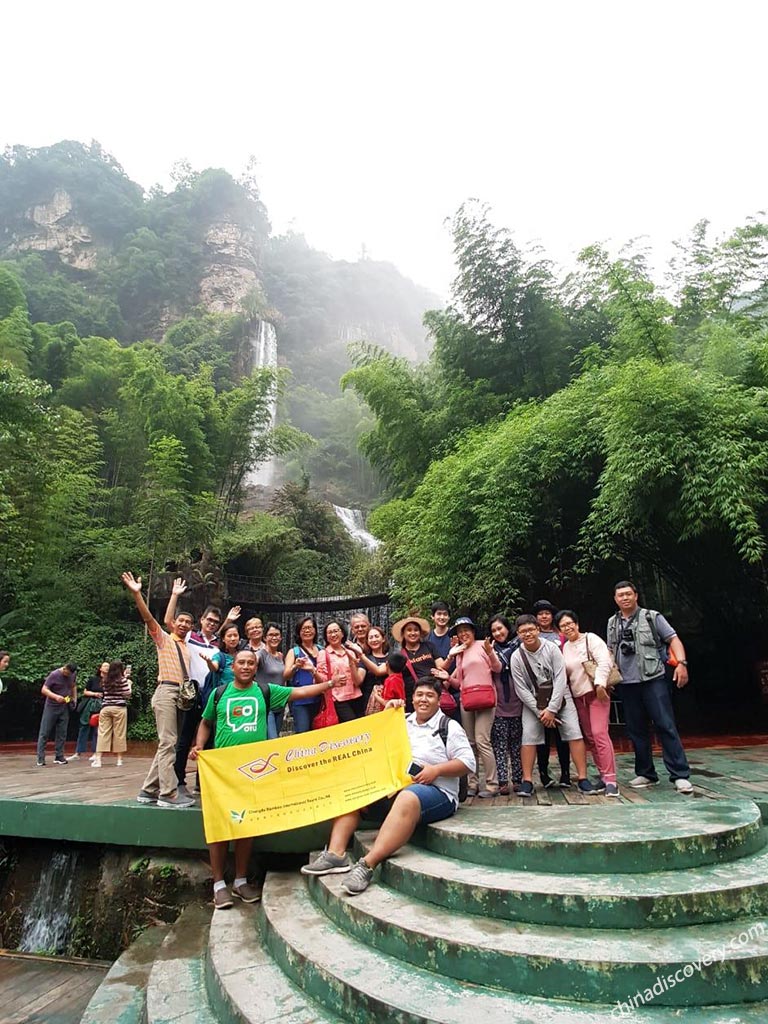 Baofeng Lake
What to See at Baofeng Lake
Bao Feng lake features with beautiful water scenery and stone hills with various shapes. It has more than 20 scenic spots and the highlights are as following.
Baofeng Lake - a Man-made Alpine Lake
With 2.5 km's length and 72 m's depth, Baofeng lake is the biggest highlight of this part of scenic area. It is a calm lake surrounded by mountains with green trees. The water of the lake is super clean as it's an alpine lake. Its water is produced by rainfall, mountain springs and underground streams, and stays emerald all year around, so it is reputed as the Dream-like Jasper Lake Fairyland.
Baofeng Waterfall - water Curtain Cave of 'Monkey Sun'
This is a waterfall once appeared in the ancient legends. You must know the Four Great Classical Novels in China. Among them, 'Journey to the West' is a widely-known novel. The main character of this novel - Monkey Sun, has a fascinating hometown - Huaguo Mountain. There is a water curtain cave of him named 'Shuilian Cave' which is the same as Baofeng Waterfall.
Stone Hills - with Various Strange Shape
As a lake surrounded by mountains, Baofeng Lake is also distinguished for these stone hills. They have various strange shapes and are just like that they are named after. There is one named 'Goddess', and it really looks like a beautiful girl making up in front of the lake. One named 'A Golden Toad with the Moon in its Mouth' looks just like its name when moon rises. Also 3 small islands on the lake called 'Mandarin Duck Islands', because there are many Mandarin Ducks every year.
Yingwo Village - used to Be Home of Robbers
Located at the Baofeng Lake scenic area, Yingwo Village can be reached along the road on the right of the gate. After stepping for hundreds of stairs, and walking through narrow road, you will see the wall of the village. At the end of the village, there are ancient temple with many pilgrims. It is said that there were scary robbers in Yingwo Village in the past.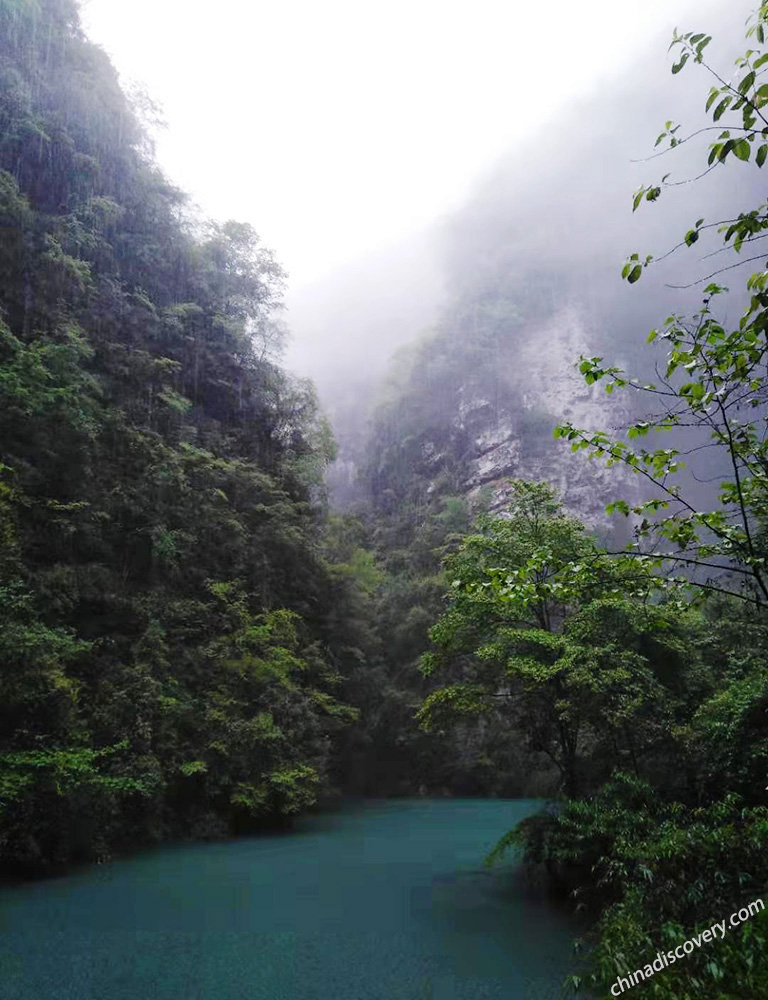 Baofeng Lake
How to Visit Baofeng Lake
Recommended Route: Entrance/Exit - Baofeng Bridge - Yixian Tian Valley - Xuankong Road - Yingwo Village - Guanyin Temple - Baofeng Temple - Duoguan Bridge - Qingliangting Port - (taking the boat to cruise) - Wanggui Port - Shanyue Pavilion - Gushi Spring - Entrance/Exit
Visiting Time: About 1 ~ 2 Hours (About 30 min's cruise)
Many travellers would choose to visit the lake by cruising, then they could enjoy both the beauty of lake and the beautiful voice of locals. You could also walk to explore the Yingwo Village if you have enough time.
Recommended Tours
>> 4 Days Zhangjiajie Classic Discovery Tour
>> 5 Days Zhangjiajie Ultimate Adventure Tour
How to Get to Baofeng Lake
Baofeng Lake is located at Suoxiyu Town, Wulingyuan District, Zhangjiajie City, and it is about 35 km from Zhangjiajie City, and 2 km from the government of Wulingyuan District. You can take the bus No.2 to Baofeng Lake from Suoxiyu, and then get off at the final station. The driving distance between Zhangjiajie and its nearby attractions are as followings.
Baofeng Lake Tickets & Opening Hours
Opening Hours:
7:00 ~ 18:00 (Apr ~ Nov)
7:30 ~ 17:00 (Nov ~ Mar)
Entrance Tickets:
General Ticket: ¥96/person
Free Ticket: Children shorter than 1.3 meters & The old older than 70 years old (include 70 year-old man).
Preferential Ticket: ¥50/person (Children higher than 1.3 meters & The old from 60 to 70 years old & Students younger than 24 years old.)
Ticket for Battery Car: ¥25/person
Notice:
1. The Entrance Ticket includes the round-trip fees of taking the boat to cruise in the lake.
2. There is an additional fee for premiums, which is ¥2/person.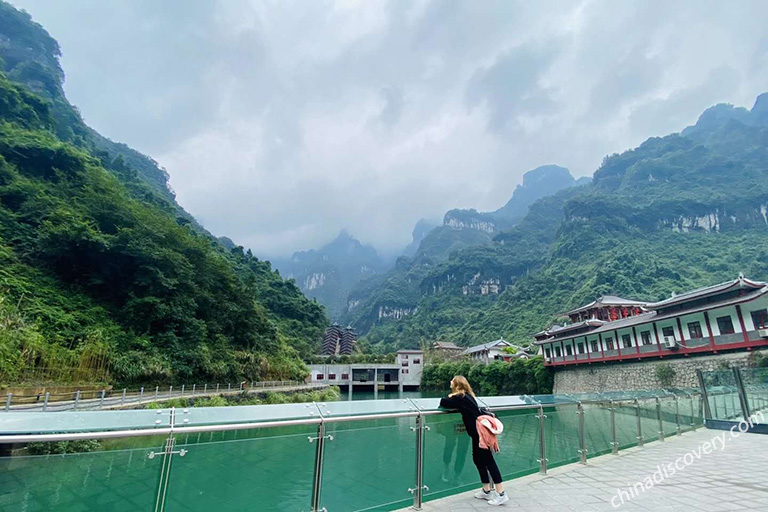 Our Guests Visit Baofeng Lake
Warm Tips for Baofeng Lake Tour
♦ Weather and Wearing: With the influence of mountains and lake, it is likely to rain at Baofeng Lake and the average temperature over the year is about 14 ℃. Therefore, you need to dress right according to the temperature there. Meanwhile, take umbrellas or raincoat, and wear water-proof and comfortable shoes in case of unexpected rain.
♦ Food and Drink: You could taste local speciality even in scenic area. However, the prices for the food and drink are generally more expensive than downtown area.
♦ Shopping: Only if you know them well, then don't buy so-called precious medicine or any other exotic things in scenic area. Otherwise, you may be cheated.
♦ Accommodation: You could stay at hotels near Baofeng Lake, if you want. There are hotels with different classes for you to choose.
How to Plan a Baofeng Lake Tour
Baofeng Lake, as part of Wulingyuan Scenic and Historic Interest Area, is always choosen by locals as the best place for relaxing after visiting nearby attractions as Tianzi Mountain, Suoxiyu, Tianmen Mountain, Zhangjaijie National Park, etc. At most time, travellers may visit Baofeng lake and nearby Yellow Dragon Cave together.
They may take 4 to 5 days to have a Zhangjiajie tour. At the first three days, they will go to Huangshi Village, Golden Whip Brook, etc to explore the exquisite forests, odd-shaped peaks and rocks, the primitive streams, and the breath-taking panoramic views of Zhangjiajie. After long time's hiking, they would take one day to relax at Baofeng Lake and Yellow Dragon Cave. If they have one more day, exploring the Tianmen Mountain at Zhangjiajie City is also popular.
Recommended Tours
>> 4 Days Zhangjiajie Classic Discovery Tour
>> 5 Days Zhangjiajie Ultimate Adventure Tour
Furthermore, you could also have a customized tour concerning your own budgets and interest. Just feel free to contact our private consultant.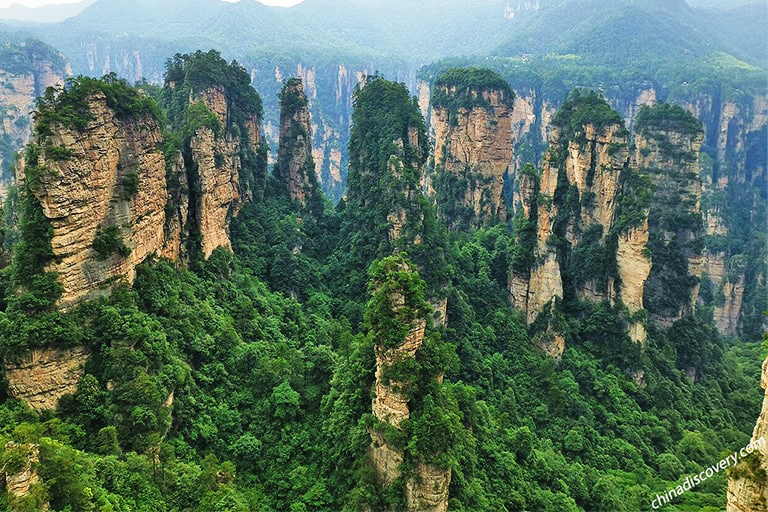 Zhangjaijie National Park
Travel Zhangjiajie & Other Places in China with China Discovery
You may be confused about how to plan a Zhangjiajie tour, as the transportation there is not so convenient. Meanwhile, you could find that you couldn't know well about so many scenic spots. Then you could think about us - China Discovery. We could help you to resolve all problems you worried in your trip. You could take the licensed private car of us, and the driver will escort you between your last destination and the next destination. Our local private tour guide will explain you each scenic spot you will meet. The most important thing is that you will have your own professional private consultant to help you plan your trip according to your own interest and budgets. Along your trip, all you need to do is just playing well. Don't hesitate, just feel free to contact us for more details.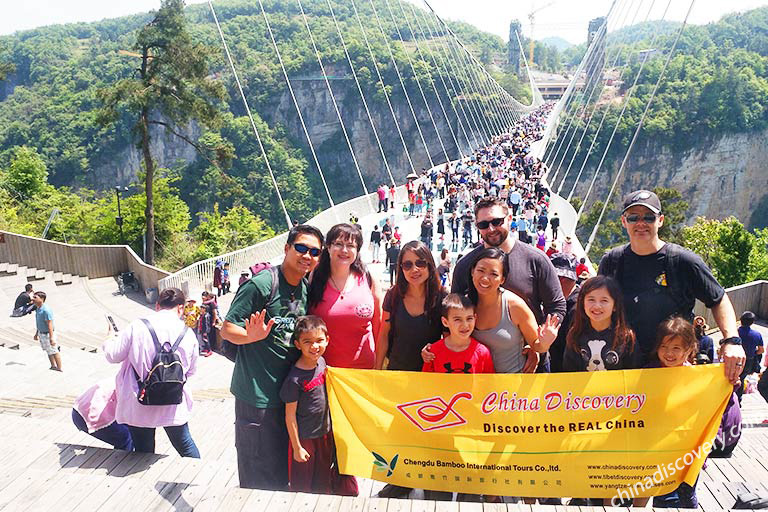 Our Guests at Zhangjiajie Grand Canyon
Recommended Zhangjiajie Tours
Top 3 Zhangjiajie tours chosen by most customers to explore Zhangjiajie in the best way. Check the detailed itinerary, or tailor your own trip now with us.
4 Days Leisure Zhangjiajie Nature Discovery

Zhangjiajie
Start planning your tailor-made holiday to China by contacting one of our specialists. Once inquired, you'll get a response within 0.5~23.5 hours.
Customize a Trip
Have a question? Get answers from our travel experts or guests
Your Question:

Your Name:

Your Email: