Guide to Explore Avatar Mountains in Zhangjiajie
Photos of Zhangjiajie National Forest Park and the sensational Hollywood movie "Avatar", you must have watched at least one. No matter on the photos or in the movie, the towering mountains truly exist on our earth for your real visit in person.
What are the Avatar Mountains
The first 3D movie "Avatar" was on show at the cinemas around the world in 2009, which displays an amazing "Pandora" world with a lot of floating mountains and unknown creatures with magic powers. Hence, the movie made a great flutter worldwide and also intrigued people's curiosity about the Avatar Mountains. Back to reality, those mountains are not floating, but the authentic prototype inspiring the movie director Mr. James Cameron to design the Avatar mountains can be found and in Zhangjiajie Wulingyuan National Forest Park in China and will also make you wow at the incredible ability of nature creation on such fascinating pinnacles.
Wulingyuan National Forest Park that is usually know as Zhangjiajie National Forest Park has been announced as the UNESCO World Heritage Site in 1992 and is the first national forest park in China, with its more than 3,000 quartzite sandstone pillars and peaks with striking beauty of landscape. Before James visiting there to get the inspiration of the movie, it has already been famous. But after the movie on show, many other groups of international people go to the park to see the Avatar Mountains every year.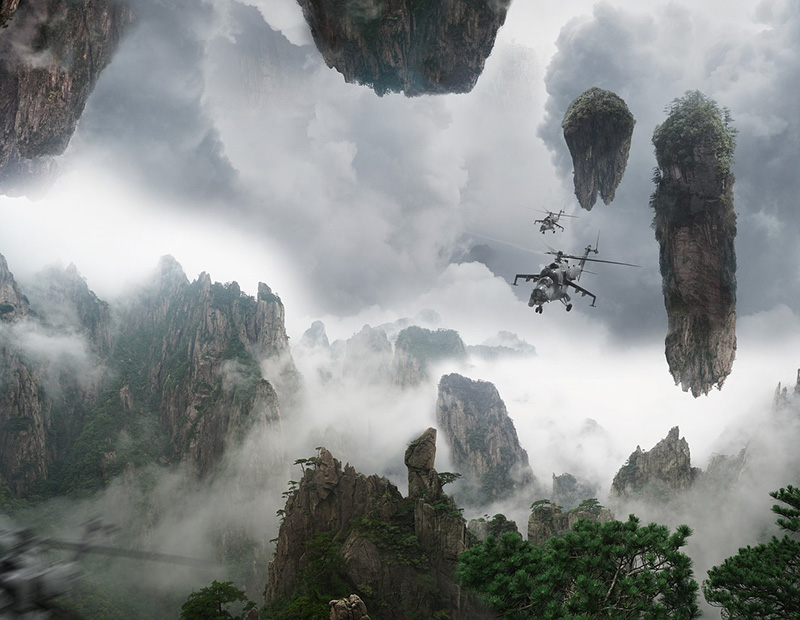 Famous Movie "Avatar" & Prototype in Wulingyuan National Forest Park
Which One Is the Hallelujah Mountain of "Pandora"
Among all the floating mountains in Avatar, the most impressive one must be the "Hallelujah Mountain", rarely disappearing on the post. In Zhangjiajie Forest Park, the "South Sky Pillar" in Yuanjiajie Scenic Area is rightly the prototype of the most famous Avatar floating mountain. Towering vertically up to 3,544 feet, this rock column of covered by lush foliage on its peak and part of the body, with major stone part exposing in the air to let you see its layers of sharp carving by nature. Moreover, the lower part of the mountain is quite narrower than the upper major part, which is rare to see in the world. To seize the popularity of the movie, the park official changed the name of mountain into "Avatar Hallelujah Mountain" in 2010 to let visitors know the inspiration story of James and help them find the real prototype of that unbelievable mountain in the movie.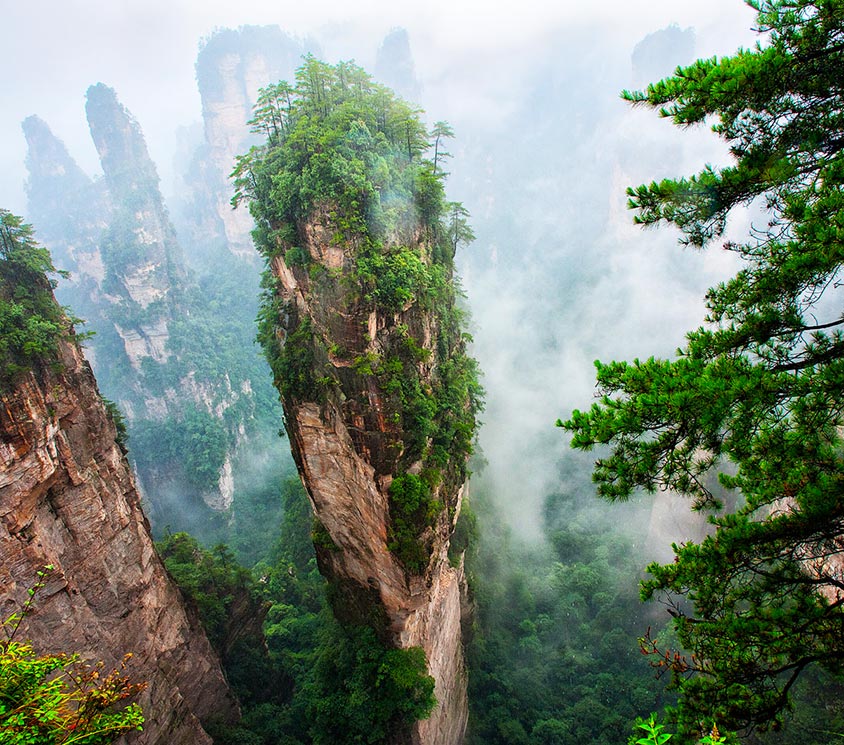 Avatar Hallelujah Mountain - South Sky Pillar at Yuanjiajie
Where to Take Photos of the Hallelujah Mountain?
Just in front of the Avatar Hallelujah Mountain, there is a viewing deck for your perfect sightseeing of the mountain superstar. You can see the mountain pillar rising high from the deep valley and surrounded by a lot of other stone mountains. Besides, there is a statue of the blue flying dragon in "Avatar", which you can take an instagrammable photo with (free).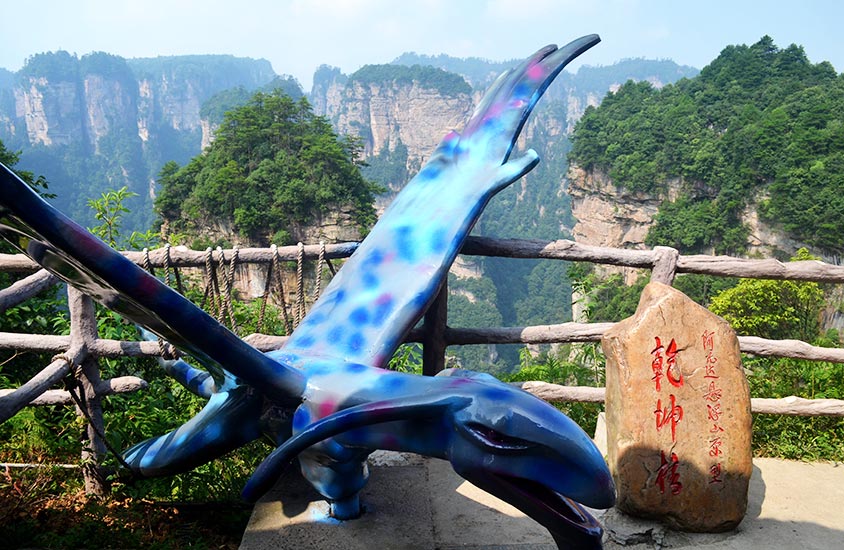 Viewing Deck to See Avatar Hallelujah Mountain
Where are Avatar Mountains & How to Get There
Avatar Mountains are the thousands of towering mountain pillars in Yuanjiajie Scenic Area in Wulingyuan National Forest Park in Wulingyuan District, Zhangjiajie City, Hunan Province in South China.
Get to Zhangjiajie City:
Here is Zhangjiajie Hehua Airport serving for domestic flights from Beijing, Shanghai, Xian, Changsha, Chengdu, Chongqing, Guangzhou, Shenzhen, Kunming, Nanjing, Hangzhou, Tianjin, Qingdao, etc. and international flights from Bangkok, Osaka and so on. Besides, you can get to Zhangjiajie by train. And you can get to Zhangjiajie West Railway Station so far by bullet trains from Changsha (2.5-3.5 hours), or to Zhangjiajie Railway Station by normal trains from Yichang (4.5-5 hours), Tongren (about 7 hours), Wuhan (10 hours), Xian (15 hours), Shanghai (20 hours), Beijing (23 hours), etc.
Get to Wulingyuan National Forest Park:
The park is about 35 kilometers from Zhangjiajie downtown. You can take a local taxi to get there from the downtown, Zhangjiajie Hehua Airport and Zhangjiajie Railway Station, and that usually takes about 50-60 minutes.
Besides, there are many buses from Zhangjiajie Central Bus Terminal in downtown to Wulingyuan Bus Terminal at foot of the forest park that need about 50 minutes (35km). You can take the bus to Wulingyuan and walk to Wujiayu Ticket Station to enter Zhangjiajie Forest Park for about 15-20 minutes (1.2km).
Check more about:
Flights to Zhangjiajie | Trains to Zhangjiajie | How to Get to Zhangjiajie | How to Get around Zhangjiajie | Zhangjiajie Airport to Zhangjiajie National Forest Park | Zhangjiajie Railway Station to Zhangjiajie National Forest Park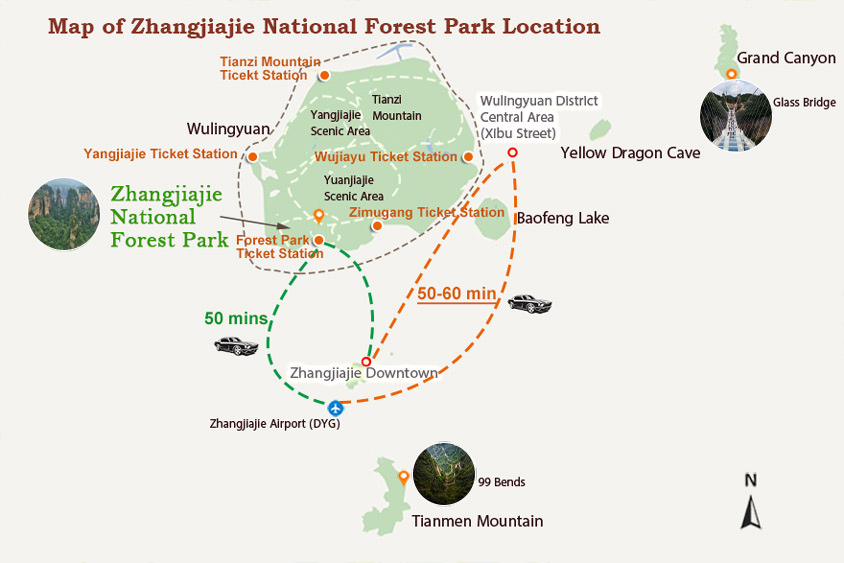 Zhangjiajie National Forest Park (Wulingyuan) Location & Transportation Map
How to Plan Your Itinerary of Avatar Mountains
Since Wulingyuan National Forest Park is very large and there are many ways to walk, many people arrange 2 days in the forest park scenic area to see the Avatar Mountains.
Day 1:
Enter Zhangjiajie National Forest Park to take the cable car to Huangshi Village, and then explore the lovely tranquil scenery along Golden Whip Brook with beautiful verdant natural water views. Stay in Wulingyuan Town tonight.
Day 2:
Enter the park again from Forest Park Ticket Station and then visit Yuanjiajie to take Bailong Elevator and explore the famous mountain pillar scenery and the iconic "Avatar Hallelujah Mountain". Then, take the sightseeing bus to Tianzi Mountain. Then you can transfer to Zhangjiajie airport or train station for leaving.
Best Zhangjiajie Tour Package to Visit Avatar Mountains:
>> 3 Days Zhangjiajie Natural Wonders Tour
Extensional Exploration:
There are much more highlights in Zhangjiajie besides Avatar Mountain, if you are interested, you can spend 1-3 more days there in Wulingyuan area to get an ultimate nature wonder enjoyment.
Day 3:
Visit Yellow Dragon Cave and see its 10,000 stalagmites and stalactites with colorful lights. Then, go to Zhangjiajie Grand Canyon to experience walking on the world longest and highest glass bridge. Stay in Zhangjiajie downtown tonight.
Day 4:
Take the longest cableway in Asia to discover Tianmen Mountain and experience the thrilling Glass Sky Walk, Avenue toward Heaven with 99 turns. After the visiting, transfer to Zhangjiajie airport or train station for leaving.
Best Zhangjiajie Tour Packages with Avatar Mountains and Most Highlights
>> 4 Days Zhangjiajie Highlights Tour with Fantastic Hiking Experience
>> 5 Days Zhangjiajie Ultimate Adventure Tour with Glass Bridge & Tianmen Mountain
>> 5 Days Classic Zhangjiajie & Fenghuang Tour
Where to Stay to Visit Avatar Mountains
Since it usually needs more than 1 day to explore Avatar Mountains in Wulingyuan National Forest Park, you need to have at least 1 night stay there. So where is the best place to stay? There is no accommodation available in the forest park scenic area, however, we highly suggest you stay in Wulingyuan downtown that is 10 minutes' driving distance to the major ticket station of the scenic area and also 10-15 minutes' driving distance to most tourist essences at Wulingyuan.
Chosen by most visitors to visit Avatar Mountains and Zhangjiajie City, Wulingyuan downtown offers a lot of different hotels and hostels from luxury 5 star, comfort 4 star to budget 3 star, and resort hotels. You can find many famous and popular international brands such as Pullman, Crowne Plaza, Santo Domingo, etc.
Recommended Wulingyuan Downtown Accommodations:
Pullman Zhangjiajie (5 Star)
Crowne Plaza Zhangjiajie Wulingyuan (5 Star)
Santo Domingo International Hotel Zhangjiajie (4 Star)
Wulingyuan Hotel (4 Star)
Jinyu International Hotel (3 Star)
Check more Best Wulingyuan Hotels & Hostels >>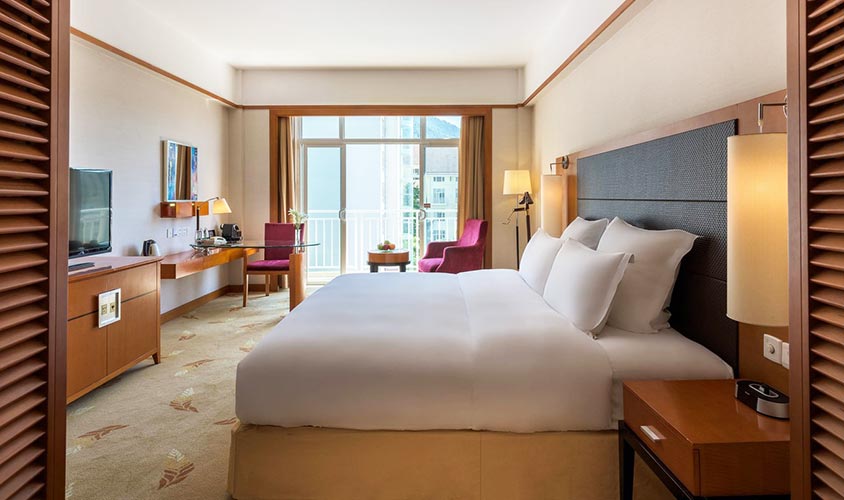 Accommodation at Wulingyuan Downtown - Pullman Zhangjiajie
Explore the Avatar Mountains with China Discovery
Want to enjoy a worry-free trip to Zhangjiajie to visit the floating Avatar Mountains and more highlights? We suggest you travel with China Discovery. Our professional local guide and driver will take you to every place you want with comfortable licensed private car of China Discovery with speed and safety. And the guide will give interesting introduction of all the highlights to enrich your trip experience to the beautiful city. If you have any idea or needs, and interested in travel to more destinations in China, such as Beijing, Shanghai, Xian, Chengdu, Guizhou, Guilin, Huangshan, Lhasa, Yangtze River, etc., please feel free to contact us. All our itineraries are customizable and our experienced travel expert will help you to customize your trip to China based on your needs, interests and budget with sincerity and professionalism.
We have helped many global travelers enjoy their memorable trips to Zhangjiajie for the past few years. Among them Mr. Elie & his wife from Belgium enjoyed 5 days in Zhangjiajie during their 69 days China trip customized with us and shared us their travel story. Travel with China Discovery to create your wonderful Zhangjiajie trip memories!
Extension Reading of Zhangjiajie Travel
Read More about Zhangjiajie Transportation
Recommended Zhangjiajie Tours
Top 3 Zhangjiajie tours chosen by most customers to explore Zhangjiajie in the best way. Check the detailed itinerary, or tailor your own trip now with us.
3 Days Classic Zhangjiajie Natural Wonders Tour

Zhangjiajie
Start planning your tailor-made holiday to China by contacting one of our specialists. Once inquired, you'll get a response within 0.5~23.5 hours.
Customize a Trip
Have a question? Get answers from our travel experts or guests
Your Question:

Your Name:

Your Email: