Yellow Mountain in Winter: Weather, Temperature, Scenery & Travel Tips
Freezing cold weather and thick snows scares off most tourists, but adventures and enthusiastic photographers regard winter is also one of the most beautiful and the good seasons to capture a different sightseeing and experience on Yellow Mountain. From December, Mount Huangshan starts its snowy winter season and lasts to March next year. The once-in-a-lifetime winter hiking, awesome ice and snow scenery and amazing "Sea of Clouds", less tourists and lower costs get the cold winter a unique season to visit Huangshan Mountain. What to See in Huangshan Mountain >
Huangshan Weather in December, January, February and March

Huangshan Mountain Historical Weather Charts in Winter (2017)
Month from December to the following March is the winter season on Yellow Mountain, longer than than plain area for its geological location and higher elevation. With an average temperature ranging from -5℃ to 5℃, this period is the coldest season of Mount Huangshan. Freezing temperature, misty and cloudy weather, heavily snows and least rainfall are the major features in winter. Some people avoid this time for less spots opened and frozen outdoor environment, but it's a quieter season with more discount of entrance tickets and accommodation.
Normally, temperature falls to below zero at the beginning of December and it starts snowing. Since then, weather turns to be quite windy and chilly. In January and February, days and nights get super cold, reaching to sub-zero temperatures, snow becomes really big, making the hiking stairs icy and slippery. Later in the coming March, temperature increases gradually between below zero to several degrees, and there still has beautiful snow and rime to see.
Useful links:
● Huangshan Weather & Seasons - Best Time to Visit Huangshan Mountain
● Yellow Mountain in Spring | Yellow Mountain in Summer | Yellow Mountain in Autumn
Note: Weather on Huangshan Mountain changes dramatically all through the year and over 200 days of a year are foggy and misty.
What to See & Do on Huangshan Mountain during Winter
Scenic Spots Open in Winter
During winter, the whole mountain won't be closed off, but some sites will be shut down to the public. Bright Summit (光明顶), Beginning to Believe Peak (始信峰), Lion Peak (狮子峰) and Turtle Peak (鳌鱼峰) and many other sites remains open. However, snow and ice makes hiking paths in high-elevated sections quite slippery, dangerous for tourists. For safety consideration, each year, spots including the West Sea (Xihai) Grand Canyon and Lotus Peak will be closed during cold winter (usually from December to March next year) and reopen in late March or early April in next spring. If you mainly go for the two highlights, you can skip the winter. Top Popular Huangshan Mountain Hiking Tours >
① Celestial Capital Peak (天都峰) has already closed from 1st December 2018 and it will remain closed in the following 5 years.
Please notice that Lion Peak and Danxia Peak might be closed for ecological repairment. China Discovery offers you the updated news about the opening status and practical tour advice.
Useful Links: Yellow Mountain Photo Gallery
Recommended Huangshan Mountain Hiking Tours:
>> 3 Days Huangshan Highlights Leisure Tour
>> 3 Days Yellow Mountain Classic Hiking Tour
>> 3 Days Huangshan Mountain Essential Tour
Natural Highlights during Winter
● Snowscape and Ice Wonderland
Yellow Mountain during winter is truly a snow and ice wonderland. The snow-scrapped mountains, different shapes of pine tree, pretty hoarfrost and excellent snow scenery on Huangshan Mountain are far beyond your imagination, extremely impressive both for your mind and body. Generally, snow visit Huangshan from early December when temperature drops a few degrees below zero. Then the mountain will step into January and early February, the coldest month in a year, which let the whole mountain coated with a silvery white snow. Bring your camera to record the beautiful rimes hanging on the leaves; it would be very dazzling when the sun comes out.
● "Sea of Clouds"
The magnificent sight of "Sea of Clouds" is one the four wonders on Huangshan Mountain. Due to great temperature difference between layers in the atmosphere, there has more chances, nearly 95% to see this spectacle during the winter. After rains or snows, it often appears large-scale clouds flowing among valleys and peaks, very impressive scene! You can see the clouds drift around at a very fast speed and grand shapes, turning the whole mountain a mystic foggy fairyland. In Beihai Scenic Area, Beginning to Believe Peak and Lion Peak (near the Beihai Hotel) are good places to watch this wonder.
● The Light of Buddha
The rarely occurred Light of Buddha is an unabiding colorful halo which is believed to be the vision of Buddha. It is an amazing supernatural, and an atmospheric optical phenomenon caused by the refraction of sunlight by tiny moisture in clouds. According to statics, there are about 40 times a year and it often appear at dusk and the next morning after raining. Compared to other seasons, the winter offers bigger chance to meet this natural magic.
● Huangshan Hot Spring
After a freezing and strenuous hiking during winter, the hot spring situated at foot of Huangshan Mountain is a perfect way to relax and fresh. Known as a "Natural Spa", the springs not only dispel chilliness, but also give relief to your tired legs after long hiking trip. The hot spring resort is located close to Mercy Light Pavilion, easy to access by shuttle bus from the nearby cable car station. There is a variety of pools available, and message service, snacks and delicious local Huizhou Cuisine you can taste. Huangshan Hot Spring & Resorts >
Most time it's quite misty, dark and clouded on the mountain top areas and scenery is less green but in grey and brown colors as leaves has mostly fallen off. Only good weather creates chances to see above scenic view.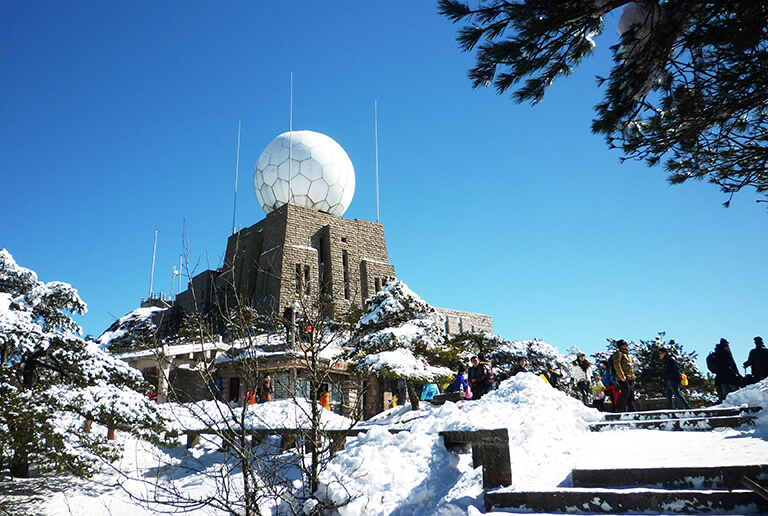 Snow-covered Huangshan Bright Summit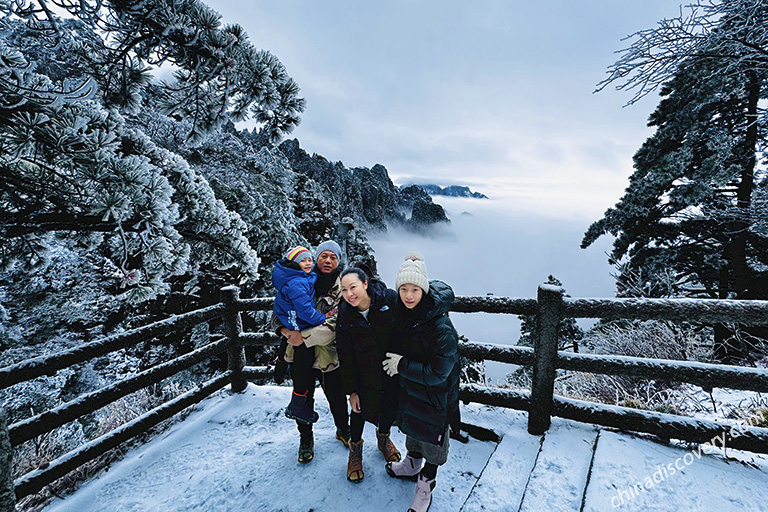 Stone Monkey Glazing at the Sea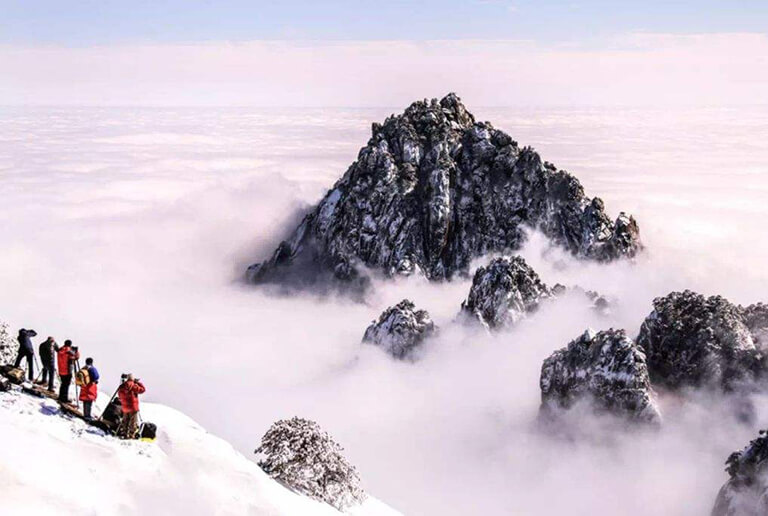 Amazing Sea of Cloud around Lotus Peak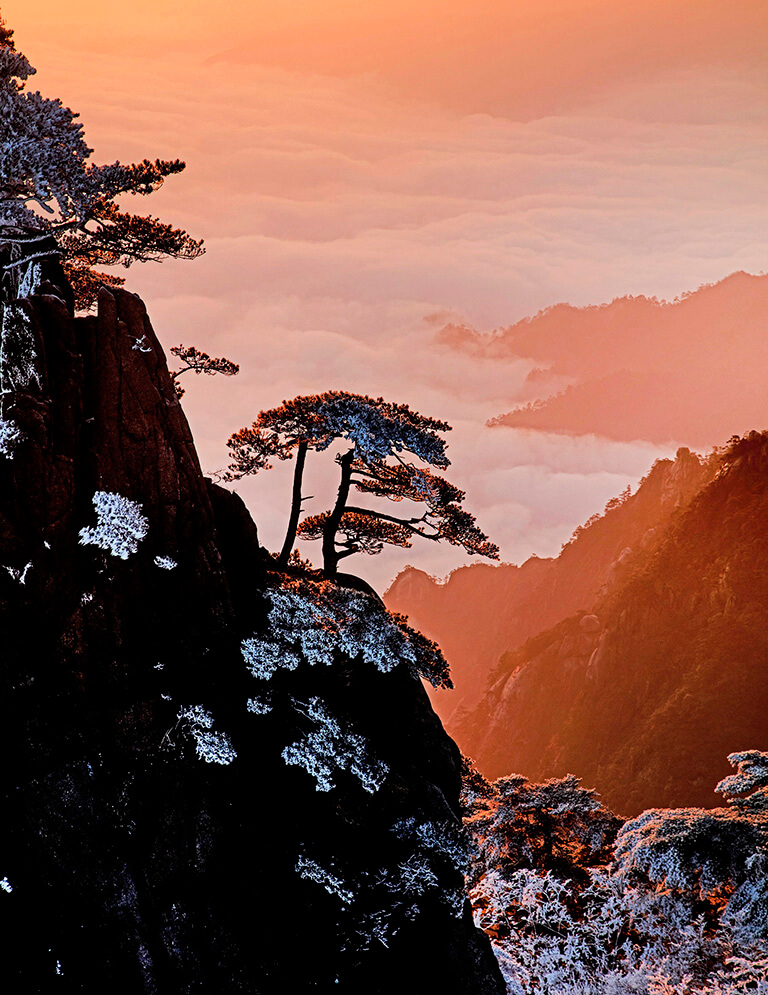 Poetic Sunrise in Shixin Peak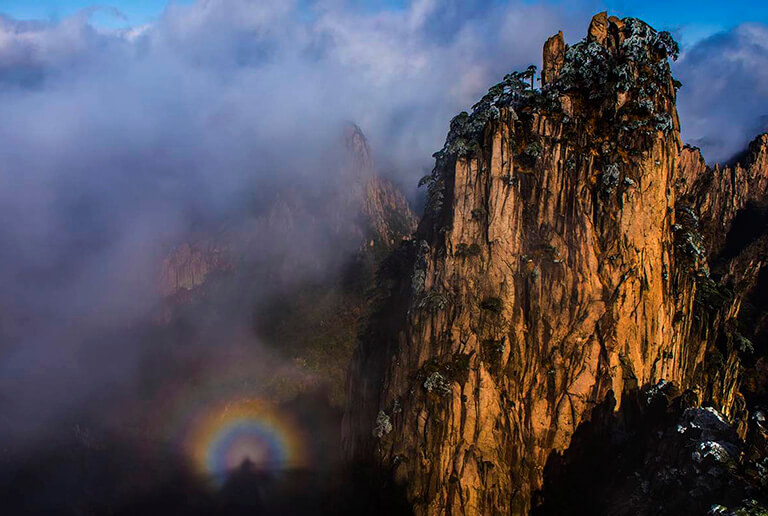 The Light of Buddha on Huangshan
Sunrise and Sunset in Winter
During freezing winter season, the time of sunrise is between 06:00am to 07:00am and sunset time is about 17:10pm to 18:20pm. In December and January, the days become the shortest (less than 10.5 hrs) and nights are the longest in a year, and sun rises from 06:40am to 07:00am. During the following February and March, sunrise earlier gradually and the daylength is getting longer.
In the hotel lobby, there is reliable forecast of the weather and sunrise/sunset time and possibility of the next day. If you want to see the sunrise next morning, remember wear more as the morning wind chills to the bone. Bright Summit and Beginning to Believe Peak (Shixin Peak) are two best sites to catch sunrise and Bright summit and Turtle Peak are good spots for sunset. Which hotel has good location to see sunrise? Check the information below to get ideas.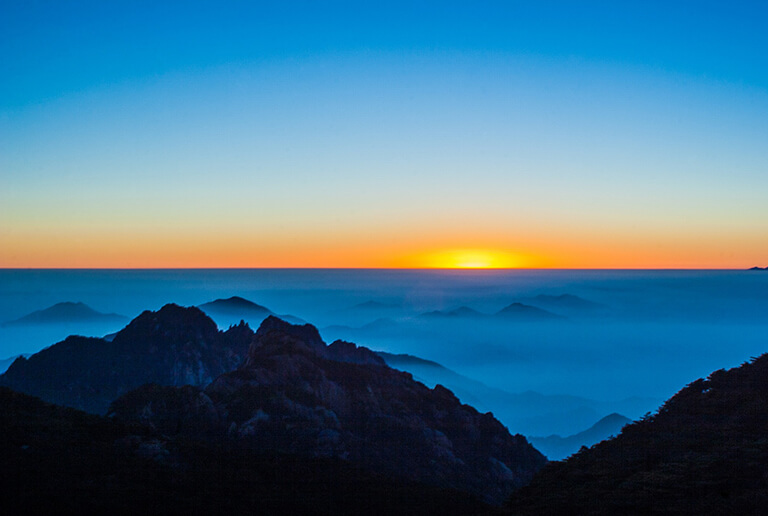 Picturesque Sunset Viewed from Bright Summit in Early December
Location and Distance of Hotels and Sunrise/Sunset Viewing Sites
Hotel
Best Spots (Sunrise & Sunset)
Beihai Hotel / Shilin Hotel
Sunrise: Refreshing Terrace / Dawn Pavilion / Lion Peak (10 minutes' hiking) /
Beginning to Believe Peak (30 minutes' hiking)
Xihai Hotel / Paiyunlou Hotel
Sunrise: Danxia Peak (15 mins' hiking) / Lion Peak (30 mins' Peak)
Baiyun Hotel
Sunrise: Bright Summit (15 mins' hiking) / Turtle Peak (20mins' walking)
Sunset:Bright Summit (15 mins' hiking) / Turtle Peak (20mins' walking)
What to Wear & Pack for Huangshan Winter Tour
Bear in mind that appropriate packing ensures you more comfort and convenience for a Huangshan Hiking Tour. Always pack light and don't make yourself overburdened. Beware of the low temperature and icy steps. You are highly suggested to wear lots of warm clothes, for it's much colder on the mountain than in the lowlands, such as winter jacket, down coat, thick sweater, and other light warm outdoor clothing.
● Shoes: Wear your most comfortable hiking shoes (antiskid shoes) and buy studs at the base of the mountain, because there are lots of slippery snow-covered stairs you will climb up and down between each peaks.
● Sunblock: Prepare your sunglasses and sunscreen to against the strong ultraviolet lights.
● Bag: Bring a light backpack and store your big baggage in the hotel or safe palaces at the base of the mountain.
● Raincoat: Bring rain gear, a good-quality raincoat is the best, in case you caught in the rain, cheap disposable raincoat is easy to get at the base vendor and shops.
● Others: Other useful items include hiking stick, gloves, high calorie food/snacks and several bottled water, a detailed Huangshan guide map and etc.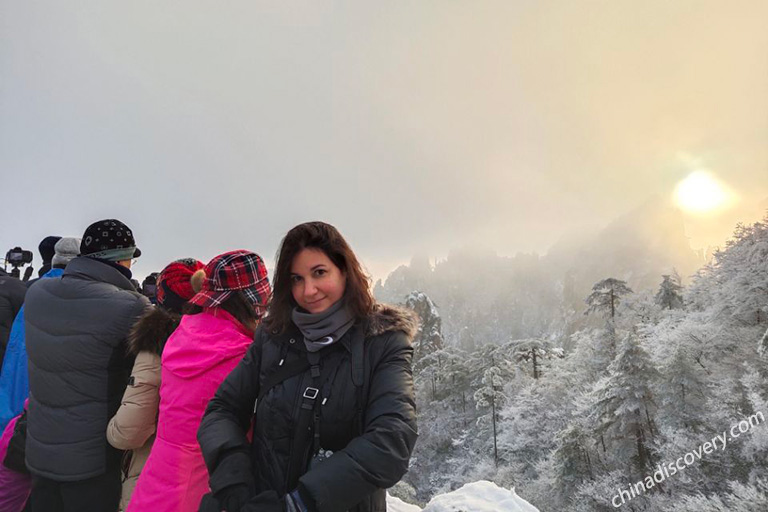 Huangshan Mountain Visitors during Late Winter
Useful Travel Tips:
1. Enjoy Winter Tour at Lower Cost. Each year, Huangshan Mountain Scenic Area will operate a seasonal tour policy with discounted admission fee and cableway fares for about two monthly.
In 2018, the winter tour begins from 20 November 2018 to 20 January 2019. During that period, the entrance ticket will be cut from 190RMB to 150RMB, cableways is 15~20 RMB cheaper than off and high season.
2. Less Crowds in Winter. During the freezing winter, there will be fewer tourists and groups visiting Mount Huangshan, so you can take pictures, enjoy scenery and a serenity tour on the mountain and focus on the sightseeing and hiking.
3. About Sunrise & Sunset. The chance to see sunrise and sunset mainly depends on the weather and where you view from. Usually the mountains will be enveloped in dense frog in winter, it would be lucky enough to see the sunrise/sunset when the weather is good.
4. Check Weather Forecast in Advance. Weather in Huangshan Mountain differs from that in Huangshan City. Before decide itinerary, better check the updated weather forecast and get prepared for the upcoming weather situations.
5. Be Careful in Hiking. Hiking trails are very icy, slippery and dangerous. You should concentrate on the hiking or sightseeing, be extremely cautious when climbing up and down. If the downhill path is steep, better use your hiking stick and walk towards sideway. (Warm Tip: There will be workers cleaning the ice and snow along the paths.)
6. Cable Car Closing Time. For safety concern, all the cable cars on Huangshan Mountain will have annual inspection regularly, that often happen in winter. So tourists who want to visit Mt. Huangshan in winter, better check the operation time of each cableway before planning your hiking route. Accordingly, our Huangshan tour schedules including the relevant cableways will be adjusted as some of them will be closed then. Huangshan Cable Cars >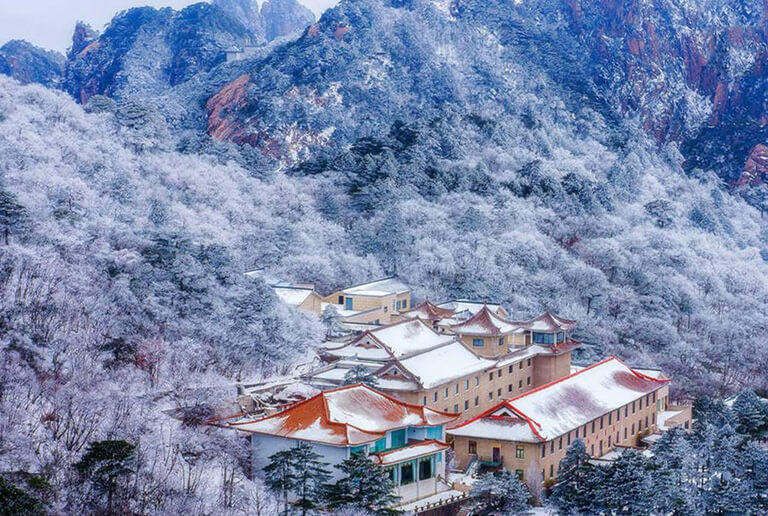 Winter Accommodation on Huangshan Mountain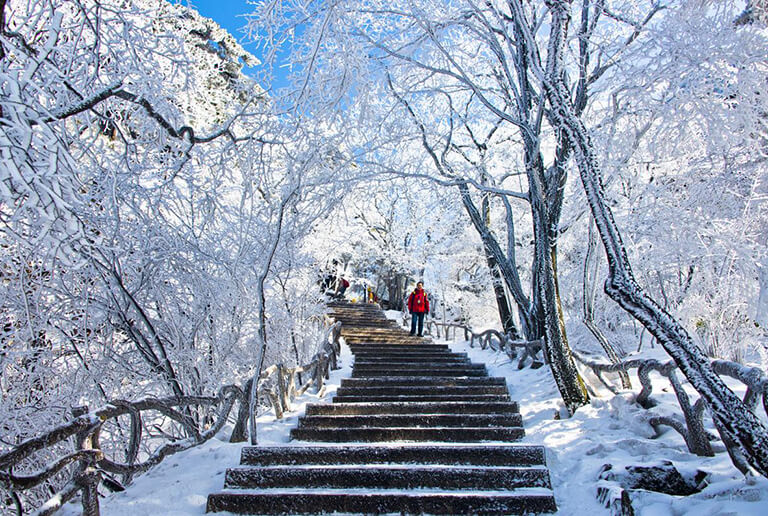 Huangshan Hiking Path in Winter
Huangshan Weather
Extension Readings of Huangshan Travel Guide
Recommended Huangshan Tours
Top 3 Huangshan tours chosen by most customers to explore Huangshan in the best way. Check the detailed itinerary, or tailor your own trip now with us.
3 Days Huangshan Highlights Leisure Tour (Back Mountain + West Sea Grand Canyon)

Tunxi - Huangshan - Tunxi
4 Days Huangshan with Pig's Inn Carefree Countryside Idyll Tour

Huangshan - Hongcun - Bishan
4 Days Huangshan Hongcun Winter Vacation with Hot Spring

Tunxi - Huangshan - Hot Spring - Hongcun
Start planning your tailor-made holiday to China by contacting one of our specialists. Once inquired, you'll get a response within 0.5~23.5 hours.
Customize a Trip
Have a question? Get answers from our travel experts or guests
Your Question:

Your Name:

Your Email: