Yellow Mountain in Summer: Weather, Scenery, Tours, Packing Tips
Known for natural beauty and spectacular views as a World Natural & Cultural Heritage, Yellow Mountain has different landscapes and charm in each season, which always attracts numerous tourists. Month from June to the middle of September is the real summer on Huangshan Mountain, one month later than lowland due to effect of elevation. And the two major factors, altitude and location of humid subtropical monsoon climate zone, bring Summer on Huangshan abundant rainfall, verdant forest and a cool weather not as hot as other plain regions in China. The stunning scenery, available time, reasonable temperature makes summertime one of the peak seasons for Yellow Mountain plus the summer school holiday.
Huangshan Weather in June, July, August & Early September

Huangshan Mountain Historical Weather Charts in July, August and September (2018)
Summer on Yellow Mountain starts from June to September, with a moderate mean temperature of 20.7°C by the quarter. The average temperature on peak area is only 18.7°C and highest temperature is 28°C in a single-day record, that makes Huangshan one of the best places to escape from the fierce heat in hot summer days. Data shows that the average highest temperature is 20.5°C and lowest temperature is 15.8°C in the hottest month of July.
Besides, Yellow Mountain belongs to subtropical monsoon climate, so it often rains, especially during summer. In the rainy season, there may be several rains in a single day, even thunderstorms happen suddenly. Naturally, tourists will have greater chance to see the spectacular "Sea of Clouds" after it stops and sky clears. Or the frogs surround gives more Chinese ink painting style views. Thus, get prepare for raincoat. And for higher elevation and covered with lush trees, it's cool on the mountain peak area, and the frequent rains let the air is quite humid and wet.
Useful links:
● Huangshan Weather & Seasons - Best Time to Visit Huangshan Mountain
● Yellow Mountain in Spring | Yellow Mountain in Autumn | Yellow Mountain in Winter
Note: Weather on Huangshan Mountain changes quickly all through the year and over 200 days of a year are foggy and misty.
What to See & Do on Huangshan Mountain during Summer
Scenic Spots Open in Summer
Nearly all the scenic spots on Huangshan Mountain remain open in summer, except Celestial Capital Peak (Tiandu Peak 天都峰) which will be closed from December 2018 to April 2024. It means that during the months from July to September, you can visit the most fantastic West Sea (Xihai) Grand Canyon, Bright Summit, Turtle Fish Peak, Lotus Peak, Guest-Greeting Pine, Lion Peak and Beginning-to-Believe Peak, see the Stone Monkey Glazing at Sea, hike the thrilling One Hundred Cloud Ladder and cross the One-Line-Sky and other excellent sights.
Based on your fitness and length of itinerary, tourists can have an in-depth hiking tour to enjoy all sites in both front and back mountain (4 Days Huangshan & West Sea Grand Canyon Hiking Tour) or make a classic leisure tour (3 Days Yellow Mountain Essential tour) visiting highlight sections of Mount Huangshan.
Useful Links:
Huangshan Mountain Attractions Map | Huangshan Photo Gallery | What to See on Yellow Mountain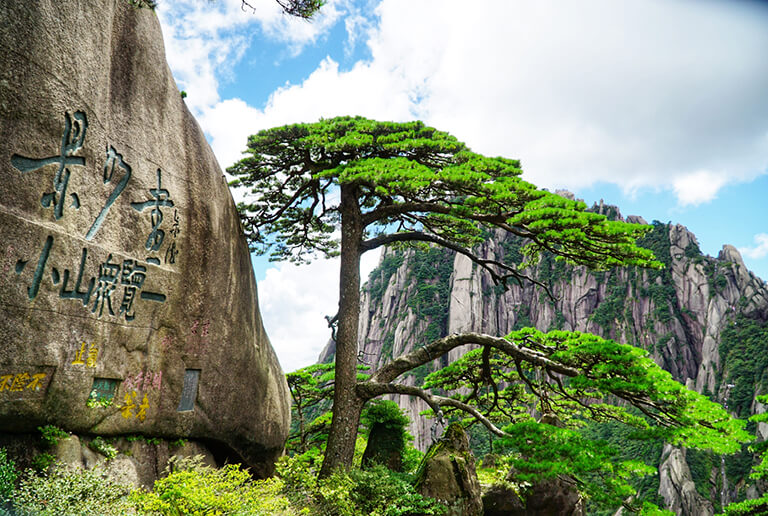 Verdant Guest-Greeting Pine Tree in Yuping Pavilion (in August)
Summer Natural Highlights on Huangshan Mountain
Listed as World Natural Heritage property and a Global Geo-park by UNESCO, Yellow Mountain offers fantastic natural landscape whenever you visit. If you visit Huangshan in summer, you can see the three of the four famous natural phenomena characteristics, strange pines (Top 8 Huangshan Pine Trees), absurd rocks and "Sea of Clouds", (another wonder, Hot Spring is not suitable during hot summer.) With more than 93.6% of vegetation coverage, Huangshan Mountain is truly a natural botanical garden and a huge natural oxygen bar permeated with fresh air. Don't miss the amazing vertical peaks, thrilling canyons, twisted pines, massive waterfalls and streams, odd rock formations and misty sights while hiking up and down.
Summer months from July to September are the best season to see the Huangshan pine trees, when the grotesque pines turn the greenest after the rains. And, the pines standing everywhere work as adorable sunshades, providing tourist shelter and coolness in summer.
Owing to its watershed location between Yangtze River and Qiantang River and own special landform, Huangshan Mountain has 36 canyons and 24 brooks spread over the peaks. Rich rainfall in summer makes the three top waterfalls (including Inverted Y-shaped Waterfall 人字瀑, Hundred-Sratch Spring 百丈泉 and Nine Dragon Waterfall 九龙瀑) on Huangshan more spectacular and shocking. Viewing Waterfall Pavilion (观瀑楼) in the Hot Spring Scenic Area is the best point to watch the huge pretty Inverted Y-shaped Waterfall.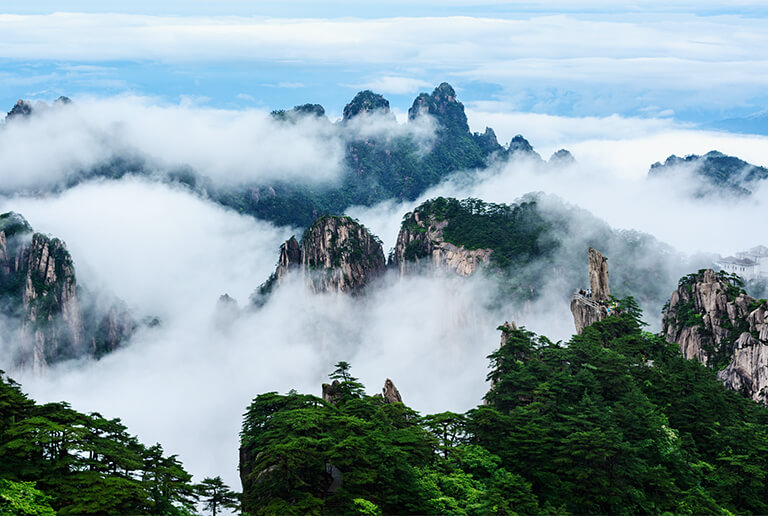 Amazing Sea of Clouds around Flying-over Rock (in July)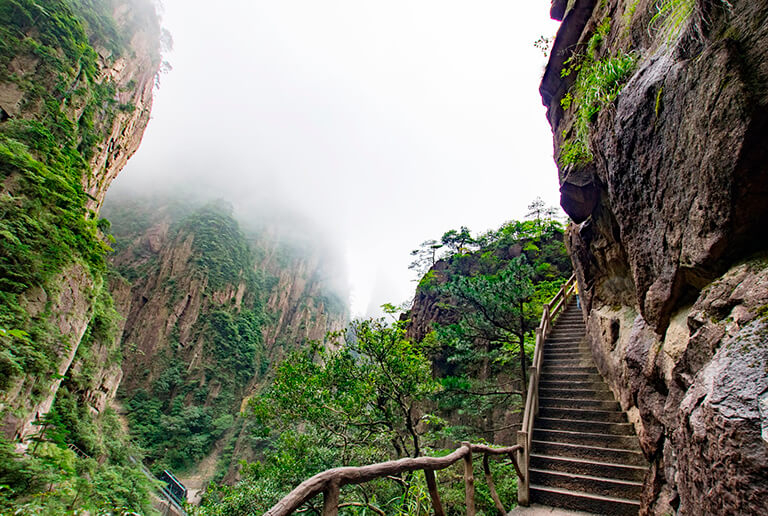 West Sea (Xihai) Grand Canyon in Late August
Sunrise and Sunset in Summer
When summer comes, the sun sits above the Tropic of Cancer, making the sunrise time half an hour earlier than that in spring, between 05:00am to 06:00am. In some days, the rise rises even before 05:00am. Sunset time ranges from 18:00pm to 19:10pm. Bright Summit, Beginning to Believe Peak, Lion Peak (including Refreshing Terrace & Dawn Pavilion), Danxia Peak, Turtle Peak and Yuping Peak are the best spots to see the sunrise and sunset on Huangshan Mountain. Also, you can watch sunset from Flying-over Rock and Fairy Walking Bridge. Check the most convenient access for sunrise/sunset viewing from hotels on the mountain top in the below graph.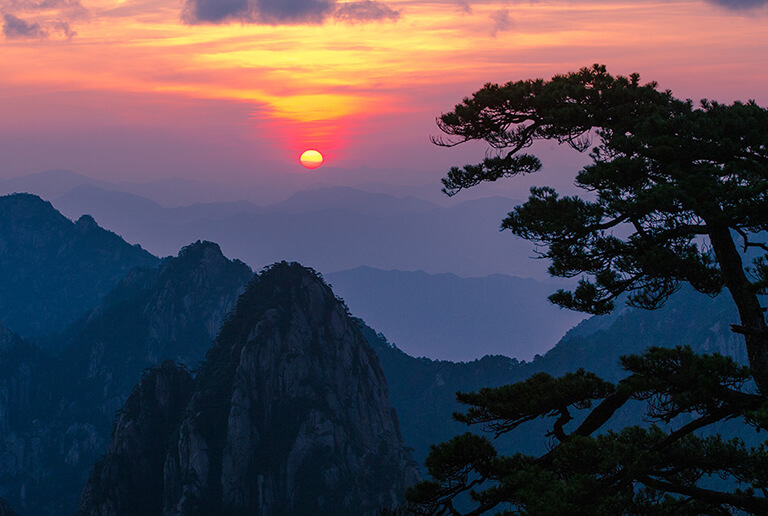 Magnificent Sunrise at Huangshan in July
Location and Distance of Hotels and Sunrise/Sunset Viewing Sites
Hotel
Best Spots (Sunrise & Sunset)
Beihai Hotel / Shilin Hotel
Sunrise: Refreshing Terrace / Dawn Pavilion / Lion Peak (10 minutes' hiking) /
Beginning to Believe Peak (30 minutes' hiking)
Xihai Hotel / Pingyunlou Hotel
Sunrise: Danxia Peak (15 mins' hiking) / Lion Peak (30 mins' Peak)
Baiyun Hotel
Sunrise: Bright Summit (15 mins' hiking) / Turtle Peak (20mins' walking)
Sunset: Bright Summit (15 mins' hiking) / Turtle Peak (20mins' walking)
What to Wear & Pack for Huangshan Summer Tour
Bear in mind that weather on Huangshan Mountain changes dramatically and packing well ensures you more comfort and convenience for your Huangshan Hiking Tour.
● Clothes: The mountain area has an average summer daytime temperature between 15°C~ 20°C, so better wear some breathable clothes that dry quickly, like T-shirts and shorts. Long sleeve coat (such as a light jacket) is needed for the huge temperature difference between day and night, because it's slightly cool in the early morning and late evening.
● Shoes: Wear one pair of comfortable hiking shoes, because there are lots of stairs you will climb up and down between each peaks.
● Sunblock: Prepare your sunscreen with a higher SP to against the strong ultraviolet lights.
● Bag: Bring a light backpack and store your big baggage in the hotel or safe palaces at the base of the mountain.
● Raincoat: Take a raincoat in case you caught in the rain, cheap disposable raincoat is easy to get at the base vendor and shops.
● Others: Other useful items include gloves, high calorie food and several bottled water, a detailed Huangshan guide map and etc.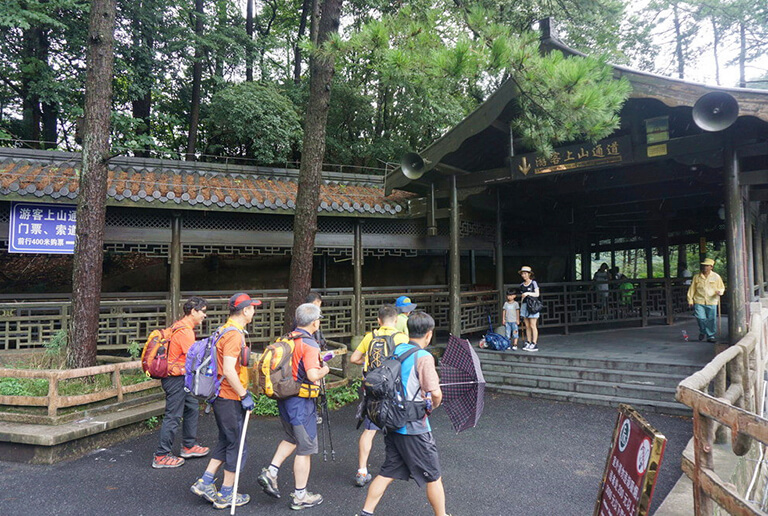 Huangshan Mountain Visitors during Summer
Useful Travel Tips:
1. Know Huangshan is Very Crowded in Summer. As a famous tourist destination in China, Huangshan Mountain receives numerous visitors every day, especially on weekends. July and August are also Chinese summer school holiday, so expect a very large amount of crowds, may be wait 2~3 hours for the cable car.
Suggestion: If you cannot avoid visiting on summer or holiday weekends, you can take advantage of the summer temperature and early light to hike paths in early morning. It would be a memorable trip seeing the sunrise and light coloring mountains.
2. About Sunrise. Rainy days brings less chance of seeing the sunrise during summer. If weather is good, you need to get up early to watch the sunrise at around 05:00am.
3. Check Weather Forecast in Advance. Weather at the base area differs from that on top of the mountain. Before departure, better get prepared for the upcoming weather situations.
How to Plan a Huangshan Summer Tour
No matter you are hiking lovers or just want to enjoy the scene and take some really amazing pictures, interested in the nature or the culture, travel alone or with your family, a Huangshan tour will never let you down. Here we have selected 3 most recommended Huangshan tours for your reference. If you just want try hiking on the mountain but in an easier way, 3 Days Huangshan Highlights Tour will meet your requirements. This tour covers most of the best highlights in Back Mountain and West Sea Grand Canyon, and you can take your time to enjoy them. 3 Days Huangshan Classic Hiking Tour is a little more physical demanding than the previous one, but you will be rewarded with the stunning scenery of both back and front mountain. If you are also interested in the local lives and cultures, then you can check this 4 Days Huangshan Mountain and Local Village Walking Tour. Hongcun and Xidi Ancient Village are together listed as UNESCO World Heritage Site, and Tunxi has a history of nearly 1000 years. Taking a walk in these places will be another wonderful experience different from hiking on Huangshan Mountain.
More Popular Huangshan Tours:
☛ 4 Days Huangshan Hongcun Vacation with Hot Spring
☛ 4 Days Huangshan with Pig's Inn Carefree Countryside Idyll Tour
☛ 4 Days Huangshan Mountain Tour with Ancient Villages Living Experience
Besides, there are also other famous mountains in China which are suitable to visit in summer, such as Zhangjiajie (3 Days), Guilin (2-3 days), Emei Mountain (1-2 Days) near Chengdu and Wuyi Mountain (2-3 Days) in Fujian, etc. Moreover, there are also other highlighted landscapes in summer such as grasslands, waterfalls, beaches, islands, holy lakes, plateau meadows, etc. waiting for you to explore! Check all Summer Tours in China >>
Karl's Family Enjoyed Huangshan Tour Customized by China Discovery
David's Family Visited Hongcun Village
Travel Huangshan with China Discovery
China Discovery is professional in offering you a high-value Huangshan tour. Traveling with us, you won't need to worry about the transportation, guide and accommodation. Up your arrival, our local guide and driver will pick you up at the airport and accompany you to your hotel and all attractions. Our travel consultants can customize a unique Huangshan journey involving sightseeing, hiking, biking, local life experience, culture experience, etc. for you according to your own needs and budget. Feel free to Contact Us to start a wonderful Huangshan trip NOW!
We have helped many global travelers enjoy their memorable trips to Huangshan for the past few years. Among them, a couple from Canada enjoyed their romantic 14-day Nature & Culture China trip covering Huangshan highlights with our cutomized tour package. Besides, Mr. Ban's group from USA who have been traveling with us for more than 3 years also savored the sightseeing and culture of Huangshan. Travel with China Discovery to create your wonderful Huangshan trip memories!
Huangshan Weather
Extension Readings of Huangshan Travel Guide
Recommended Tours
Top 3 tours chosen by most customers to explore in the best way. Check the detailed itinerary, or tailor your own trip now with us.
4 Days Best Huangshan Tour with Hongcun & Xidi Ancient Villages

Tunxi - Huangshan Mountain - Hongcun - Xidi
4 Days Huangshan Mountain Tour with Ancient Villages Living Experience

Tunxi - Nanping - Hongcun - Huangshan Mountain
4 Days Huangshan with Pig's Inn Carefree Countryside Idyll Tour

Huangshan - Hongcun - Bishan
Start planning your tailor-made holiday to China by contacting one of our specialists. Once inquired, you'll get a response within 0.5~23.5 hours.
Customize a Trip
Have a question? Get answers from our travel experts or guests
Your Question:

Your Name:

Your Email: