Huangshan Mountain in Spring: Weather, Scenery & Packing Tips in March, April & May 2023
As a UNESCO World Cultural and Natural Heritage, Huangshan Mountain (Yellow Mountain) presents its picturesque beauty and stunning charming in four seasons throughout the year. Spring and Autumn with beautiful color, pleasant temperature and great views are two ideal travel time to Huangshan Mountain. Otherwise, it's either too hot or too cold in other seasons. Are you planning to visit Huangshan during spring months? Check the updated weather data below to get prepared.
Huangshan Weather in March, April & May (Spring)

Huangshan Mountain Historical Weather & Temperature in March, April and May (Zoom in to enlarge)
Spring on Huangshan Mountain begins from March and ends in May, and warm temperature comes later for rising elevation. When most flat regions welcome spring in March, it's still chilly with some snow and ice scenery on Huangshan Mountain.
As April comes on Huangshan Mountain, it's gradually getting warmer and warmer, and the average maximum daytime temperature increases to 5℃~12℃, minimum temperature goes up between a few degree Celsius to ten more. During the following May, daily mean temperature rises to 10℃~16℃. Most days during this period are rainy and cloudy, which brings a common sight, misty views of mountains and pine trees. Perfect sunny weather largely depends on your luck. On the whole, the beautiful scenery, weather comfort and travel convenience attracts large groups to visit Huangshan Mountain during mild spring days.
Useful links:
● Huangshan Weather & Seasons - Best Time to Visit Huangshan Mountain
● Yellow Mountain in Summer | Yellow Mountain in Autumn | Yellow Mountain in Winter
What You can See on Huangshan Mountain - Highlights in Spring
Scenic Spots Open during Spring
The most attention-attracting spectacles on Huangshan Mountain during Spring must belong to West Sea (Xihai) Grand Canyon and Lotus Peak, two fabulous and adventurous sites that will be reopened in April, 2019. Surely, other scenic spots will also open to public as usual. (>> What to See on Yellow Mountain)
West Sea Grand Canyon (西海大峡谷) will be closed during winter and reopen in late March or early April. By next spring, tourists can hike thrilling stairs, and enjoy the stunning geological formations, amazing landscape of cliffs, lush green small pine trees as well as impressive overlooks in Xihai Grand Canyon. The 1st Ring Road and 2nd Ring Road, and the up/down hill trails are dramatic hiking with breathtaking views and scenery. Meanwhile, the Xihai Monorail Car will resume operation accordingly.
As the highest peak on Huangshan Mountain, Lotus Peak (莲花峰) has been closed nearly 5 year since 2014, for maintenance and regeneration. Excitingly, from April 2019, travelers can visit this mysterious peak to discovery magnificent sightseeing and featured dragon-like pines. The peak is located between Turtle Peak and Yupinglou (Jade Screen Pavilion). It's highly suggested to go up Lotus Peak from Yupinglou and down from the back mountain, because the former pathway is extremely steep and the latter stairs are relatively gentle, otherwise, it would be very strenuous and risky.
Useful Links:
Huangshan Mountain Attractions Map | Huangshan Photo Gallery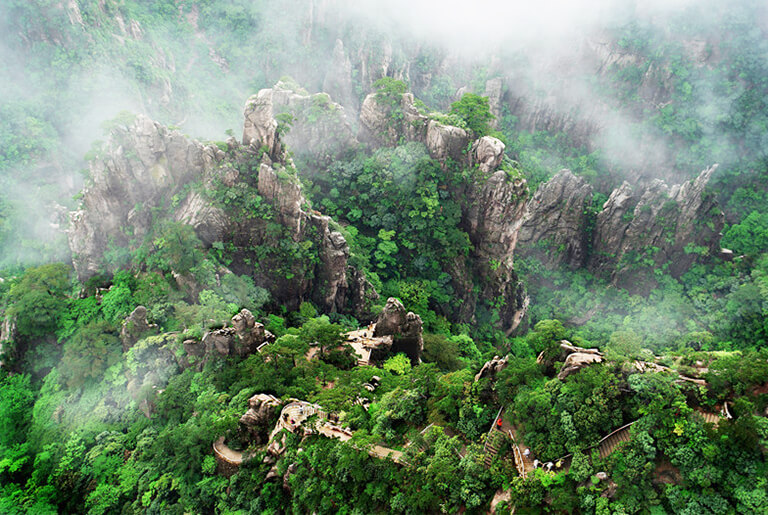 Amazing Landform in Xihai Grand Canyon (May, 2018)
Spring Natural Scenery on Huangshan Mountain
※Pine Trees, Rocks & Sea of Clouds: Whenever you visit Yellow Mountain, the wide variety of peculiar pine trees and grotesque rocks are always visual feast everywhere. If it rains during spring, you may get awesome scenery of the famous phenomenon, " Sea of Clouds" floating among mountains after it stops and sky clears. It is one of four dramatic natural wonders of the Yellow Mountain, a surreal and spectacular sight!If the weather remains rainy and bad, you might meet situation that can see nothing but pine tree close to path, and thick smog around. >> Top 8 Huangshan Pine Trees
※Huangshan Hot Spring: Another natural wonder, Hot Spring offers a great way to relax your body and mind after a long hiking. Apart from the healing experience, you can also view beautiful landscape and nature nearby the characteristic architectures. Massage service and private room are available as needed. The hot spring is located very close to Mercy Light Temple (慈光阁), where can be reached by bus from cable car station. There are more than ten pools, some will be empty during low season like May (Peak Season of Hot Spring is December, January, February, early March). >> Huangshan Hot Spring & Resorts
※Spring Blossom of Colors: With increasing temperature, the colorful spring blossom of Rhododendron and Magnolia flowers becomes a lovely decoration of Huangshan Mountain. During mid-March and April, tourists can view flaxen and white Magnolia flowers along trails from Heavenly Sea to Lotus Pavilion, Sanhua Dock in North Sea, and in Hot Spring, Yungu Temple and other sites on sunny slopes between elevations of 600m ~1700m. Period of mid-April and early May are also the best time to enjoy roseate azalea bush near Beihai Hotel, hiking path from Heavenly Sea to Turtle Peak. It's also expected to watch more beautiful flora and fauna on Huangshan Mountain during spring days.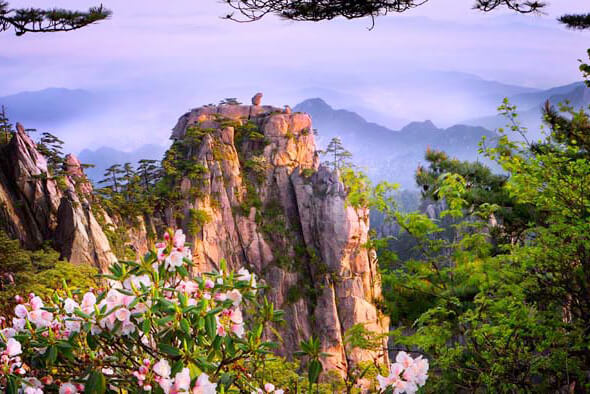 Stone Monkey Glazing at Sea with Beautiful Rhododendron Blossom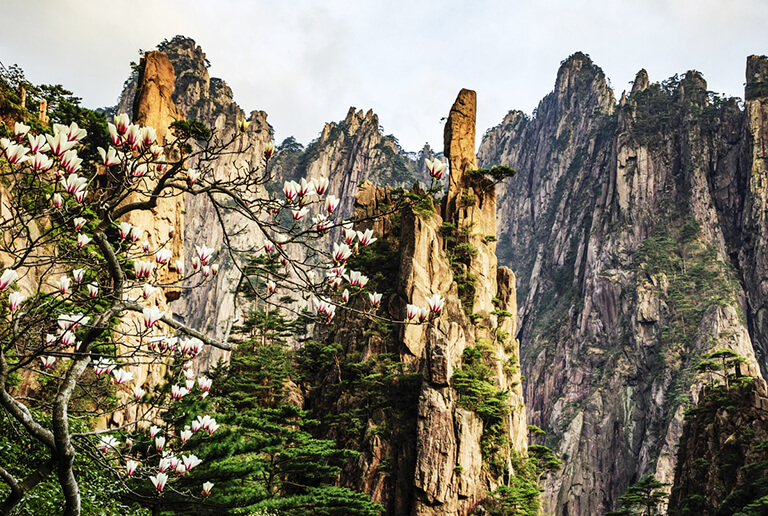 Pretty Magnolia in West Sea Grand Canyon in April, 2018
Recommended Huangshan Mountain Tours:
>> 3 Days Huangshan Highlights Leisure Tour (Back Mountain + West Sea Grand Canyon)
>> 3 Days Huangshan Class Brief Hiking Tour (Highlights of Front & Back Mountain)
>> 3 Days Huangshan Hongcun Vacation with Hot Spring
>> 5 Days Huangshan Photography Tour with Xidi & Hongcun Ancient Villages
>> 4 Days Yellow Mountain Wuyuan Scenery Photography Tour
Sunrise and Sunset in Spring
Watching sunrise and sunset over the peaks is an exciting and unique experience on Huangshan Mountain after the hiking. During spring, the sunrise time is around 05:30am to 06:00am and the time of sunset is between about 18:30pm to 19:00pm. As time goes on, sun rises earlier and sets later, and days get longer gradually. The best points to see the sunrise includes Bright Summit, Lion Peak, Beginning to Believe Peak, Refreshing Terrace, Dawn Pavilion and Lion Peak. Besides, if you would like to catch the sunset, Bright Summit, Turtle Peak, Cloud Dispelling Pavilion in Xihai, Danxia Peak, Flying-over Rock and Fairy Walking Bridge, and etc. It's certainly that you can access to different places to view sunrise/sun set from your hotel.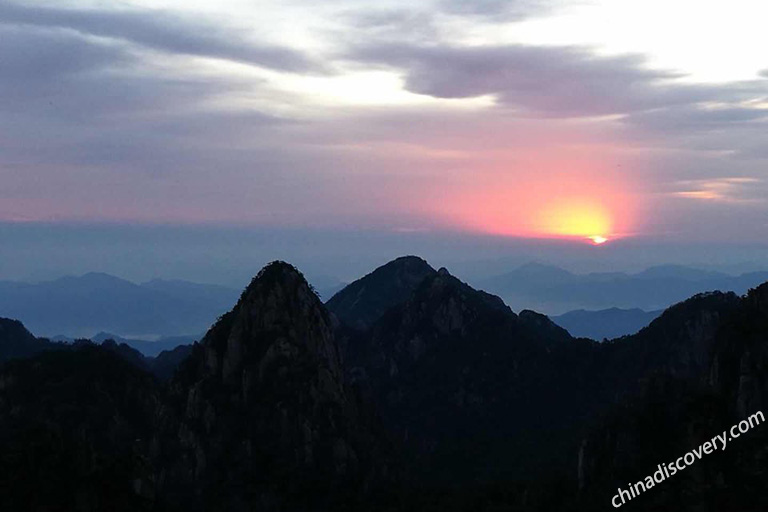 Stunning Huangshan Sunrise in Spring
Location and Distance of Hotels and Sunrise/Sunset Viewing Sites
Hotel
Best Spots (Sunrise & Sunset)
Beihai Hotel / Shilin Hotel
Sunrise: Refreshing Terrace / Dawn Pavilion / Lion Peak (10 minutes' hiking) /
Beginning to Believe Peak (30 minutes' hiking)
Xihai Hotel / Pingyunlou Hotel
Sunrise: Danxia Peak (15 mins' hiking) / Lion Peak (30 mins' Peak)
Baiyun Hotel
Sunrise: Bright Summit (15 mins' hiking) / Turtle Peak (20mins' walking)
Sunset: Bright Summit (15 mins' hiking) / Turtle Peak (20mins' walking)
Dressing and Packing Ideas for Huangshan Spring Tour
Though the daytime on Yellow Mountain in spring rises to very warm comfort, the temperature difference is great between day and night. It's still a little chilly in early Spring, especially in the morning and evening, even can be pretty cold. So it's recommended to dress warm clothes (such as jacket), in layers, easy to put on and take off.
Some sites maybe windy with sharp stairs, so better wear gloves, comfortable trekking shoes, rain gear (disposable raincoat can be easily bought at base of Huangshan Mountain), hiking stick and etc.
Bring your camera, especially when you are lucky enough to get the "Sea of Clouds" phenomenon (most frequently occurring in the spring) and other fantastic views.
Prepare sunblock to protect yourself from the strong ultraviolet light and a few bottled water, or you will for a higher price on the mountain areas.
Travel light with a backpack and leave your large baggage in hotel at the base of the mountain.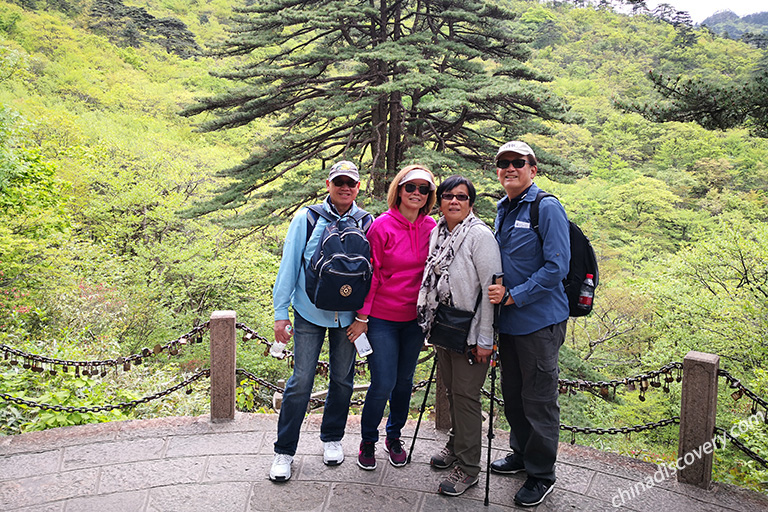 Huangshan Mountain Visitors during Spring
Useful Travel Tips:
1. Pay attention to Spots that Interest You. On Yellow Mountain, some peaks will be closed for repairment, and dangerous sections will also be closed for the ice formed on the pathway. So before you plan your itinerary, check if they are opened or not.
● Usually, Xihai Grand Canyon will be closed from December to end of March (or early April) each year due to safety concern during freezing winter.
● Lotus Peak (the highest peak, elevation: 1864.8m/ 6,118ft) and Celestial Capital Peak (3rd highest peak, elevation: 1,810m/5,938ft) take turns to open every 5 years. And Lotus Peak will open from April to November between 2019 to 2023.
2. Prepare for Crowds. Huangshan Mountain is a famous spot for both domestic and international tourist. It's often crowded, especially during Chinese public holidays and weekends. Expect large loads up and down when taking cable car, even along the hiking paths.
3. Check out Weather Forecast in Advance. Before packing and booking hotel, check carefully the weather forecast of Huangshan Mountain. Then you can decide where to watch sunrise and sunset. The amazing "Sea of Clouds" occurred after rain largely depends on the weather too.
How to Plan a Huangshan Tour
Karl's Family Enjoyed Huangshan Tour Customized by China Discovery
David's Family Visited Hongcun Village
Travel Huangshan with China Discovery
China Discovery is professional in offering you a high-value Huangshan tour. Traveling with us, you won't need to worry about the transportation, guide and accommodation. Up your arrival, our local guide and driver will pick you up at the airport and accompany you to your hotel and all attractions. Our travel consultants can customize a unique Huangshan journey involving sightseeing, hiking, biking, local life experience, culture experience, etc. for you according to your own needs and budget. Feel free to Contact Us to start a wonderful Huangshan trip NOW!
We have helped many global travelers enjoy their memorable trips to Huangshan for the past few years. Among them, a couple from Canada enjoyed their romantic 14-day Nature & Culture China trip covering Huangshan highlights with our cutomized tour package. Besides, Mr. Ban's group from USA who have been traveling with us for more than 3 years also savored the sightseeing and culture of Huangshan. Travel with China Discovery to create your wonderful Huangshan trip memories!
Huangshan Weather
Extension Readings of Huangshan Travel Guide
Recommended Huangshan Tours
Top 3 Huangshan tours chosen by most customers to explore Huangshan in the best way. Check the detailed itinerary, or tailor your own trip now with us.
4 Days Best Huangshan Tour with Hongcun & Xidi Ancient Villages

Tunxi - Huangshan Mountain - Hongcun - Xidi
4 Days Huangshan with Pig's Inn Carefree Countryside Idyll Tour

Huangshan - Hongcun - Bishan
Start planning your tailor-made holiday to China by contacting one of our specialists. Once inquired, you'll get a response within 0.5~23.5 hours.
Customize a Trip
Have a question? Get answers from our travel experts or guests
Your Question:

Your Name:

Your Email: