Yellow Mountain in Autumn: Weather, Temperature, Scenery & Travel Tips
The beautiful and romantic autumn scenery earns Yellow Mountain one of the World Top Ten Autumn Destinations by Lonely Planet in the fall of 2013. During late September to November , the colorful forests spread from high-elevated areas to lower regions, Bright Summit to West Grand Canyon, turning Huangshan Mountain a dreamlike oil painting, appealing to massive tourists each year. Autumn is one of the best seasons to visit Mount Huangshan, not only for the stunning natural beauty, but also for clear sky, moderate temperature, sunny weather and most rich-colored peaks occurred during that period.
Huangshan Weather in Late September, October & November

Huangshan Mountain Historical Weather Charts in October & November (2018)
With comfortable weather, gentle breeze, lovely scenery, less rains and tourists (summer school holiday ends before September), autumn is one of the best time to visit Huangshan Mountain. Due to higher elevation, autumn visits the mountain area from late September and continues over two months until November, before winter snow comes.
During that period, the average temperature is about 7℃ to 13℃, which is quite pleasant for Huangshan Hiking Tour. There also has greater chance to sea clear sky and light clouds after the summer monsoon have passed. Most eye-catching sight is the trees and leaves start to take off green coat and put on colorful dress, a colorful visual feast over peaks on Huangshan.
Since late September, temperature on Mount Huangshan starts to drop to just above10 degrees Celsius, and keep falling to lower as time goes by. In October, the average temperature is about 11.7℃, while during November, the average daily maximum temp is 18℃ and the lowest temp is only 9℃. It's getting cool and a little chilly at high altitudes, or in the early morning and late evening. Autumn temperature rarely dips below freezing.
Useful links:
● Huangshan Weather & Seasons - Best Time to Visit Huangshan Mountain
● Yellow Mountain in Spring | Yellow Mountain in Summer | Yellow Mountain in Winter
Note: Weather on Huangshan Mountain changes quickly all through the year and over 200 days of a year are foggy and misty.
What to See on Huangshan Mountain during Autumn
Scenic Spots Open in Autumn
In Autumn, nearly all scenic spots on Huangshan Mountain, including West Sea Grand Canyon, Bright Summit, Lion Peak, Lotus Peak, Beginning to Believe (Shixin) Peak, Guest-greeting Pine, Turtle Peak, Danxia Peak… are opened for public visitors, except the Celestial Capital Peak (Tiandu Peak 天都峰) which has been closed for maintenance from December 2018 to April 2024.
Therefore, autumn is a good season to fully explore all landmarks on Mount Huangshan if your time permits. Here is our most popular 4 Days Huangshan In-depth Hiking tour (with West Sea Grand Canyon) that covers most highlighted spots.
Useful Links:
What to See on Yellow Mountain | Huangshan Mountain Attractions Map | Huangshan Photo Gallery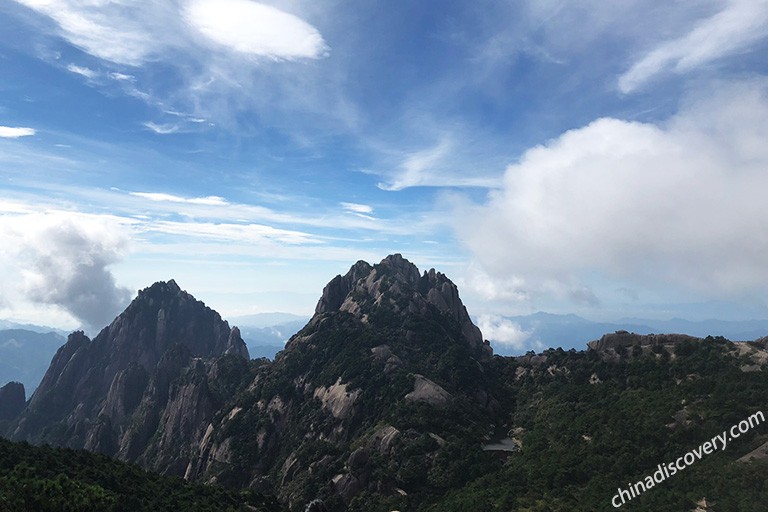 Turtle Peak on Mount Huangshan
Natural Highlights on Huangshan
Apart from the enjoyable hiking, Huangshan Mountain during autumn also attracts numerous photographers through its beautiful painting style scenery with strangely-shaped pine trees, grotesque rocks and spectacular "Sea of Clouds" - three of the four unique natural wonders of Huangshan. It's still an awesome experience to get up early to see the sunrise (or watch sunset), witness the sunshine jumping out the clouds and filling over the mountains.
● Interesting Pine Trees: Growing from the rocky mountains in varied sizes and shapes, the pine trees are symbolic figures on Huangshan Mountain and favorite subject of traditional Chinese ink paintings and photography. Those widespread pines decorate the magnificent peaks more lovely and explain how incredible the natural creations are. The most famous one belong to the over 800-year-old Guest Greeting Pine near Yupinglou Hotel in the front mountain. Besides, when you hiking over the peaks, you can see different shapes of pine trees, such as Black Tiger Pine, Harp Pine, Seeing-off Guest Pine and other umbrella-like pines. >> Top 8 Huangshan Pine Trees
● Amazing Rock Formations: The peculiarly-shaped rocks are best evidence of natural magic as well. Scattered around peaks, they have been molded into different scales and looks, and you can get diverse views from different angles. Some like human with legends, others like cute animals. Among 120 named rocks, Monkey Glazing at the Sea, Flying-over Rock, Turtle Peak, One-Line-Sky and Writing Brush Rock are the most typical spots on Huangshan.
● Spectacular "Sea of Clouds": The splendid clouds floating among peaks and valleys is more than a featured natural phenomenon, but also a wonderful decoration turning Huangshan Mountain a misty fairyland on earth. It usually happens after rains and snows. One might be extremely lucky to see the marvelous scene.
The above three natural characters is available to be seen full year. But the wonderful mix of trees, rocks, fog and colorful forests of yellow, red and green leaves, trees and fruit are the most stunning sightseeing on Huangshan Mountain during autumn. By then, colors differ from regions elevated between 200 meters to 1800 meters above sea level. Just take your camera to record those pretty moments. (Warm Tip: The best places to view autumn scenery are spots surrounded by rich vegetation, such as Cloud Dispelling Pavilion in Xihai, West Sea (Xihai) Grand Canyon and Hot Spring, Baiyun and Yungu scenic areas.)
Recommended Huangshan Tours:
>> 5 Days Yellow Mountain Autumn Landscape Tour with Shaiqiu Experience
>> 3 Days Huangshan Highlights Leisure Tour
>> 3 Days Huangshan Clssic Hiking Tour
>> 4 Days Best Huangshan Tour with Hongcun & Xidi Ancient Villages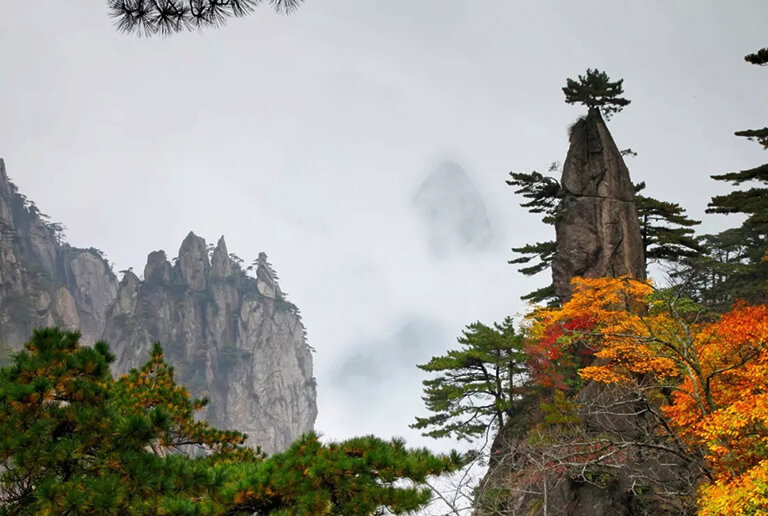 Dreaming Pen in the Flower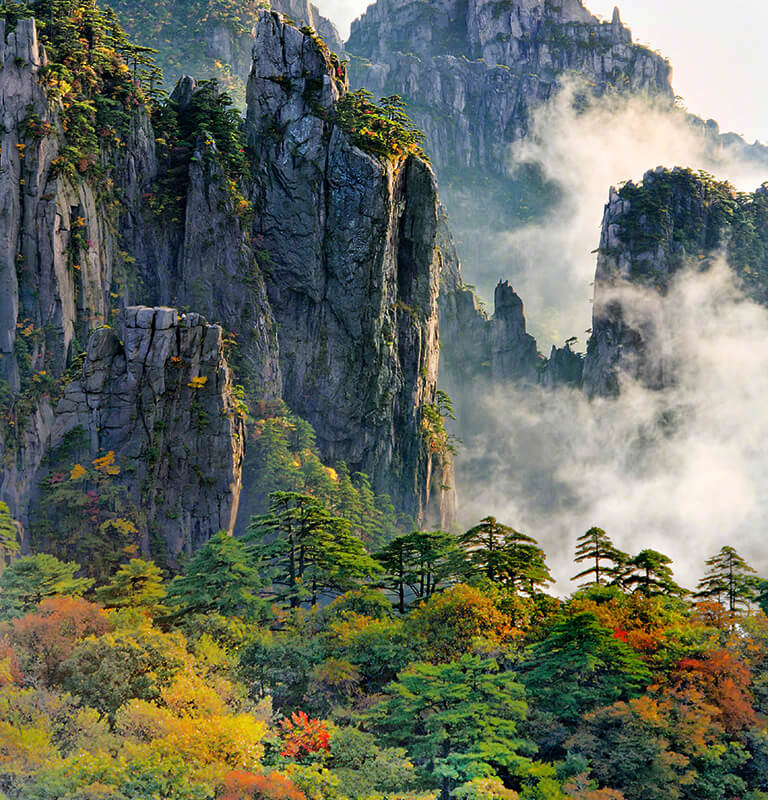 Fairyland Huangshan Mountain in Autumn
Sunrise and Sunset in Autumn
Seeing the sunrise/sunset is one of the highlights for Huangshan hiking tour. During autumn, the sunrise time is a little later than that in summer, about 06:00am to 06:40am while the sun set earlier, from 17:10pm to 18:00pm. Daytime during late September to November is becoming shorter from 12 hrs to 10.5 hrs. If you intend to watch sunrise, Bright Summit, Beginning-to-Believe Peak, Lion Peak, Refreshing Terrace, Dawn Pavilion, Danxia Peak are recommended viewing sites. If you plan to stay overnight on the mountain, there are points nearby each hotel.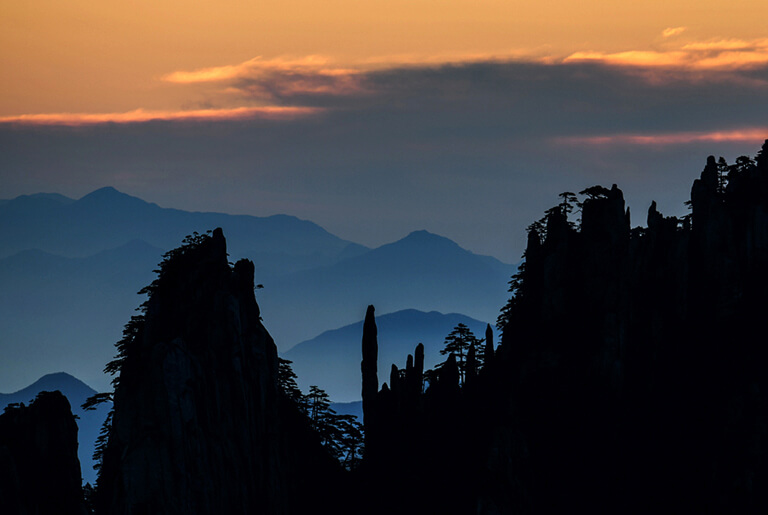 Picturesque Huangshan Sunset in Mid-October
Location and Distance of Hotels and Sunrise/Sunset Viewing Sites
Hotel
Best Spots (Sunrise & Sunset)
Beihai Hotel / Shilin Hotel
Sunrise: Refreshing Terrace / Dawn Pavilion / Lion Peak (10 minutes' hiking) /
Beginning to Believe Peak (30 minutes' hiking)
Xihai Hotel / Pingyunlou Hotel
Sunrise: Danxia Peak (15 mins' hiking) / Lion Peak (30 mins' Peak)
Baiyun Hotel
Sunrise: Bright Summit (15 mins' hiking) / Turtle Peak (20mins' walking)
Sunset: Bright Summit (15 mins' hiking) / Turtle Peak (20mins' walking)
What to Wear & Pack for Huangshan Autumn Tour
Bear in mind that weather on Huangshan Mountain changes dramatically and packing well ensures you more comfort and convenience for your Huangshan Hiking Tour. Remember to pack light and don't make yourself overburdened.
● Clothes: Temperature on the mountain top is lower than the mountain base area. With an average temperature around ten degrees, it's pleasantly cool to enjoy a hiking trip. Better prepare fast-dry clothes, a warm coat is necessary if it rains, or you move around in the early morning and late evening.
● Shoes: Wear one pair of comfortable hiking shoes, because there are lots of stairs you will climb up and down between each peaks.
● Sunblock: Prepare your sunscreen with a higher SP to against the strong ultraviolet lights.
● Bag: Bring a light backpack and store your big baggage in the hotel or safe palaces at the base of the mountain.
● Raincoat: Take a raincoat in case you caught in the rain, cheap disposable raincoat is easy to get at the base vendor and shops.
● Others: Other useful items include gloves, high calorie food and several bottled water, a detailed Huangshan guide map and etc.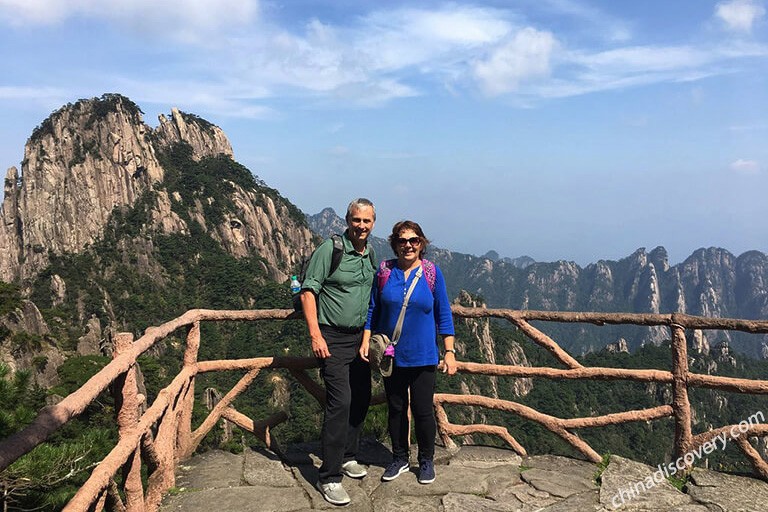 Huangshan Mountain Visitors during October (2018)
Useful Travel Tips:
1. Expect Crowds in Autumn. As a famous tourist destination in China, Huangshan Mountain receives numerous visitors every day, especially on weekends. So expect groups of tourist in landmarks like West Sea Grand Canyon and Guest Greeting Pine. Sometimes you may wait about 1~ 2 hours for the cable car up.
2. About Sunrise. Rainy days brings less chance of seeing the sunrise, but let the mountain more poetic foggy. If weather is good, you can get up early to watch a beautiful sunrise and enjoy magnificent sunset.
3. Check Weather Forecast in Advance. Weather in Huangshan City is different from the Huangshan Mountain. Before departure, better check the updated weather forecast and get prepared for the upcoming weather situations.
Huangshan Weather
Extension Readings of Huangshan Travel Guide
Recommended Tours
Top 3 tours chosen by most customers to explore in the best way. Check the detailed itinerary, or tailor your own trip now with us.
4 Days Best Huangshan Tour with Hongcun & Xidi Ancient Villages

Tunxi - Huangshan Mountain - Hongcun - Xidi
4 Days Huangshan with Pig's Inn Carefree Countryside Idyll Tour

Huangshan - Hongcun - Bishan
5 Days Yellow Mountain Autumn Landscape Tour with Shaiqiu Experience

Yellow Mountain - Hongcun - Jiusha - Yangchan - Huangshan
Start planning your tailor-made holiday to China by contacting one of our specialists. Once inquired, you'll get a response within 0.5~23.5 hours.
Customize a Trip
Have a question? Get answers from our travel experts or guests
Your Question:

Your Name:

Your Email: