Huangshan Transportation Maps 2023
Where is Huangshan City?
The charming and magnificent World Natural & Cultural Heritage, Yellow Mountain is located in northern Huangshan City. Huangshan City is a famous tourist destination with more natural and cultural spots (including distinctive Huizhou ancient villages, beautiful mountains, rivers and and farmlands and local traditions ) in southern Anhui, eastern China.
How to Get to Huangshan?
Currently, tourists can take flights, trains (high speed bullet trains and normal trains), long-distance bus to get to Huangshan City. For short distance and great convenience, most tourists choose to depart from Beijing, Shanghai, Hangzhou to visit Huangshan. Besides, you can also get to Huangshan from other popular tourist cities in China, like Hong Kong, Xian, Chengdu, Wuyuan, Jingdezhen, Nanjing, Chongqing, Shenzhen, Hefei, Wuhan, Zhengzhou and etc. For international visitors, there are direct flights connecting Taipei (Taiwan), Seoul and Busan (South Korea) and Huangshan.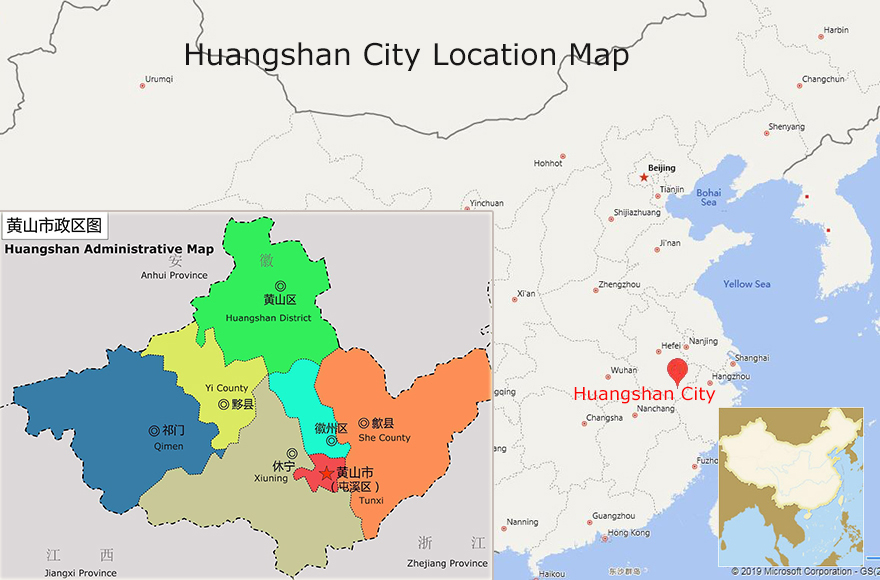 Huangshan City on China Map
Maps of Major Tourist City to Huangshan
Among all travel routes with Huangshan, Beijing, Shanghai and Hangzhou are the most popular choices, for their good location, rich must visit sites, unique cityscape, and regional culture. If you travel from Beijing and Shanghai to Huangshan, there are daily non-stop flights and high speed trains available. If you will go to Huangshan from Hangzhou, you can take high speed trains and coach (long distance bus) within 2~3 hours. Check detailed transportation about Beijing to Huangshan, Shanghai to Huangshan, Hangzhou to Huangshan.
Beijing Huangshan Transportation Map

Shanghai Huangshan Transportation Map

Hangzhou Huangshan Transportation Map
Popular Huangshan Tour Packages:
● 6 Days Yellow Mountain Vacation from Beijing (by High Speed Bullet Train)
● 5 Days Shanghai Huangshan Tour by High Speed Train
● 5 Days Yellow Mountain Tour from Hangzhou
Huangshan Flight Map - Flights to Huangshan
Huangshan Tunxi International Airport, located in northwest Tunxi and 5.5km of downtown, is an important airport serving tourist to Yellow Mountain. So far, it has more than 20 air routes to domestic cities like Beijing, Shanghai, Xian, Chengdu, Chongqing, Kunming, Guillin, Guangzhou, Shenzhen, Xiamen and etc, and several international (regional) airlines to Hong Kong, Taipei, Seoul. More about Huangshan Airport and All Flights Schedules to Huangshan >.
>> 6 Days Shanghai Tour with Yellow Mountain by Flight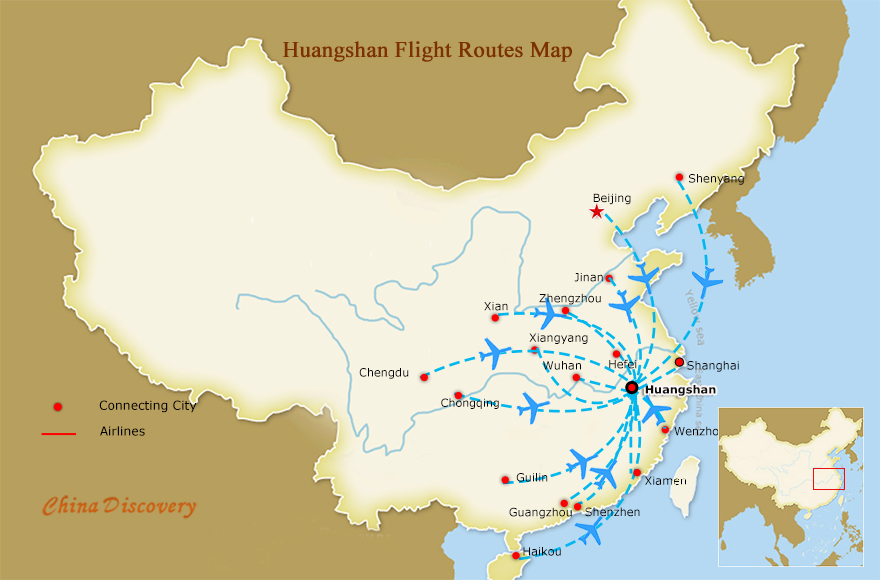 Huangshan Flight Routes Map
Huangshan Trains Map - High Speed Trains to Huangshan
For transportation convenience, Huangshan has opened many high speed trains to major tourist cities in China. Meanwhile, tourist can take fast high speed bullet trains to get Huangshan from Beijing, Shanghai, Hangzhou, Xian, Xiamen, Hefei, Wuhan, Zhenghou and other cities. More about Huangshan High Speed Trains > .
>> 9 Days East China and Yellow Mountain Tour by High Speed Train (Shanghai+Suzhou+Hangzhou+Mt. Huangshan)
Huangshan High Speed Bullet Train Map
Huangshan Bus Map - Bus to Huangshan
If you want to get to Huangshan City by bus, you can either depart from neighboring provinces or cities in Anhui Provinces. Bus from Shanghai, Hangzhou, Suzhou, Jiuhuashan, Qiandao Lake, Wuyuan (婺源), Jingdezhen (景德镇), Nanjing, Hefei, Wuhan, Nanchang, Jinhua, Jiaxing, Ningbo, Shaoxing, Wenzhou, Yiwu, Xiaoshan, Anqing and so on. More about Get to and around Huangshan >.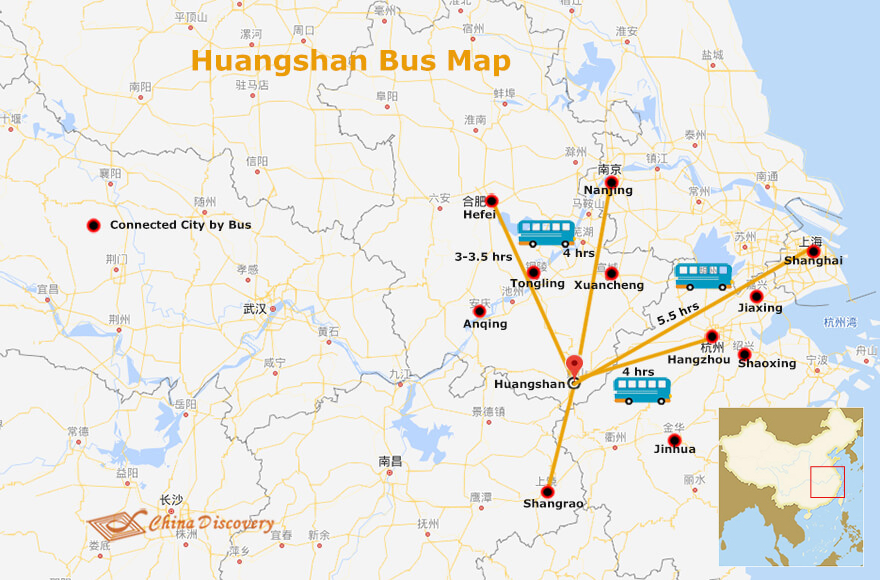 Huangshan Bus Route Map
Useful Huangshan Transportation Maps
After you arrive in Huangshan City, you can transfer to Yellow Mountain, or go to Hongcun, Xidi and nearby ancient villages, or visit Hu Kaiwen Ink Factory, Tunxi Old Street in Tunxi. Check the detailed transportation map as follows:
Are you still looking for more useful travel maps of Huangshan and Yellow Mountain? Feel free to use our maps of Huangshan Mountain Maps, Huangshan Mountain Hiking Map, Huangshan Mountain Attractions Map, Huangshan Mountain Cable Car Map. Or you could just contact us for more relevant high quality tourist maps & travel information.
Huangshan Maps
Extension Readings of Huangshan Travel Guide
Recommended Tours
Top 3 tours chosen by most customers to explore in the best way. Check the detailed itinerary, or tailor your own trip now with us.
3 Days Huangshan Highlights Leisure Tour (Back Mountain + West Sea Grand Canyon)

Tunxi - Huangshan - Tunxi

Start planning your tailor-made holiday to China by contacting one of our specialists. Once inquired, you'll get a response within 0.5~23.5 hours.
Customize a Trip
Have a question? Get answers from our travel experts or guests
Your Question:

Your Name:

Your Email: