Xihai Hotel – Yellow Mountain's Only Hotel with Five-star Level
Xihai Hotel is the first "fashionable" boutique hotel in Huangshan, which brings a brand new concept of vacation. It integrates convenience, rapidity, tranquility, freehand brushwork and extreme comfort of the resort. Though it's a four-star hotel, it has a five-star building with great rooms.
Location of Xihai Hotel Huangshan& How to Get There
Xihai Hotel is located in Xihai Scenic Area, only about 350 meters to Cloud Dispelling Pavilion – one main entrance to Xihai Grand Canyon.
If you ascend Back Mountain, you could take a cable car from Yungu Temple to White Goose New Station and then start your hiking. Xihai Hotel is about 18km away from White Goose New Station and a direct hiking takes about 1 hour. However, you are suggested to pay a visit to Begin-to-Believe Peak and Lion Peak. The whole sightseeing journey to Xihai Hotel takes about 2.5 hours
If you begin your trip from Front Mountain, it is available to take a cable car from Mercy Light Pavilion to Yuping Station and then walk to Xihai Hotel. The distance between Yuping Station and Xihai Hotel is quite long as about 8km, but you really have a lot to see during your about 6 hours' hiking, including Greeting-Guests Pine, Hundred Ladders, Turtle Peak, Bright Top, Flying-over Rock, etc. It needs about 8 hours for sightseeing trip.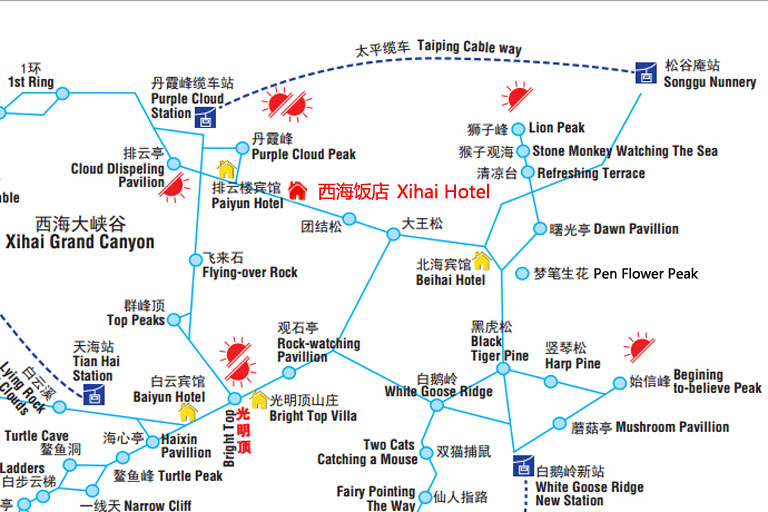 Click to Enlarge Xihai Hotel Location Map
Layout and Types of Rooms
Xihai Hotel offers a luxury exprience compared to several other hotels on Yellow Mountain. It has two wings – 5-star newer refurbished South Wing and 4-star older North Wing. The South Wing has nicer lobby and great rooms with good facilities while the North Wing is rather functional.
There are over 180 rooms on the South Wing and North Wings of Xihai Hotel usually, including luxury suite, standard room, triple room, king size room, sightseeing room, etc. About 120 standard rooms are available. The rooms in South also enjoy a higher level of comfort. The rooms in North Wing are pretty smaller, but they are sufficient for a single night's stay if you want a budget accommodation.
Since Xihai Hotel offers a relatively luxurious experience than other hotels, it is rather popular and you are suggested to book your room as soon as possible.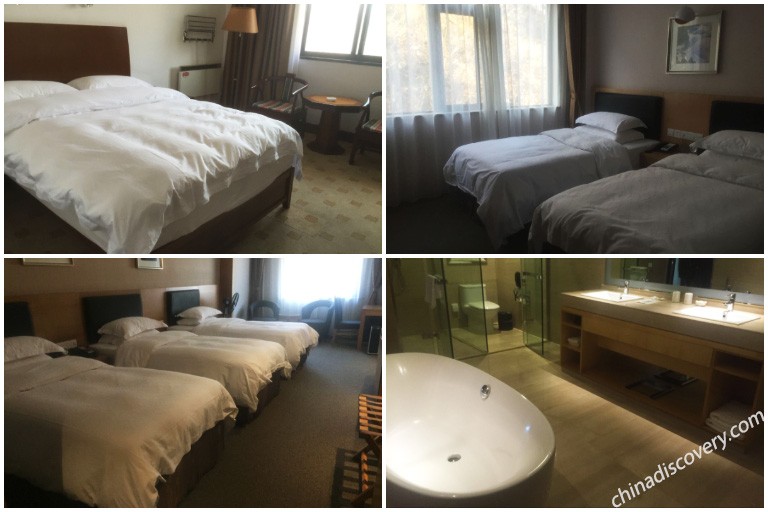 Various Rooms in Xihai Hotel Huangshan
Breakfast and Meals
Free breakfast is provided at 6:30am (after sunrise) at the main building – both Chinese breakfast and western breakfast are available but the western food is quite limited. You could have lunch and supper at the hotel's restaurant as well. It offers a buffet option as well as ala carte option, and both are on pricey side. It is also available to offer you sitting meal and customized western meal if booked in advance. Because all of the food materials are carried to the hotel by porter manually, so the price are much higher than the price of food at the city area.
Facilities and Service
Xihai Hotel is well-equipped with facilities and always offers warm service. The elevators are elegant and actually have audio to tell which floor you are on. The mini lobbies of each floor are delicate in modern style.
Every room is equipped with usual amenities - warm shower, sitting toilet, kettle, hairdryer, ice bucket, safe, slippers and bath foam and shampoo. Torchlight and warm jackets are also helpfully provided if you want to view the sunrise in early morning. There is a heater in room that has a rack above for drying your damp clothes - very useful.
Must-be-visited Attractions around Xihai Hotel
Xihai (West Sea) Grand Canyon (西海大峡谷)- Around Xihai Hotel, West Sea Grand Canyon is a must. It can be see that West Sea Grand Canyon is the highlight of Yellow Mountain. Here you could immerse yourself in the featured information of peaks, rocks, pine trees, etc. Hiking along the thrilling stone steps, you could feast on the breathtaking scenery which changes with your steps. Within 10 minutes' walking distance, you can get from Xihai Hotel to Paiyun Pavilion – the entrance of West Sea Grand Canyon.
Purple Cloud Peak (丹霞峰) – Purple Cloud Peak, with an elevation of 1,708 meters, is one of Yellow Mountain's 36 main peak. When the sunset shines down, the cliffs of the peak and the surrounding clouds become bright purple. So it gets its beautiful name of purple cloud. It is one of the best places to enjoy amazing sunrise as well as sunset. Purple Cloud Peak is only about 1km about Xihai Hotel and you can get there within 20 minutes' hike generally.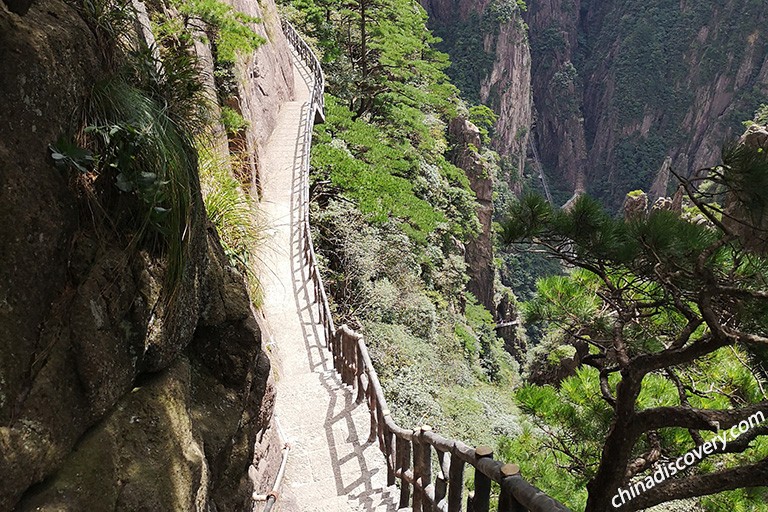 First Ring of West Sea Grand Canyon
Tips for Accommodating at Xihai Hotel
The cable car operates during 07:00~16:30 and you need to hike at least 1 ~ 6 hour from different cable car stations, so you need to plan your itinerary carefully to avoid hiking at night.
In order to protect the eco-environment of Yellow Mountain, Xihai Hotel does not provide disposable toiletries like tooth paste and brush. Please remember to bring your own toiletries with you.
West Sea Grand Canyon is only open to tourists during March to November. During winter time from December to Feburary (next year), it's closed for maintenance. Actually it is also dangerous to visit in the canyon as the stone steps will be very slippery because of snow and ice in winter.
Huangshan Hotels
Extension Readings of Huangshan Travel Guide
Recommended Huangshan Tours
Top 3 Huangshan tours chosen by most customers to explore Huangshan in the best way. Check the detailed itinerary, or tailor your own trip now with us.
3 Days Huangshan Highlights Leisure Tour (Back Mountain + West Sea Grand Canyon)

Tunxi - Huangshan - Tunxi
4 Days Best Huangshan Tour with Hongcun & Xidi Ancient Villages

Tunxi - Huangshan Mountain - Hongcun - Xidi
Start planning your tailor-made holiday to China by contacting one of our specialists. Once inquired, you'll get a response within 0.5~23.5 hours.
Customize a Trip
Have a question? Get answers from our travel experts or guests
Your Question:

Your Name:

Your Email: