Shilin Hotel - First Four-star Hotel on Yellow Mountainn
Shilin (Lion Forest) Hotel (狮林大酒店) is the first four-star tourist hotel on Yellow Mountain Scenic Area and the first photography and cultural theme hotel in Huangshan City. Equipped with various guestrooms, meeting room, dance hall, KTV, etc., Shilin Hotel could meet different guests' needs of business, tourism, conference reception, entertainment, leisure and so on
Location of Shilin Hotel Huangshan and How to Get There
Shilin Hotel is located in Beihai Scenic Area, on Back Mountain of Yellow Mountain, about 0.5km to Refreshing Terrace and about 1km to Stone Monkey Watching the Sea.
It's is quite easy to get to Shilin Hotel, if you visit Yellow Mountain from Back Mountain. Taking a cable car from Yungu Temple, you will reach White Goose New Station in 15 minutes. Then you can hike to Shilin Hotel directly within 1 hour in general. However, there are many top attractions along the road. You are strongly recommended to pay a visit to Beginning-to-believe Peak which is full odd-shaped pines. The panoramic view from Beginning-to-believe Peak is quite fantastic as well. The sightseeing trip from White Goose New Station to Shilin Hotel is an about 90 minutes' hike.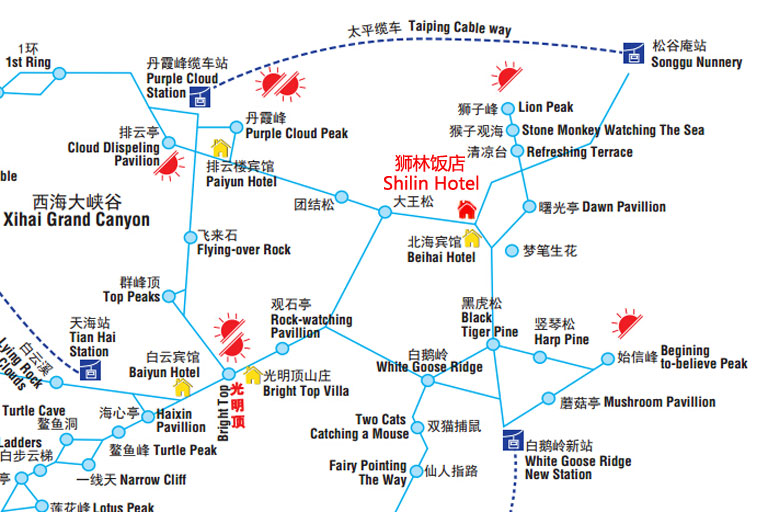 Click to Enlarge Shilin Hotel Location Map
Rooms and Facilities
Shilin Hotel is not a big hotel, but it still offers enough choices of types of rooms, including Business Suite, Deluxe King Room, Standard Room, King Room, Mini Single Room, Family Room, Four-bed Room and Eight-bed Dorm Room. The Four-bed Rooms and Eight-bed Dorm Rooms are shared by different people of the same sex, so you could book even one bed of these rooms. It is also possible to camp in Shilin Hotel. There are double resident tents and warm sleeping bag provided. Every room is equipped with desk, electric kettle, slipper, 24-hour hot water, private bathroom with shower, hair dryer, etc. To be environment-friendly, the room doesn't have disposable toiletries like toothbrush and toothpaste
All indoor public area and every room of Shilin Hotel are covered with free WiFi. 24-hour Front Desk Service included baggage deposit, wake-up call, safe, free tourist map, etc. Entertaining facilities include teahouse, KTV and dancing hall. As a photography-themed hotel, Shilin Hotel exhibits many beautiful photography workers.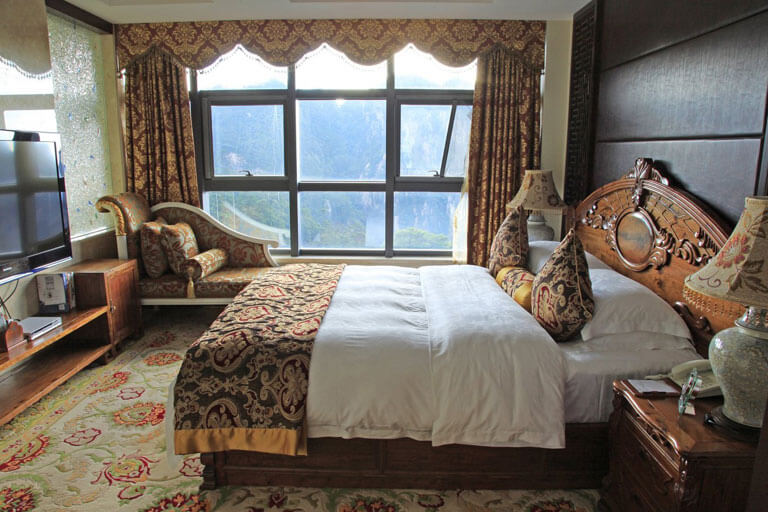 King Room in Shilin Hotel Huangshan
Breakfast and Meals
Except for Four-bed Room, Eight-bed Room and tent, other rooms are offered with breakfast for 2. Chinese breakfast and western breakfast are both available, but main of the dishes are Chinese food. For lunch and dinner, you could choose buffet option or ala carte option. All the food materials are carried by porter manually, so be ready for the higher cost.
Top Attractions around Shilin Hotel
Refreshing Terrace (清凉台): Within 10 minutes' hiking away from Shilin Hotel, Refreshing Terrace is a platform overcharging on the cliffs. With great location, it offers a great view of the surrounding peaks as well as one of the great place to watch sunrise.
Stone Monkey Watching the Sea (猴子观海): Stone Monkey Watching the Sea is one of the most magic attractions. A stone shaped-like a monkey here is gazing at the sea of cloud. No longer than 1km, you can hike to Stone Monkey Watching the Sea from Shilin Hotel within 20 minutes.
Xihai (West Sea) Grand Canyon (西海大峡谷): As the highlight of Yellow Mountain, West Sea Grand Canyon is a perfect place to enjoy the interesting rock formation and admire the nature's uncanny workmanship. The Cloud-dispelling Pavilion – the main entrance of West Sea Grand Canyon, is about 1km (about 30 minutes' hiking) away from Shilin Hotel.
Pen Flower Peak (梦笔生花): This peak resembles a traditional Chinese brush pen while the pine at the summit of the peak likes the brush. Only about several hundred meters to Shilin Hotel, the viewing-deck of Pen Flower Peak can be get to within 10 minutes.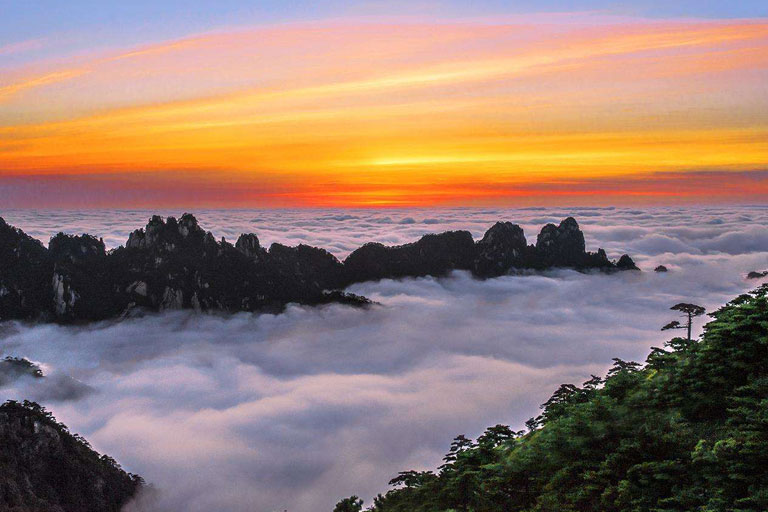 Sunrise Seen from Refreshing Terrace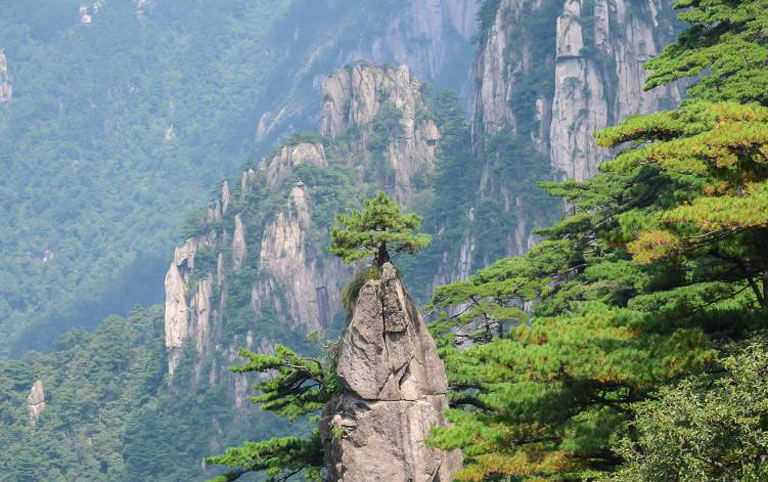 Pen Flower Peak
Tips for Accommodating at Shilin Hotel
The cable car operates during 07:00~16:30 and you need to hike at least 1 ~ 6 hour from different cable car stations, so you need to plan your itinerary carefully to avoid hiking at night.
In order to protect the eco-environment of Yellow Mountain, Shilin Hotel does not provide disposable toiletries like tooth paste and brush. Please remember to bring your own toiletries with you.
West Sea Grand Canyon is only open to tourists during March to November. During winter time from December to Feburary (next year), it's closed for maintenance. Actually it is also dangerous to visit in the canyon as the stone steps will be very slippery because of snow and ice in winter.
Huangshan Hotels
Extension Readings of Huangshan Travel Guide
Recommended Huangshan Tours
Top 3 Huangshan tours chosen by most customers to explore Huangshan in the best way. Check the detailed itinerary, or tailor your own trip now with us.
3 Days Huangshan Highlights Leisure Tour (Back Mountain + West Sea Grand Canyon)

Tunxi - Huangshan - Tunxi
4 Days Best Huangshan Tour with Hongcun & Xidi Ancient Villages

Tunxi - Huangshan Mountain - Hongcun - Xidi
Start planning your tailor-made holiday to China by contacting one of our specialists. Once inquired, you'll get a response within 0.5~23.5 hours.
Customize a Trip
Questions & Discussions
Following are latest questions and answers from our webusers and customers. You can learn many useful information from the discussion and cases. You can also join in the discussions or ask your own question. Our experts will help you ASAP.
transportation from huangshan north train station to Shilin Hotel
can hotel arrange transportation to and from train station to hotel. what is cost.
Hi Mike,

Thanks for your question. Shilin Hotel is located on the top of Huangshan Mountain. They don't provide transportation service. We can arrange the transportation for you if you need a Huangshan tailor-made tour package. May I know when will you come to Huangshan?
Have a question? Get answers from our travel experts or guests
Your Question:

Your Name:

Your Email: