Jade Screen Hotel Yellow Mountain – Only Hotel in Front Mountain
Yupinglou Hotel, more known as Jade Screen Hotel, is a Four-star theme boutique hotel beside the world-famous Guest-greeting Pine and near Yuping Cable Car Station. Built in the old site of Wenshu Monastery and opened in 1955, Jade Screen Hotel enjoys a history of over 60 years. In fact, Jade Screen Hotel itself is a big viewing-deck. The views are nothing short of spectacular. Apart from Guest-greeting Pine, you could enjoy the wonderful scenery of Jade Screen Peak, Celestial Capital Peak, Lotus Peak, etc. The most exciting thing is that you could have sunsets from the terrace in front of hotel.
Location & How to Get There
Jade Screen Hotel is located in Yuping (Jade Screen) Scenic Area in Front Mountain of Mount Huang (Yellow Mountain), 500 meters to Yuping Cableway Station.
If you start your journey from Front Mountain by cable car from Mercy Light Pavilion, you will reach Yuping Cableway Station from which there is only about 20 minutes' hiking to Jade Screen Hotel. For trekking enthusiasts, it is available to trek from Mercy Light Pavilion to Yupinglou Hotel directly which takes about 3 hours usually.
Many other people prefer to ascend Yellow Mountain from Yungu Temple to White Goose New Station. For these travelers, you are not suggested to accommodate at Jade Screen Hotel on the first day, because you need to hike at least 4 hours and won't have enough time to admire the fantastic scenery of Back Mountain and Xihai (West Sea) Grand Canyon. Jade Screen Hotel and Xihai Hotel are more recommended. You could stay in Jade Screen Hotel for the next night.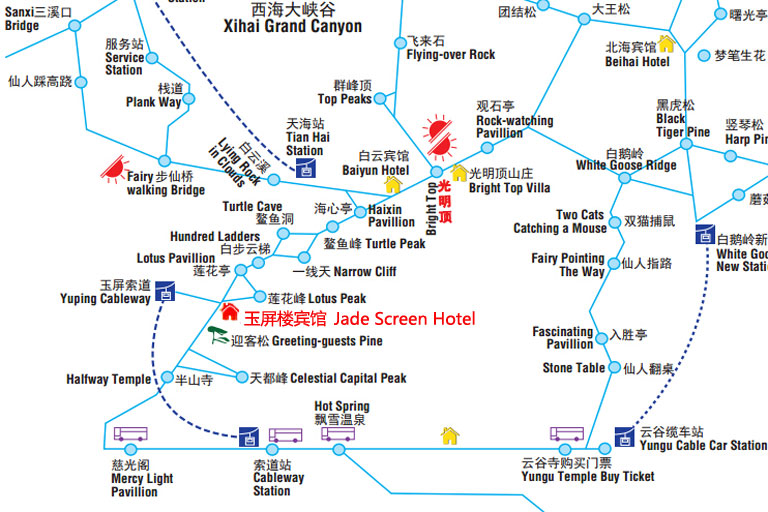 Click to Enlarge Jade Screen Hotel Location Map
Rooms, Facilities and Service
There are about 65 suites and rooms in Jade Screen Hotel, including standard rooms, family rooms, sightseeing standard room and sightseeing suites. Compared with other 4-star hotels in Huangshan city area, it is a bit old and not modern but comfortable enough.
All the rooms have television, Wi-Fi, warmer, hair dryer, shoe dryer, 24-hour hot water, torchlight, umbrella and thick jacket. Bathroom facilities are rather complete that shower, shampoo, bath cream, soap and towel are provided. Disposable toiletries like toothpaste, toothbrush and comb are not offered in all hotels on Yellow Mountain, including Jade Screen Hotel.
Jade Screen Hotel is also well-equipped with Chinese restaurant, buffet restaurant, banquet loge, meeting room, sightseeing platform, etc. All rooms and indoor public area are covered with free Wi-Fi.
Breakfast and Meals
Free breakfast is offered in buffet restaurant (at 6:30am usually), and most are Chinese food. You could also have lunch or dinner in the buffet restaurant and there are over 10 dishes for your choice. If you want ala carte meal, you could go to Chinese Restaurant for some local dishes. Set meal is always available.
Must-be-visited Attractions around Jade Screen Hotel
Guest-greeting Pine (迎客松): Located beside Yupinglou Hotel and over 1,000 years old, it is always regarded as the symbol of Yellow Mountain in books and paintings. Its two main branches seem like two open arms ready to hug the coming guests. Don't forget to take a photo with this interesting pine as a memorial of your Yellow Mountain trip.
Lotus Peak (莲花峰): With an elevation of 1864.8 meters, Lotus Peak is the highest peak in Yellow Mountain Scenic Area. At the summit of Lotus Peak, you will fully admire the amazing peaks around as if they have been hand carved by an extremely patient artist. From Lotus Peak, you could clearly see other beautiful peaks, like Bright Summit, Turtle Peak, Celestial Capital Peak, etc.
Celestial Capital Peak (天都峰): Climbing to Celestial Capital Peak is the most challenging thing in Huangshan. The steps are rather steep and but the views from the top is second to none. From Guest-greeting Pine, you need to walk down to Laodaokou (老道口) – the base of Celestial Capital Peak and then hike to the summit. The whole trekking from Guest-greeting Pine to the summit of Celestial Capital Peak takes about 90 minutes.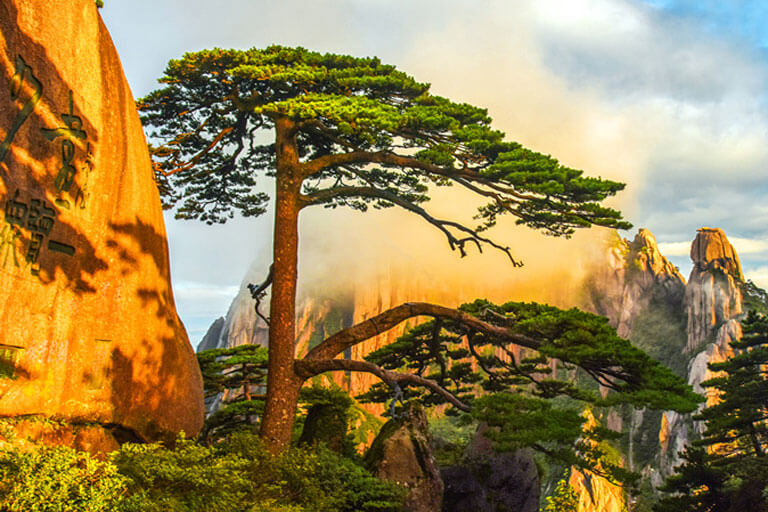 Guest-greeting Peak in the Sunshine
Tips for Accommodating at Jade Screen Hotel
Because Guest-greeting Pine is a must-be-visited for many travelers, especially for local groups, so there are lots of people visiting Guest-greeting Pine and you may feel quite noisy in Jade Screen Hotel at daytime.
In order to protect the eco-environment, Lotus Peak and Celestial Capital Peak will be closed by turns in every 3~5 years. Celestial Capital Peak is predicted to be closed during 2019~2023 and Lotus Peak will be open. But you could still enjoy the impressive landscape of them afar from Jade Screen Peak.
Huangshan Hotels
Extension Readings of Huangshan Travel Guide
Recommended Huangshan Tours
Top 3 Huangshan tours chosen by most customers to explore Huangshan in the best way. Check the detailed itinerary, or tailor your own trip now with us.
3 Days Huangshan Highlights Leisure Tour (Back Mountain + West Sea Grand Canyon)

Tunxi - Huangshan - Tunxi
4 Days Best Huangshan Tour with Hongcun & Xidi Ancient Villages

Tunxi - Huangshan Mountain - Hongcun - Xidi
Start planning your tailor-made holiday to China by contacting one of our specialists. Once inquired, you'll get a response within 0.5~23.5 hours.
Customize a Trip
Questions & Discussions
Following are latest questions and answers from our webusers and customers. You can learn many useful information from the discussion and cases. You can also join in the discussions or ask your own question. Our experts will help you ASAP.
Have a question? Get answers from our travel experts or guests
Your Question:

Your Name:

Your Email: