Beihai Hotel - Four-starred Hotel on Yellow Mountain
Beihai Hotel (北海宾馆) is a four-starred hotel on Yellow Mountain. As one of the top choices while accommodating on Yellow Mountain, it has served many state leaders and social celebrities during the past 50 years. Both western and Chinese breakfasts are available.
Location of Beihai Hotel and How to Get There
Beihai Hotel is located in the Back Mountain of Yellow Mountain, adjacent to Pen Flower Peak and 1.5 kilometer away from Stone Monkey Watching the Sea.
If you ascend to Yellow Mountain by Yungu Cable Car, you will arrive at White Goose Station (白鹅新站) which is about 2.3km's walking distance to Beihai Hotel. Along the walking tracks, you can see Mushroom Pavilion, Harp Peak and Black Tiger Pine. You are suggested to pay a visit to Begin-to-Believe Peak where there are most beautiful pines. The whole trip from White Goose Station to Beihai Hotel via Begin-to-Believe takes about 80 minutes.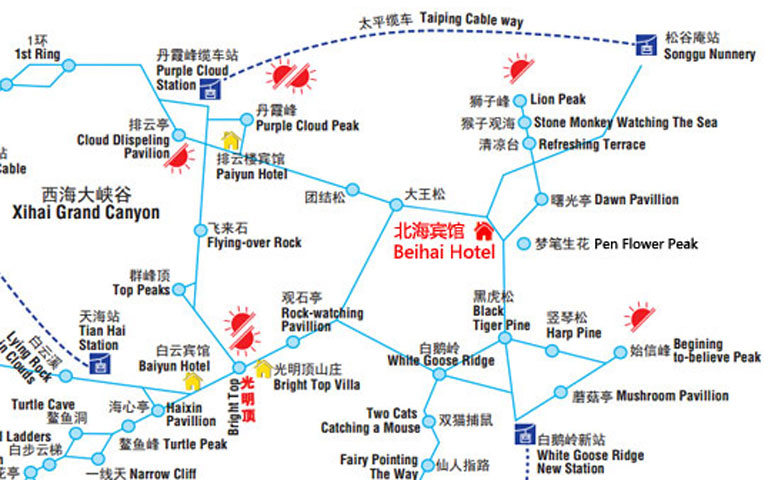 Click to Enlarge Beihai Hotel Location Map
Types of Rooms
There are about 370 rooms to supply the needs of different travelers, including residential suites, deluxe suites, standard rooms, single rooms, economical rooms etc. equipped with up-to-date amenities. All the rooms have an independent toliet. Because of the countless travelers to Yellow Mountain and the limited hotels on the mountain, the rooms in Beihai Hotel are really in short supply but in great demand. You are suggested to book your room in advance.
| Room Type | Covered Area | Breakfast | Number of Bed | Bed Type | WiFi | Maximum Capacity | Price (RMB) |
| --- | --- | --- | --- | --- | --- | --- | --- |
| Presidential Suite | 60 ㎡ | Yes (for 2) | 1 | 1.8 m | Yes | 2 | 8,800 |
| Mrs. Suite | 35 ㎡ | Yes (for 2) | 1 | 1.8 m | Yes | 2 | 7,800 |
| Deluxe Suite | 35 ㎡ | Yes (for 2) | 1 | 1.8 m | Yes | 2 | 4,800 |
| Family Suite | 32㎡ | Yes (for 2) | 4 | 1.8 m | Yes | 4 | 2,520 |
| Suite | / | Yes (for 2) | 1 | 1.1m | Yes | 2 | 2,800 |
| Family Room | 17 ㎡ | Yes (for 3) | 3 | Bunk Bed (1.65m +1.35m) | Yes | 3 | 1,730 |
| Standard Room | 21.5㎡ | Yes (for 2) | 2 | 1m | Yes | 2 | 1,680 |
| Four-bed Room | 16 ㎡ | No | 4 | Bunk Bed (0.9m) | No | 2 | 400 / bed |
| Six-bed Room | 16 ㎡ | No | 6 | Bunk Bed (0.9m) | No | 6 | 400 / bed |
Notes: 1) It is available to book one or more beds of the Four-bed Rooms and Six-bed Rooms; 2) The price for each type of rooms or beds is only for reference and it might fluctuate according to different seasons.
Breakfast and Meals
Free breakfast is available for most customers (except for those who booked Four-bed rooms and Six-bed Rooms) in Beihai Hotel. Both Chinese breakfast and simple Western breakfast (bread, fruit jam, coffee and milk included) are available as well. Lunch and dinner are usually buffet meals. If you want sitting meal (Huizhou-style dishes usually) or western meal, China Discovery could book it for you in advance. Western meal cost much higher price than buffet and sitting meal.
Facilities and Service
Because of the limit of location, all the hotels on Yellow Mountain were built under arduous conditions and most of the materials are carried to the mountain by porters. The facilities may not be compared with other hotels in city areas, but Beihai Hotel is still relatively well-equiped.
| Items | Included | Not Included |
| --- | --- | --- |
| Functional Facilities | Meeting Room, Medical Room, Safe in Front Desk, Baggage Deposit, Café, Chinese Restaurant, Western Restaurant | Elevator |
| Rooms Facilties | National & International Phone, Mirror, 24-hour Hot Water, Hair Dryer, Slipper, Socket, Warming Device, Shower, Electric Kettle | Air-condition, Toiletries |
| Customer Service | Laundry, Hairdressing, Luggage Porter, Wake-up Call, Lavipeditum | / |
| Recreation & Entertainment | Bar, Teahouse, KTV, Card Room | Swimming Pool |
Recommended Attractions around Beihai Hotel
Pen Flower Peak
Adjacent to Beihai Hotel & 2 minutes' walk
It is a unique peak grown with only one pine at its summit. In the legend, famed poet Li Bai visited Mount Huang and entertained by a local aged man warmly, so he left his calligraphy as an expression of his thanks. After he finished his calligraphy, he threw his brush pen to the valley. In that instant, the pen turned into a peak and the brushes turned into a pine. So people call it Pen Flower Peak. The viewing-deck for Pen Flower Peak is just adjacent to Beihai Hotel and you can enjoy the peak conveniently.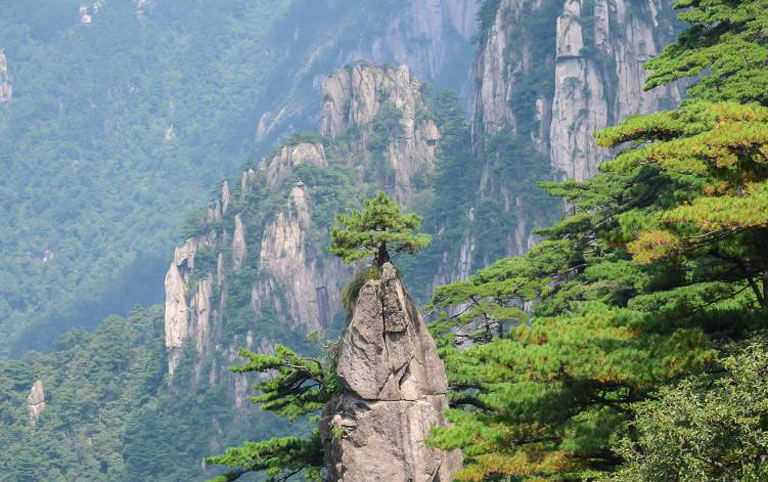 Pen Flower Peak
Refreshing Terrace
1km to Beihai Hotel, 20 minutes' walk
It is an old 3-meter wide and 5-meter long platform located at the mountainside of Lion Peak. At present, the platform is designed with cement handrails to keep the safety of travelers. With good panoramic view of the surrounding peaks, Refreshing Terrace provides one of the best places to watch the sea of clouds and sunrise on Yellow Mountain. With about 1km's distance to Beihai Hotel, Refreshing Terrace is also the first choice for sunrise for those who accommodate in Beihai Hotel. It can be accessed within 20 minutes' walking.
Sunrise from Refreshing Terrace
Stone Monkey Watching the Sea
1.5km to Beihai Hotel, 20 minutes' walk
Stone Monkey Watching the Sea is a must-be-visited attraction in Lion Peak. In clear day, you can easily see monkey-shape stone at the summit of a high peak glazing at the sea of clouds. This magic stone was formed naturally and you can even see its jaw. With a distance of 1.5km between the viewing-deck and Beihai Hotel, you can walk there within 25 minutes usually. It is also available to enjoy the amazing sunrise there.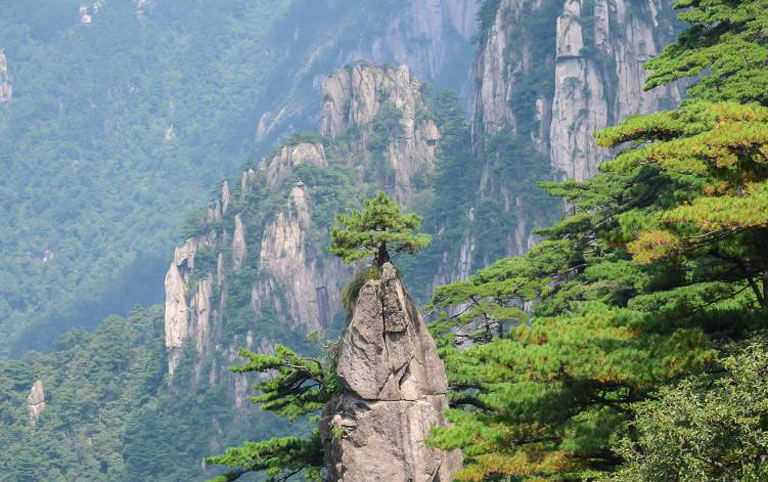 Pen Flower Peak
Begin-to-Believe Peak
1.2km to Beihai Hotel, 30 minutes' walk
Begin-to-Believe Peak gets such a name because of an interesting story. During Ming Dynasty, famous traveler Xu Xiake advocated that Mount Huang was the most beautiful mountain in China. An official in Qing Dynasty doubted that and decided to check it out. When he got to Begin-to-Believe Peak and enjoyed the fantastic scenery, he began to believe Xu Xiake Opinion. There is an old saying goes like that "You can say you have seen the pines of Yellow Mountain if you didn't visit Begin-to-Believe Peak".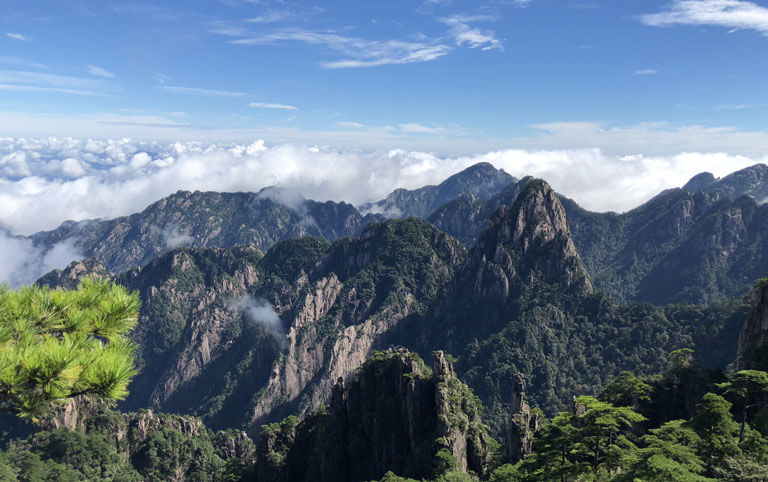 Amazing Veiw from Bigin-to-Believe Peak
Essence of Yellow Mountain Tour with Accommodation at Beihai Hotel
Usually, 2 days are enough to explore the essence of Yellow Mountain. You are suggested to start your Yellow Mountain tour from the back mountain. To save energy and time, you can take a cableway to White Goose New Station in North Sea Scenic Area directly. Next, walk to Begin-to-Believe Peak to enjoy the beautiful pines and great view of the peaks in distance. After sightseeing in Beginto Believe Peak, you can go to Beihai Hotel and place your luggage or bags there. Then start your hiking from Dispelling Cloud Pavilion to the bottom of West Lake Grand Gorge. The hiking routed can be decided according to your own physical condition. It is available to hike or take a monorail cable train to the peak. If your energy permits, you could visit Bright Summit and Flying-over Rock before getting to Beihai Hotel. On the next, get up early and admire a stunning sunrise from Refreshing Terrance and then return your hotel for breakfast. After that, continue your trip to Stone Monkey Watching the Sea and Dawn Pavilion on Lion Peak. Your Yellow Mountain tour ends in Lion Peak and you could leave by cable car as well.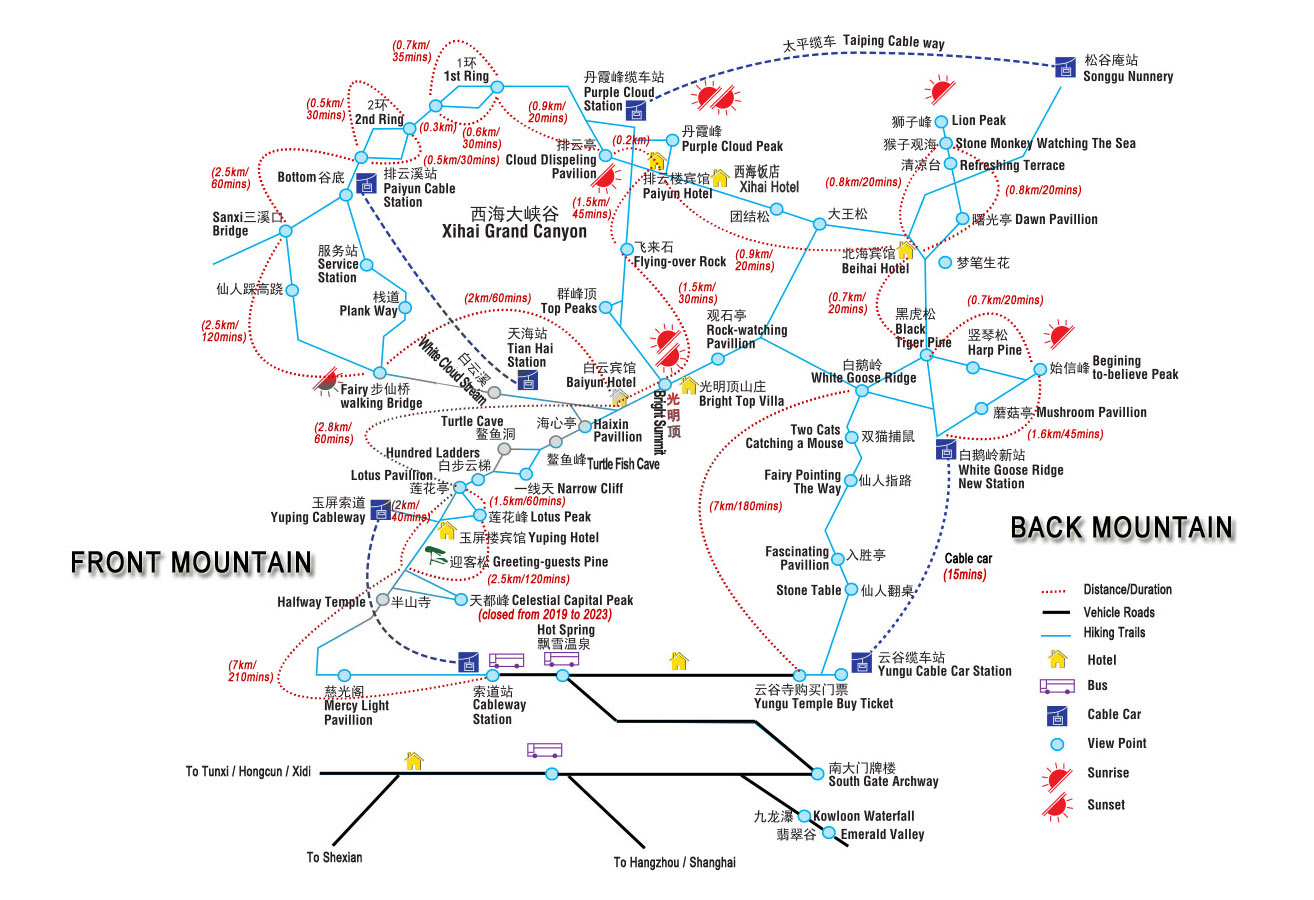 Click to Enlarge Yellow Mountain Travel Map
Huangshan Hotels
Extension Readings of Huangshan Travel Guide
Recommended Huangshan Tours
Top 3 Huangshan tours chosen by most customers to explore Huangshan in the best way. Check the detailed itinerary, or tailor your own trip now with us.
3 Days Huangshan Highlights Leisure Tour (Back Mountain + West Sea Grand Canyon)

Tunxi - Huangshan - Tunxi
4 Days Best Huangshan Tour with Hongcun & Xidi Ancient Villages

Tunxi - Huangshan Mountain - Hongcun - Xidi
Start planning your tailor-made holiday to China by contacting one of our specialists. Once inquired, you'll get a response within 0.5~23.5 hours.
Customize a Trip
Have a question? Get answers from our travel experts or guests
Your Question:

Your Name:

Your Email: