Brief Introduction of Henan Museum
Located in the capital of Henan Province of central China, Zhengzhou city, covering an area of over 10000 square meters, Henan Museum (Chinese: 河南博物院; pinyin: Hénán Bówùyuàn) has over 130,000 pieces of relics through the ages, most of which were from archaeological excavations in Shangqiu, Luoyang, Anyang, Kaifeng, Xichuan, Sanmenxia, Huixian, Xinzheng. Among them, 5,000 pieces are the first and second graded national treasures. From prehistoric cultural relics to bronze vessels of the Shang and Zhou Dynasties, and pottery and porcelain wares of various dynasties. During the Anti-Japanese War, some precious cultural relics of Henan Museum were finally transferred and collected in Taiwan National Museum of history. Inside the museum, there are basic exhibition halls, specialized exhibition halls, and provisional exhibition halls. For the first batch of exhibitions, two basic displays and six specialized displays are offered.
▶ Henan Museum Entrance Fee
There are regular exhibitions and special exhibitions. The regular and permanent ones are Free for all the people who come to visit it with valid ID documents and you can collect your free tickets at the Ticket Office on the Eastern Side of the main gate. Tickets are effective only on the day of issuing; visitors are subject to enter the museum through the front entrance.
The identity documents include ID Card, student ID card, passport, Travel Permit of Hong Kong and Macao Citizen, Mainland Travel Permit for Taiwan Citizens.
▶ Henan Museum Opening Time
9:00am to 17:00pm from Tuesday to Sunday
No admittance after 16:00, closed at 17:00 
Closed on Mondays (including statutory national holidays)
Various Exhibitions to See at Henan Museum
The permanent exhibition of Henan Museum is "light of ancient civilization in Central Plains". The exhibition is distributed in eight exhibition rooms on the first and second floors of the main exhibition hall. It shows Henan's historical relics from prehistoric times to Ming and Qing Dynasties. The exhibition is composed of preface hall, "dawn of civilization" (primitive society period), "three generations of glory" (Xia, Shang, and Zhou dynasties), "cultural inclusiveness" (Han, Wei, Jin, Southern, and Northern Dynasties), "prosperous age" (Sui and Tang Dynasties), and "Dimming light" (song, Jin, and Yuan Dynasties). It collects about 2000 exquisite cultural relics unearthed in Henan and displays them according to the historical development, the most outstanding achievement of ancient culture, and science and technology happened in Henan Province. Besides this main permanent exhibition, there are other four permanent themed exhibitions, namely Central Plains Chu Bronze Art, Henan ancient jade, and Ming and Qing treasures.
• Central Plains Chu Bronze Art: The collections of the exhibition are exquisite bronzes unearthed from the noble cemetery of Chu state in Xichuan County, Henan Province. The magnificent decoration and inscriptions of the bronze ware are important objects for the study of the history of the Chu state. The exquisite craftsmanship is amazing. Among the bronze wares, "WangSunGao's chimes" is the most outstanding bronze collection, as well as a large number of 2500-year-old instruments.
• Ming and Qing Treasures: Ancient Chinese arts and crafts have a long history, unique style, outstanding achievements, and enjoy a high reputation in the world. The crafts of porcelain making, embroidery, ivory carving, lacquerware, enamelware, and gold and silver wares have entered a thriving period in the Ming and Qing Dynasty. They had high aesthetic value and showed the extraordinary wisdom and astonishing skills of ancient Chinese craftsmen.
• Henan Ancient Jades: The Chinese people is a nation loving jades. Chinese jade carving art has been developing for eight thousand years and has been continuously developing for a long time. In ancient China, jade was an important tool for worshipping ghosts and gods; it was a material symbol of power and status; it was a burial tool for pursuing immortality and preserving corpses. The jade objects unearthed in the central plains are mostly refined products of ancient works.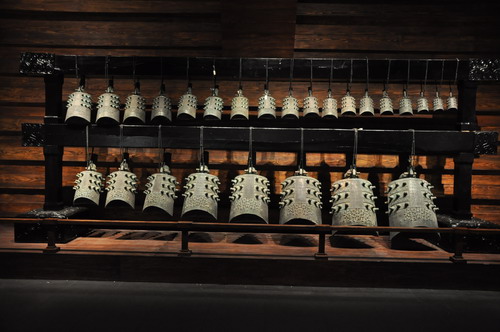 Wang SunGao's Chimes 王孙诰青铜编钟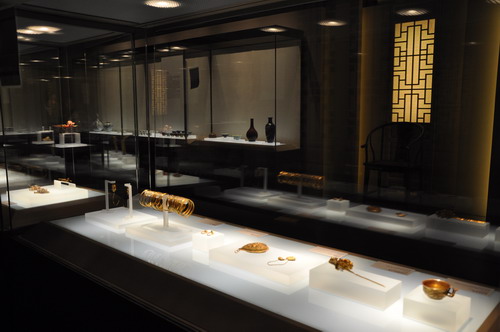 Gold and Silver Wares of Ming and Qing Dynasties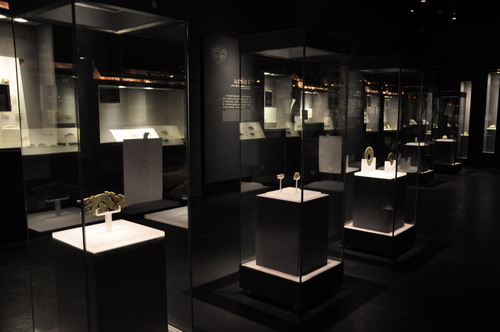 Ancient Jades Exhibition
Precious Treasures of Henan Museum
The Jiahu Bone Flute
• Neolithic Age (6000-2000B.C.)
• Unearthed at Wuyang, Henan Province
• Height: 23.6cm
The Jiahu Bone Flute collected by Henan Museum is complete in shape. Among the more than 30 Jiahu Bone flutes discovered so far, the Jiahu bone flute can be regarded as the representative work of "the first flute in China". Jiahu Bone Flute is not only the earliest musical instrument in China but also the earliest instrument that can be played in the world. Experiments show that Jiahu Bone Flute can not only play traditional five-tone or seven tone music. Its excavation rewrites the music history of the pre-Qin Dynasty and even the whole history of Chinese music.
"Fuhao" Owl-shaped bronze Zun, wine container
• Late Shang Dynasty (1600-1046B.C.)
• Unearthed at Anyang, Henan
• Height: 45.9cm
• Mouth diameter: 16.4cm
The Zun was excavated at the Fuhao tomb of the Yin ruins. Fuhao was the wife of King Wuding of the Shang Dynasty. When her tomb was excavated in 1976, as many as 468 pieces of bronzeware were discovered. They give convincing evidence of the highly developed bronze civilization of the Shang Dynasty.
"Prince Wu" Ding (with a spoon)
• Spring and Autumn Period (770-476B.C.)
• Unearthed at Xichuan, Henan
• Height: 62cm
• Mouth diameter: 62cm
Ding, food container, often comes with a spoon. The spoon has a long handle and a sharp tip and is used for picking the meat out of the food vessel. Prince Wu was the son of KingZhuang of the Chu state. The inscription in the lid and on the inside of the vessel consists of 83 characters and says that"Prince Wu casts this food vessel for offering sacrifices to our ancestor and for swearing ceremonies of forming an alliance. Because of my benevolent rule, I am loved and respected by all the people of the Chu State. It is hoped that the later generations will regard this as the standard of their conduct and behavior."
White Jade Dancer-shaped Pei-pendant
• Western Han Dynasty (206B.C.- 25A.D.)
• Unearthed at Yongcheng, Henan
• Length: 4.6cm
• Width: 2.5cm
The pair of pei-pendant are carved in openwork, occasionally also used the lines in intaglio. The figures, carved with superb craftsmanship, look gracefully charming. They are the typical jade articles of the Han dynasty.
Ivory Radish
• Qing dynasty (1616-1911A.D.)
• Length: 27 cm
This piece is made of carved ivory. The transition in the coloration of this work is very natural, beginning with red at the top, gradually turning pink in the midsection, and eventually turning white at the tip. The mid and lower section of the radish has nine hairy roots. A green long-horned grasshopper has been carved at the point where the stem and leaves meet the flesh of the radish.
Recommended Henan Tour
✔ 2 Days Shaolin Kung Fu Tour from Zhengzhou
✔ 3 Days Shaolin Temple Longmen Grottoes Tour from Zhengzhou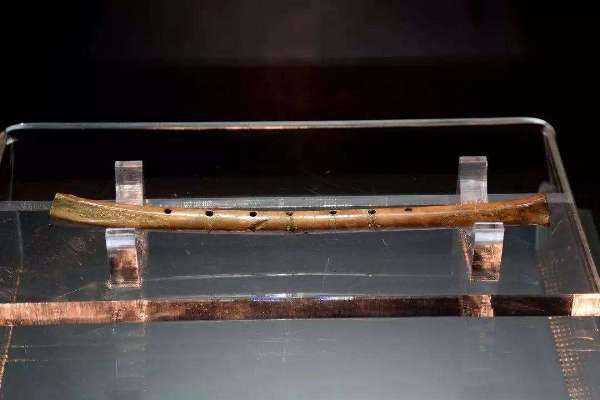 The Jiahu Bone Flute 贾湖骨笛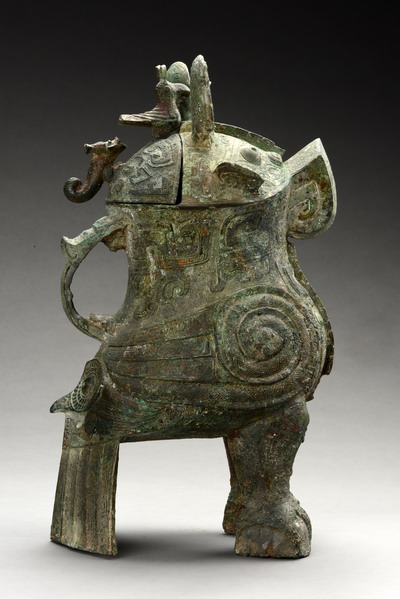 "Fuhao" Owl-shaped bronze Zun, Wine container 妇好鸮尊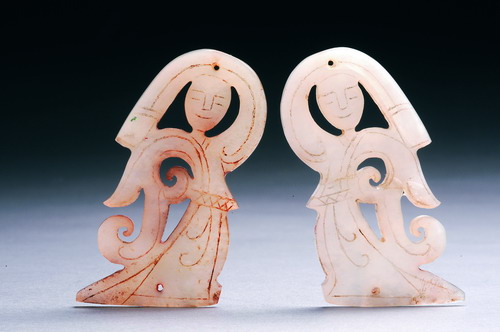 White Jade Dancer-shaped Pei-pendant 白玉舞人佩
Ivory Radish 象牙萝卜
Where is Henan Museum
Henan Museum is in the northern downtown area, about 5km to the city center of Zhengzhou. The nearest metro station is GuanHuTun station (关虎屯) of Line 2, within 10mins' biking distance.
◣ Address: 河南省郑州市金水区农业路8号, No.8 Nongye Road, Jinshui District, Zhengzhou City, Henan Province
• 5 km from Erqi Square
• 6 km from Zhengzhou Railway Station
• 13 km from Zhengzhou East Railway Station
• 38 km from Zhengzhou Airport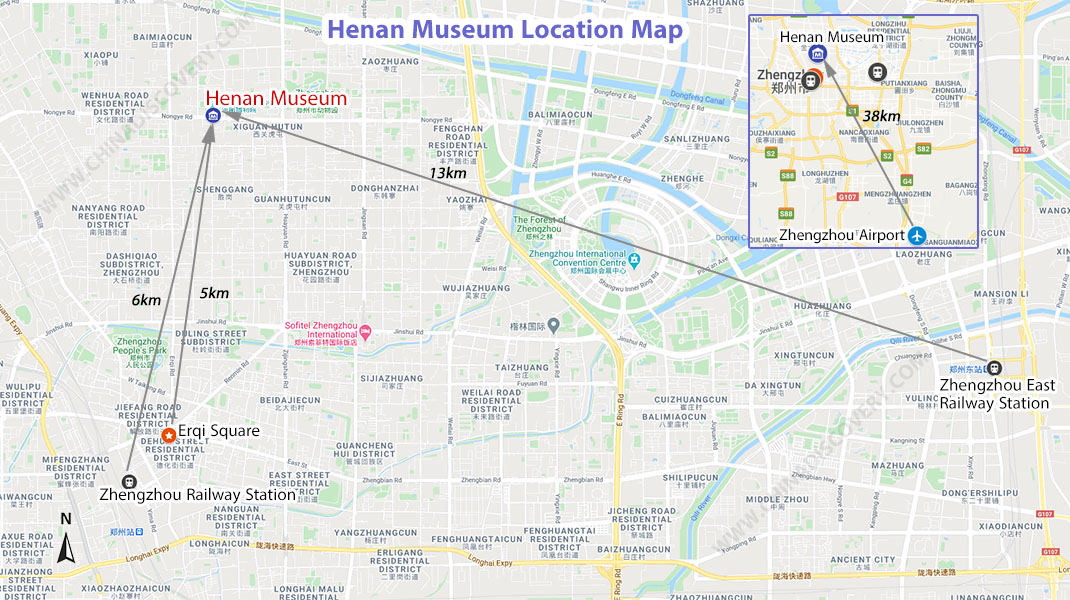 Henan Museum Location Map
How to Get to Henan Museum
By Subway: You can take Metro Line 2 and get off at GuanHuTun station (关虎屯), and go westwards from Exit C of GuanHuTun Station, and Henan Museum is about 1.2km from this metro station.
By Bus: You can take bus No. 32, 39, 42, 61, 69, 96, 251, 30 to get there.
Travel with China Discovery
If you want to get rid of hustle of public transportation and troublesome navigation, you can book a private tour package which covers sightseeing, dining and transfer from us. Our local tour guide and driver will escort you to the Henan Museum with speed and convenience, and take care of all the details. You just need to focus on sightseeing.>>Contact Us Now
Other Attractions in Henan
Shaolin Temple
About 90km from Zhengzhou, Shaolin Temple is one of the most important Buddhist temples as well as a Must-visit attraction in Henan. It is widely known home and abroad for its Shaolin Kung Fu, longstanding Zen Buddhism Culture and many related Kung Fu movies, TV series, documentaries, etc. If you have a dream of Kung Fu, you must visit Shaolin Temple once in a lifetime. Here you can join in Real Kung Fu Class, enjoy spectacular Kung Fu Show, appreciate impressive Buddhist temples. You can easily get to Shaolin Temple from Zhengzhou or Luoyang in Henan Province.>>Read More
Longmen Grottoes
Rich in thousands of grottoes, countless Buddhists and inscriptions, Longmen Grottoes (Longmen Caves) is known as the Buddhist Art Treasure and one of the three most famous Grottoes in China with Dunhuang Mogao Grottoes in Gansu and Yungang Grottoes in Shanxi. With its outstanding Buddha complex and extraordinary artistic creativity, Longmen Grottoes was list as UNESCO World Heritage List in 2000.>>Read More
Recommended Henan Tour
Shaolin Kungfu Performance
Luoyang Longmen Grottoes
Useful Tips for Visiting Henan Museum
① Before Entering
Your luggage and personal belongs shall be deposited after security checking.
The following items are not allowed to bring inside: Food and drinks, knives, lighters, compact discs, dangerous articles, pets.
② While Visiting
All the objects on display shall not be touched.
Visitors can not smoke.
Please keep your voice down and mute your phone.
③ Photo-taking Instructions
Photography is permitted for permanent exhibitions and on regular displays, but no flash, selfie stick or tripod. For temporary exhibitions, please observe signs in the galleries.  If photo-taking is prohibited, obvious reminders will be put both at the entrance of and inside the hall; your should pay attention to such reminders or consult the staff inside the exhibition hall. 
How to Plan Your Zhengzhou Tour
How to Get to Zhengzhou: You can take direct both domestic and international flight to Zhengzhou and take high speed train from Luoyang, Beijing, Shanghai, Xian, etc.
Best Time to Visit Zhengzhou: April to May and September to November are best time when temperature is moderate, weather is good with beautiful nature scenery.
Top Attractions to Visit in Zhengzhou: Shaolin Temple, Mount Song, Henan Museum, Henan Geological Museum and Yellow River Scenic Area …
With convenient flight and train network, Zhengzhou is more used as a transport hub in Henan. Usually, tourists make a Shaolin Temple day tour via Zhengzhou, visit the Pagoda Forest and main temple architectures and closely watch a wonderful Shaolin Kung Fu show in a leisured pace or leave half day for a Mount Song hiking trip. (If you and your kids are interested in long-term Chinese Kung Fu training class near Shaolin Temple, you can contact us to get the best recommendations.) Luoyang is another hotspot on a Henan tour bucket list. One day is suitable for visiting the top two sites, the Longmen Grottoes - a UNESCO World Cultural Heritage and the World's biggest Buddhist cave treasury with thousands of stone carvings, and China's first Buddhist temple - White Horse Temple. In early days of April and early May, tourists have chance to enjoy an eye-pleasing blossom of Peony Festival in Luoyang.
✔ 2 Days Shaolin Temple Tour from Zhengzhou
✔ 3 Days Shaolin Temple Longmen Grottoes Tour from Zhengzhou
✔ 3 Days Shaolin Temple Mount Song Hiking Tour with Luoyang Highlights
As one of the cradles of Chinese Civilization, Henan retains many profound cultural heritages and natural spectacles. If time and personal interests allow, you may visit more wonderful places, such as Yuntai Mountain with stunning canyon landscape of Taihang Mountain, ancient capital of Kaifeng, miraculous Guoliang Village on the sheer cliff, Yin Dynasty Ruins with interesting Oracle Bone Inscriptions, etc. Beyond Henan, China presents its diverse culture, history and city charm in different regions, and Beijing, Xian, Shanghai, Chengdu are top destinations to travel with Henan.
✔ 5 Days Henan Culture Tour from Zhengzhou to Luoyang & Kaifeng
✔ 6 Days Henan Highlights Tour (Zhengzhou/Anyang/Kaifeng/Dengfeng/Luoyang)
✔ 8 Days China Ancient Capitals Tour with Shaolin Temple (Beijing/Luoyang/Xian)
✔ 15 Days China Kung Fu Panda Family Tour
Travel with China Discovery
China Discovery is an experienced, professional and reliable travel companion devoted to offering high-quality and the best tour services for all travelers to China. In order to have a hassle-free travel and focus on the trip itself, it's highly recommended travelling with China Discovery. So, you can enjoy convenient airport pick-up and drop-off service and transportation to all scenic spots in a safe, clean, comfortable, air-conditioned and non-smoking vehicle. Also, we will arrange knowledgeable local tour guide, excellent accommodation and dining arrangements to ensure you rest well and get better understanding of Buddhism, Shaolin Zen and Kung Fu culture of Henan. You may select a favorite from our most popular Zhengzhou tours or contact us to design a unique itinerary according to your personal time and preference.
Our Customers visited Pagoda Forest of Shaolin Temple
China Discovery Customized Luoyang Longmen Grottoes Tour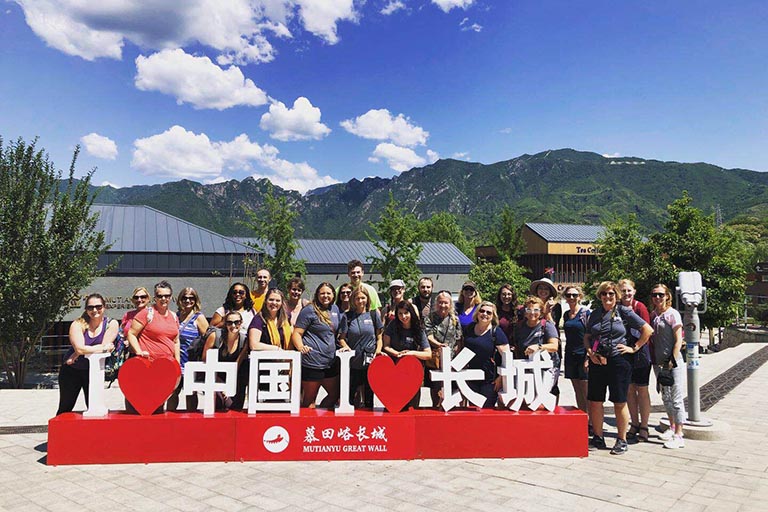 Our American Tour Group Enjoyed Mutianyu Great Wall Tour in Beijing
Helpful Zhengzhou Travel Guide
Recommended Zhengzhou Tours
Top 3 Zhengzhou tours chosen by most customers to explore Zhengzhou in the best way. Check the detailed itinerary, or tailor your own trip now with us.
2 Days Shaolin Temple Tour from Zhengzhou

Zhengzhou / Dengfeng / Shaolin Temple / Zhengzhou
3 Days Shaolin Temple Longmen Grottoes Tour from Zhengzhou

Zhengzhou / Shaolin Temple / Luoyang
6 Days Henan Highlights Tour

Zhengzhou / Anyang / Kaifeng / Dengfeng / Luoyang
Start planning your tailor-made holiday to China by contacting one of our specialists. Once inquired, you'll get a response within 0.5~23.5 hours.
Customize a Trip
Have a question? Get answers from our travel experts or guests
Your Question:

Your Name:

Your Email: