Zhengzhou is the capital city as well as the largest city, the political and economic center of Henan Province, which lies on the southern bank of the Yellow River, in north-central Henan Province and the hinterland of China's Central Plains. Today, Zhengzhou is most famous for the Shaolin Temple, birthplace of the Yellow Emperor and its transport hub function in the Central Plains area. Being one of the excellent tourism cities and an important cradle of Chinese civilization Zhengzhou owns plentiful natural and human landscapes, including international famous Shaolin Temple and Shaolin Kung Fu, one of China's Five Great Mountains - Mount Song, many ancient architectures and natural sights.
Why Visit Zhengzhou:
Shaolin Temple and Shaolin Kung Fu - It's the biggest reason for a Zhengzhou tour. Built in the Northern Wei Dynasty in the late 5th century AD, Shaolin Temple at the foot of Mount Song is a UNESCO World Cultural Heritage site where Chinese Zen Buddhism and Chinese Kung Fu (Martial Arts) originated. The temple has long been honored as "the First Temple in the World" and a holy land to witness and learn the influential Chinese Kung Fu by worldwide Chinese Kung Fu lovers.
UNESCO World Cultural Heritage in Dengfeng - On Mount Song of Dengfeng, altogether 11 ancient sites have been listed as World Cultural Heritage - "The Center of Heaven and Earth" (Shaolin Temple is included). It is a huge historical monument complex owning the most type of buildings and richest cultural connotation, because it comprises of architectures from Han, Tang to Qing Dynasty, spanning a period of 9 dynasties to over 2,000 years. This complex is an outstanding embodiment of ancient Chinese's unique cosmology and aesthetics for religion, science, technology and education. Here you can visit the existing oldest astronomical observatory, very old Taoist temple - Zhongyue Temple, Songyang Academy - one of China's four famous ancient academies.
Birth Place of the Yellow Emperor - Chinese people all call themselves the descendants of the Yellow Emperor (Huangdi) and the Yan Emperor (Yandi), two legendary ancient Chinese rulers and heroes cultivated Chinese civilization. According to historical records, Zhengzhou is where the Yellow Emperor was born, started his achievement and established the capital, so massive Chinese at home and abroad flood into Zhengzhou to worship the great ancestor and attend the annual worship ritual in Xinzheng Yellow Emperor's Hometown.
Splendid History and Culture - Zhengzhou has been considered the center of the heaven and earth and many regimes have built state here. In Zhengzhou, you can discover the Zhiji Cave and other Paleolithic sites, Peiligang ruins of Neolithic, ruins of Shang Dynasty's capital and imperial tombs of the Northern Song Dynasty.
Countless Eminent Luminaries - Lots of remarkable figures of Zhengzhou have made magnificent impact on China's history, such as the Guanzhong, Hanfei and Zhangliang during the Spring and Autumn Period, Du Fu, Bai Juyi and Li Shangyin (famous poets) of Tang Dynasty, Li Jie (architect) of the Northern Song Dynasty, Xu Heng (Neo-Confucianist) of Song & Yuan Dynasty, etc.
The Yellow River - It is a national scenic area and a national geopark presenting the magnificence landscape of the Yellow River. Covering over 20 square kilometers, the Yellow River Scenic area of Zhengzhou is a huge attraction consist of peaks, lakes, giant statues of the Yellow Emperor and Yan Emperor.
Top Attractions
Under the jurisdiction of Zhengzhou, there are 6 districts, 5 county-level cities (Dengfeng, Xinzheng, Gongyi, Xingyang…) and 1 county. The No.1 must-see is Shaolin Temple in Dengfeng, southwest of Zhengzhou. The spectacular Mount Song and its architecture complex are also located in Dengfeng. In downtown Zhengzhou, you can visit Henan Museum, Zhengzhou Museum and some local parks to get close to local culture and history. Yellow River Scenic Area is in the north suburb. See more Zhengzhou Attractions >>
Top Featured Activities in Zhengzhou
Besides visiting ancient architectures of Shaolin Temple, there are many local featured activities you can attend to make your Zhengzhou tour informative, entertaining and meaningful, such as watching a Shaolin Kung Fu show, join in a Kung Fu class to study some basic styles, taste the local unique food and so on. More about Shaolin Kung Fu Shows >>
Zhengzhou Weather & Temperature - Best Time to Go
Transportation
Zhengzhou Accommodation: Where to Stay
Zhengzhou Maps
To help you better know the location, tourist attraction and transportation of Zhengzhou, we've collected many useful Zhengzhou maps for you. All are updated and downloadable. Check more Zhengzhou Maps here >>
Other Destinations near Zhengzhou
In Henan, besides Zhengzhou, there are more other nice destinations can be visited around. Go westward of Zhengzhou, you can visit Longmen Grottoes - a large-scale Buddhist grottoes cluster spreading by the riverside and China's oldest Buddhist temple in Luoyang. Kaifeng in the east side of Zhengzhou is another ancient capital preserving abundant meritorious historical sites.
Other Popular Destinations in China
China is vast and diverse. You can choose your favorite destinations among more than 70 tourist destination and regions, like Beijing, Shanghai, Xian, Chengdu, etc. Following are 4 popular destinations you may get interested in. Check all destinations in China.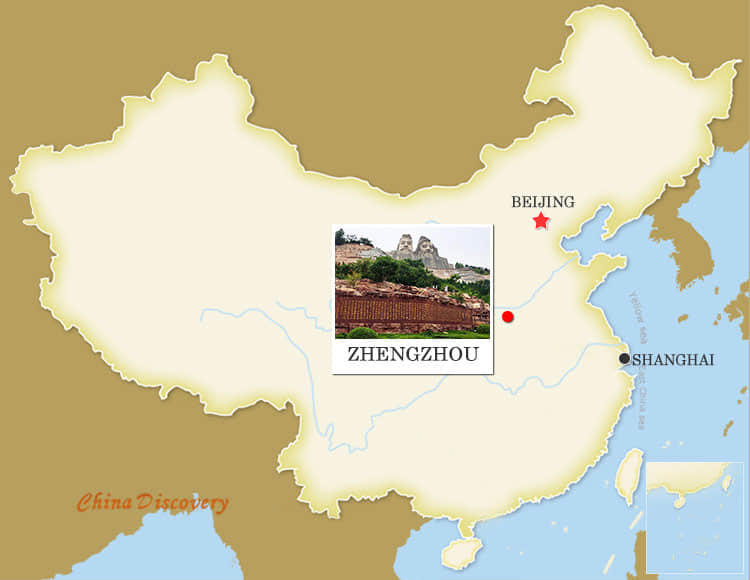 Chinese Name: 郑州
Chinese Pinyin: zhèng zhōu
English IPA: /'dʒeŋ'dʒəu/
Area: 7,446 Square Kilometers
Population: 10,136,000
Language: Mandarin & Zhengzhou Dialect
Tel Code: 0371
Zip Code: 450000
Time Zone: (UTC+8)
Logo: Chinese Rose
Plan Your Zhengzhou Tour
Most tourists make a one-day brief trip to Shaolin Temple via Zhengzhou and seldom stay long time in Zhengzhou city. After arrival by train or flight, you can directly get to Shaolin Temple, visit the main hall, Pagoda Forest and ancient architecture and watch a Shaolin Kung Fu show. Next, you may drive back to Zhengzhou for departure. Or you can transfer to Luoyang and spend one day viewing the Longmen Grottoes and White Horse Temple, if you're interested in Chines culture and Buddhism.
If time allows, it's also popular to extend Zhengzhou tour to more parts of Henan, such as the natural sights of Yuntai Mountain, mysterious Yin Ruins of Anyang and Kaifeng. A classic itinerary covers best highlights of Henan needs 5 to 6 days. Linking Zhengzhou with more major destinations in China, like Xian, Beijing, Shanghai is highly suggested to experience different culture and history of China. China Discovery provides popular Zhengzhou tour packages and customized service to design a unique Zhengzhou tour for you!
Travel with China Discovery
We have helped many global travelers enjoy their memorable wonderful trips to Henan for the past few years. Among them, a couple from the UK traveled with us and spent 21 Happy Days in Luoyang, Dengfeng, Beijing, Xi'an and 5 Other Cities in Northern China, and shared us their special travel story!
Moreover, we got more than 1,570+ good reviews on TripAdvisor.com, and over 3,220+ China travel reviews from our customers. Travel with China Discovery to create your great China trip memories!
Recommended Tours
MORE