Useful Travel Maps of Kaifeng: Updated & Free Downloadable 2023
With over 4,100 years of construction history, Kaifeng is a famous ancient capital of eight dynasties in China, which was the largest metropolis in the world during the Northern Song Dynasty. It is the real location of Riverside Scene at Qingming Festival - one of China's top ten paintings, the only capital city whose city central axis never change and the birthplace of Yu (Henan) Opera. China Discovery here collect different maps of Kaifeng to help you better know its location, top attractions to visit, best traffic for arrival and getting around, and plan a Kaifeng tour efficiently. They are all recently updated and free to be downloaded.
Kaifeng Location Maps - Where is Kaifeng Located in China
Kaifeng (coordinates: 34°47′53″N 114°18′51″E) is a prefecture-level city in the east of Zhengzhou and Luoyang in Henan Province, the hinterland of Central Plains of China. The city borders Xinxiang to the north, Zhengzhou to the west and Xuchang, Zhoukou and Shangqiu of Henan Province to the south and Heze of Shandong Province to the east. Specifically, Kaifeng lies about 70 km, about 1.5 hours' drive from Zhengzhou and 150 km, 2.5 hours' drive from Shaolin Temple (Dengfeng) and 190 km and over 2.5 hours' drive from Luoyang.
Popular Kaifeng Tours: 5 Days Henan Culture Tour to Luoyang and Kaifeng / 6 Days Henan Highlights Tour
Kaifeng Tourist Map - Top Kaifeng Attractions to Visit
Cultural and historical relics are the main attractions in Kaifeng, especially sites during the Song Dynasty. In Kaifeng, you can visit the Millennium City Park, Kaifeng Iron Tower Park, Dragon Pavilion Park (Long Ting Park), Gulou Square, Kaifeng House Scenic Resort, Prime Minister Temple, Kaifeng Museum, Kaifeng Ancient City Wall, Xiangguo Temple and many other ancient spots. Please click to enlarge the following travel maps.
Useful Link: Kaifeng Travel Guide
Kaifeng Transportation Maps - Get to & around Kaifeng
Tourists usually start a Henan tour from Luoyang or Zhengzhou and get to Kaifeng from Zhengzhou nearby by private driving, or by bus, train. Driving from downtown Zhengzhou to Kaifeng takes about 1.5 hours, nearly 2.5 hours from Shaolin Temple in Dengfeng and around 2.5 hours from Longmen Grottoes in Luoyang. Besides, a high speed train from Luoyang to Kaifeng needs about 1 hour, while an intercity fast train from Zhengzhou to Kaifeng only takes 20 -30 minutes.
How to Plan Your Henan Kaifeng Tour
How to Get to Kaifeng: You can get to Kaifeng from Zhengzhou by private driving (about 1.5 hours), by intercity high speed train (about 20-30 minutes) and by bus (about 2 hour) or depart from Luoyang.
Best Time to Visit Kaifeng: April to May and September and October namely spring and autumn. when the temperature is comfortable, the precipitation is moderate and chrysanthemums festival will be held in annually in October.
Top Attractions to Visit in Kaifeng: Millennium City Park, Dragon Pavilion Park, Iron Pagoda Park, Ancient City Wall, etc. …
Travelers often tour Kaifeng with Shaolin Temple, Luoyang Longmen Grottoes and other top destinations in Henan for 5 to 6 days. After arrival from Zhengzhou, about 1.5 hours by private driving, you're suggested to leave 1 day visiting the Millennium City Park (Qingming Riverside Landscape Garden), Iron Pagoda Temple, Dragon Pavilion (Longting) Park, the Ancient City Wall and other ancient sites in downtown area, learn the diverse culture and featured regional history and customs in Kaifeng. In autumn months, you may witness hundreds of species of beautiful chrysanthemums in the yearly festival.
And then, most tourists return to Zhengzhou and travel to Shaolin Temple, a dream place for worldwide Kung Fu fans. 1 day is enough to visit the ancient temple complex and watch a splendid Kung Fu show, get real contact with Chines Zen and martial arts culture. Luoyang with Longmen Grottoes is also worth your exploration. This giant Buddhist grottoes treasury presents China's early Buddhist culture and carving craft. China's oldest Buddhist temple - White Hose Temple and gorgeous Spring peony also attract numerous visitors.
If you are fond of Chinese characters, Yinxu of Anyang is an ideal place to know plentiful Oracle Bone Inscriptions. Moreover, Henan offers lots of awesome natural splendors where you can immerse in magnificent mountains, fresh air, powerful water and broad vision created by the magic of nature. Mount Song, Yuntai Mountain, Guoliang Village, Xiaolangdi Dam are top recommendations.
✔ 5 Days Henan Cultural Tour to Luoyang and Kaifeng
✔ 6 Days Henan Highlights Tour
Planning a longer China trip to further explore ancient China? China Discovery is honored to offer you customized Kaifeng tour with Beijing, Xian and other prominent ancient capitals of China. Or, you can tell us your personal schedule and preference to make a unique China Henan trip.
✔ 8 Days China Ancient Capitals Tour with Shaolin Temple (Beijing/Luoyang/Xian)
✔ 11 Days Essence of China Culture Tour by High Speed Train
✔ 15 Days China Kung Fu Panda Family Tour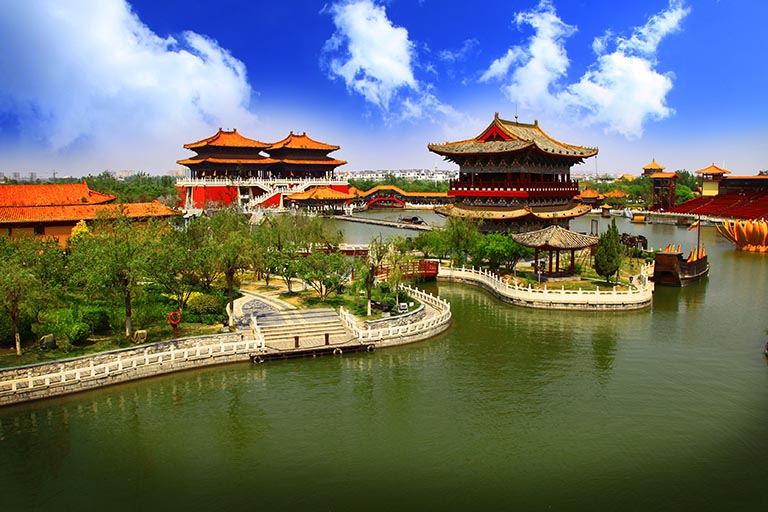 Qingming Riverside Landscape Garden in Kaifeng
Our Customers visited Pagoda Forest of Shaolin Temple
China Discovery Customized Luoyang Longmen Grottoes Tour
Travel with China Discovery
China Discovery is an experienced, professional and reliable travel companion devoted to offering high-quality and the best tour services for all travelers to China. In order to have a hassle-free travel and focus on the trip itself, it's highly recommended travelling with China Discovery. So, you can enjoy convenient airport pick-up and drop-off service and transportation to all scenic spots in a safe, clean, comfortable, air-conditioned and non-smoking vehicle. Also, we will arrange knowledgeable local tour guide, excellent accommodation and dining arrangements to ensure you rest well and get better understanding of Buddhism, Shaolin Zen and Kung Fu culture of Henan. You may select a favorite from our most popular Henan tours or contact us to design a unique itinerary according to your personal time and preference.
Helpful Kaifeng Travel Guide
Recommended Kaifeng Tours
Top 3 Kaifeng tours chosen by most customers to explore Kaifeng in the best way. Check the detailed itinerary,or tailor your own trip now with us.
3 Days Shaolin Temple Longmen Grottoes Tour from Zhengzhou

Zhengzhou / Shaolin Temple / Luoyang
6 Days Henan Highlights Tour

Zhengzhou / Anyang / Kaifeng / Dengfeng / Luoyang
5 Days Henan Cultural Tour to Luoyang and Kaifeng

Zhengzhou / Kaifeng / Dengfeng / Luoyang