Mount Song Brief Introduction
Located in the west of Henan Province, the northwest of Dengfeng City, Mount Song is one of the Five Famous Mountains in China, and it is also called as Zhongyue, which means middle mountain (among the five mountains). Covering an area of 450 km2, Mount Song is composed of two mountains – Taishi Mountain and Shaoshi Mountain. The two mountains have 72 peaks in total, and the lowest one is 320m in altitude, while the highest one is 1512m in altitude. Sitting next to the ancient capital Luoyang, it's an important barrier for Luoyang in ancient time. Rooted in deep culture background, Mount Song is also the birthplace of Zen Buddhism in China, and also the Taoist holy land.
There are three scenic areas in Mount Song: Shaolin Temple Scenic Area, Zhongyue Scenic Area and Songyang Scenic Area. These three scenic areas covers all gorgeous attractions in Mount Song, including the birthplace of Zen Buddhism – Shaolin Temple, the largest pagoda groups in China – Pagoda Forest, the highest and oldest cypress, the existing oldest astronomical observatory, Zhongyue Temple built in Qin Dynasty, one of the four greatest academies – Songyang Academy, etc.
What to See in Mount Song
Shaolin Temple Scenic Area
Shaolin Temple Scenic Area is located in Shaoshi Mountain of Mount Song. This scenic spot has several fascinating attractions. Shaolin Temple is the birthplace of Shaolin Kung Fu, and it's the dreamland for Chinese Kung Fu fans; tourists can see Kung Fu Performance in the temple, even learn some Kung Fu here. Pagoda Forest of Shaolin Temple is the existing largest pagoda forest in China, and each pagoda here is the tomb for the abbots or famous monks in Shaolin Temple. Sanhuang Village Scenic Resort is in the west of Shaolin Mountain, and the village itself is a natural village hanging in the half way up the mountain cliff. To get there, tourists will walk through a plank road built along the face of a cliff. On the way to Sanhuan Village, you'll be amazed by the awe-inspiring scenery of Mount Song.
See detailed information, please see Shaolin Temple Travel Guide>>
✔ 2 Days Shaolin Temple Tour from Zhengzhou
✔ 3 Days Luoyang Shaolin Temple Mount Song Hiking Tour
Zhongyue Scenic Area
Zhongyue Scenic Area is located at the east part of Mount Song, main attractions are Zhongyue Temple, Luya Waterfall and Astronomical Observatory. Among them, Zhongyue Temple, which is sitting at the foot of Taishi Mountain, is the core part of Zhongyue Scenic Area. First built in Qin Dynasty (221 BC ~ 207BC), Zhongyue Temple is the holy land for Quanzhen Taoism in China, and it's the largest and best preserved ancient architectural complex among the Five Famous Mountains in China. Luya Waterfall is located at under the Xuanlian Peak in Taishi Mountain. Precipitous cliff and rare stones sitting in this area, while a clear stream runs down from the gorge, just like water bead curtains hanging over the sky. Astronomical Observatory is located in Gaocheng Town in Dengfeng City. Built by astronomer Guoshoujin in Yuan Dynasty, it has a history over 700 years till today, and it's the existing oldest astronomical observatory in China.
Songyang Scenic Area
Songyang Scenic Area is also located in Taishi Mountain. This area is centered on Songyang Academy, and it also covers famous attractions around the academy, like Huishan Temple, Songyuesi Pagoda, Junji Peak, Laomu Cave, Fawang Temple, etc.
Songyang Academy, together with Yingtian Academy, Yuelu Academy and Bailudong Academy, are called as the Four Greatest Academies in ancient China. It's one of the earliest academies in China. First built in Northern Wei Dynasty (386 ~ 534), many famous Confucian scholars had given lectures in here, including Sima Guang, Fan Zhongyan, Cheng Yi, Cheng Hao, etc. The academy has a total different architectural style from the temples in China. It's more simple and elegant.
Songyuesi Pagoda was built in Northern Wei Dynasty, about 525 AD, and it's the existing oldest brick pagoda in China. The pagoda is in a dodecagon shape, and the pagoda body can be divided into two parts, it's very close to the "stupa" in India. Junji Peak is the main peak of Mount Song. Climbing up along with the stairs, the road is becoming more and more steep. After several steep roads, you'll arrive at Junji Palace, then keep climbing up, you will arrive at the top of Junji Peak. Standing on the peak and overlook, Mount Song will show its grandeur and beauty to you.
Shaolin Temple
Zhongyue Temple
Astronomical Observatory
Songyang Academy
Songyuesi Pagoda
How to Plan Mount Song Tour
Mount Song is divided into Shaoshi Mountain and Taishi Mountain, with Shaolin Temple on the Shaoshi Mountain. If you have only one day, then it's suggested to visit Shaolin Temple and other classic attractions in Shaoshi Mountain.
Recommended One Day Route: Shaolin Temple – Pagoda Forest – Sanhuang Village Scenic Resort.
After breakfast, visit Shaolin Temple. Tourists can visit all halls in the temple and watch the Kung Fu Performance, then visit Pagoda Forest in the temple. After that, take a cable car from the cable station behind Shaolin Temple to Sanhuang Village. The cableway is about 3000m and it's the longest cableway in Asia. Visit Sanhuang Village, after that, go back the same way you came. If you have two days, then you can almost visit all highlights of Mount Song.
✔ 3 Days Luoyang Shaolin Temple Mount Song Hiking Tour
Recommended Two Days Route:
Day 1: Shaolin Temple – Pagoda Forest – Sanhuang Village Scenic Resort (details see the above)
Day 2: Songyang Academy – Dafawang Temple – Songyuesi Pagoda – Zhongyue Temple In the morning, visit Songyang Academy first to experience the Confucian culture, then head to Dafawang Temple and Songyuesi Pagoda to experience the quiet and beautiful architecture. After that, go back to visit Zhongyue Temple.
✔ 3 Days In-depth Shaolin Kung Fu Class Tour
How to Get to Mount Song - Location & Transportation
To visit Mount Song, you have to get to Dengfeng City first. Dengfeng is not large and less development than other cities, so the transportation is not very good. However, it's very close to Zhengzhou and Luoyang, so tourists can get to these two cities and then transfer to Dengfeng.
By Flight: Dengfeng has no airport, so tourists can take flight to Zhengzhou or Luoyang first, then take bus to railway stations in Zhengzhou or Luoyang, the bus stations in the two cities are just near the railway station. Then take long-distance coach to Dengfeng.
By Train: Dengfeng has no railway station, tourists can take train to Zhengzhou first, then take bus from there to Dengfeng.
After getting to Dengfeng, there are two bus stations, Dengfeng West Bus Station and Dengfeng Bus Stations. Tourists can take bus to Shaolin Temple, Zhongyue Temple and other famous attractions in Dengfeng from there. Besides, in the east side of Luoyang Railway Station, there is direct bus to Shaolin Temple in 6:00 am and 7:00. And all long-distance coaches from Luoyang to Dengfeng will pass Shaolin Daokou, and Shaolin Temple is only 2km from Shaolin Daokou.
Mount Song Travel Tips
1. Where to Stay around Mount Song
Now, there are many starred hotels under the foot of Mount Song, and in the mountain, various featured hostels are also good choices. Most people will choose to go back to Luoyang or Zhengzhou in the same day, so it's easy to book accommodation in Mount Song.
2. Best Time to Go
The best time to visit is spring and autumn. Mount Song is featured in northern temperate continental monsoon climate. With distinctive four seasons, the annual average temperature at the mountain foot is 14.3℃, while the average temperature on the mountain is 8.5℃. Spring is the warm and great time to see flowers all over the mountain. Autumn is the best time to appreciate the red leaves on the mountain.
3. Activities in Mount Song
If you will stay one night in Mount Song, then you can watch Shaolin Zen Music Ritual. From mid-March to mid-November, the show will be presented every day at 20:15. The 70-minute show is a large-scale performance with real scenery as its background, and audiences will sit on futon to watch. The show will perform Zen martial art, and monks from Shaolin Temple will chant on the stage.
Besides the music ritual, tourists can also see Shaolin Kung Fu Performance in Shaolin Temple every day, and the performance time is 9:30, 10:30, 11:30, 14:00, 16:00 and 17:00.
4. Notices
The weather on the mountain is cooler than Dengfeng city, so prepare some warm clothes when you visit. Besides that, there are many temples on Mount Song, and tourists need to pay attention to the etiquettes when meeting with the monks. See detailed information, please see Tourism Taboos>> in Shaolin Travel Guide.
How to Plan Your Dengfeng Shaolin Temple Tour
How to Get to Dengfeng Shaolin Temple: Usually take private car from Luoyang (about 1.5 hours) or Zhengzhou (about 2 hours); or take direct bus from Luoyang (about 2 hours) and Zhengzhou (around 1.5 hours)
Top Things to Do in Shaolin Temple: See ancient Buddhist architectures; watch Shaolin Kung Fu Show; join Shaolin Kung Fu Training Program
Where to Stay During Shaolin Temple Tour: Most tourists accommodate in hotels in Dengfeng City while Shaolin Kung Fu learners can stay in Kung Fu school with basic facilities.
After arrival from Luoyang or Zhengzhou, ordinary tourists usually spend one day visiting Shaolin Temple - a UNESCO World Cultural Heritage and the birthplace of Chinese Buddhist Zen and Chinese Kung Fu (Martial Arts). One-day Shaolin Temple tour is a classic itinerary covering the best essence, which takes you to admire the sacred shrine with 7 courtyards, the Pagoda Forest and lots of ancient architectures. Besides the sightseeing, you can also watch a wonderful Shaolin Kung Fu show and even join in a short-period Kung Fu training class to learn some basic styles. Love nature and physical condition allows? Take half a day more to do an excursion on Sanhuang Village of Mount Song, walk on the amazing roads cliffside and witness unique mountain landform. (If you or your kids plan to take a longer Kung Fu learning near Shaolin Temple, you can also contact us to get more recommendations.)
✔ 2 Days Shaolin Temple Tour from Zhengzhou
✔ 3 Days In-depth Shaolin Kung Fu Class Tour

If you have one more day and are quite interested in ancient Chinese culture, Luoyang is another must-visit destination in Henan (if you haven't visited). The awesome Longmen Grottoes stretching by the riverside and China's first Buddhist temple - White Horse Temple are iconic sites for your Luoyang tour. Still, there are many remarkable cultural and natural sights in Henan worthy your exploration, including the spectacular Yuntai Mountain, mysterious Guoliang Village, interesting Yin Ruins of Anyang, ancient capital Kaifeng, etc. Finishing your Henan tour, you may extend your journey to Beijing, Xian and other major destinations in China as you want. You can choose from our most popular China Shaolin Temple tour packages or contact us to customize a trip based on your requirements.
✔ 3 Days Shaolin Kung Fu Tour including Luoyang Highlights
✔ 8 Days China Ancient Capitals Tour (Beijing/Luoyang/Xian)
✔ 11 Days Essence of China Culture Tour by High Speed Trains
✔ 15 Days China Kungfu Panda Family Tour
Our Customers visited Pagoda Forest of Shaolin Temple
Our Customers Visited Luoyang Longmen Grottoes
Get Inspired by Real Travel Stories of Our Customers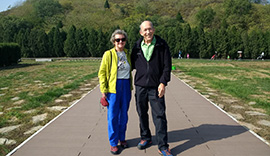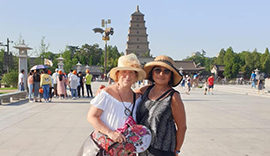 Our Delighted Customers
Top Dengfeng Shaolin Temple Tours
Helpful Dengfeng Shaolin Temple Travel Guide
Recommended Dengfeng Tours
Top 3 Dengfeng tours chosen by most customers to explore Dengfeng in the best way. Check the detailed itinerary, or tailor your own trip now with us.
3 Days Essence of Luoyang Tour

Luoyang / Dengfeng / Zhengzhou
3 Days Shaolin Temple Longmen Grottoes Tour from Zhengzhou

Zhengzhou / Shaolin Temple / Luoyang
3 Days Luoyang Shaolin Temple Mount Song Hiking Tour

Luoyang / Dengfeng / Luoyang
Start planning your tailor-made holiday to China by contacting one of our specialists. Once inquired, you'll get a response within 0.5~23.5 hours.
Customize a Trip
Questions & Discussions
Following are latest questions and answers from our webusers and customers. You can learn many useful information from the discussion and cases. You can also join in the discussions or ask your own question. Our experts will help you ASAP.
show
Hello!
I would like to ask you if it is possible to see Shaolin Zen Music Ritual without being accomodated in th mountains. Is it possible to get back to Zhengzhou by any means of transport after the show? Thank you!
Hello Suzy,

Thanks for your question. The Shaolin Zen Music Ritual will held at Daixian Valley, 10 km west of Dengfeng City and start during 20:00~21:30. For the show will be finished too late and it is hard to find the public transportation to get to Zhengzhou. It is recommended to accommodate at Dengfeng City after the show.

For more questions, please feel free to contact us!
Have a question? Get answers from our travel experts or guests
Your Question:

Your Name:

Your Email: