Top Henan Tourist Attractions | Things to Do in Henan 2023/2024
Henan is an important birthplace of Chinese national and civilization, because the initiator of Chinese culture and ancestor of all Chinese - Yellow Emperor was born in Henan, the invention of Chinese characters, urban development and establishment of unified country, China's four great inventions, Chinese surnames and many landmark cultural relics originated or discovered in Henan. With a total 5,000 years of history, Henan has been China's political, economic and culture center for over 3,000 years, and more than 20 reigns found capitals and 200 emperors ruled here. Incredibly, the province occupies four of the eight ancient capitals in China, preserves the country's oldest astronomical observatory, the first Buddhist temple - White Horse Temple, the most famous Zen & Kung Fu temple - Shaolin Temple, the oldest border fortress and tremendous culture legacies. Mount Song, Yuntai Mountain and plenty of national geoparks in Henan draw a magnificent painting as well. Below are top-rated tourist attractions for you to discover the charming Henan.
Henan Tourist Attractions Map (Zoom in to enlarge map)
Top 1: Pay a Visit to the Birthplace of Chinese Kung Fu Shaolin Temple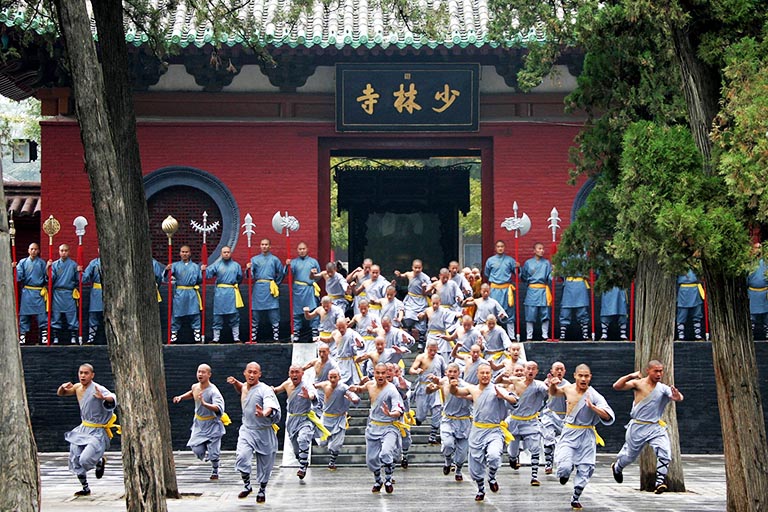 Shaolin Temple in Dengfeng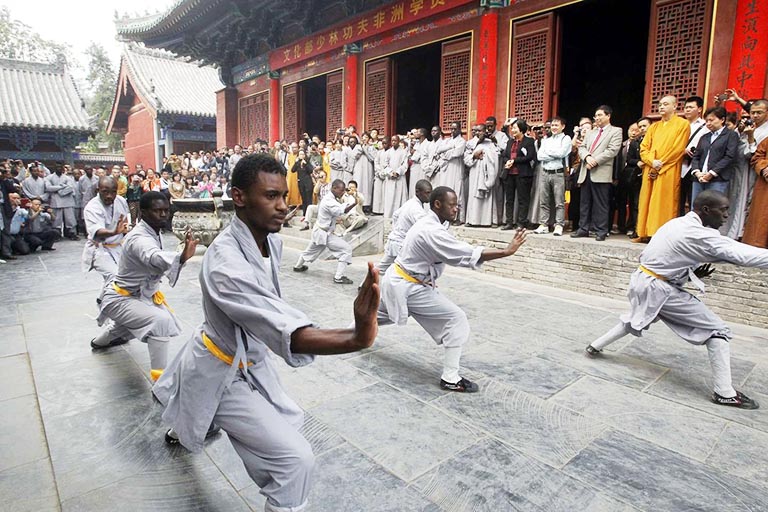 Foreigners Were Learning Shaolin Kung Fu
Type: UNESCO World Cultural Heritage, Cultural & Historical Site, Landmark
Location: at foot of Shaoshi Mountain, Mount Song, Dengfeng City, Zhengzhou City, Henan Province
Ticket: ¥80/person
Opening Hours: 07:30-18:00 (March-Nobember); 08:00-17:30 (December-Next February)
Recommended Length of Visit: 0.5 day ~ 1 day
Shaolin Temple (also called Shaolin Monastery, Monastero Shaolin) is the birthplace of Chinese Zen Buddhist culture and Chinese Kung Fu, which has been listed as a UNESCO World Cultural Heritage of Historical Monuments of Dengfeng in "The Center of Heaven and Earth". An old Chinese saying goes: "all martial arts under heaven originated from Shaolin and Shaolin Kung Fu is the best under heaven". Undeniably, Shaolin Kung Fu together with the Shaolin Temple is the No.1 must-see for each tourist to Henan.
Originally constructed in Northern Wei Dynasty, the main shrine was an internationally famous Zen Buddhist temple with over 1,500 years of history. The Pagoda Forest, mountain gate, paved corridor, Buddhist halls, pavilions and cave are all ancient sites with legendary Buddhist stories worthy your exploration. Sanhuang Village included in the entrance ticket presents you exotic mountain landform and trilling trails on the cliff.
Shaolin Temple today has become a prestigious sanctuary of learning Chinese Kung Fu and practicing Zen Buddhism. However, most people knew Shaolin Temple from famous Chinese movies and TV series depicting this excellent martial arts and industrious and brave Shaolin monks. As the oldest, largest and most famous Chinese Kung Fu style, Shaolin Kung Fu owns more than 700 patterns and perfectly combines Zen and martial arts to strengthen the body, calm mind, train self-discipline and self-defense. Regular sightseeing Shaolin Temple trip is done in one day and contains a visit of the temple complex and view of Shaolin Kung Fu show. Keen Chinese Kung Fu lovers can take short or long-period Kung Fu training class to learn some basic movements to fulfill your Kung Fu dream.
√ 2 Days Shaolin Temple Tour from Zhengzhou / √ 3 Days Shaolin Temple Longmen Grottoes Tour from Zhengzhou
√ 3 Days In-depth Shaolin Kung Fu Class Tour

Top 2: Appreciate the Remarkable Buddhist Art Gallery in Longmen Grottoes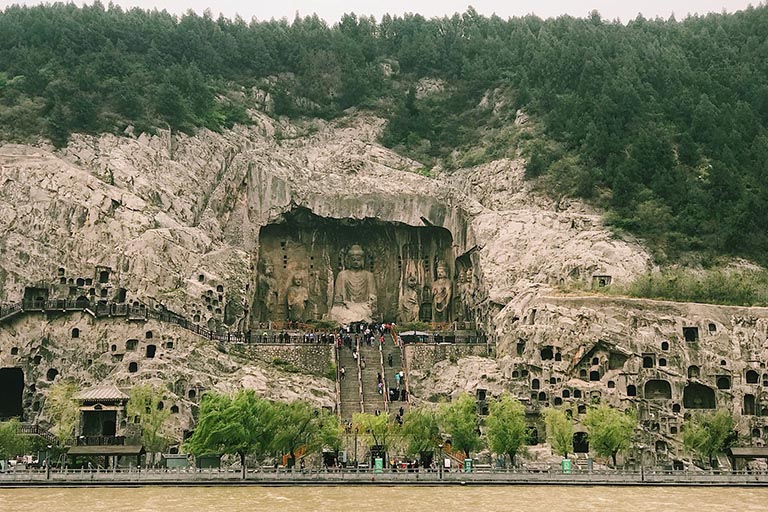 Longmen Grottoes in Luoyang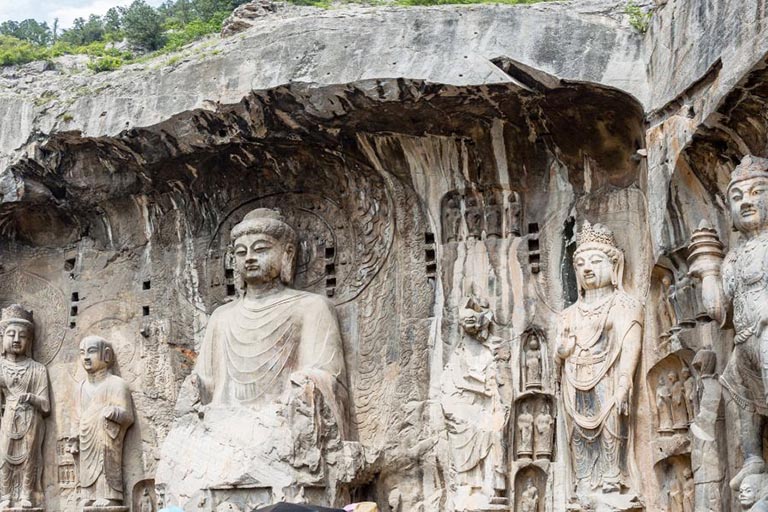 Giant Sitting Vairocana Buddha
Type: World Heritage, Historical Sites, Buddhist Spots
Location: No.13, Middle Longmen Street, Luolong District, Luoyang City, Henan Province
Ticket: ¥90/person
Opening Hours: 8:00-18:00 (February-March, October 8-October 31); 8:00-18:30 (April 1-October 7); 8:00-17:00 (November-January)
Recommended Length of Visit: half a day
Longmen Grottoes is one of the earliest and most framed Buddhist grottoes in China with the largest number of statues/carvings. Its history of excavation traced back to the Northern Wei Dynasty in late 5th century AD, peaked in Tang Dynasty and completed in the end of Qing Dynasty, lasting over 10 dynasties for more than 1,400 years. In the cliff stretching around 1 kilometer, there are 2,345 niches, over 100,000 statues/carvings and up to 2,860 ancient inscriptions preserved in Longmen Grottoes.
Though most Buddhist statues faded and head got damaged, you can still view massive fantastic sculptures by the river. Some carvings were made with exotic images and elements with Indian, Persia and Greece features. The most impressive and biggest one is the sitting Vairocana Buddha which was commissioned by Wu Zetian - China's first female emperor. Thus, folklore says the Buddha is a portrait of herself. Half a day or a few hours is enough to walk along the stairs to watch these marvelous artworks and craftsmanship.
√ 2 Days Luoyang Longmen Grottoes Tour / √ 3 Days Shaolin Kung Fu Tour including Luoyang Highlights
Top 3: Enjoy the Natural Beauty in World Geopark Yuntai Mountain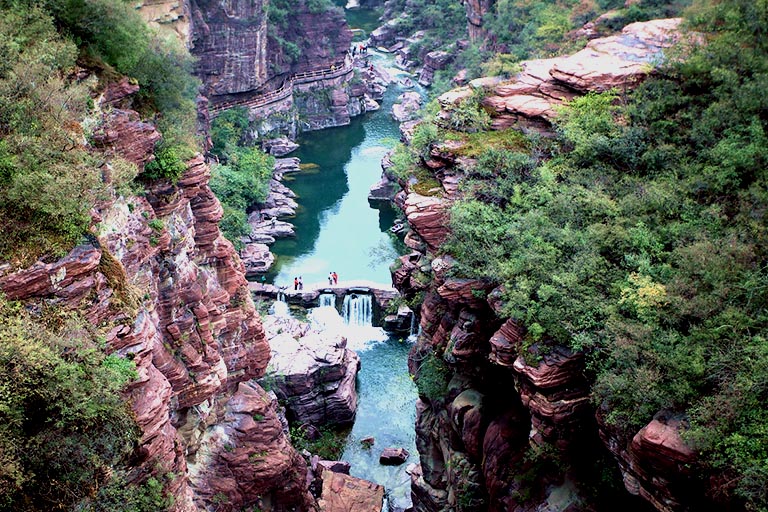 Hanging Temple on the Cliff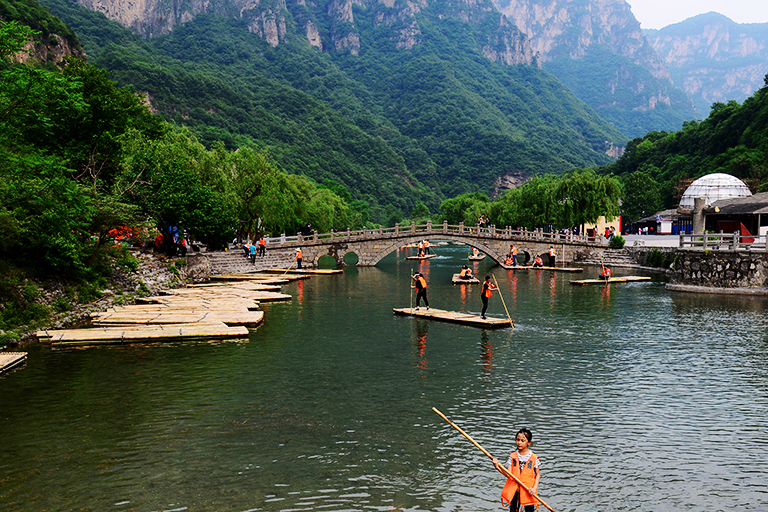 Greeny Water of Zifang Lake
Type: Eologic Formations, National Parks
Location: Shaqiang Village, Qixian Town, Xiuwu County, Jiaozuo City, Henan Province
Ticket: ¥80/person for admission and ¥60/person for sightseeing bus
Opening Hours: 07:00~16:00 (varying according the weather)
Recommended Length of Visit: 1 ~ 2 days
Almost 1.5 hours' drive from Zhengzhou Xinzheng International Airport, Yuntai Mountain (Yuntaishan Geopark) in Northwest Henan Province is becoming increasingly popular in recent years for nature lovers, hikers and geologists. This park, covering an area of 280 square kilometers, is a delightful natural park consisting of dramatic gorges, hanging waterfall, crystal clear lakes, misty peaks, temples and lush green vegetation, displaying a unique landscape of Taihang Mountains. Lower gorge walk and glass skyway mountain walk are the two best experiences here.
Main sights of Yuntai Mountain include Red Stone Gorge, Qinglong Gorge, Zhuyu Peak (elevation: 1,308 meters), etc. The lower location, red rocks (Danxia Landform), scattered 9 dragon ponds filled with emerald waters and 50-meter high White Dragon Waterfall are the most attractive essence in Red Stone Gorge. Climbing the so-called heavenly stairs up, you can visit Taoist temple on the summit and enjoy an amazing panoramic view of green mountains around. Besides, during your nature adventure, you may meet adorable wild macaque monkeys, see the 314-meter high Yuntai Waterfall, which is considered the tallest waterfall in China and peaceful Zifang Lake, and even try the thrilling glass bridge at 200 meters above the ground and find abundant geological remains, such as rock stratum existed 3.4 billion years ago.
Top 4: Have Fun in a Song Dynasty Historical Disneyland Millennium City Park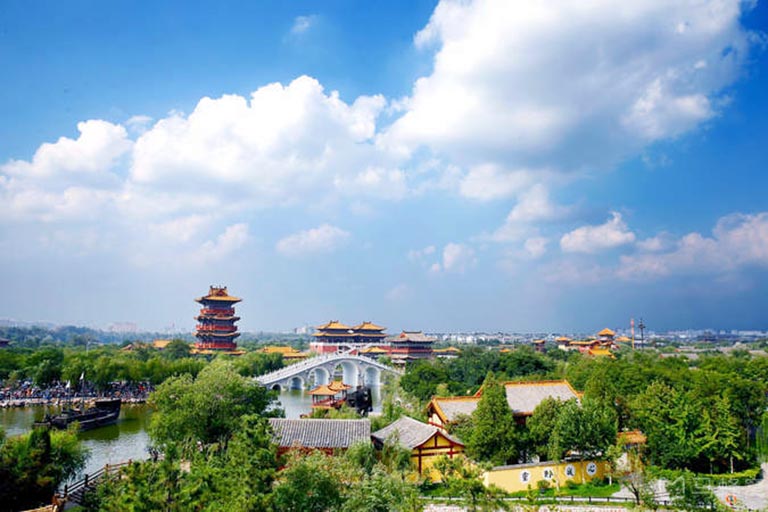 Architectures in Millennium City Park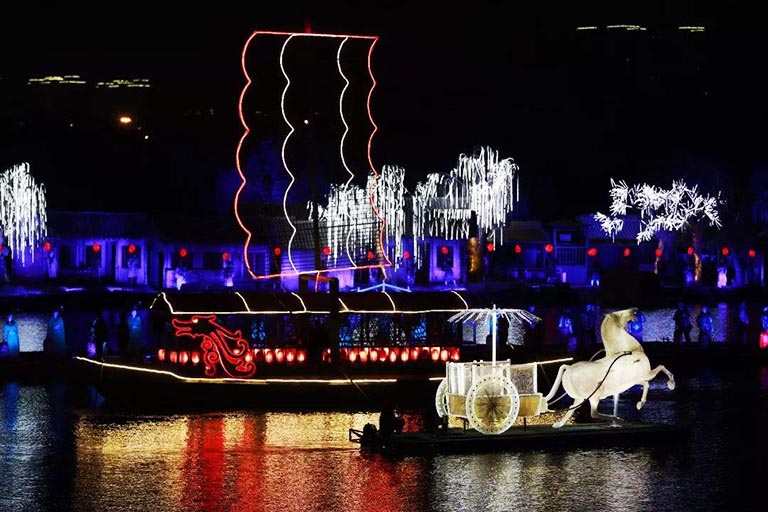 Night Show of Song Dynasty Dongjing Dream
Type: Historical Site, Park
Location: No.5, West Longting Road, Longting District, Kaifeng City, Henan Province
Ticket: ¥120/person
Opening Hours: 09:00-21:00
Recommended Length of Visit: 2 ~ 3 hours
Kaifeng was a busting international metropolis during the North Song Dynasty and that is strongly proved by the Chinese famous painting "Along the River during the Qingming Festival". Millennium City Park (also known as Qingming Riverside Landscape Garden) is constructed based on the painting, to unfold the urban layout, street commercial scenes and capital social life in ancient Kaifeng.
Inside the ancient style park, there are many ancient style buildings of different dynasties. Main sports include red Hongqiao Bridge crossing Biaohe River - one of China's top ten famous bridges where people and horse can walk on and boat can sail through, the big stone carving picture of "Along the River during the Qingming Festival", the three-storey Foyun Pavilion - the highest building built in Ming Dynasty style, 21.6-meter tall Shangshan Gate, Water Hall - a delicate royal opera palace and so on. Apart from seeing buildings, taking a boat trip, visitors can also watch the spectacular show of Song Dynasty Dongjing Dream, and over 20 local folk activities, costumed staff performing horse riding, Kaifeng Pan Drum, hand puppet, stilts, shadow puppet, fire-spitting, imperial examination, ancient battle, etc. Lantern show is scheduled during Chinese New Year.
√ 5 Days Henan Cultural Tour to Luoyang and Kaifeng / √ 6 Days Henan Highlights Tour
Top 5: Discover China's First Buddhist Temple White Horse Temple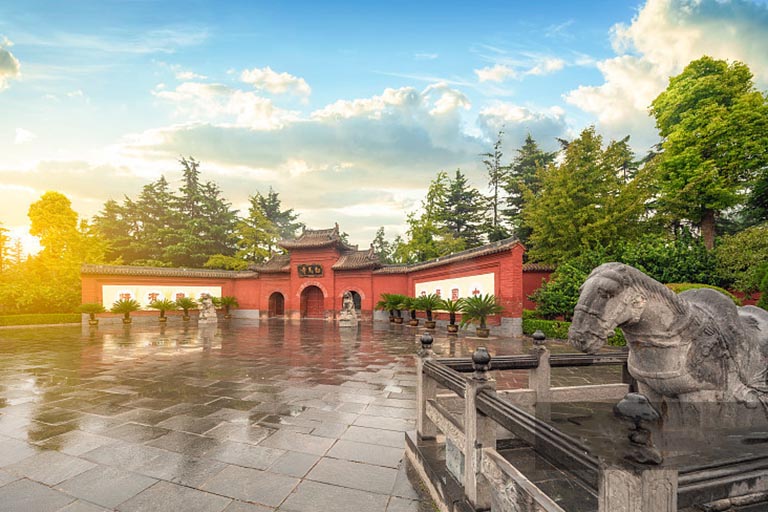 Front Gate of White Horse Temple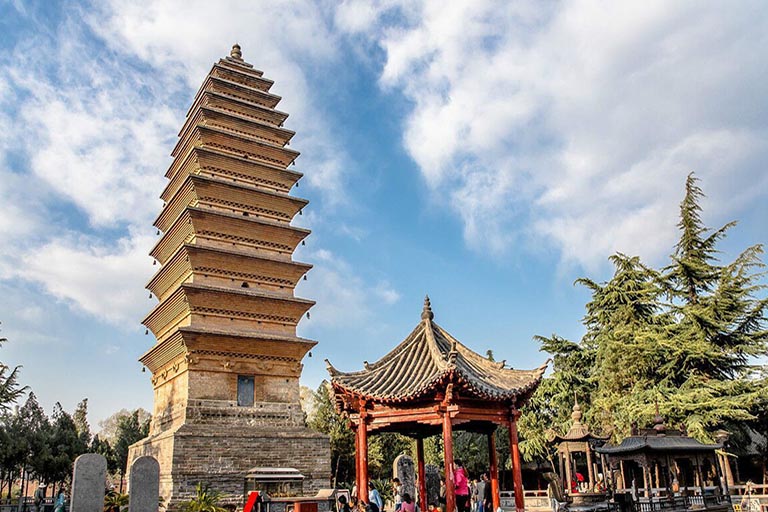 Qiyun Pagoda near White Horse Temple
Type: Historic Religious Site, Buddhist Site
Location: No.6, Luobai Road, Baimasi Town, Luolong District, Luoyang City, Henan Province
Ticket: ¥120/person
Opening Hours: 07:30-18:00 (a little Fluctuation with low/peak time)
Recommended Length of Visit: 2 ~ 3 hours
Built in 68 AD during the East Han Dynasty, White Horse Temple is the first Buddhist temple in China after the introduction of Buddhism, and an ancestral sanctum prompting spread of Buddhist into Japan, the entire Asia and Europe and America. The long history and influential role bring worldwide worship from Buddhist followers. Japan in late 19th century donated to reconstruct the Bell Tower and build a statue of Japanese Buddhist master. Later, Thailand, India and Burma funded to erect Buddhist halls, making White Horse Temple an international sacred Buddhist temple.
The temple compound is well-organized in primitive simplicity. Outside the entrance gate, there has newly built stone archway and arch bridge, two lifelike stone horses standing each side. After stepping inside, there are 5 main halls, 4 courtyards and some wing rooms located along the north-south central axis. Each hall honors Buddhist statues mostly from Yuan, Ming and Qing Dynasty.
Next to White Horse Temple, tourists can also visit Qiyun Pagoda Temple - the only nunnery in Henan Province. Qiyun Pagoda, the 13-story yellow stupa, is one of the earliest existing Jin Dynasty architecture in Luoyang.
√ 2 Days Luoyang Longmen Grottoes Tour / √ 3 Days Shaolin Kung Fu Tour including Luoyang Highlights
Top 6: Learn Best Essence of Henan's History & Culture in Henan Museum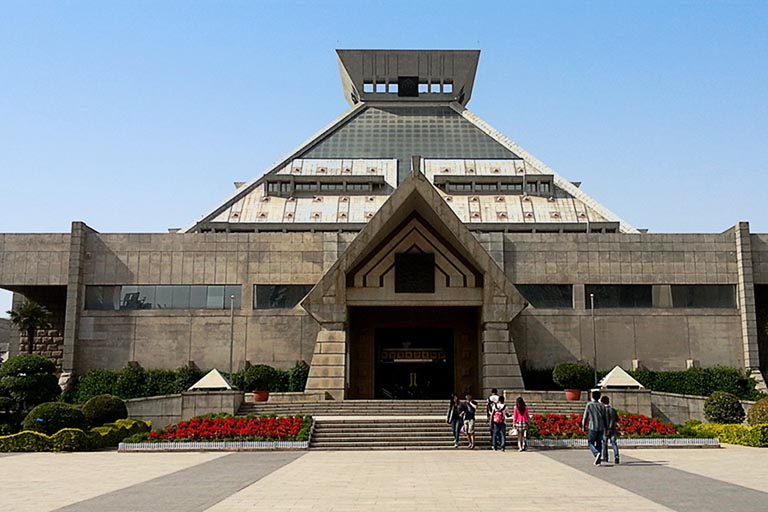 Main Hall of Henan Museum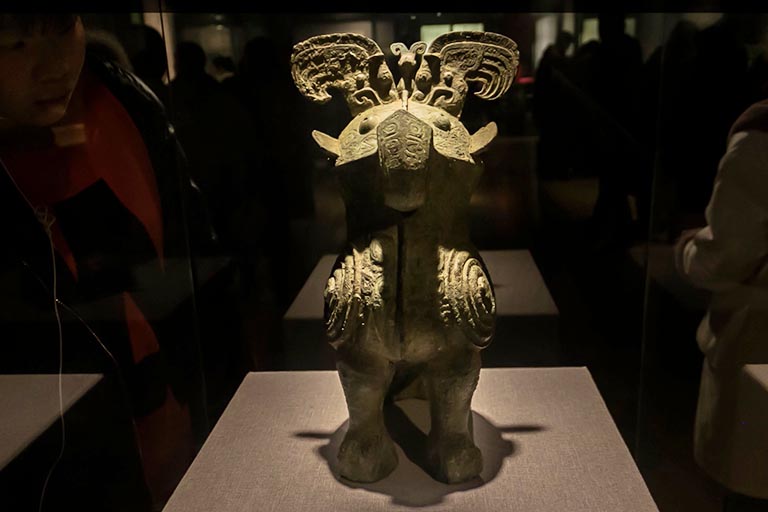 Wine Vessel Zun of Fuhao
Type: Museum, Landmark
Location: No.8, Nongye Road, Jinshui District, Zhengzhou City, Henan Province
Ticket: free
Opening Hours: 9:00-17:00 (closed on Monday, Chinese New Year's Eve and Chinese Lunar New Year's Day)
Recommended Length of Visit: 2 ~ 3 hours
Henan Museum in Zhengzhou is a large national modern comprehensive museum as well as a great exhibition window to know the 5,000 years' historical thread of Henan. Covering an area of over 100,000 square meters, the museum has a huge collection of over 170,000 cultural relics are displayed, mostly collected from Luoyang, Kaifeng, Anyang and other places in Henan during the early 20th century. Prehistoric relics, bronzes of the Shang and Zhou Dynasties, ceramics and jade wares are the most unique treasures in the pyramid-shaped main exhibition building.
At present, Henan Museum opens one permanent exhibition, one theme exhibition and one special exhibition of national cultural treasures. The permanent exhibition with 10 halls offers detailed introduction of the capital culture and social life in the Central Plains in seven periods. Various kinds of exquisite bronzes of Shang and Zhou Dynasties, oracle bone inscriptions of Yin Dynasties are the highlights you should take some time to meet. Henan During the Ming and Qing Dynasties, the special exhibition, explains the political history and economic culture of Henan during the two dynasties, by presenting ancient currencies, architectures, furniture, jewelries, etc. National treasures like Jiahu Bone Flute, Rectangular Bronze Wine Vessel with Lotus and Crane, Wine Vessel Zun of Fuhao, Wu Zetian's Golden Slip, Iron Sword with Jade Handle will be displayed in turns in the special exhibition. The museum still has ancient music performances at 11:00 and 16:00 between Tuesday and Sunday.
Top 7: Hike on Mount Song to See World Cultural Heritage Cluster with Magnificent Mountain Scenery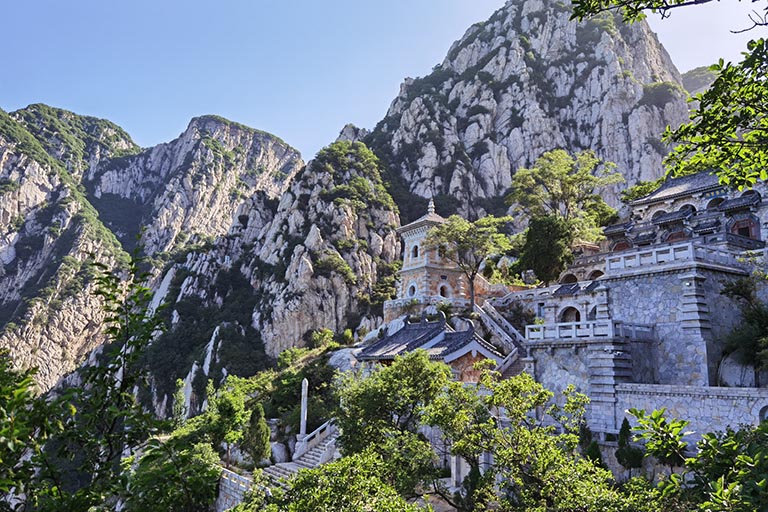 Sanhuang Village on Mount Song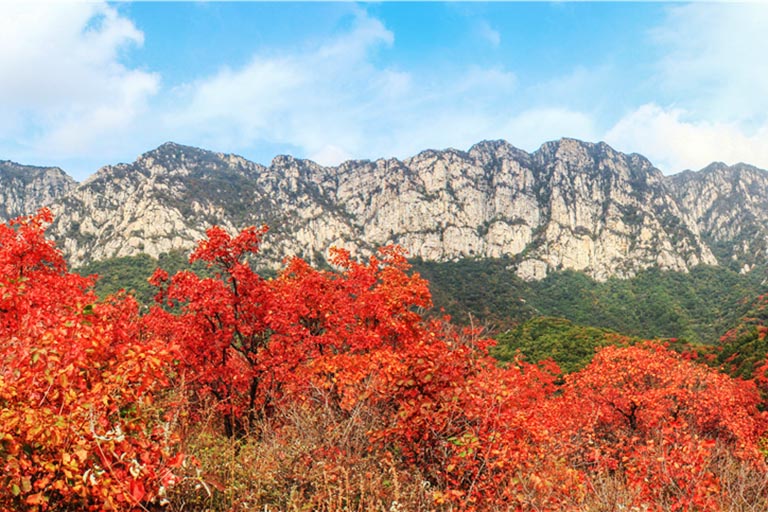 Pretty Autumn Scenery of Mount Song
Type: Mountains, Nature & Parks
Location: North of Intersection of Taishi Road and Binhe Road, Dengfeng City, Zhengzhou City, Henan Province
Ticket: Shaolin Temple Scenic Area (include Shaolin Temple, Pagoda Forest, Sanhuang Village): ¥80/person; Taishi Mountain Scenic Area (exclude Songyang Academy): ¥50/person; Zhongyue Temple: ¥30/person; Songyang Academy: ¥30/person
Opening Hours: 07:30-17:30
Recommended Length of Visit: 0.5 day ~ 1 day
Mount Song (or called Songshan), located between Luoyang and Zhengzhou, west of Henan Province, is the central mountain of the Five Great Moutains of China and the seat of most World Heritage sites of the Historical Monuments of Dengfeng in "The Center of Heaven and Earth".
With a total area of 450 square kilometers, Mount Song is comprised of Taishi Mountain and Shaoshi Mountain with 72 peaks. The highest point is Liantian Peak (elevation: 1,512 meters) on Taishi Mountain and Junji Peak (elevation: 1,491.7 meters) is the main peak. It was a vital barrier of ancient Luoyang and the birthplace of Chinese Zen Buddhism and a famous Taoist shrine where over 30 emperors and 150 renowned literati visited and praised. Up to 270 cultural relics (Shaolin Temple included) and numerous geological relics creates a charming and tridimensional vista.
There are three scenic areas on Mount Song, Shaolin Temple Scenic Area, Zhongyue Scenic Area and Songyang Scenic Area. Shaolin Scenic Area not only has Shaolin Temple, but also has China's largest Pagoda Forest, Sanhuang Village with majestic landform, Chuzu Temple, Erzu Temple, etc. Ceremonial complex in Zhongyue Scenic Area is the best example of Chinese ancient ancestral temples and a special expression of mountain worship. Zhongyue Temple is the best-preserved and largest architecture group in all five great mountains, because it keeps nearly 39 ancient palaces, halls and pavilions. Songyang Academy is a leading ancient school where Song neo-confucianism originated and many famous Confucianists taught here.
√ 2 Days Shaolin Temple Tour from Zhengzhou / √ 3 Days Luoyang Shaolin Temple Mount Song Hiking Tour
Top 8: Find the Ninth Wonder of the World at Guoliang Village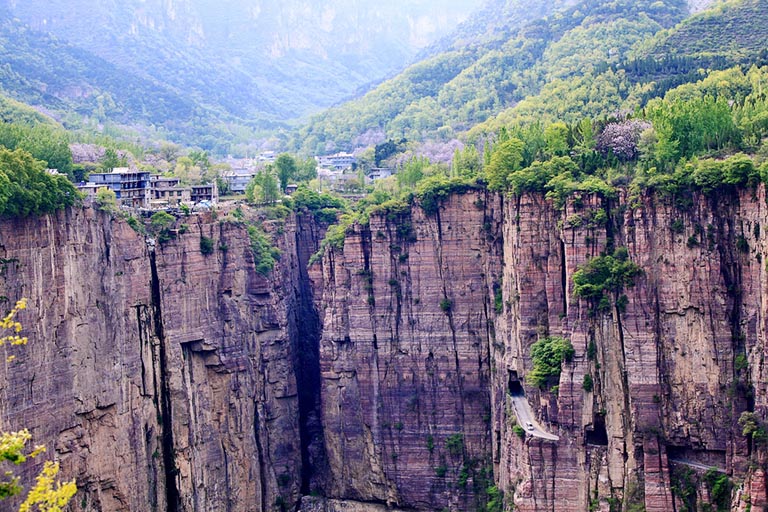 Guoling Village on the Vertical Cliffs
Spiral Tunnel Road to Guoliang Village
Type: Points of Interest, Sights & Landmarks
Location: Shayao Village, Northwest of Taihang Mountains, Hui County, Xinxiang City, Henan Province
Ticket: Shayao Village, Northwest of Taihang Mountains, Hui County, Xinxiang City, Henan Province
Opening Hours: 24 hours
Recommended Length of Visit: 1 ~ 2 days
Guoling Village (Guoliangcun) sitting on the cliff at 1,700 meters above sea level in Taihang Mountain, the north of Henan, is an inexplicable and very special attraction away from the city. The village and the hanging Guoliang Tunnel Road are part of the Wanxian Mountain Scenic Area and are the best places to capture the stunning mountain landscape.
The village is named after a peasant rebel who used the advantage of the terrain to make camouflage and succeeded in defeating the suppressers. Nowadays, there are only 83 families, over 300 villagers living here, and mostly are Shen family fled from Nanjing of Ming Dynasty.
With the entrance ticket, you can take a bus from the entry area to travel up to Guoliang Village by passing through the impressive tunnel road on tremendous cliffs. This section was dug on vertical cliffs by hands of 13 villagers for 5 years from 1972. A Japanese company marveled at this accomplishment and called it "the Ninth Wonder of the World". You can take a short walk in the stone-made village, view the simple village life and soak in undisturbed and rustic times. Then, you can take the bus back down to closely look and take photo of the tunnel road, feel the harsh environment and honor the local's endeavor to connect with outside world. Walk ingacross a bridge, you can get to the cliff on the other side and harvest a panoramic view of some tunnel roads winding in the sharp ledge.
√ 5 Days Hidden Guoliang Village Tour from Luoyang
Top 9: Trace Back to Henan 3300 Years Ago in Yin Dynasty Ruins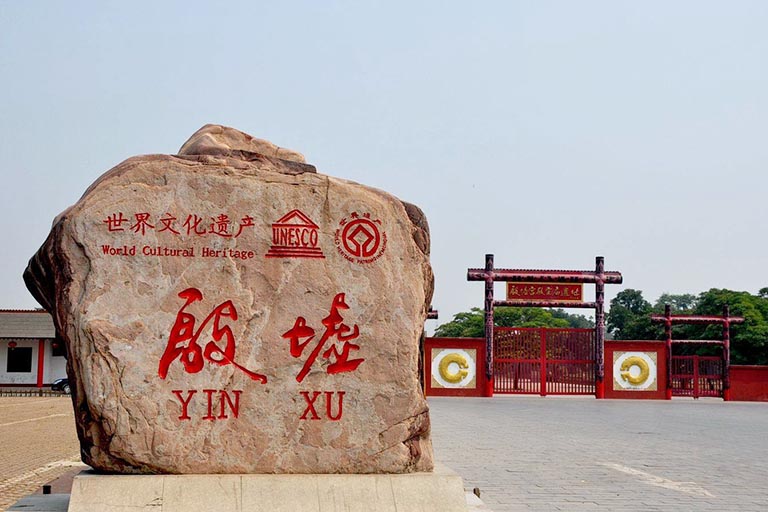 Entrance of Yin Dynasty Ruins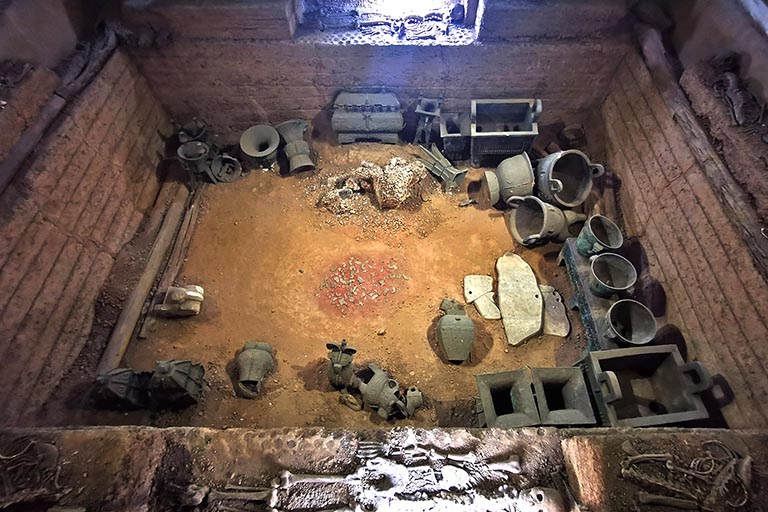 Buried Items in the Tomb of Fuhao
Type: UNESCO World Cultural Heritage, Cultural & Historical Site, Landmark
Location: No.1, Yinxu Road, Yindu District, Anyang City, Henan Province
Ticket: ¥70/person
Opening Hours: the Palace & Temple Site: 08:00-17:30 (July-September) & 08:00-17:00 (October-Next June); Royal Cemetery Site: 08:30-17:30 (July-September) & 08:30-17:00 (October-Next June)
Recommended Length of Visit: 1 ~ 3 hours
Yin Dynasty Ruins, or Yinxu, Ruins of Yin, is a celebrated archaeological site of late Shang Dynasty's ancient capital city, the only documented one in China that has been testified by archaeology and oracle bone inscriptions. A lot of architectural ruins, oracle bone inscriptions, bronzes excavated in Yinxu systematically present the high skilled craftsmanship and social life of late Shang Dynasty 3,300 years and thus was rated as a leading Chinese archaeological find in the 20th century.
The Sites of Palace & Temple and Royal Cemetery are the two main places to visit in Yinxu. There are defensive ditches surrounding the west and south sides of the Site of Palace & Temple. In this 71.5-hectare area, you can see over 80 ancient buildings, including imperial palaces and ancestral temples. The Tomb of Fu Hao, discovered together with 16 funeral people, nearly 2,000 relics (468 bronzes, 755 jade wares and 564 bone objects) there is the only intact tomb of royal family of the Shang Dynasty. Cellar holes distribute around have unearthed about 15,000 oracle bones. While in the Site Royal Cemetery, large number of tombs, accompanied tombs, sacrificial pits, delicate bronzes, stone vessels, animal bones, etc., prove it the real location of imperial tomb, traditional funeral culture of ancient China. China's heaviest bronze - Houmuwu Ding (now exhibited in National Museum of China) was founded in the east of the imperial tomb.
√ 6 Days Henan Highlights Tour (Zhengzhou/Anyang/Kaifeng/Dengfeng/Luoyang)
Top 10: Marvel at the Efficient & Scenic Water Conservancy Project of Yellow River at Xiaolangdi Dam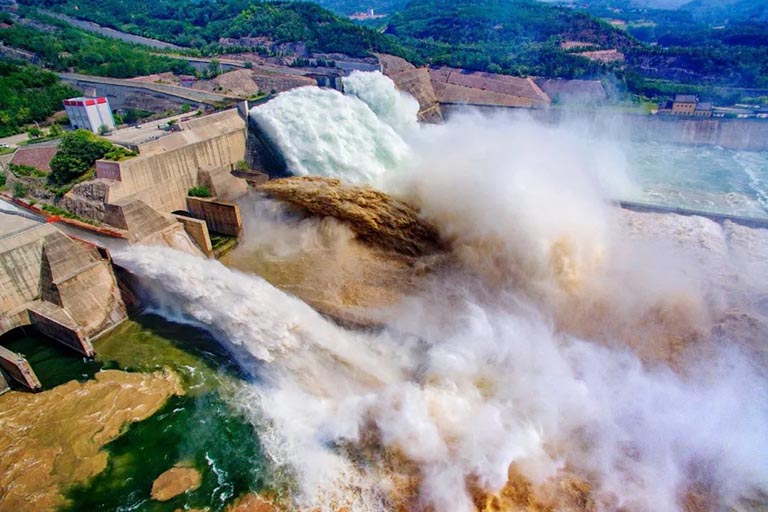 Flood Releasing of Yellow River at Xiaolangdi Dam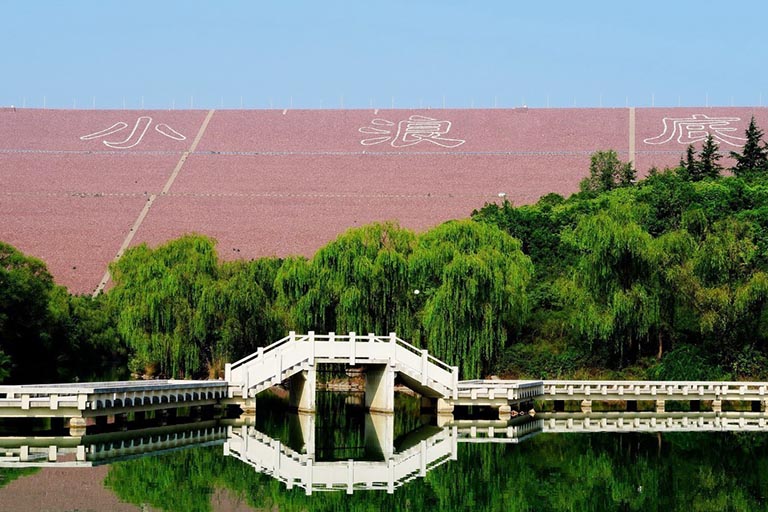 Clean Water in Xiaolangdi Dam
Type: Reservoir, Water Engineering, Lake, Wetland Park
Location: Xiaolangdi Village, Xiaolangdi Town, Mengjin County, Luoyang City, Henan Province
Ticket: ¥40/person
Opening Hours: 07:30-18:30
Recommended Length of Visit: 1 ~ 4 hours
Located about 40 km north of Luoyang, Xiaolangdi Dam (Xiaolangdi Reservoir) is a large comprehensive hydraulic engineering in the middle reaches of the Yellow River. Yet, it's a national AAAA tourist spot and one of the most popular attractions of Henan which enjoys title of "Little Thousand Island Lake".
This dam was completed in 2001 after 11 year's endeavor, with a height of 154 meters and 864 meters wide base. It can control 92.3% drainage area of the yellow river. Tourists are often surprised to witness such giant water engineering and curious about its working principle. The most magnificent sight is the releasing flood by opening the dam during July to October. Huge amount of yellow waters roars and gallops though narrow water-gates, offering a deafening and mighty water scene. Sludge will be subsided upstream, so in the downstream, you can see a different clean and green Yellow River. Visiting the exhibition museum in advance helps you further know the project.
√ 3 Days Luoyang Culture & Nature Appreciation Tour
Top 11: Watch Authentic Shaolin Kung Fu Show in Dengfeng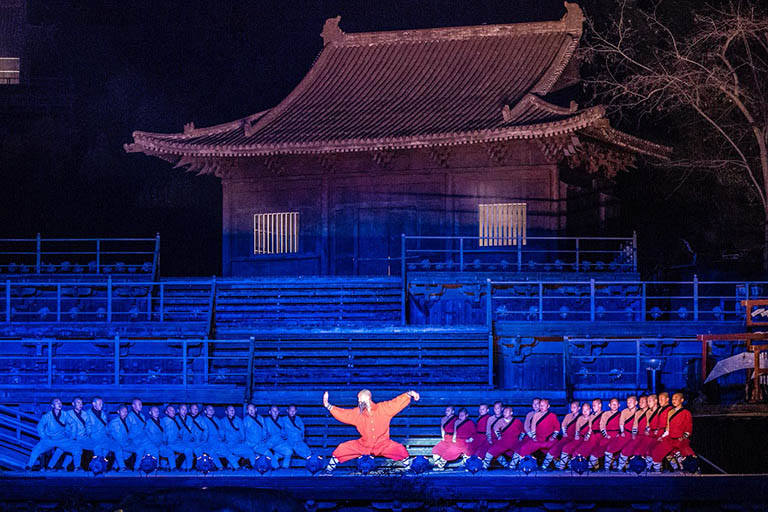 Zen Shaolin Kung Fu Show & Music Ceremony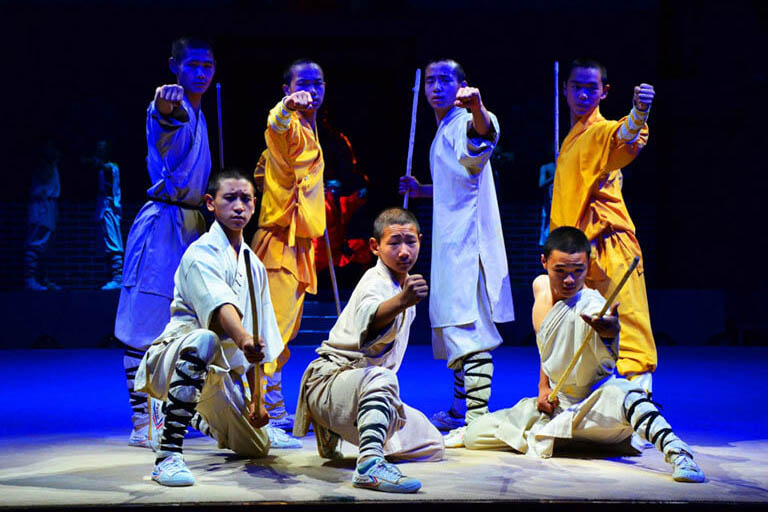 Kungfu Show Performed by Young Disciples of Shaolin Temple
Performance time: 20:00 - 21:15 (March to December)
Location: Dai Xian Gou scenic spot 10 km west of Dengfeng City, Zhengzhou City, Henan Province, about 7km away from Shaolin Temple (the driving distance is about 12km)
Ticket: CNY 269-999
How can one skip Shaolin Kung Fu when he is in Henan? Compared with watching Kung Fu movies, enjoying an on-site grandiose Shaolin Kung Fu Show will give you a deeper impression of the amazing martial arts.
Currently, there are two places to watch Kung Fu Show in Dengfeng, one is inside the Shaolin Temple scenic area in a small martial arts hall and it's usually free to go in the daytime, and another one, called Zen Shaolin Kung Fu Show & Music Ceremony is on a large scale and only scheduled to perform at night with over 600 Kung Fu performers. This performance combines wonderful Shaolin Kung Fu with profound Buddhist Zen culture, fascinating music, beautiful natural scenery, as well as advanced lighting systems. It is the largest outdoor night live Kung Fu performance in the world shows the landscape changes in four seasons with Guzheng (traditional Chinese instrument) performances and nearly 600 people performing Zen and martial arts.
Top 12: Attend Peony Festival in Luoyang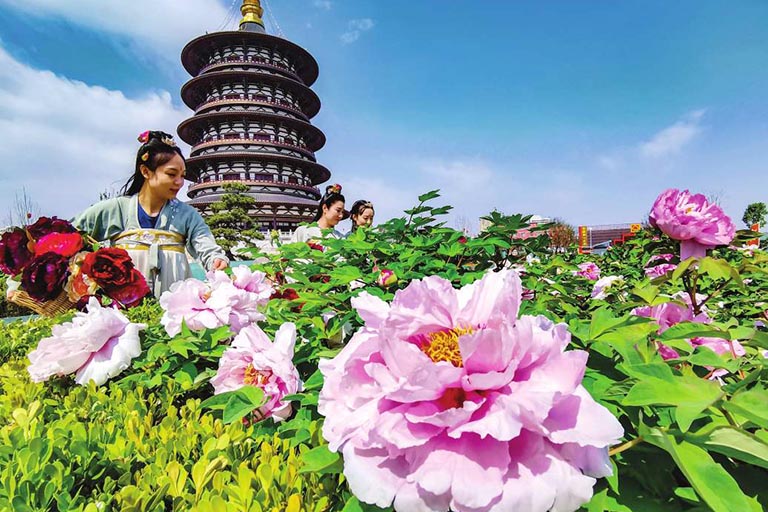 Gracious Luoyang Peony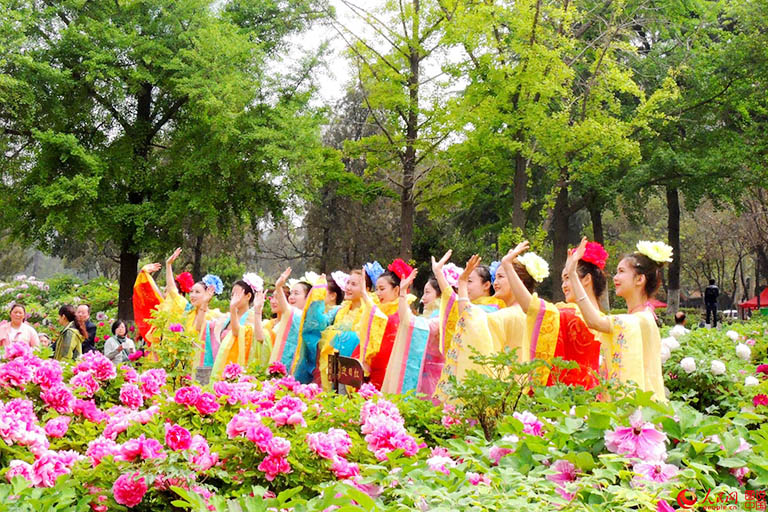 Appreciating Peony at Wangcheng Park
When is the Festival: April to early May
Recommended Luoyang Peony Gardens: XWangcheng Park, China National Flower Garden, Sui and Tang Dynasties Town Botanical Garden, etc.
Ticket: usually CNY 30-50
Recommended Length of Visit: 2 ~ 3 hours
In Chinese culture, the gracious peony is the symbol of prosperity. Luoyang, as the capital of China for 13 dynasties in the history, is the city of peony flowers. Luoyang Peony Festival has been held for about 40 years and has become a namecard of Luoyang and an important gala for both Luoyang locals and tourists. Visiting Luoyang during the festival, you can not only appreciate distinctive attractions such as Longmen Grottoes and White Horse Temple, but also be immersed in the world of peonies and discover a most colorful Luoyang.
There are many parks and gardens in Luoyang where you can have a look at the peonies. Wangcheng Park is usually the main venue of Luoyang Peony Festival and there will be some peony-themed performances. China National Flower Garden is the largest specified peony garden in China. Sui and Tang Dynasties Town Botanical Garden is one of the gardens that have the most peony varieties. Luoyang International Peony Garden is where you will still have a chance to see the blooming peonies in May.
√ 3 Days Luoyang Peony Culture Festival Tour
More Henan Tourist Attractions to Visit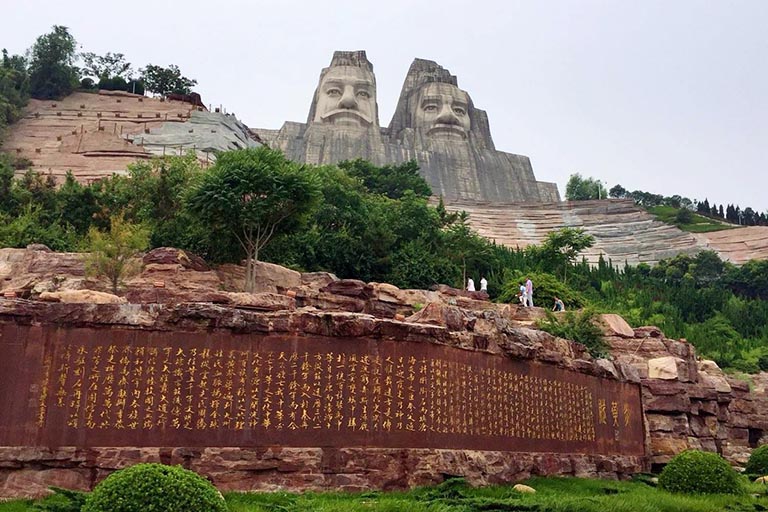 Statue of Yellow Emperor in Yellow Scenic Area, Zhengzhou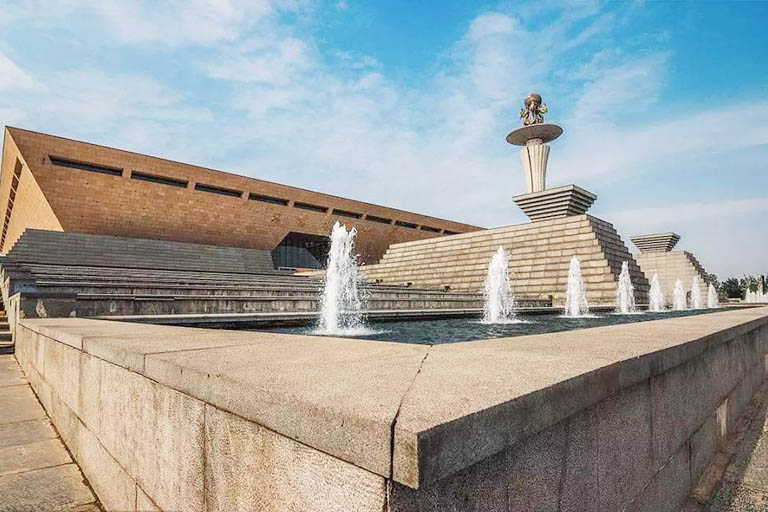 Luoyang Museum
Above-mentioned most popular attractions best suits for first-time travelers with limited time and energy. Actually, Henan provides far more than that. If time allows, you can spend some time visiting other spots in each destination, such as Luoyang Museum, Laojun Mountain, Guanlin Temple, Luoyang Old Town, Emperor Carriage (Tianzijialiu) Museum in Luoyang; Henan Geological Museum, Zhengzhou Museum, Erqi Memorial Tower, Yellow River Scenic Area in Zhengzhou; Dragon Pavilion Park, Iron Pagoda Temple, Memorial Temple of Lord Bao, Kaifeng House, Kaifeng Museum, Kaifeng Ancient City Wall in Kaifeng and so forth.
How to Plan Your Henan Tour
Top Places to Visit in Henan: Shaolin Temple (Dengfeng), Longmen Grottoes & White Horse Temple (Luoyang), Yuntai Mountain (Jiaozuo), Guoliang Village (Xinxiang)…
Best Time to Visit Henan: April ~ May & September ~ November for most places; March ~ October for Shaolin Temple
How to Get to Henan: Take flight to Zhengzhou or high speed train to Zhengzhou and Luoyang from Beijing, Xian, etc.
As a cradle of Chinese civilization, Henan is a splendid land with innumerable cultural and historical legacies and natural sights. According to your time and personal interest and budget, your Henan tour can be flexibly arranged, from 2 days' best highlights tour of Shaolin Temple and Luoyang to essence-packed trip within 1 week.
Usually, tourists spend 2 days visiting Luoyang and Shaolin Temple together and spending 1 day each, excluding the arrival day. This classic and popular travel route will bring you to visit Longmen Grottoes and White Horse Temple in Luoyang. And then transfer to Shaolin Temple directly; use 1 full day to realize your Chinese Kung Fu dream by visiting the birthplace of Shaolin Kung Fu and watching a Kung Fu show. (Kung Fu training class are available in some martial arts schools near Shaolin Temple, please contact us to get more reliable recommendations.) If you want to travel at a leisurely pace in Luoyang or Shaolin Temple, it's suggested to have 1 to 2 more days to visit Luoyang Museum and other cultural relics in Luoyang, or try a short-term Shaolin Kung Fu training class around Shaolin Temple.
✔ 3 Days Shaolin Temple Longmen Grottoes Tour from Zhengzhou
✔ 3 Days Essence of Luoyang Tour
With 5 to 6 days and strong interests in Henan's history, you can extend trip further from Zhengzhou to Kaifeng and Anyang - two famous Chinese ancient capitals. Making a day trip is the most common schedule for each place. If you would like to see gorgeous scenic spots in Henan, maybe you can have a day tour to Yuntai Mountain or Guoliang Village which both show amazing landform, green mountains and refreshing nature.
✔ 6 Days Henan Highlights Tour (Zhengzhou/Anyang/Kaifeng/Dengfeng/Luoyang)
✔ 5 Days Henan Cultural Tour to Luoyang and Kaifeng
Close distance, convenient transportation and inherited history make Beijing and Xian perfect matches of Henan. So you can capture more brilliant cultural heritages, like the Great Wall in Beijing, Terracotta Army in Xian. A popular Beijing tour needs 3 days while 2 days is suitable for Xian. To make your China trip more meaningful, interesting and memorable, you may travel Henan with more fabulous destinations, like Shanghai (the Bund, Yuyuan Bazzar…), Chengdu (Giant Panda, Jiuzhaigou, Mount Emei, Leshan Giant Buddha), Guilin (Li River, Longsheng Rice Terrace…) and so on.
✔ 5 Days Luoyang Shaolin Temple Tour from Xian
✔ 8 Days China Ancient Capitals Tour (Beijing/Luoyang/Xian)
✔ 12 Days Unforgettable Kung Fu Panda Tour
✔ 15 Days China Kung Fu Panda Family Tour
Our Customers visited Pagoda Forest of Shaolin Temple
China Discovery Customized Luoyang Longmen Grottoes Tour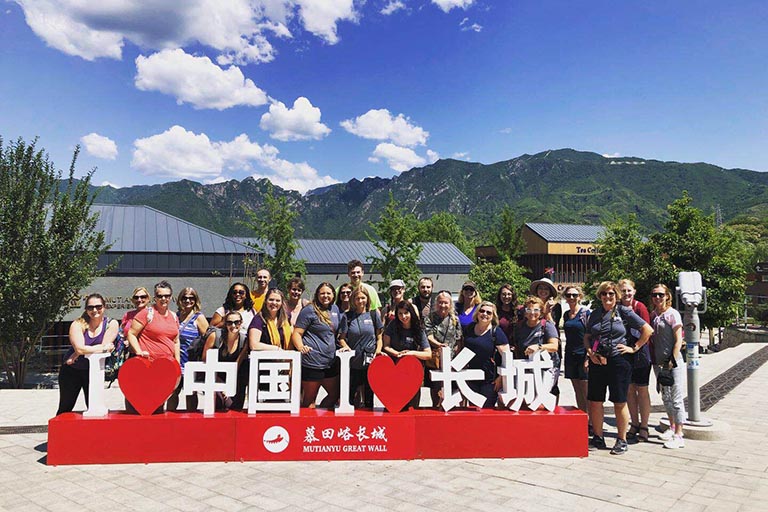 Our American Tour Group Enjoyed Mutianyu Great Wall Tour in Beijing
Travel with China Discovery
China Discovery is an experienced, professional and a reliable travel companion devoted to offering high-quality and the best tour services for all travelers to China. In order to have a hassle-free travel and focus on the trip itself, it's highly recommended travelling with China Discovery. So, you can enjoy convenient airport pick-up and drop-off service and transportation to all scenic spots in a safe, clean, comfortable, air-conditioned and non-smoking vehicle. Also, we will arrange knowledgeable local tour guide, excellent accommodation and dining arrangements to ensure you rest well and get better understanding of Buddhism, Shaolin Zen and Kung Fu culture of Henan. You may select a favorite from our most popular Henan tours or contact us to design a unique itinerary according to your personal time and preference.
We have helped many global travelers enjoy their memorable wonderful trips to Henan for the past few years. Among them, a couple from the UK traveled with us and spent 21 Happy Days in Luoyang, Dengfeng, Beijing, Xi'an and 5 Other Cities in Northern China, and shared us their special travel story!
Moreover, we got more than 1,620+ good reviews on TripAdvisor.com, and over 3,310+ China travel reviews from our customers. Travel with China Discovery to create your great China trip memories!
Helpful Henan Travel Guide
Recommended Henan Tours
Top 3 Henan tours chosen by most customers to explore Henan in the best way. Check the detailed itinerary, or tailor your own trip now with us.
3 Days Shaolin Temple Longmen Grottoes Tour from Zhengzhou

Zhengzhou / Shaolin Temple / Luoyang
2 Days Luoyang Longmen Grottoes Tour

Luoyang / Dengfeng / Luoyang
5 Days Henan Cultural Tour to Luoyang and Kaifeng

Zhengzhou / Kaifeng / Dengfeng / Luoyang
Start planning your tailor-made holiday to China by contacting one of our specialists. Once inquired, you'll get a response within 0.5~23.5 hours.
Customize a Trip
Have a question? Get answers from our travel experts or guests
Your Question:

Your Name:

Your Email: