Henan Maps 2023: Updated, Detailed and Downloadable
Henan is a big province with many things to see and to do. It attracts travelers mostly with its long history and rich culture. To help you better plan a Henan tour, transfer between Henan and its neighboring provinces easier as well as explore the highlighted attractions more efficiently, we have selected some useful Henan Maps including Henan Location Maps, Henan Tourist Maps, Henan Travel Maps, etc. for you! All the following Henan maps are detailed, downloadable and printable! Please feel free to use them when planning your amazing Henan trip!
Henan Location Map – Where is Henan
Henan is a landlocked province located in the central plains of China, with Shanxi Province and Hebei Province in north, Shaanxi Province in west, Hubei Province in south, and Anhui Province and Shandong Province in east. It enjoys a diverse landscape with floodplains in the east and mountains in the west. Many tourists travel Henan with its neighbors, like Xian in Shaanxi, Datong and Pingyao in Henan, or Qingdao, Qufu, Mount Tai in Shandong, etc.
Most Popular Henan Tours:
Henan Travel Maps
As an important cradle of Chinese civilization, Henan is dotted with many worth-visiting places which allow you to explore China's history and culture. The most popular travel destinations of Henan include Luoyang (Longmen Grottoes, White Horse Temple, Luoyang Museum), Zhengzhou (Shaolin Temple, Henan Museum), Kaifeng (Millennium City Park), Jiaozuo (Yuntai Mountain), Xinxiang (Guoliang Village), Anyang (Yinxu Ruins), etc.
Helpful Henan Travel Guide and Popular Destinations:
Regional Travel Maps of Henan
Luoyang Henan Maps
Zhengzhou Henan Maps
Dengfeng (Shaolin Temple) Henan Maps
All Regional Travel Maps of Henan:
How to Plan Your Henan Tour
Top Places to Visit in Henan: Shaolin Temple (Dengfeng), Longmen Grottoes & White Horse Temple (Luoyang), Yuntai Mountain (Jiaozuo), Guoliang Village (Xinxiang)…
Best Time to Visit Henan: April ~ May & September ~ November for most places; March ~ October for Shaolin Temple
How to Get to Henan: Take flight to Zhengzhou or high speed train to Zhengzhou and Luoyang from Beijing, Xian, etc.
As a cradle of Chinese civilization, Henan is a splendid land with innumerable cultural and historical legacies and natural sights. According to your time and personal interest and budget, your Henan tour can be flexibly arranged, from 2 days' best highlights tour of Shaolin Temple and Luoyang to essence-packed trip within 1 week.
Usually, tourists spend 2 days visiting Luoyang and Shaolin Temple together and spending 1 day each, excluding the arrival day. This classic and popular travel route will bring you to visit Longmen Grottoes and White Horse Temple in Luoyang. And then transfer to Shaolin Temple directly; use 1 full day to realize your Chinese Kung Fu dream by visiting the birthplace of Shaolin Kung Fu and watching a Kung Fu show. (Kung Fu training class are available in some martial arts schools near Shaolin Temple, please contact us to get more reliable recommendations.) If you want to travel at a leisurely pace in Luoyang or Shaolin Temple, it's suggested to have 1 to 2 more days to visit Luoyang Museum and other cultural relics in Luoyang, or try a short-term Shaolin Kung Fu training class around Shaolin Temple.
✔ 3 Days Shaolin Temple Longmen Grottoes Tour from Zhengzhou
✔ 3 Days Essence of Luoyang Tour
With 5 to 6 days and strong interests in Henan's history, you can extend trip further from Zhengzhou to Kaifeng and Anyang - two famous Chinese ancient capitals. Making a day trip is the most common schedule for each place. If you would like to see gorgeous scenic spots in Henan, maybe you can have a day tour to Yuntai Mountain or Guoliang Village which both show amazing landform, green mountains and refreshing nature.
✔ 6 Days Henan Highlights Tour (Zhengzhou/Anyang/Kaifeng/Dengfeng/Luoyang)
✔ 5 Days Henan Cultural Tour to Luoyang and Kaifeng
Close distance, convenient transportation and inherited history make Beijing and Xian perfect matches of Henan. So you can capture more brilliant cultural heritages, like the Great Wall in Beijing, Terracotta Army in Xian. A popular Beijing tour needs 3 days while 2 days is suitable for Xian. To make your China trip more meaningful, interesting and memorable, you may travel Henan with more fabulous destinations, like Shanghai (the Bund, Yuyuan Bazzar…), Chengdu (Giant Panda, Jiuzhaigou, Mount Emei, Leshan Giant Buddha), Guilin (Li River, Longsheng Rice Terrace…) and so on.
✔ 5 Days Luoyang Shaolin Temple Tour from Xian
✔ 8 Days China Ancient Capitals Tour (Beijing/Luoyang/Xian)
✔ 12 Days Unforgettable Kung Fu Panda Tour
✔ 15 Days China Kung Fu Panda Family Tour
Our Customers visited Pagoda Forest of Shaolin Temple
China Discovery Customized Luoyang Longmen Grottoes Tour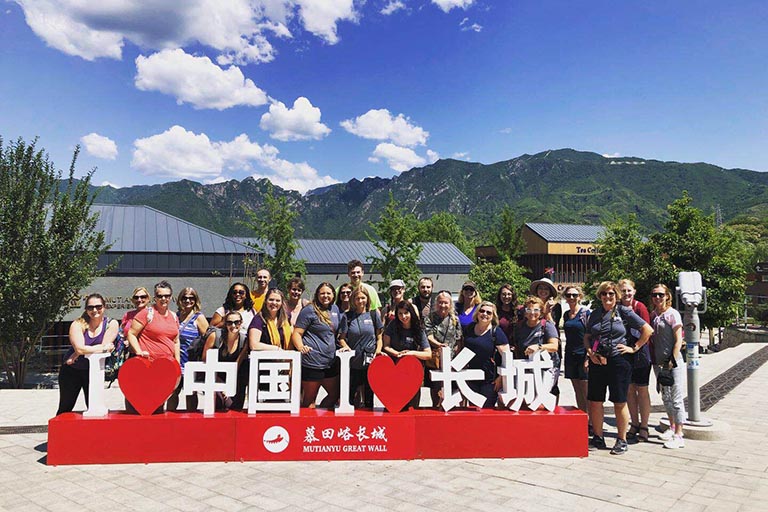 Our American Tour Group Enjoyed Mutianyu Great Wall Tour in Beijing
Travel with China Discovery
China Discovery is an experienced, professional and a reliable travel companion devoted to offering high-quality and the best tour services for all travelers to China. In order to have a hassle-free travel and focus on the trip itself, it's highly recommended travelling with China Discovery. So, you can enjoy convenient airport pick-up and drop-off service and transportation to all scenic spots in a safe, clean, comfortable, air-conditioned and non-smoking vehicle. Also, we will arrange knowledgeable local tour guide, excellent accommodation and dining arrangements to ensure you rest well and get better understanding of Buddhism, Shaolin Zen and Kung Fu culture of Henan. You may select a favorite from our most popular Henan tours or contact us to design a unique itinerary according to your personal time and preference.
We have helped many global travelers enjoy their memorable wonderful trips to Henan for the past few years. Among them, a couple from the UK traveled with us and spent 21 Happy Days in Luoyang, Dengfeng, Beijing, Xi'an and 5 Other Cities in Northern China, and shared us their special travel story!
Moreover, we got more than 1,580+ good reviews on TripAdvisor.com, and over 3,270+ China travel reviews from our customers. Travel with China Discovery to create your great China trip memories!
Helpful Henan Travel Guide
Recommended Henan Tours
Top 3 Henan tours chosen by most customers to explore Henan in the best way. Check the detailed itinerary,or tailor your own trip now with us.
8 Days China Ancient Capitals Tour

Beijing / Luoyang / Xian
15 Days China Kungfu Panda Family Tour

Beijing / Luoyang / Xian / Chengdu / Guilin / Shanghai
11 Days Essence of China Culture Tour by Bullet Trains

Beijing / Pingyao / Xian / Luoyang / Shanghai