Top 8 Things to Do in Harbin in Winter
Sometime around the end of November, Harbin, the city in the northeastern part of China, turns into a snow-covered festival paradise practically overnight. Then snow and ice lovers take out their winter gears - insulated boots, jacket, gloves, layered clothing, thermal underwear, wool socks and hat - and pack them all into their trolley suitcases. Once the annual Harbin International Ice & Snow Festival opens, they will jump on a flight or high speed train and start their long-awaited winter tour!
Harbin is such a wonderland to make the cold season fun and festive, so whether you are outdoors braving the chilly temperatures or indoors and safe from the cold, there are a variety of activities to keep you busy during this time. The Ice & Snow Festival is the highlight of the city, but not the all! Check our pick of 8 best things to do in winter and travel Harbin right now!
1. Appreciate Grand Snow & Ice Sculptures Lit up with Sparkling Lights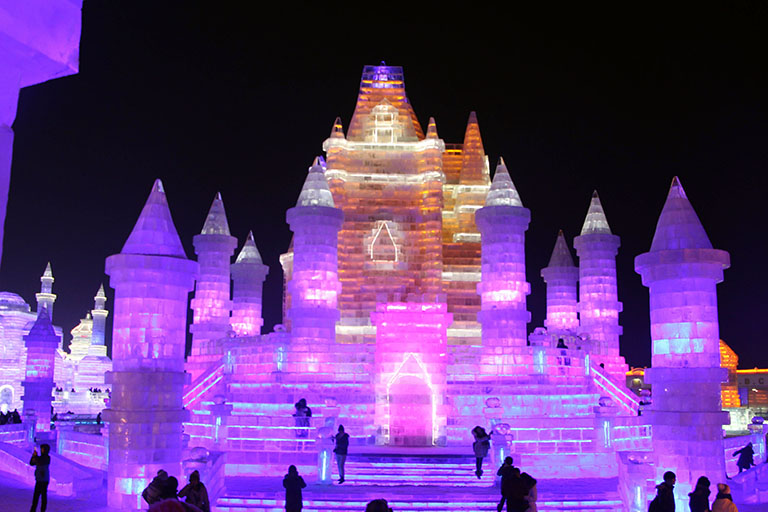 Ice and Snow Festival
Castles have been ready for you, don't you want to go in and have a look? The annual Harbin Ice & Snow Festival transforms the city into a frozen winter wonderland. Enormous sculptures created from large ice blocks and tons of snows spread almost every tourist spot of Harbin, especially Harbin Ice and Snow World. These elaborate ice buildings and intricately carved sculptures include full-sized ice buildings which means you can walk around them like a real city. Besides, there are also ice and snow sculptures in smaller size, which have recreated animals and architectural wonders! Whether strolling around an ice and snow kingdom of over 600,000 square meters or taking a whirl on an ice slide, the festival offers a joyful look at winter.
Warm Tip: The annual festival officially runs from January 5 to February 5 but some attractions open to visitors before the opening ceremony. The dates vary by year, so be sure to check before you go.
2. Go Thrilling Snow Skiing at One of the Many Ski Resorts
Yabuli Ski Resort
Skiing is such an adrenalin rush at all ability levels. Never mind you are beginners, immediate or more advanced skiers, skiing is fun for everyone and has a challenge for everyone too. If you're a beginner, just putting on the skis for the first time and learn to walk in the snow with the boards can be such a thrill. And when you successfully make your first turn on a green slope, your will feel extremely happy. For professional skiers rushing down from the higher regions of a mountain to the lower regions in speed, you will feel like you are flying as a bird!
There are countless great ski resorts for you to experience skiing in and around Harbin City, but the Yabuli Ski Resort, located about 230km away from Harbin downtown, is the best professional one with altogether 17 ski trails for all levels of skiers to have fun. If you are planning a tour to Harbin and knee on skiing, Yabuli should be on your travel list.
More: Top 5 Ski Resorts in Harbin
3. Wrap up Warm for a Wintry Walk in One of Harbin's Parks or Streets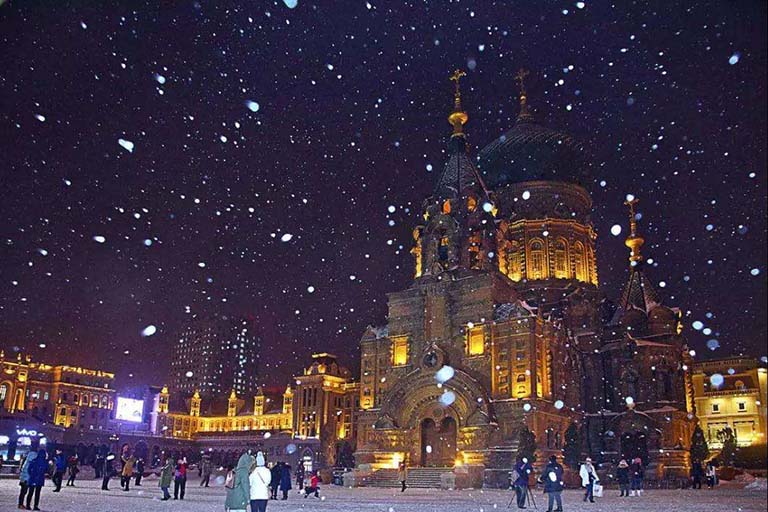 Saint Sophia Cathedral
The best way to know a city must be on foot! Strolling in misty Harbin City while surrounded by swirls of falling snowflakes is something you shouldn't miss! Though the weather may be a little bit cold in winter, but the warm and delicious local dishes and snacks will drive the cold away.
With elegant buildings in European styles standing on the two sides, Zhongyang Pedestrian Street in the city center area is somewhat the best place for a short walk in Harbin. When walking along this cobble-stoned street, you will also feel like you are somewhere in Russia, as you can find many Russian souvenir shops, restaurants and ice cream stores there. St.Sophia Church, Zhaolin Park and Stalin Park are also within walking distance from the street.
Warm tip: Dress as warm as you can and dress multiple layers instead of big jumpers, so you can take off layers when you get hot and carry extra ones in case the temperature drops.
More: Harbin Weather and Clothing
4. Escape the City for a Stay at a Chinese-style Snow Village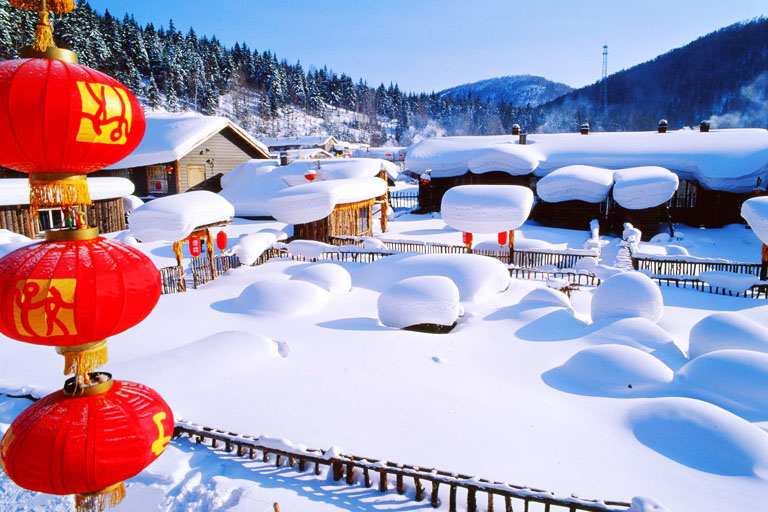 China Snow Town Harbin
Feel curious about the life of suburban local Harbin people in winter? Then how about have a one-night stay in one of the villages? China Snow Town, the most popular snow town hidden in the mountains 280 kilometers southeast of Harbin City, will be a good choice! Seldom people know the village until it was discovered by some shutterbugs several years ago. Locals still live in the village. Therefore, you could experience somewhat the most local life there. There are several boutique hotels, one 5-star hotel and two 4-star hotels in the village for you to stay, guaranteeing you a sound sleep. Also, the village also offers local family hostels. The bed of these family hostels is warmed local brick bed, which is hardly to be seen in cities.
5. Sample a Hot Pot Meal inside an Ice House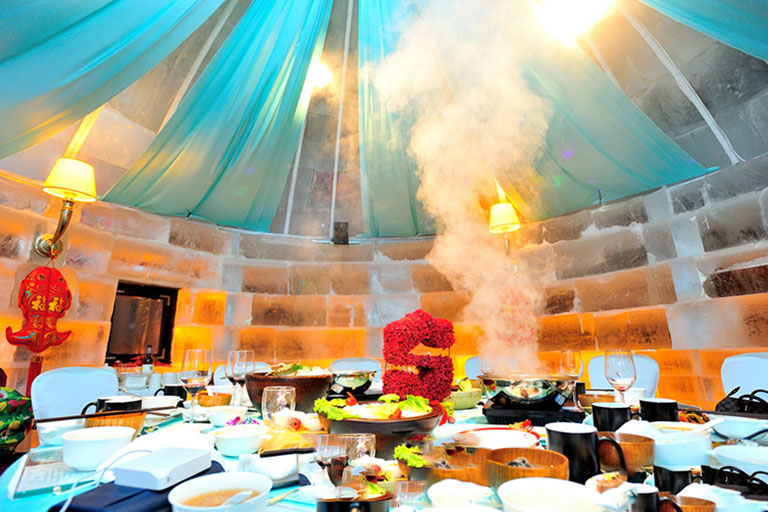 Hot Pot Meal inside an Ice House
Hot pot is a must-try in the cold winter in Harbin. There's no shortage of hotpot restaurants in Harbin, but if you're looking for a frostier dining experience, try the special hot pot meal inside an ice house! All the alleys, Roofs and walls are made of ice blocks! And if you try hard, you could also find an ice house hot pot restaurant using ice tables and seats! Seated on fur-topped ice blocks and sat at a table made of solid ice must rank as a pretty unique dining experience. But the ice theme doesn't stop there. Even the drinks can also be served in solid ice cups.
Such an ice house restaurant can be only found in winter! So if you happen to Harbin in winter, have a try!
Warm tip: Such a restaurant disappears after the winter months. And it will be open again in the next winter. However, the newly opened one may be not built on the same site of last year. For the latest address, you could contact our travel experts for help!
6. Bathe in a Hot Spring with Your Friends or Family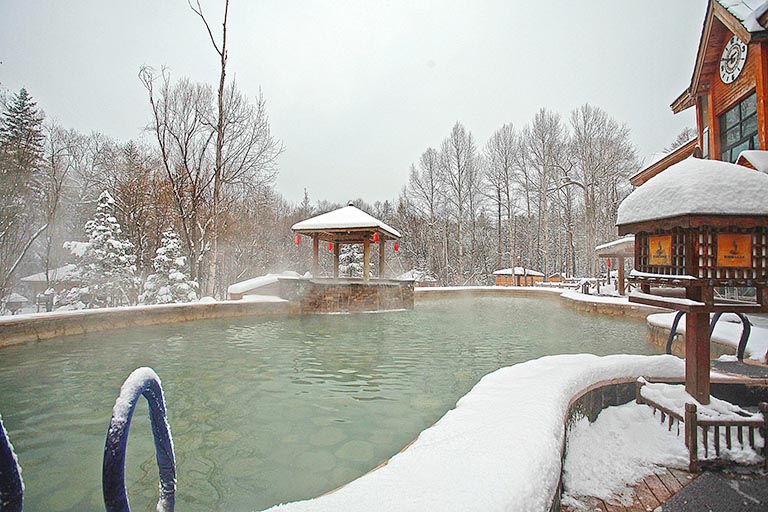 Bathe in a Hot Spring
End up your day with a soak in the hot springs must be the most relaxing experience, let alone it provides therapeutic benefits like improving metabolism and blood circulation! Beyond Harbin's rustic rugged peaks, there are several secrete hot spring ryokans lie secluded in the woods, like Yingjie Hot Spring Town (英杰温泉小镇), Yabuli Forest Hot Spring Resort (亚布力温泉), etc. Yingjie Hot Spring Town is settled in the middle way to Jihua Ski Resort and Longzhu Erlong Ski Resort, with a driving distance for about 30 km and 16 km away from the two ski resorts respectively. This hot spring resort has about 70 indoor and outdoor hot spring pools. A short walk to the outdoor baths is required - a serene journey during the snowy months will be a lifelong memory! Yabuli Forest Spring Resort is only about 3 km to Yabuli Ski Resort, the largest and most professional ski resort in Harbin. Bosting for about 34 hot spring pools in total, it is a good choice to relax after a thrilling skiing experience.
7. Relive your Childhood with Some Snow Games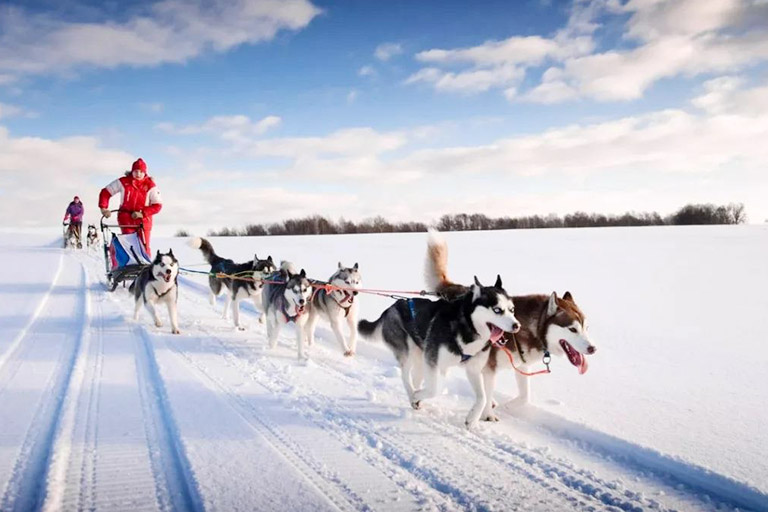 Dog Sledding
Snowball fighting, dog sledding and snowmen building are activities available most anywhere in Harbin. You can also find ice slides and ice bikes at many parks! Have fun plopping yourself right into the snow, waving your arms and legs to create the perfect angel or stacking big balls on top of each other for a jolly snowman. Enjoy the speed created with handsome doges, putting your trust in your dogs and earning their friendship in return. Besides, you can cheer for the winter swimming teams at the bank of Songhua River!
>> 3 Days Classic Harbin Winter Tour
8. Join the Chinese New Year Celebrations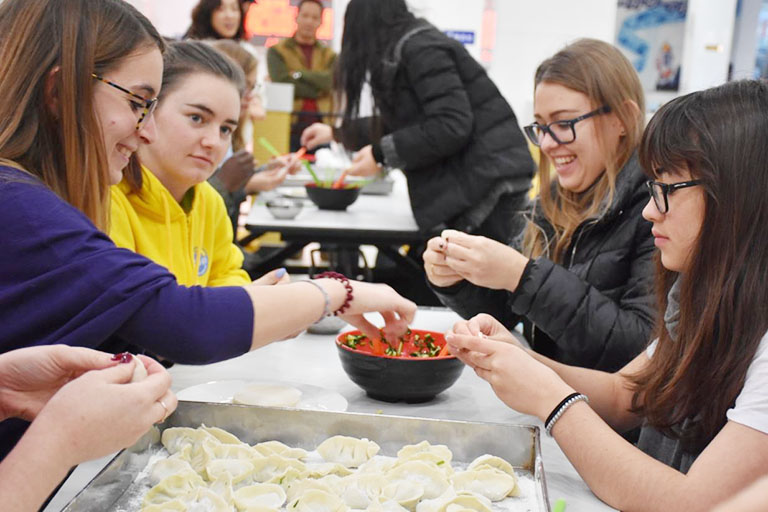 Making Dumplings
Chinese New Year, also known as Spring Festival or Lunar New Year, is the grandest festival in China. Usually, this grand festival starts from late January or early February. Therefore, if you happen to visit Harbin during this period of time, you could experience the festival celebration atmosphere too. Sometimes, you could see the locals preforming Yangko dance or dragon dance in the streets or villages. Dumplings are a part of welcoming the New Year! Different shape and color of dumplings hold different good wishes. Try a dumpling meal or learn making dumplings with locals must be a lifelong experience!
>> 3 Days Classic Harbin Winter Tour
How to Plan a Harbin Tour?
Travel Harbin and Other Places in China With China Discovery
You may be confused about how to plan a Harbin tour and you may worry about the transfers along your tour. Why not contact us? China Discovery could offer you the highly convenient service of private transfer, by which you will save time and free from worry. Our private driver will escort you along your whole trip and you don't need to transfer for several times. Meanwhile, our local tour guide will guide you to have an in-depth tour in Harbin. If you have your own interests and concerns about the trip, you could just contact our private consultant. They will help you to make your own tour plan. In addition, you could just ask us if you want to travel to any other places in China. We will try our best to meet your needs.