10 Best Places to Visit in Harbin
Located in the northern part of China, Harbin is a winter wonderland boasting an array of winter activities, such as skiing, sledding, and skating. And due to the city's proximity to Russia, it is also a cool place to have a Russia feel in China! Whether you happen to be in Harbin for the 2023 Harbin Ice & Snow Festival and want a diversion or you're a longtime Harbin lover, figuring out what to see can be a bit bewildering in this huge, complex city three times the size of Beijing. Here's a quick roundup of some of Harbin's top attractions - both tourist favorites and a few unexpected places, which will be helpful for your tour planning.
1. Harbin Ice & Snow World - The Main Venue of Harbin Ice & Snow Festival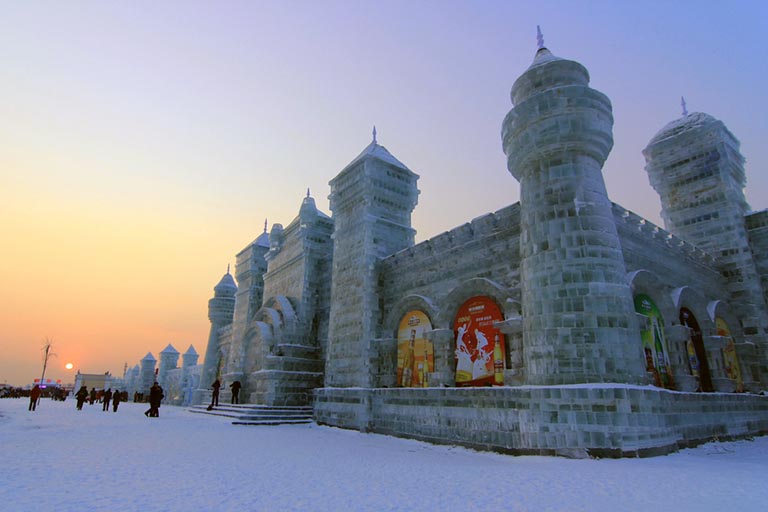 Ice and Snow Festival
Every winter from early December to late February is the time for one of the world's biggest snow and ice festival - Harbin International Ice & Snow Festival (officially starts from January 5 and lasts for a whole month). This annual festival is held at many scenic spots in & around Harbin City, and Harbin Ice & Snow World is the main venue.
At the Ice & Snow World Scenic Area, you can step inside a fairy-tale world with spectacular castles, towers and other beautiful buildings made by ice blocks and snows. All those stunning ice and snow sculptures are illuminated from the inside by multi-colored incandescent lights, creating a colorful and bright world glowing under the inky winter sky. And when the fireworks boom on the sky here, it seems all your dreams are going to be come true!
Address: Ice and Snow World, Songbei District, Harbin (哈尔滨市松北区冰雪大世界)
Tickets: about CNY 330 per person
Opening Hours: 11:00-21:30
Recommended hours: 3-6 hours
2. Sun Island - Relaxing Park and Snow Sculpture Exposition Site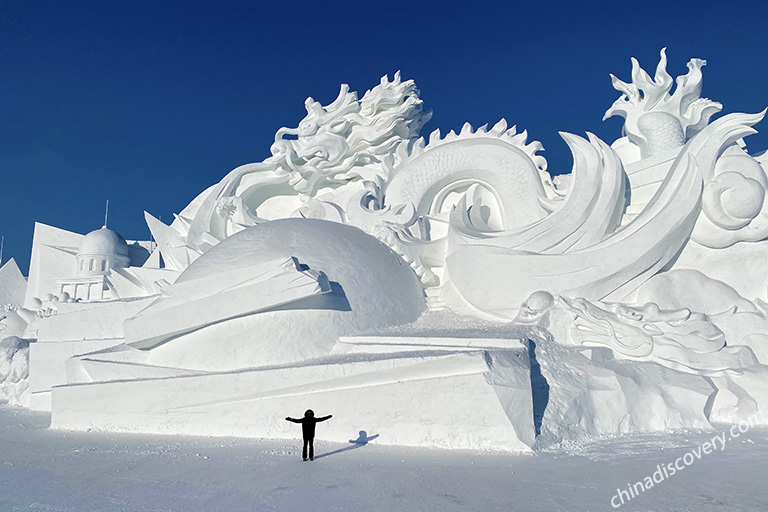 Sun Island Harbin International Snow Sculpture Art Expo
About 2.6km east of Ice and Snow World is Sun Island, another attractive highlight of Harbin. In the spring, summer and autumn months, the island is a perfect place for biking, walking and picnic, while in winter it is the home to snow carving exhibition (Harbin International Snow Sculpture Art Expo)! Snow sculptures by artists from around the world will be gathered in the island, allowing everyone to appreciate up close and take selfies with them. Unlike those sculptures in Ice and Snow World, all the building-sized sculptures on Sun Island are carved of snow instead of ice. While it may sound crazy to build a snow sculpture that's much bigger than a house, there are plenty of such crazy works here. The island is accessible by taxi. And as the island is across the Songhua River from Stalin Park, you can get to the island from Stalin Park by boat during the warmer months (May - September)! There are also cable cars between the park and the island all year around.
Address: Sun Island Scenic Area, Songbei District, Harbin (哈尔滨市松北区太阳岛景区)
Tickets: CNY 30 per person is needed for the entrance fee, and CNY 220 is charged for the Snow Sculpture Art Expo
Opening Hours: 08:00-17:00
Recommended hours: 2-3 hours
3. Yabuli Ski Resort - Largest and Most Professional Ski Resort in Harbin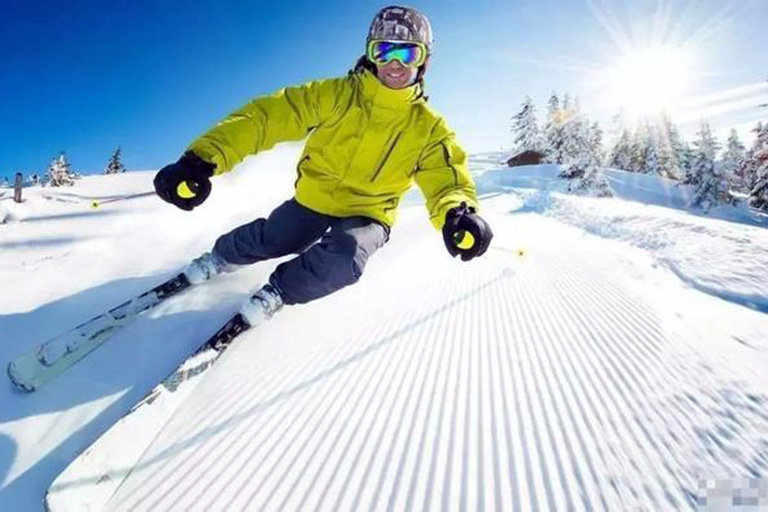 Yabuli Ski Resort
Yabuli Ski Resort about 230km away from Harbin downtown is the largest and most professional ski resort in Harbin and even in China, attracting skiers in all levels to come in winter! If you are looking for somewhere in China to enjoy thrilling skiing or snowboarding, Yabuli must be your best choice. This great ski resort has altogether 17 ski trails, among which the alpine trail is said to be the longest in Asia! Whether you are beginners or advanced skiers, you can have fun there. Gentle slopes offer a relaxing experience for beginners and returners to skiing, whilst challenging slopes provide exhilarating runs for the experienced.
Usually, Yabuli Ski Resort opens to public in the late November of every year. And skiing will be stopped after late March as the snow condition turns bad. Therefore, if you want to enjoy skiing in Yabuli, the best visiting time is from late November to late March of next year.
Address: Yabuli Ski Resort, Yabuli Town, Shangzhi City, Heilongjiang Province (黑龙江省尚志市亚布力镇,亚布力滑雪场)
Tickets: free of charge, but it charges about CNY 180-380 for skiing.
Opening Hours: 08:00-16:30
Recommended hours: 1-2 days
4. China Snow Town - No.1 Snow Town in China and Location for Chinese TV & Movie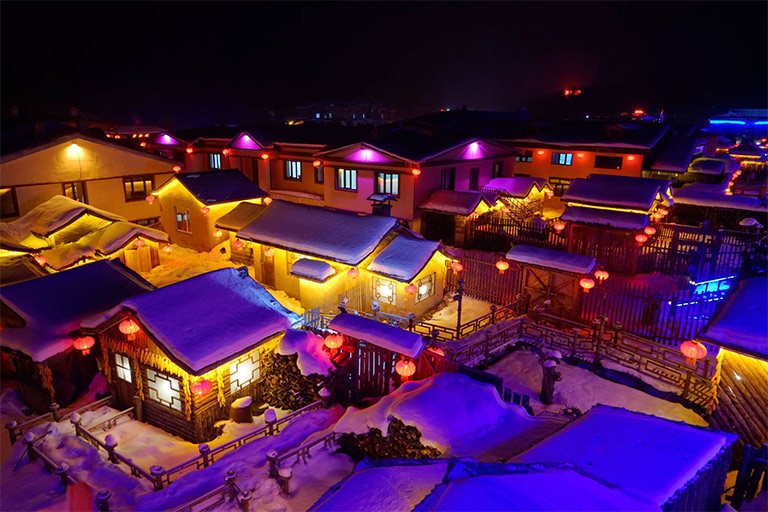 China Snow Town Harbin
Harbin China Snow Town is actually a magical world of ice and snow in Mudanjiang City, about 280 km southeast of Harbin City. Every October of a year, snow appears there and it won't disappear until April of next year. Such a long period of snow season makes this hidden world a fantastic place to enjoy stunning snow scenery. Snows are the main attraction for tourists heading to this place, however, not the whole thing. Here, you could also see a large amount of wooden houses with characteristics of Northeastern China's villages, take part in bonfire party with your family, experience the dog-drawn sled and horse-drawn sled, take pictures of Dream Home, a shooting place of some Chinese TV & movies…. And once you happen to visit the town during the Chinese Spring Festival, then you can experience the happy celebration mood with locals.
Address: Shuangfeng Forest in Hailin County, Mudanjiang City, Heilongjiang Province (黑龙江省牡丹江市海林县双峰林场)
Tickets: CNY 80 per person
Opening Hours: All day round
Recommended hours: 1-2 days
5. Zhongyang Pedestrian Street- A Feel of Russia in China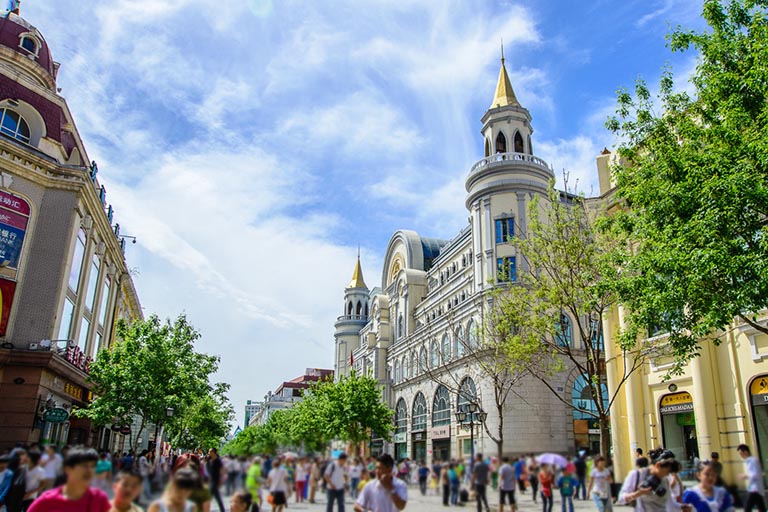 Zhongyang Pedestrian Street
Zhongyang (central in English) Pedestrian Street, as its name implies, is a pedestrian street located centrally in Harbin City. Here tourists will find beautiful cobble-stoned streets and an amazing amount of old European-style buildings, some of them are in Renaissance style, some are in Baroque... Apart from the architecture, it is also interesting to find dazzling Russian style western restaurants, ice creams shops and souvenir stores selling goods from Russia taking up about half of the stores lined along both sides of the street. Therefore, when stroll this 1.5-kilometer-long street, you sometimes feel you are in China and sometimes as though somewhere in Russia. If you don't know what to do during your free hours in Harbin or want to buy some souvenirs home, this is certainly the place to be, both day and night! And if you happen to visit this street during the Ice and Snow Festival, you will be surprised see the street full of ice sculptures too!
Address: Daoli District, Harbin (哈尔滨市道里区,中央大街)
Ticket: free of charge
Opening Hours: 24 hours a day
Recommended visiting hours: 2-3 hours
6. St. Sophia Church - Bluff your Friends You've Gone to Russia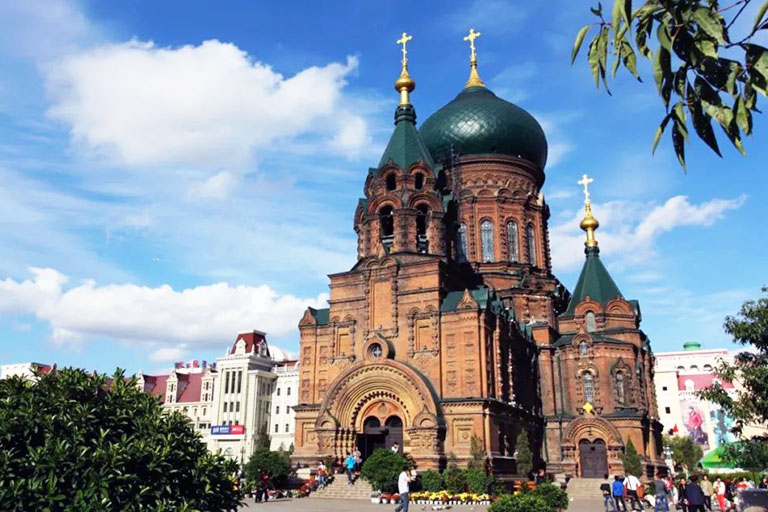 St. Sophia Church
Located near Zhongyang Street, the Russian Orthodox Church of St Sophia is Harbin's most famous landmark. Though the building' interior was damaged a lot with time fade by, but just being on the plaza and viewing the church from outside is amazing enough. Its distinctive green onion dome, red-brick body and flocks of pigeons make you feel like you are standing by church buildings at the Red Square in Moscow. Therefore, it may be interesting to take selfies with the church and bluff your friends you've gone to Russia. Inside the church there is Harbin Architectural Art Gallery. If you are interested about what Harbin used to be like, you could get a ticket and step inside for more history explore. Know more about St. Sophia Church
>> 3 Days Classic Harbin Winter Tour
Address: No.88 Toulong Street, Daoli District, Harbin (哈尔滨市道里区索菲亚广场,圣·索菲亚教堂)
Tickets: CNY 15 per person
Opening Hours: 08:30-17:30
Recommended hours: 1 hour around
7. Heilongjiang Provincial Museum - Explore History from 40,000 Years Ago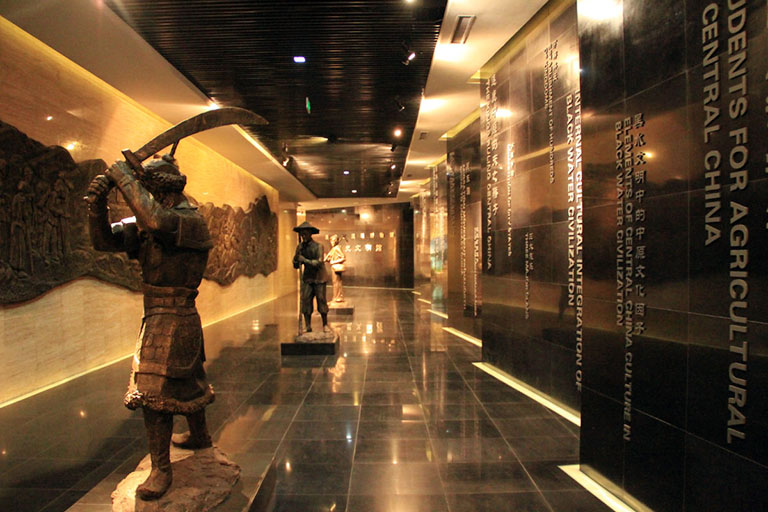 Heilongjiang Provincial Museum
Heilongjiang Provincial Museum, the largest and most authoritative museum in whole Heilongjiang Province, is settled in the city center area of Harbin, about 4.5km away from Zhongyang Street. Built in 1906, this museum in classical European Baroque style has al-together 4 exhibit halls, displaying tens of thousands of ancient pieces of literature, relics and fossil specimens from 40,000 years ago to modern times. In the Nature and Animal Exhibition Hall, you could find fossil specimens belonging to dinosaurs, mammoths, and woolly rhinoceros, etc. In the Historical Relic's Exhibition Hall, you can learn historical development of Heilongjiang Province through the exhibition of more than 900 cultural relics like jade pendant, silk stuff, paintings, etc. If you are a fan of Chinese fans and calligraphy, you can indulge yourself at Deng Sanmu Art Exhibition Hall. Besides, there is also a temporary exhibition hall, where you could encounter with surprise in random. All in all, Heilongjiang Provincial Museum must be a perfect spot for history enthusiasts to have a short visit at free times in Harbin.
>> 3 Days Classic Harbin Winter Tour
Address: 64 Hongjun street, Nangang district, Harbin (哈尔滨市南岗区红军街64号,黑龙江省博物馆)
Tickets: free
Opening Hours: 9:00-16:30 (closed on Monday and stopped selling tickets after 13:30)
Recommended hours: 2 hours abound
8. Stalin Park - Lovely Riverside Park to See the Locals Having Fun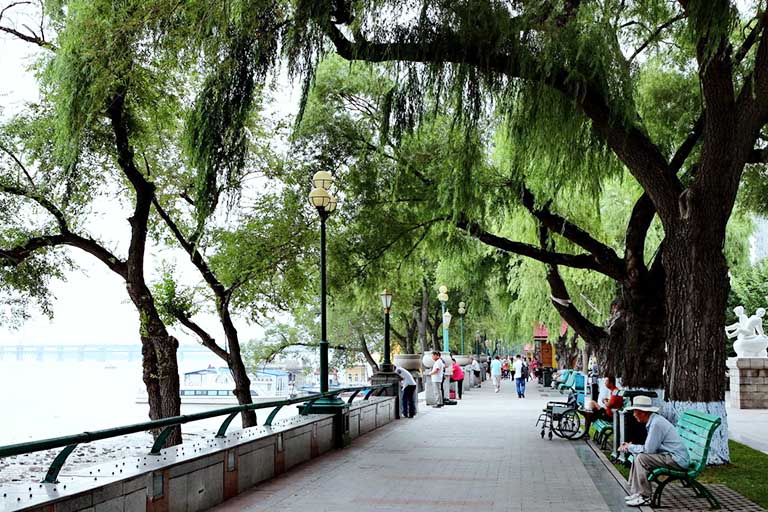 Stalin Park
Guessing where is the best place to know the local entertainment life of Harbin people? That must be Stalin Park across the river from Sun Island. During the winter seasons, you could see the locals skating, spinning tops, and sledging on the frozen river… And in other warmer months, the locals will have leisure walking or dancing at the path along the river bank. As there are so many activities you can take park in, this is also a good places for family tourists to create some happy memories with kids. If you have some free hours in Harbin, you can spend about 1-2 hours in the park.
>> 3 Days Classic Harbin Winter Tour
Address: No.3, Stalin Street, Harbin (哈尔滨市近郊斯大林街3号,斯大林公园)
Tickets: free
Opening Hours: 9:00-16:30
Recommended hours: 1-2 hours
9. Harbin Polarland - The First Polar Land Themed Park in China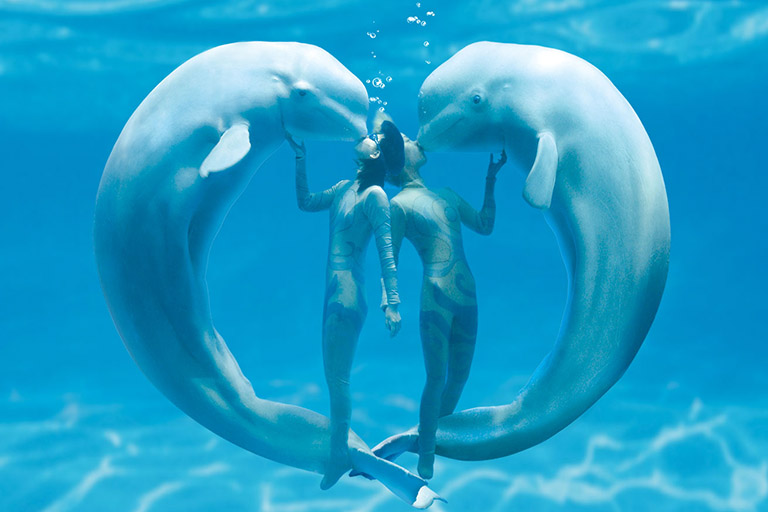 Harbin Polarland
Harbin Polarland is definitely a hit with kids. Here, you could say hi to Belugas, seals, penguins, dolphins, polar bears etc. up close. Manbo, the first South Pole penguin baby in the world that successfully hatched in the inland city, can be also found there. If you are interested about animal performances, you could also enjoy the white whale performance, Sea lion and walrus show in front of you at Harbin Polarland. Harbin Polarland is outside the front entrance of the Sun Island Park, not really far from Ice & Snow World. Therefore, you could visit these three sites together if you are interested.
>> 3 Days Classic Harbin Winter Tour
Address: No.3 Sun Road, Songbei District, Harbin, China (哈尔滨市松北区太阳大道3号太阳岛公园正门外,极地公园)
Tickets: CNY 130 per person
Opening Hours: 9:00-17:00
Recommended hours: 2-3 hours
10. Siberian Tiger Park - Getting up Close with the King of the Forest
Siberian Tiger Park
Siberian Tigers are the largest of all tigers. Renowned for their power and strength, they are also widely known as the king of the forest. However, as the natural environment becomes worse, these kings are under an ominous threat. The numbers of the wild Siberian Tigers even dwindles below 500. To protect this endangered species, the Siberian Tiger Park was in place in 1996. And under the efforts of the staff in the park, about 800 Siberian tigers can live happily and healthy there now. For tourist visiting this park inside Sun Island, you could encounter with about 100 of 800 Siberian tigers. Also, you could enjoy a thrilling experience of being chased by these kings of the forest under the protection of a van with stick fence.
Address: No 88, Songbei Street, Songbei District, Harbin (哈尔滨市松北区松北街88号,东北虎林园)
Tickets: CNY 90 per person
Opening Hours: 9:00-16:00
Recommended hours: 1.5-2 hours
How to Plan a Harbin Tour?
Travel Harbin and Other Places in China With China Discovery
You may be confused about how to plan a Harbin tour and you may worry about the transfers along your tour. Why not contact us? China Discovery could offer you the highly convenient service of private transfer, by which you will save time and free from worry. Our private driver will escort you along your whole trip and you don't need to transfer for several times. Meanwhile, our local tour guide will guide you to have an in-depth tour in Harbin. If you have your own interests and concerns about the trip, you could just contact our private consultant. They will help you to make your own tour plan. In addition, you could just ask us if you want to travel to any other places in China. We will try our best to meet your needs.