Chengde Maps 2023: Updated, Detailed and Downloadable
Chengde, a prefecture-level city of Hebei Province, once acted as a second capital city of the Qing Dynasty besides Beijing. The imperial emperors and their family members spent the summer here to escape from the heat. Of course, many imperial palaces, gardens and temples were built in this city. Now you can easily find many imperial sites and listen to some interesting stories of the imperial families. In order to help you get a better understanding of Chengde's location, transfer and attractions distribution, here we collect some helpful maps for your reference. Be free to download and print them for you Chengde trip plan.
Most Recommended Chengde Tour:
√ 2 Days Chengde Classic Tour - World Heritage Sites Exploration
√ 3 Days Chengde Highlights Tour including Jinshanling Great Wall Hiking
Chengde Location Maps – Where is Chengde
Chengde is located in the northeastern part of Hebei Province, bordering Zhangjiakou (in Hebei) to the west, Beijing to the southwest, Tianjin to the south, Tangshan (in Hebei) and Qinhuangdao (in Hebei) to the southeast and Chifeng to the north. Many travelers get to Chengde from Beijing (225 km away) and Tianjin (300 km away) because of the short distance.
Chengde Transportation Maps – How to Get to Chengde
Chengde can be reached by both by flights and by trains. There are nonstop flights from Shijiazhuang (about 1 hour), Tianjin (about 1 hour) and Xian (about 2 hours) as well as stopover flights from Chengdu, Shanghai (about 5 hours), Hangzhou (about 4 hours)and Guangzhou (about 5 hours) to Chengde. Besides, you can also get to Chengde by trains from Beijing (4.5~6.5 hours), Shijiazhuang (9.5~11 hours) and Dalian (about 4.5 hours). It will be available to take a high speed train from Beijing and Shijiazhuang to Chengde in the end of 2020, and the travel time will be cut to 1 hour from Beijing and 2.5 hours from Shijiazhuang.
Chengde Attractions Maps – How to Travel Chengde
In fact, most of Chengde's highlights are located in Chengde City, including Jinshanling Great Wall, Chengde Mountain Resort (Chengde Summer Palace), Outer Eight Temples (Little Potala Palace, Puning Temple, Pule Temple, Anyuan Temple, etc.), Two-Pagoda Peaks, Qingchui Peak… For more nature view, you can visit Bashang Grassland.
How to Plan Your Chengde Tour
How to Get to Chengde: You can fly to Chengde from Shanghai, Tianjin, Guangzhou, Shijiazhuang or take a high speed train from Beijing, Shijiazhuang and other Chinese cities.
Best Time to Visit Chengde: April to October, especially April and May in spring and September and October in autumn
Top Attractions to Visit in Chengde: Jinshanling Great Wall, Chengde Imperial Mountain Resort, Bashang Grassland, Putuo Zhongcheng Temple…
Chengde, a city neighboring Beijing, is known for the Imperial Mountain Resort and surrounding temples such as Putuo Zhongcheng Temple, Puning Temple, and Pule Temple, where the royal family members have come to visit and had a retreat here to escape the summer heat, and about 100km away from Chengde downtown is the magnificent Jinshanling Great Wall. Further away to the northwest of suburban Chengde is the vast picturesque Bashang Grassland. Usually, 2 or 3 days is suitable for visiting major highlights of Chengde. To make photography tour or landscape tour to Bashang Grassland, you need to plan at least 2 days.
✔ 2 Days Chengde Tour from Beijing
✔ 2 Days Classic Chengde Tour
✔ 3 Days Chengde Highlights Tour including Jinshanling Great Wall Hiking
For the short distance to Beijing, generally, many tourists would like take 4 to 5 days to travel Chengde after your trip in Beijing, and Beijing is usually the gateway city to start your trip in Chengde with world-renown ancient wonders such as the Forbidden City, Summer Palace, and Temple of Heaven, Mutianyu Great Wall, Hutongs, etc. After your 2 or 3 days' Beijing highlight trip, soon your can start your exploration in Chengde. It's convenient to visit the temples and royal resort in the city center area and to see the unmissable Jinshanling Great Wall along your way between Chengde and Beijing. If time allows and you're quite interested in natural scenery, the idyllic Bashang Grassland is also charming to see.
✔ 4 Days Bashang Grassland Unparalleled Landscape Tour from Beijing
✔ 5 Days Beijing Highlights Tour with Sidetrip to Chengde
✔ 7 Days Bashang Grassland Photography Tour
Besides Beijing, travelers can also extend the Chengde trip further to Tianjin, Qinhuangdao, Zhangjiakou, in Hebei Province and even other northern cities like Dalian and Shengyang to see more stunning heritage and nature sights in China.
Travel with China Discovery
China Discovery is an experienced, professional, and reliable travel companion devoted to offering high-quality and the best tour services for all travelers to China. To have a hassle-free journey and focus on the trip itself, it's highly recommended to travel with China Discovery. So, you can enjoy convenient airport pick-up and drop-off service and transportation to all scenic spots in a safe, clean, comfortable, air-conditioned, and non-smoking vehicle. Also, we will arrange a knowledgeable local tour guide, excellent accommodation, and dining arrangements to ensure you rest well in Chengde and Beijing and get a better understanding of the culture behind the attractions. You may select a favorite from our most popular Chengde tours or contact us to design a unique itinerary according to your personal time and preference.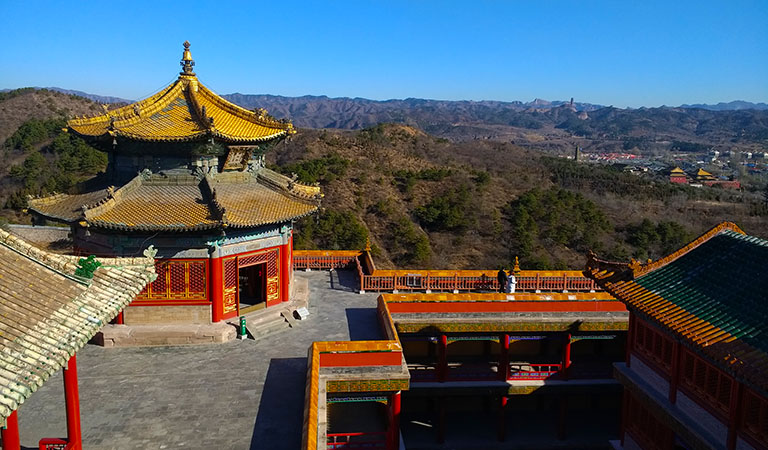 Chengde Imperial Mountain Resort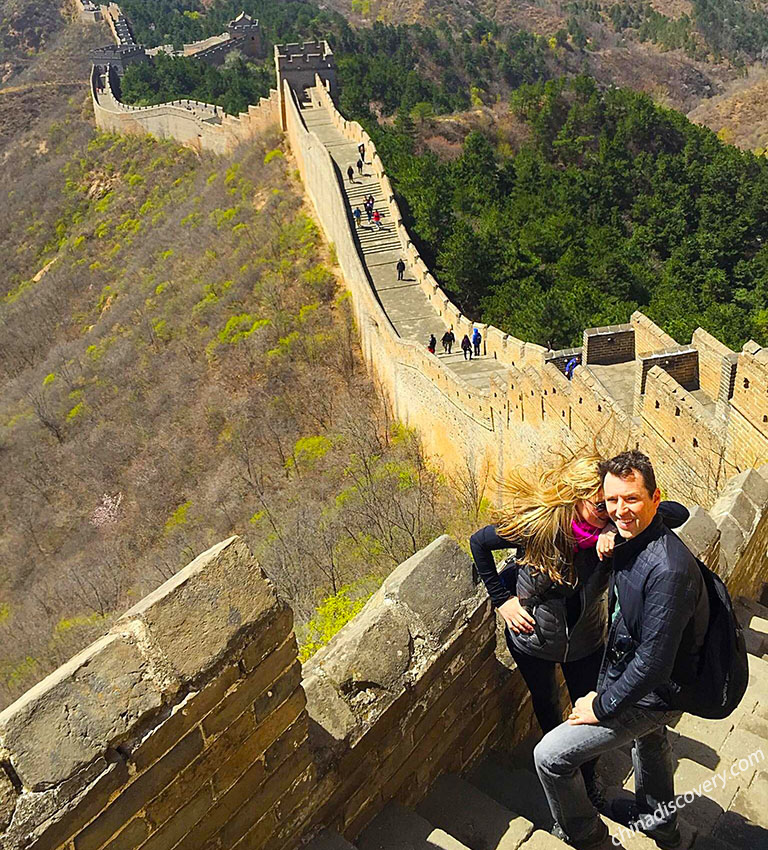 Our American Tourists Visited Jinshanling Great Wall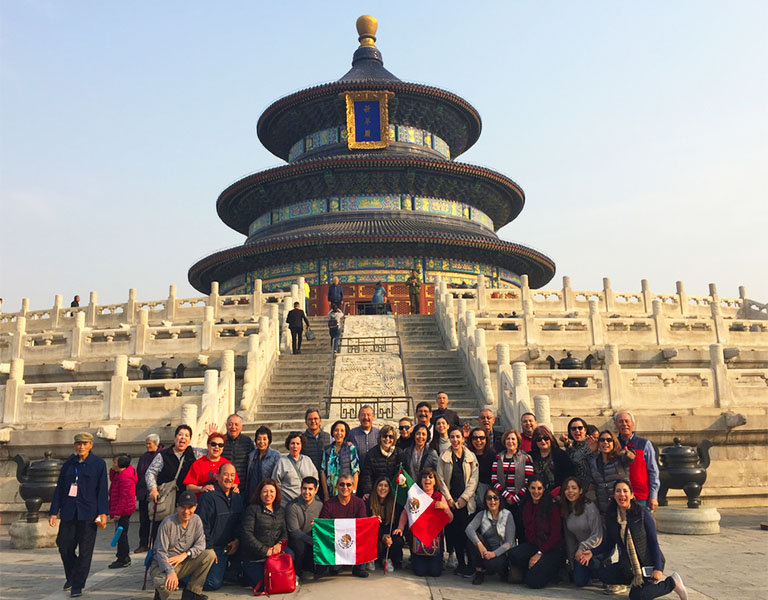 Our Mexican Group Tourists Visited Temple of Heaven in Beijing
Helpful Chengde Travel Guide
Recommended Chengde Tours
Top 3 Chengde tours chosen by most customers to explore Chengde in the best way. Check the detailed itinerary,or tailor your own trip now with us.
3 Days Chengde Highlights Tour including Jinshanling Great Wall Hiking

Chengde / Jinshanling Great Wall / Beijing
2 Days Best Chengde Tour from Beijing

Beijing / Chengde / Beijing