Top Chengde Attractions - Things to Do in Chengde 2023
Chengde is a prefecture-level city in Hebei, about 225 km (3 hours' drive or 1 hour's high speed train) away from Beijing. It was regarded as the second capital of the Qing Dynasty (1636~1912) after Beijing because many emperors spent half a year staying there to avoid summer heat. Many cultural heritage sites were left and preserved in Chengde. Besides, it offers great natural beauty to travelers as well, especially mountains and grasslands. For expats in Beijing or other nearby cities, it is a wonderful place for one weekend's trip. It is also popular to enjoy a 2 ~ 3 days' extended journey after a Beijing tour or Tianjin tour for other foreign travelers.
If you don't know where to go and what to do in Chengde, just browse best Chengde attractions and featured things to do in these attractions here we listed. For travelers who want a private tour with these attractions or have any other travel ideas, please be free to contact us to customize a Chengde tour in your own style.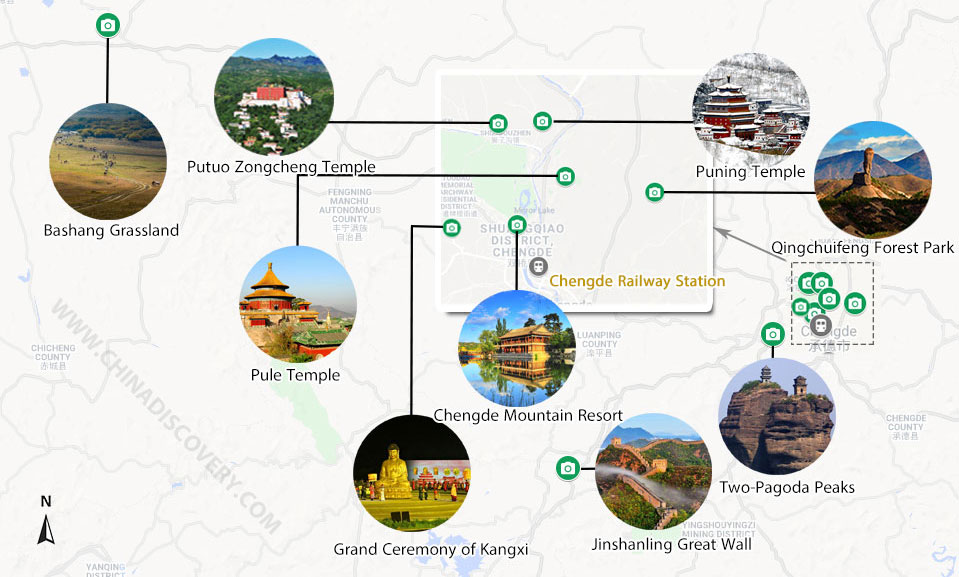 Chengde Tourist Attractions Map (Zoom in to enlarge map)
Top 1: Jinshanling Great Wall - To Have A Memorable Photography & Hike Experience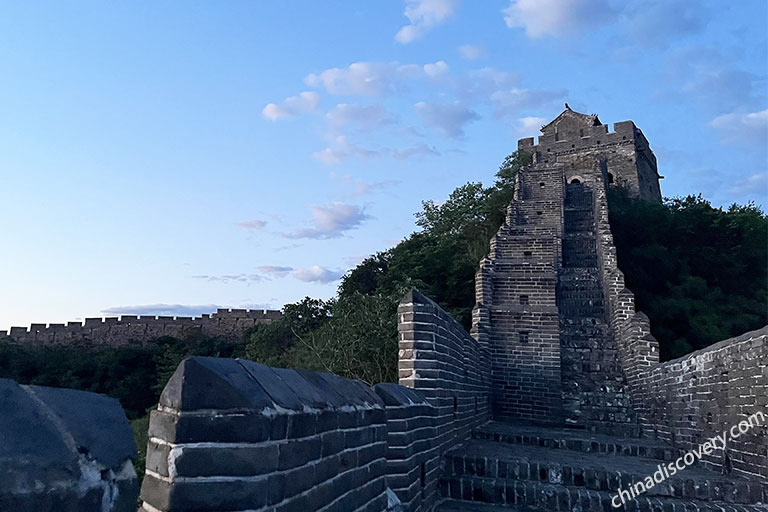 General Tower on Jinshanling Great Wall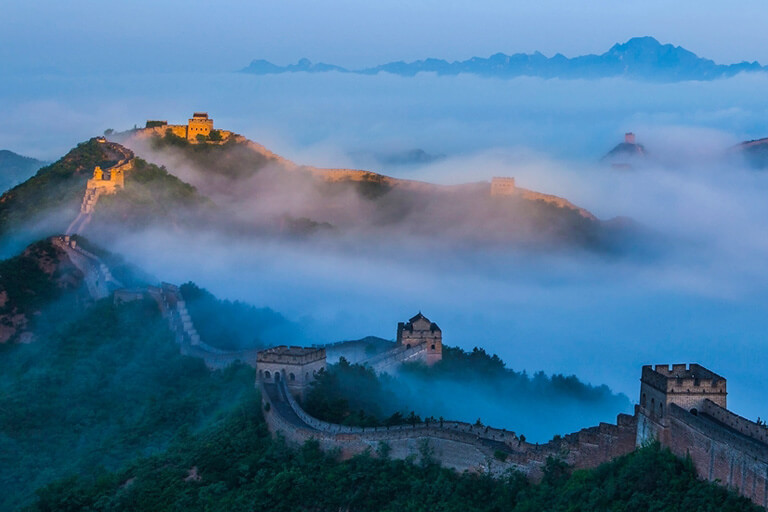 Sea of Clouds in Jinshanling Great Wall
Type: Sights & Landmarks, Ancient Ruins
Opening Hours: 6:00am-6:30pm
Recommended Visiting Time: Half Day
Best Seasons: 07:30-18:00 (March-Nobember); 08:00-17:30 (December-Next February)
Address: Bakeshiying Town, Luanping County, Chengde City, Hebei Province(河北省承德市滦平县巴克什营镇), about 100 km away from Chengde City and about 130 km away from Beijing City
Jinshanling Great Wall, established in 1368, is the best-preserved section of Ming Dynasty Great Wall as well as one of the most attractive sections of the Great Wall of China. Linking Simata Great Wall to the east and Gubeikou Great Wall to the west, Jinshanling Great Wall stretches to 10.5 km long. There are 67 watchtowers, 5 passes and 3 beacon towers on the wall, and most of the watchtowers were built in different shapes. For the best architectural art of Jinshanlaing Great Wall, you can visit General Tower (将军楼), Dajianshan (大金山楼), Xiaojinshan Tower (小金山楼), Kylin Screen Wall (麒麟影壁墙), etc.
In fact, Jinshanling Great Wall is most favored by hikers. A classic sightseeing tour needs about 2 hours' hike and you just focus on the highlights of Jinshanling. In order to have a more challenging hiking trip, you can choose another physical demanding trip which needs about 4 hours. Many serious hikers also choose to hike Jinshanling Great Wall with Gubeikou Great Wall for a more enjoyable hiking trip. Moreover, Jinshanling Great Wall is also the paradise for photography. The majestic watchtowers together with surrounding view are best quarry. You can also get a good opportunity to shoot the sunrise, sunset and cloud sea in different towers.
Helpful Links: How to Get to Jinshanling Great Wall | Jinshanling Maps
√ 2 Days Mutianyu and Jinshanling Great Wall Hiking
√ 4 Days Classic Beijing Tour with Jinshanling Great Wall Hiking
√ 3 Days Chengde Highlights Tour including Jinshanling Great Wall Hiking
Top 2: Chengde Mountain Resort - To Appreciate the Essence of Chinese Traditional Garden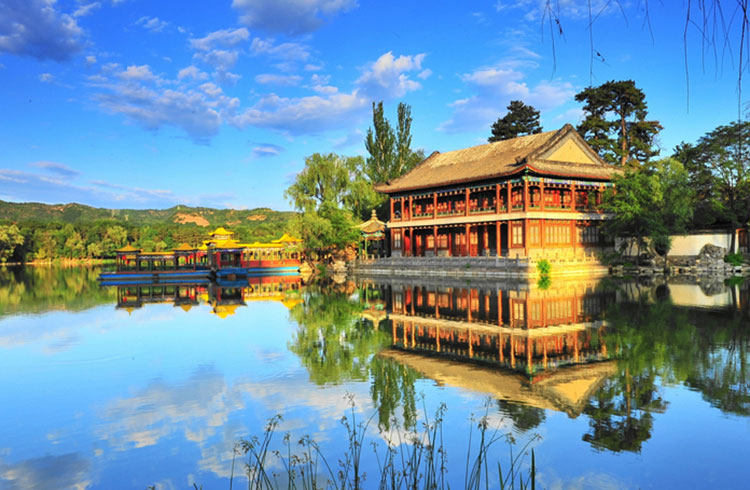 Beautiful Yanyu Tower in Chengde Mountain Resort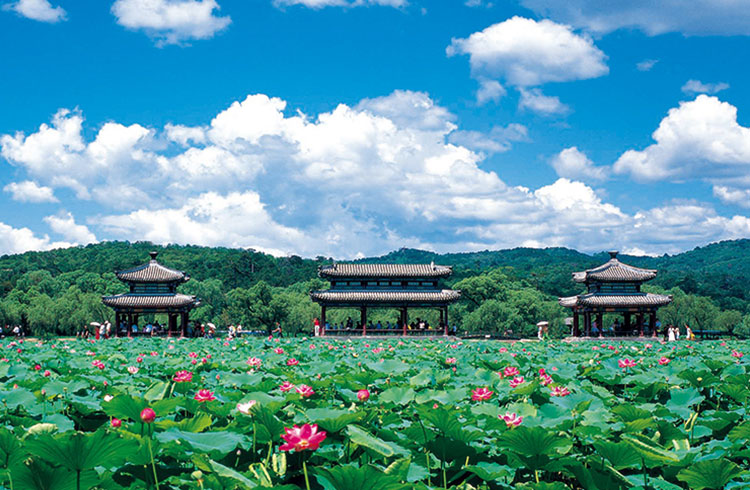 Shuixin Pavilions in Chengde Mountain Resort
Type: Historical Sites, Museum, Gardens
Opening Hours: 08:00-17:30
Recommended Visiting Time: 0.5~1 Day
Best Seasons: All the year around
Address: Chengde City, Hebei Province (河北省承德市), about 3 km away from the downtown area of Chengde
Chengde Mountain Resort, also known as Chengde Summer Palace, is the largest one of the Four Greatest Classic Gardens in China. Together with its outlying temples, it was listed in the UNESCO World Cultural Heritage sites. As the place where Qing emperors lived, worked and played, Chengde Mountain Resort contains a main palace complex and a large park-like garden, which all are enclosed by a 10-kilometer-long wall. The Main Palace area is composed of five elegant halls where various exhibitions are on display, including porcelain, clothing, weaponry, etc. The Garden Area is the highlight of Chengde Mountain Resort and you can see many featured architectures simulating the designs of famous architectures in Zhejiang and Jiangsu, such as Yanyu Tower (Misty Rain Tower), Shuixin Pavilions (Water Heart Pavilions) and Wenjin Pavilion and so on.
Apart from admiring meticulous design of Chinese classic garden, you can also have a relaxing boating trip in Chengde Mountain Resort. It is available to take a big electrical boat or a paddle boat to explore the Lake Area - the highlight of the Garden Area in a different way. Chengde Mountain Resort is really enormous and you can also take advantage of tourist cars to visit the Lake Area and the Mountain Area to save your time and energy.
√ 3 Days Chengde Highlights Tour including Jinshanling Great Wall Hiking
Top 3: Bashang Grassland - To Feast on the Scenic Beauty of Wild Nature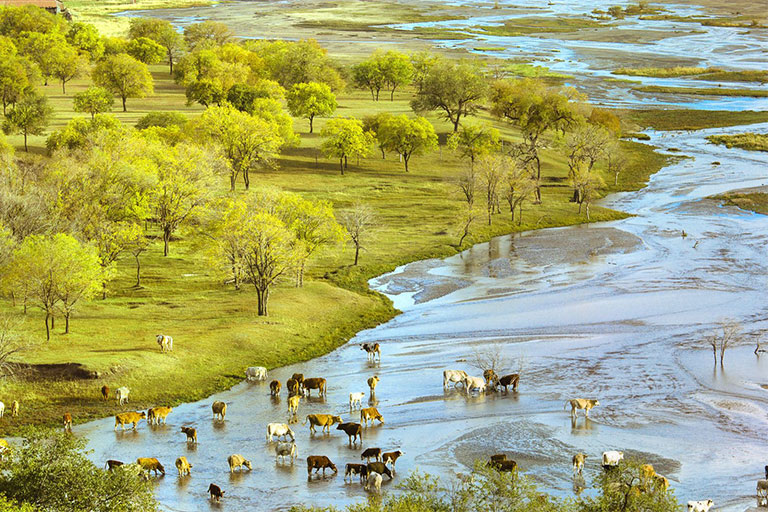 Mulan Paddock in Spring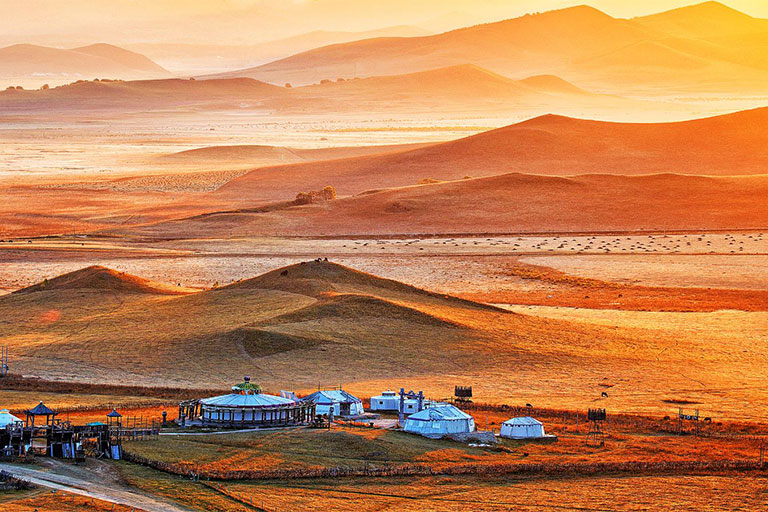 Mulan Paddock in Autumn
Type: Natural & Cultural Sites, Grasslands
Recommended Visiting Time: 1-2 Days
Best Seasons: Middle June to late September (especially in July and August)
Address: Haliha County, Chengde Weichang Manchu and Mongolian Autonomous County (承德市围场满族蒙古族自治县哈里哈乡)
Also known as No.1 Grassland in North Beijing, Bashang Grassland is an important part of Bashang Plateau. Divided into Paddock Bashang Grassland, Fengning Bashang Grassland, Zhangbei Bashang Grassland, Guyuan Bashang Grassland, etc., the whole area of Bashang is a vast grassland stretching from Zhangjiakou to Chengde. Paddock Bashang Grassland, known as Mulan Paddock and located in Chengde, is the most beautiful part.
With fertile aquatic plants and many wild animals, Mulan Paddock was the royal hunting garden in the Qing Dynasty (1636~1912) and the Liao Dynasty (907~1125). At present, the tranquil surroundings, picturesque landscape and strolling flocks of birds endow it as a pleasant tourist destination, especially for photographers. As the closest grassland near Beijing, Mulan Paddock is regarded as the backyard garden of Beijingers. Besides being immersed in the nature and taking great pictures, you are also able to join in some funny activities, like sleeping in Mongolian Yurts, riding on horseback and watching local performance. There are three core attractions in Mulan Paddock, including Saihanba National Forest Park, Yudaokou Grassland and Hongsongwa Natural Conservation Zone. Saihanba is the most highlighting part that shutterbugs love most. Lakes, wetlands, hills and forests can be appreciated amazingly here.
√ 4 Days Bashang Grassland Unparalleled Landscape Tour from Beijing
Top 4: Shuangtashan Forest Park - To Discover the Mystery of Two-Pagoda Peaks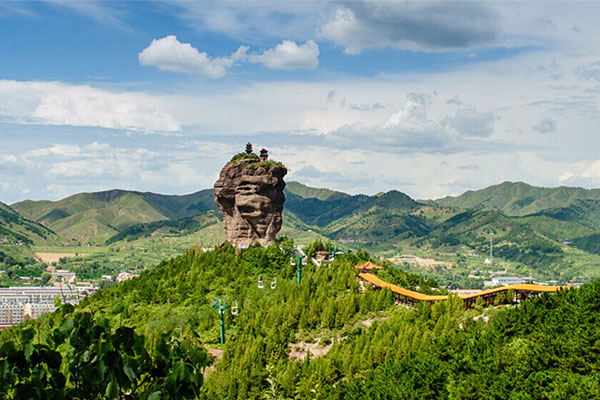 Shuangtashan Forest Park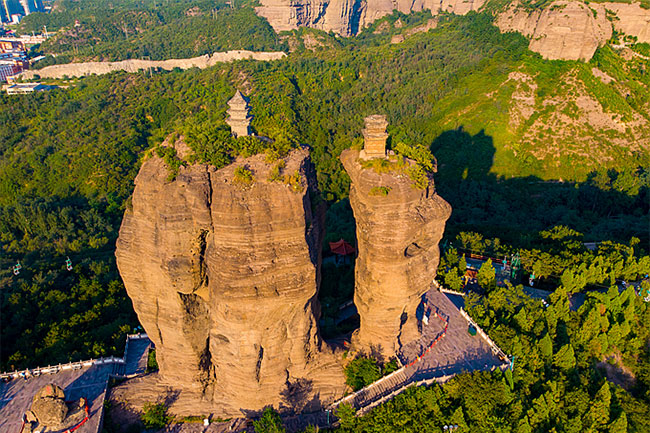 Two-Pagoda Peaks in the Park
Type: Mountains, Pagodas, Historical Sites
Opening Hours: 07:00-17:00 in April - October / 08:00-14:00 in November - Next March
Recommended Visiting Time: About 3 Hours
Best Seasons: April - October
Address: Shuangtanshan Town, Shuangluan District, Chengde City, Hebei Province (河北省承德市双滦区双塔山镇), about 18 km away from the downtown of Chengde
Located in the southwestern suburb of Chengde City, Shuantashan (translated as Two-Pagoda Peaks) Forest Park is the largest natural attraction close to Chengde's city area. The most eyes-catching attractions in the park are two giant rocky peaks with one brick pagoda built at the summit of each peak by Khitan people in 1,300 years ago, which making the whole scenic area so mysterious. The two peaks, shaping like two twin pillars without obvious steps, are formed by water and wind erosion. You can hardly imagine how the ancient people climbed to the summit and built the pagodas - it is also an unsolved question for archaeologists. The 2-meter pagoda in the north peak was rebuilt while the 5-meter-tall pagoda in the south peak is well-preserved. It was said that there were cracks on the north and south walls of the south pagoda. Amazingly, after the Tangshan Earthquake, not only did the brick tower not collapse, but the cracks on the wall disappeared.
Besides Two-Pagoda Peaks, you can feast your eyes on many other natural sights, like strange mountains, rushing streams, lush forests, odd-shaped rocks, religious caves, etc. Covering an area of 30 square kilometers, Two-Pagoda Peaks Forest Park is a good place to stretch your legs while sightseeing. Cable cars are also accessible to shorten your travel time.
Top 5: Putuo Zongcheng Temple - To Explore Magnificent Architecture of Little Potala Palace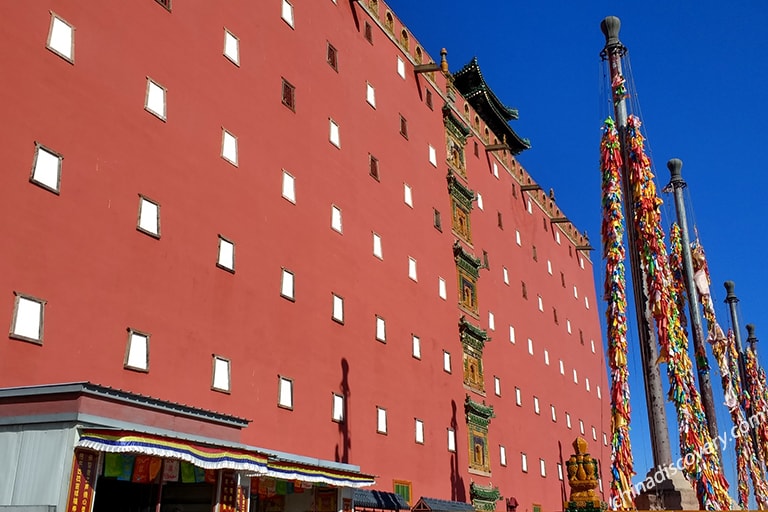 View Putuo Zongcheng Temple in Distance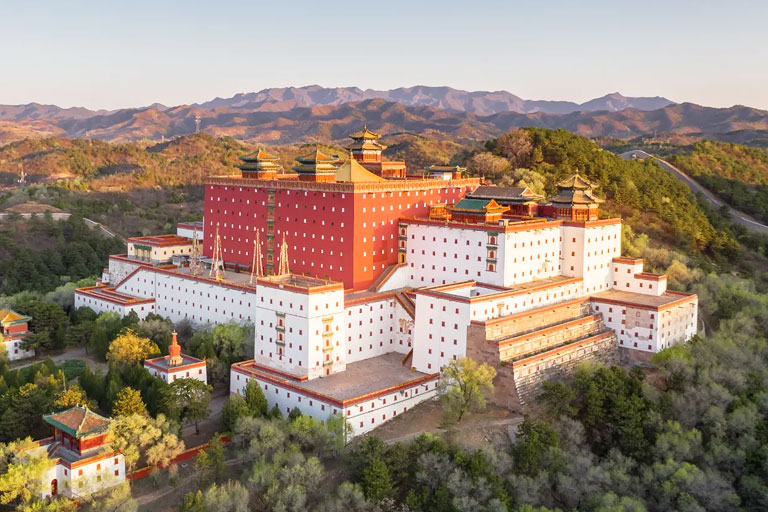 Beautiful Architecture of Putuo Zongcheng Temple
Type:Historical Sites, Sacred & Religious Sites
Opening Hours: 08:00-18:00 in May - October / 08:30-17:00 in November - Next April
Recommended Visiting Time: About 2-3 Hours
Best Seasons: April - October
Address: Shiziyuan Road, Shizigou Town, Chengde City, Hebei Province (河北省承德市狮子沟镇狮子园路), about 3 km away from Chengde Mountain Resort
Putuo Zongcheng Temple is a huge Buddhist temple built in 1771 by Emperor Qianlong to celebrate his 60th birthday and the 80th birthday of Empress Dowager Chongqing. This big complex of Putuo Zongcheng Temple was built on the basis of the style of Potala Palace in Tibet, so people always call it Little Potala Palace. Among the eight outlying temples (collectively called Outer Eight Temples) around Chengde Mountain Resort, Little Potala Palace is the largest and most attractive one. It was built on the hill, facing the north traditionally. Passing from the Front Gate of the temple, you can view Stele Pavilion, Arch gates with lama pagodas in different colors, Glazed Archways and the main building - Wanfa Guiyi Hall accordingly. Wanfa Guiyi Hall is attractive with the features of both Chinese and Tibetan architectural styles, elegant decorations in the hall include undulating ridges, eaves with Buddhist mythical creatures and golden rooftop. This temple is also cherished with precious Buddhist classics and exquisite Buddha statues.
More than the charm of the temple itself, it offers a panoramic view of Chengde Mountain Resort and nearby Qingchui Peak. Many travelers enjoy the appearance of Putuo Zongcheng Temple more than the inside. Chengde Mountain Resort is a perfect place to get a nice view of the amazing structure of the temple.
√ 3 Days Chengde Highlights Tour including Jinshanling Great Wall Hiking
Top 6: Qingchuifeng Forest Park - To Enjoy Natural Scenery and Tibetan Temples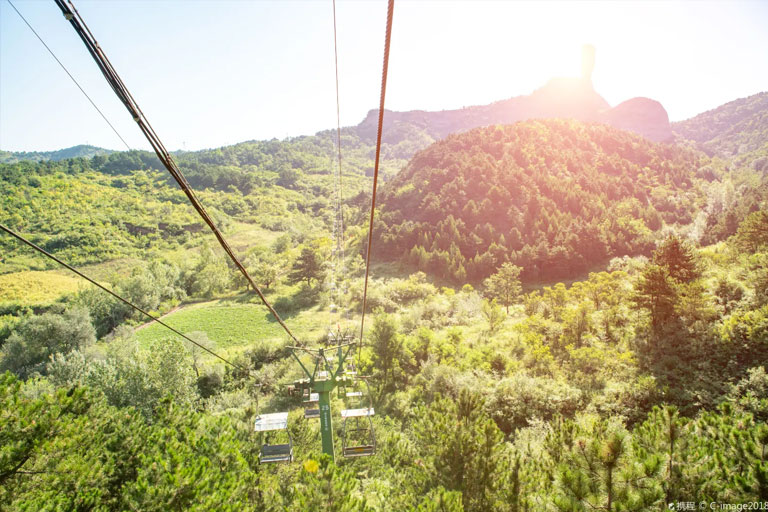 Qingchuifeng Forest Park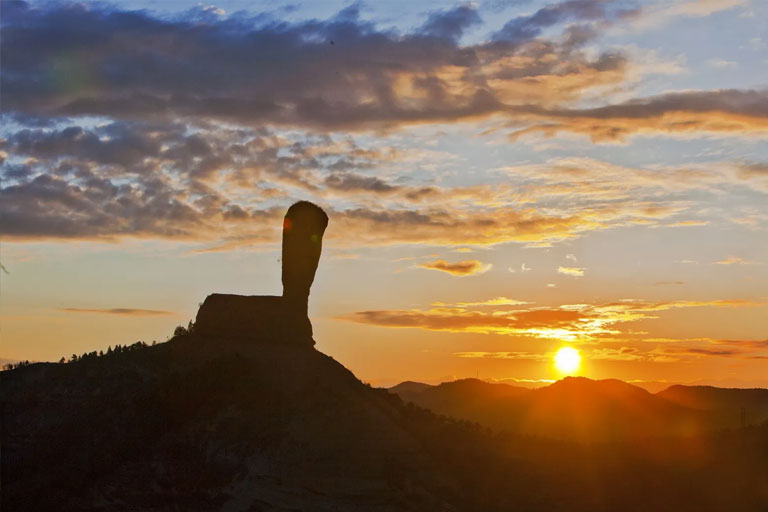 Qingchui Peak at Dusk
Type: Natural Parks, Mountains, Temples
Opening Hours: 08:30-16:30
Recommended Visiting Time: About 2-3 Hours
Best Seasons: April - October
Address: Shuangqiao District, Chengde City, Hebei Province (河北省承德市双桥区), about 3 km away from Chengde Mountain Resort
Qingchui Peak Forest Park, close to Chengde Mountain Resort and Putuo Zongcheng Temple, is a beautiful park famous with Danxia landform. In the park, there is a tall and steep stone pillar plunging into the clouds. Because the peak looks like Qingchui - a tool used for washing clothes in ancient times, Emperor Kangxi named it Qingchui Peak. There is a long cableway built in the forest park to help travelers fully appreciate the landscape of Qingchui Peak Forest Park. More than Qingchui Peak, there are lots of other peaks and rocks interesting to see as well, like Frog Stone. If you visit Qingchui Peak Forest Park in spring, over 100 kinds of wild flowers can be seen.
More than natural scenery, Qingchui Peak Forest Park also shows its cultural significance. Two of Outer Eight Temples are located here, namely Pule Temple and Anyuan Temple. Pule Temple is a combination of Han and Tibetan architecture style. The main hall, called "Xuguang Pavilion" and used for gatherings, preaching and sacrificial offerings, is very similar to the Temple of Heaven in Beijing. Anyuan Temple resembles the Gurza Temple which was built on the banks of the Yili River in Xinjian. The main building of Anyuan Temple has a roof covered with black glazed tiles which are extremely rare in temple buildings and royal buildings.
√ 3 Days Chengde Highlights Tour including Jinshanling Great Wall Hiking
Top 7: Grand Ceremony of Kangxi - To Learn the Legend of the Most Influential Emperor in China's Last Imperial Dynasty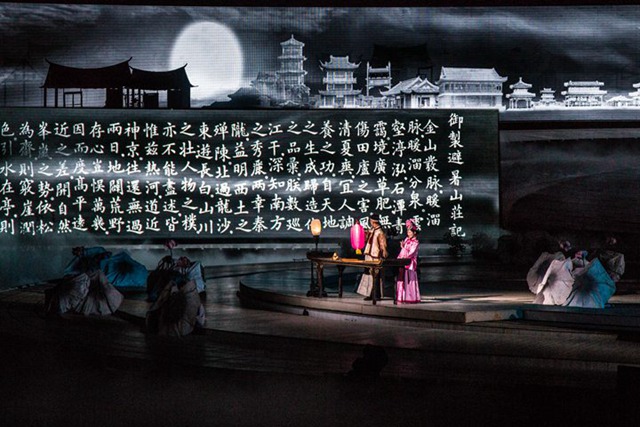 Grand Ceremony of Kangxi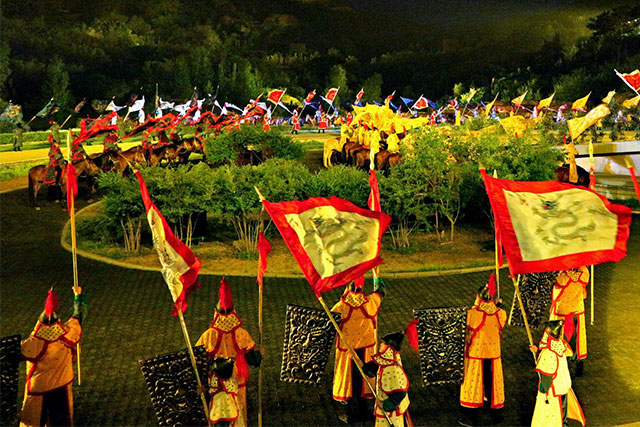 Grand Ceremony of Kangxi
Type: Opera, Live-action Performance
Performance Hours: 20:00-21:10
Address: Dingsheng Wangchao Cultural Industrial Park, Yuanbaoshan Street Shuangluan District, Chengde City, Hebei Province (河北省承德市双滦区元宝山大街鼎盛王朝产业园区), about 10 km (30 minutes' drive) away from Chengde Mountain Resort
The Most Prosperous Dynasty • Grand Ceremony Kangxi (鼎盛王朝•康熙大典) is China's largest live performance on the theme of royal culture and the legend of Emperor Kangxi. Based on the unique natural and cultural background of Chengde, it tells what the Qing Dynasty looks like. With the use of high-tech sound and light at the stage, you may feel that you enter another world through the veil of time.
The whole performance contains five acts, including Preface · Chasing the Deer, God's Questions, Sound of the Heaven, Destiny and The World. It fully demonstrates the Qing Dynasty with magnificent visions, exhibits historical features and humanistic sentiments of the heyday of the Qing Dynasty, expresses the brilliant life of Emperor Kangxi in the most wonderful form, highlights his great achievements in the development of Chinese history and the progress of world civilization. While watching the performance, you can amazingly learn a lot about Emperor Kangxi - one of the greatest emperors in China's history, including his good knowledge, his diligence, his open mind, his benevolence and his aspiration.
How to Plan Your Chengde Tour
How to Get to Chengde: You can fly to Chengde from Shanghai, Tianjin, Guangzhou, Shijiazhuang or take a high speed train from Beijing, Shijiazhuang and other Chinese cities.
Best Time to Visit Chengde: April to October, especially April and May in spring and September and October in autumn
Top Attractions to Visit in Chengde: Jinshanling Great Wall, Chengde Imperial Mountain Resort, Bashang Grassland, Putuo Zhongcheng Temple…
Chengde, a city neighboring Beijing, is known for the Imperial Mountain Resort and surrounding temples such as Putuo Zhongcheng Temple, Puning Temple, and Pule Temple, where the royal family members have come to visit and had a retreat here to escape the summer heat, and about 100km away from Chengde downtown is the magnificent Jinshanling Great Wall. Further away to the northwest of suburban Chengde is the vast picturesque Bashang Grassland. Usually, 2 or 3 days is suitable for visiting major highlights of Chengde. To make photography tour or landscape tour to Bashang Grassland, you need to plan at least 2 days.
✔ 2 Days Chengde Tour from Beijing
✔ 2 Days Classic Chengde Tour
✔ 3 Days Chengde Highlights Tour including Jinshanling Great Wall Hiking
For the short distance to Beijing, generally, many tourists would like take 4 to 5 days to travel Chengde after your trip in Beijing, and Beijing is usually the gateway city to start your trip in Chengde with world-renown ancient wonders such as the Forbidden City, Summer Palace, and Temple of Heaven, Mutianyu Great Wall, Hutongs, etc. After your 2 or 3 days' Beijing highlight trip, soon your can start your exploration in Chengde. It's convenient to visit the temples and royal resort in the city center area and to see the unmissable Jinshanling Great Wall along your way between Chengde and Beijing. If time allows and you're quite interested in natural scenery, the idyllic Bashang Grassland is also charming to see.
✔ 4 Days Bashang Grassland Unparalleled Landscape Tour from Beijing
✔ 5 Days Beijing Highlights Tour with Sidetrip to Chengde
✔ 7 Days Bashang Grassland Photography Tour
Besides Beijing, travelers can also extend the Chengde trip further to Tianjin, Qinhuangdao, Zhangjiakou, in Hebei Province and even other northern cities like Dalian and Shengyang to see more stunning heritage and nature sights in China.
Travel with China Discovery
China Discovery is an experienced, professional, and reliable travel companion devoted to offering high-quality and the best tour services for all travelers to China. To have a hassle-free journey and focus on the trip itself, it's highly recommended to travel with China Discovery. So, you can enjoy convenient airport pick-up and drop-off service and transportation to all scenic spots in a safe, clean, comfortable, air-conditioned, and non-smoking vehicle. Also, we will arrange a knowledgeable local tour guide, excellent accommodation, and dining arrangements to ensure you rest well in Chengde and Beijing and get a better understanding of the culture behind the attractions. You may select a favorite from our most popular Chengde tours or contact us to design a unique itinerary according to your personal time and preference.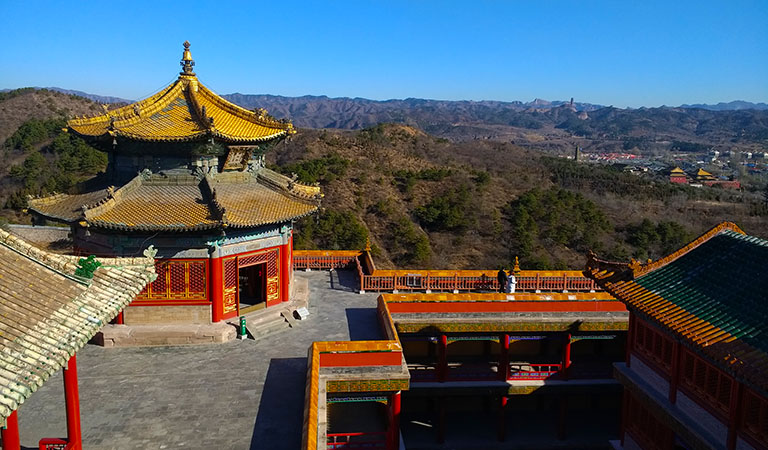 Chengde Imperial Mountain Resort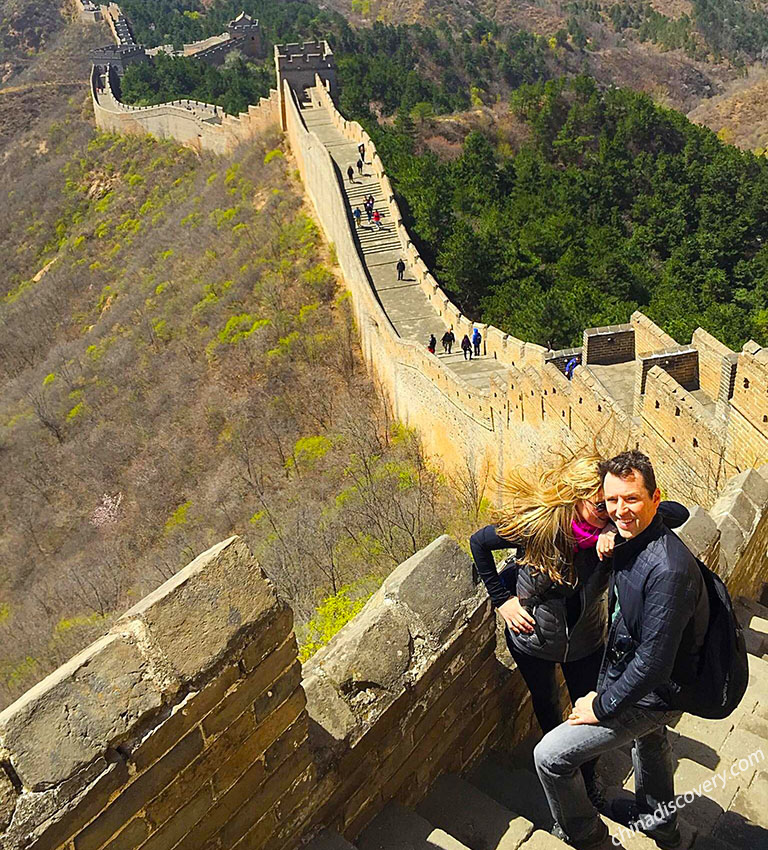 Our American Tourists Visited Jinshanling Great Wall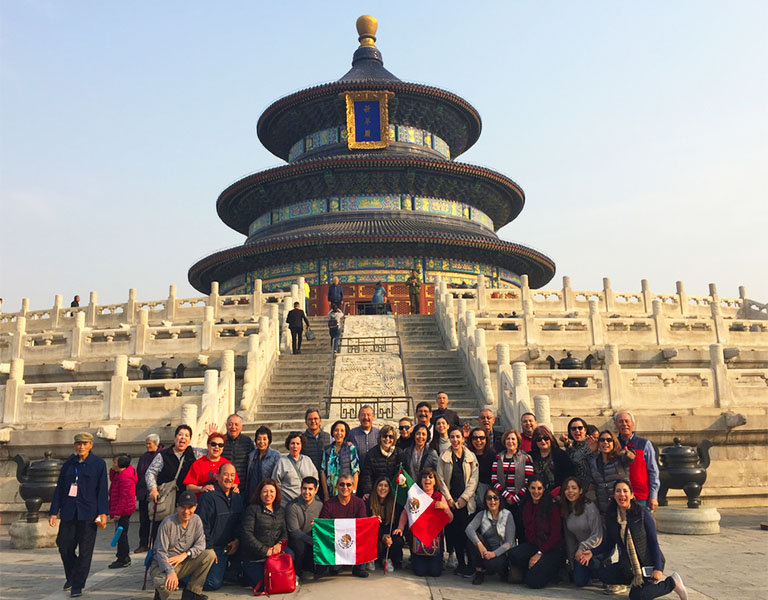 Our Mexican Group Tourists Visited Temple of Heaven in Beijing
Recommended Chengde Tours
Top 3 Chengde tours chosen by most customers to explore Chengde in the best way. Check the detailed itinerary, or tailor your own trip now with us.
4 Days Bashang Grassland Unparalleled Landscape Tour

Beijing / Chengde / Bashang / Beijing
3 Days Chengde Highlights Tour including Jinshanling Great Wall Hiking

Chengde / Jinshanling Great Wall / Beijing
Start planning your tailor-made holiday to China by contacting one of our specialists. Once inquired, you'll get a response within 0.5~23.5 hours.
Customize a Trip
Have a question? Get answers from our travel experts or guests
Your Question:

Your Name:

Your Email: