Harbin Transportation: Flight, Train, Metro, Taxi, Bus & Cable Car
Harbin, the capital of Heilongjiang Province, is located in the northeastern part of China. Reputed as the "Moscow in the Orient", it is a surprising dream-like paradise for tourists who are looking for a trip to meet both China and Russia. And its stunning Ice and Snow Festival makes it always on the ranks of top places to visit in winter. Usually, the best time to visit Harbin is from early December to next February. And if you are heading to Harbin for the grand festival, you are recommended to visit Harbin from late December to the early February.
Before planning your Harbin tour, follow us to know how to get to the city and how to travel around. The following guide will show you all the information about that and help you traveling Harbin more enjoyable and efficient!
Get to/away Harbin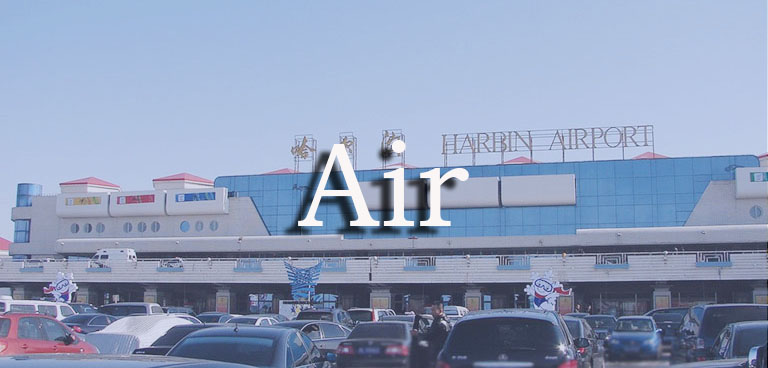 Flights to Harbin
There is only one civil airport in Harbin, named Harbin Taiping International Airport (IATA: HRB, 哈尔滨太平国际机场). This second largest airport in northeastern China is located 41 kilometers northwest of Harbin City, which take about 40 minutes' drive from downtown. This airport offers over 50 air routes, covering more than 40 domestic and overseas cities, including Beijing, Shanghai, Guangzhou, Seoul, Osaka, Vladivostok and Los Angeles.
From the airport, you could take airport shuttle buses, taxis or private transfers to Harbin downtown.
Check Details about Harbin Airport to City >>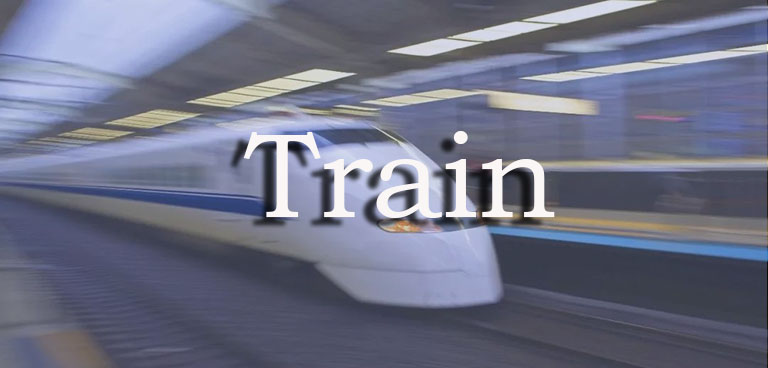 Train to Harbin
Passengers can also reach Harbin by high speed train. Harbin has three main railway stations. They are Harbin Railway Station, Harbin West Railway Station and Harbin East Railway Station. At present, there are more than 100 high speed trains running from/to Harbin every day. Most linking destinations are located in north regions or middle of east coast of China, like Beijing (5~6 hours), Tianjin (6~7 hours), Shengyang (2~3 hours around), Zhengzhou (10-11 hours), Shanghai (12.5 hours around), Suzhou (12 hours around), Nanjing (10.5 hours around), Wuhan (12.5 hours around), etc. Learn more about Harbin High Speed Trains >>
Get Around Harbin
Harbin Metro
At present, there are 3 metro lines - Line 1, Line 2 and Line 3 operated in Harbin. The metro service is available from 06:00 to 21:30 every day. Harbin West Railway Station is on Line 3; Harbin East Railway Station and Harbin South Railway Station is on Line 1; Harbin North Railway Station is on Line 2. Metro must be must the cheapest alternative to the bus. However, the metro trains only run in Harbin downtown area on the south bank of Songhua River, thus you couldn't ride the train to Ice & Snow World and Sun Island on the north bank, and the airport in suburb area.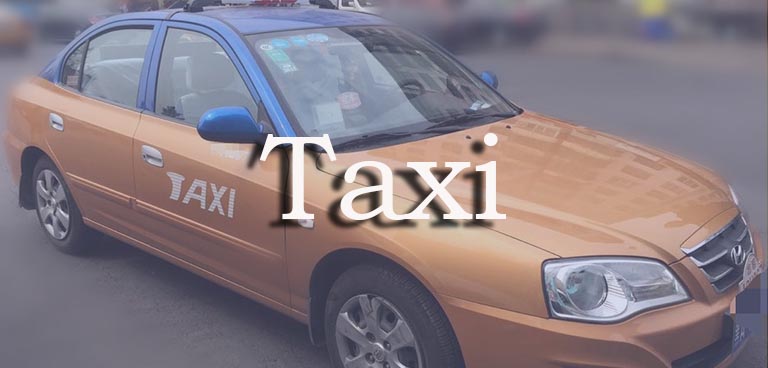 Harbin Taxi
Getting around Harbin by taxi may be a little bit expensive but it is a popular choice in this large city. The taxis in Harbin have a roof in silver, green or blue, while their bodies are in yellow. The taxis in different districts have different roof, but all of them follow the same price rule. During the day, the meter will start running at CNY 9.00 for the first 3km (1.8 miles), with CNY 1.9 added for every kilometer thereafter. During night hours from 22:30 to 6:00 of next morning, CNY 1.9 added for every 500 meters thereafter instead of one kilometer.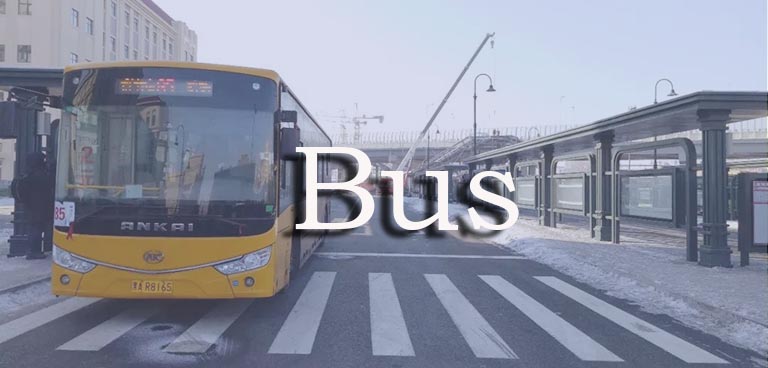 Harbin Bus
Local city buses are must the cheapest way to travel every corner of Harbin. To be calculated, there are more than one hundred bus routes reaching all parts of the city. Usually, the bus service is provided from 6:30 to 19:00. Some bus lines are available from 5:00 to 21:30. Trips by public lines in Harbin are charged for a flat fare of CNY 2. You are suggested to prepare adequate money for the fare as no change is given on the buses.
Nangang Bus Station (南岗长途汽车站) also offer bus services to the rest cities of Heilongjiang Province and also Vladivostok in Russia.
Warm tip: bus service is only recommended for those who can speak and read Chinese very well, because all the bus signs are in Chinese and the bus drivers usually can speak Chinese only.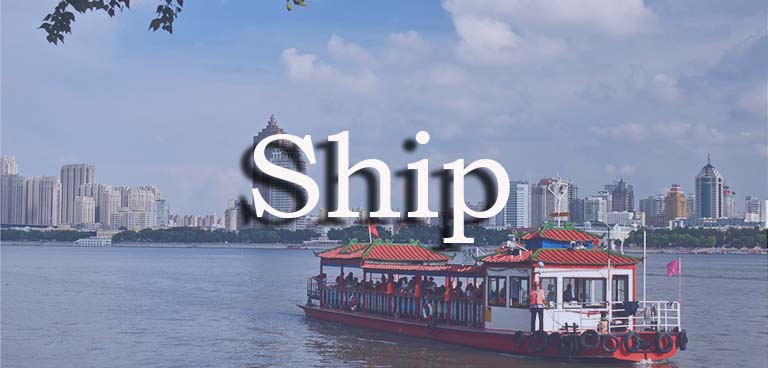 Harbin Ship
Harbin City is separated into two parts by the Songhua River. Zhongyang Pedestrian Street, Zhaolin Park and Saint Sophia Cathedral are on the south part of the city, while Sun Island Scenic Area and Ice & Snow World are on the north part. At the two banks of the river, there are several docks, from where you could take ferries to the other side of the river. At the south bank, the ferries will depart from the docks near Stalin Park, like Jiuzhan Dock (九站), Tongjiang Street Dock (通江街), Hatie Dock (哈铁), etc. And in the north bank of the river, there are No.13, No.15 and No.16 Dock. The ticket charges from CNY 2 per person. Ship service is available from 5:00 to 17:00 every day. The operation period of ferries is usually from April 20 till November 10, depending on the river condition.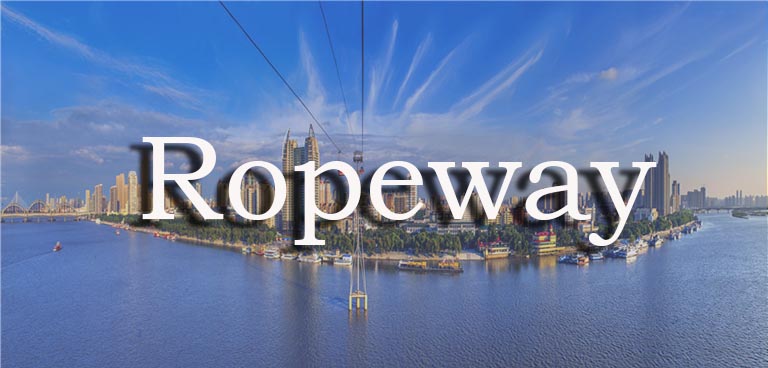 Harbin Cable Car
To travel from the south bank to the north bank of Songhua River, you can also choose the cable cars. The cable cars run between Tongjiang Jie and Sun Island directly. Tongjiang Jie is in a walking distance from the Flood Control Monument, you could walk to there for about ten minutes.
The whole cable car journey takes about 6 minutes and charges for about CNY 50 per person. It is great way to cross the river and have a bird view, but it is a bit expensive way as well.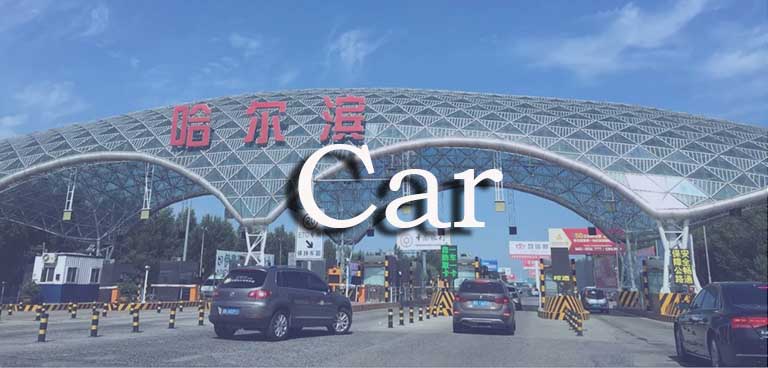 Harbin Licensed Private Car
Harbin City is about three times the size of Beijing. It is wide and huge and hard to navigate for the first-timers and also other tourists. Taxi is a good choice to travel around the downtown area. However, it may be a little bit expensive to get to some of the most attractive tourist spots far from the city center, such as Yabuli Ski Resort and China Snow Town. Therefore, hiring a licensed private car in advance and travel with a professional English driver is a better choice. We China Discovery can also provide such convenient service, if you are in need, you could contact us for help.
Harbin to Yabuli Ski Resort
As the largest and most professional ski resort in China, Yabuli Ski Resort is obviously a wonderland for skiing and snowboarding enthusiasts. Inside the ski resort, there is also a zoo, where you can see adorable pandas, sable, sika deer, brown bear. And about 3km away from the ski resort there sets Yabuli Forest Spring Resort, where you can end up your day with a soak in the hot springs with your family or friends.
Located at southeast of Shangzhi, Harbin, Yabuli Ski Resort is about 230 km from Harbin downtown. To get to the ski resort, most of the travelers choose to take flexible licensed private car and other people may also take bus or train. If you travel with private car, you could arrive at Yabuli Ski Resort in about 3 hours. And the traveling time by train and bus is about 3-4.5 hours, because you have to get to the train stations or bus stations first. Besides, the train and the bus can only take you to the town area instead of the ski resort directly.
Know more details about Harbin to Yabuli Ski Resort >>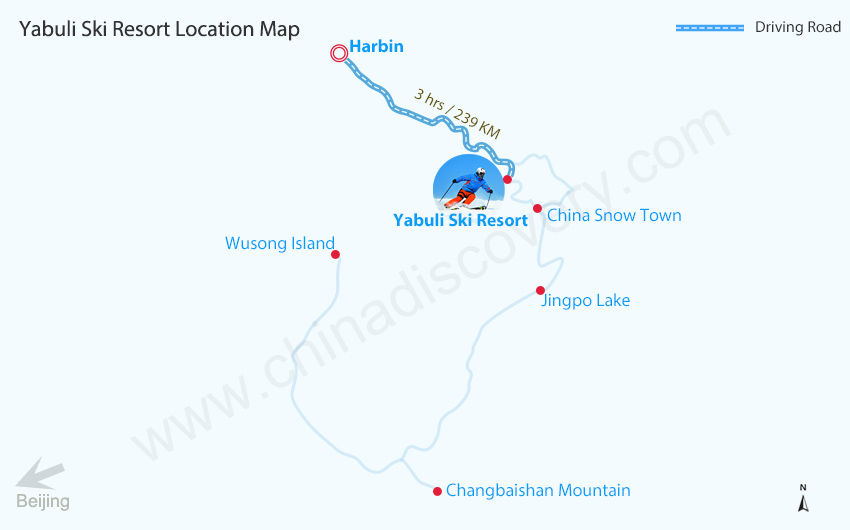 Harbin to Yabuli Ski Resort Map
Harbin to China Snow Town
China Snow Town is a perfect site to capture gorgeous panoramic view of the snow village, enjoy the fun of playing with snow, do some light hiking to nearby hill to watch sunrise, and experience real life of local snow town people...
The Snow Town is in Shuangfeng Forest in Hailin County of Heilongjiang Province, about 280 km away from Harbin and about 83 km from Yabuli Ski Resort. Tourists can travel to the snow town by train (4~7 hours), private car (5 hours around) and bus (5.5 hours around). Taking licensed private car is the best recommended way, because you can travel from your hotel to the snow town directly.
Know more details about Harbin to China Snow Town >>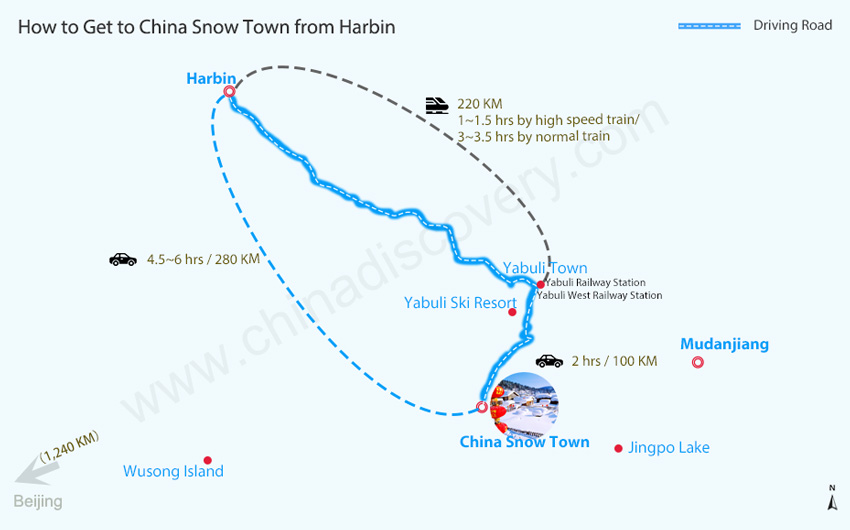 Harbin to China Snow Town Map
Yabuli Ski Resort to China Snow Town
China Snow Town is about 83 km southeast of Yabuli Ski Resort. The local bus and train are very complex for tourists, as there are so many bus stations and railway stations and all the bus and train cannot take you to the snow town directly. Therefore, you are more suggested to hire a licensed private car and travel with professional driver. Driving from Yabuli Ski Resort to China Snow Town takes about 2 hours.
☛ 6 Days In-depth Harbin Tour with China Snow Town & Yabuli Skiing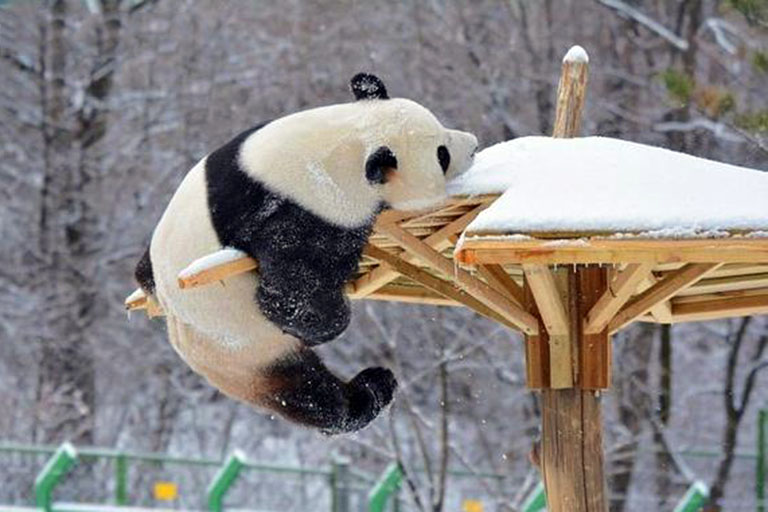 Panda in Yabuli Ski Resort
Beijing to Harbin
Traveling from Beijing to Harbin is a popular choice! Many travelers choose to visit Beijing first and then make a transfer to Harbin, not only because Beijing has frequent high speed trains and flight to Harbin every day, but also for its massive iconic attractions and World Heritages, like world-renowned Forbidden City, Temple of Heaven, Summer Palace, etc.
The most convenient way to travel to Harbin from Beijing is taking flights. The whole flying trip takes only about 2 hours. High Speed Trains are also great choices. There are over 10 high speed trains available every day, and the whole train journey takes about 5~6 hours.
Know more details about Beijing to Harbin >>
☛ 6 Days Beijing & Harbin Stunning Winter Tour
Beijing to Harbin
Shanghai to Harbin
A trip from Shanghai to Harbin is from a super modern world full of towering buildings to a fairytale ice and snow world filled up of ice castles and towers.
The two cities are about 1,674 km (1,040 miles). At present, you could choose a flight or bullet train to travel between them. Taking flights needs about 3 hours around. And if you choose the high speed train, it will take about 12.5 hours. Know more details about Shanghai to Harbin >>
☛ 5 Days Shanghai & Harbin Ice and Snow Festival Tour
Shanghai to Harbin
Hong Kong to Harbin
The tour from Hong Kong to Harbin takes you from the coast of southeast China to the northeastern part of China. It is a long trip even if you taking flights, let alone there is no direct flight and train operated between the two cities. Therefore, travelers usually get to Beijing, Shanghai, Shenzhen or Guangzhou first and then make a transfer to Harbin. Know more details about Hong Kong to Harbin >>
Hong Kong to Harbin
Xian to Harbin
If you are planning a tour from Xian to Harbin, you are suggested to take a flight. There are more than 6 scheduled flights available every day. And by taking these flights, you could reach Harbin in only about 3 hours. Trains are not really suggested, because the train journey needs more than 34 hours.
Xian Attractions Map
Shenzhen to Harbin
Shenzhen is perched almost on the southeast edge of the mainland China and borders Hong Kong on the south. For the travelers on a business or sightseeing tour to Hong Kong they will pay a visit to Shenzhen City too, because they can easily travel from Hong Kong to Shenzhen by MTR (metro). And for the tourists who are heading to Harbin from Hong Kong, they may also choose to make a transfer at Shenzhen as there is no direct flight or train between Hong Kong and Harbin.
At present, you could find about 7 daily flights between Shenzhen and Harbin. And the flight trip needs about 4.5 hours.
Tian'an Men Square
in China Folk Culture Village
Travel Harbin with China Discovery
To travel Harbin in the most convenient way, you can contact us and travel with China Discovery! In your whole journey, our professional local guide and driver will escort you from your hotel, train station, airport to all attractions with comfortable private car with speed and convenience and let you catch the highlights of every site, so you can get really relaxed on the way and focus on what you are interested.
The tour can be tailor made according to your plan, time, interests and demands. If you are interested, please feel free to contact us and tell us your needs, and we will customize a memorable tour for you!
Ice and Snow Festival
Harbin Weather & Temperature
Useful Harbin Travel Articles
Harbin Transportation & Maps
Recommended Harbin Tours
Top 3 Harbin tours chosen by most customers to explore Harbin in the best way. Check the detailed itinerary,or tailor your own trip now with us.
5 Days Charming Harbin & China Snow Town Winter Tour

Harbin / China Snow Town / Harbin