Harbin Transportation Map
The winter wonderland Harbin can be reached from many other tourist cities in China by flight, train and private car. The flights to Harbin depart from over 40 domestic and overseas cities, including Beijing, Shanghai, Guangzhou, Changsha, Seoul, Osaka, Vladivostok and Los Angeles… And roughly, there are more than 100 high speed trains running from/to Harbin every day. To help better plan your Harbin tour, we have gathered useful Harbin transportation maps at below:
How to Plan a Harbin Tour
Usually, travelers spend about 3 days in Harbin. During their 3-day Harbin tour, they will have leisure walking at exotic Zhongyang Pedestrian Street and Sophia Square, get close to appreciate those huge ice sculptures, and also have a date with Siberian Tigers…
Recommended tours:
>> 3 Days Classic Harbin Winter Tour
>> 3 Days Harbin Ice Festival Tour
For the visitors have 1-2 days more in Harbin, they will have a side trip to the nearby Yabuli Ski Resort or China Snow Town. If you are a ski amateur or a professional skier, giving yourself a chance to ski along the longest ski trail in Asia, and you will no doubt create lifelong happy memories there. And if you desire snow villages and sunrise over snow hills more, China Snow Town should be on your travel list.
Recommended tours:
>> 5 Days Harbin Winter Tour with Yabuli Ski Resort
>> 5 Days Charming Harbin & China Snow Town Winter Tour
A Harbin tour is usually starting from Tianjin or Beijing, as Tianjin is one of the most important ports for international cruises, while the capital city Beijing is always one of the most popular landing cities for a China tour.
Recommended tours:
>> 4 Days Harbin Fantastic Winter Tour from Tianjin Cruise Port
>> 6 Days Beijing & Harbin Stunning Winter Tour by Flight
A Corner of Ice and Snow World
Skiing at Yabuli Ski Resort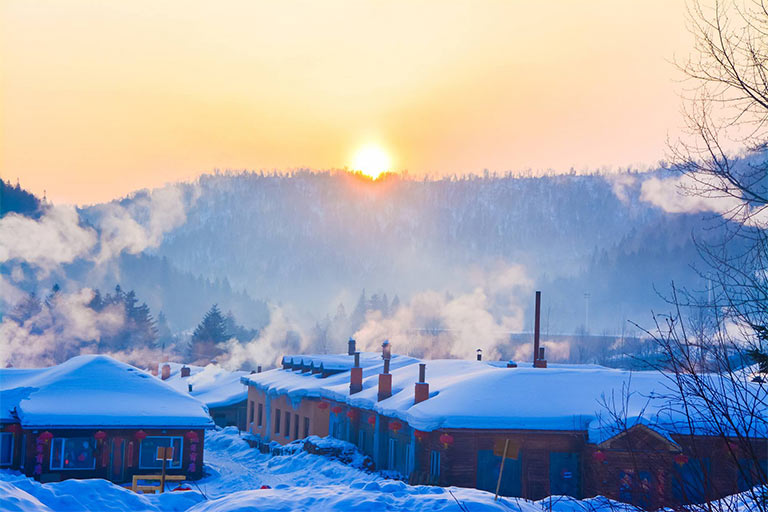 Sunrise at China Snow Town
Travel Harbin with China Discovery
To travel Harbin in the most convenient way, you can contact us and travel with China Discovery! In your whole journey, our professional local guide and driver will escort you from your hotel, train station, airport to all attractions with comfortable private car with speed and convenience and let you catch the highlights of every site, so you can get really relaxed on the way and focus on what you are interested.
The tour can be tailor made according to your plan, time, interests and demands. If you are interested, please feel free to contact us and tell us your needs, and we will customize a memorable tour for you!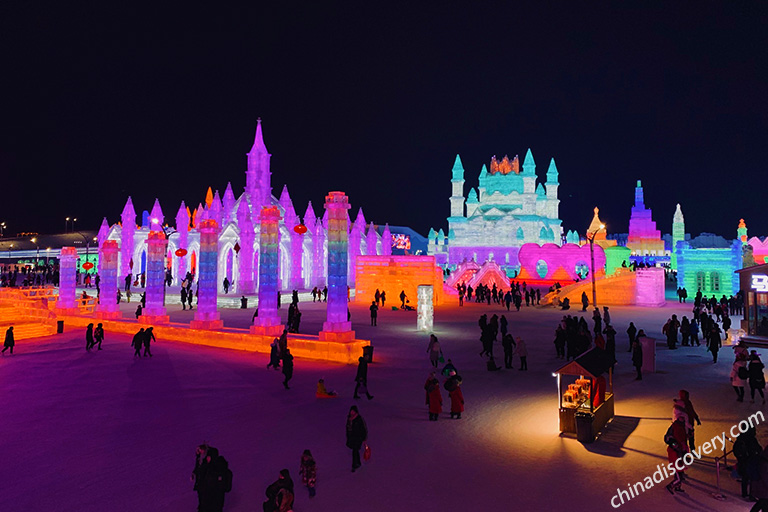 Ice and Snow Festival
Other Useful Maps of Harbin
Useful Harbin Travel Articles
Harbin Weather & Transportation
Recommended Harbin Tours
Top 3 Harbin tours chosen by most customers to explore Harbin in the best way. Check the detailed itinerary,or tailor your own trip now with us.
5 Days Charming Harbin & China Snow Town Winter Tour

Harbin / China Snow Town / Harbin