How to Get to & around Hangzhou 2023
Hangzhou boasting the global well-known West Lake and other charming sightseeing and cultural sites has long been reputed as a "Paradise City" in China. To meet such amazing scenic and cultural destination in Zhejiang Province, you must want to know where Hangzhou is and how to get there by flight or train and how to travel around. Read our ultimate Hangzhou transportation guide to find your answers and plan your trip to Hangzhou in 2023/2024!
Where is Hangzhou?
Hangzhou, the capital city of Zhejiang Province is located in the north part of this province in East China. It is only about 1125 km from Beijing (4.5 hours' bullet train riding), 165 km from Shanghai (3 hours' driving distance; 180 km), 125 km from Suzhou (2.5-3 hours' driving distance; 160 km), 190 km from Huangshan (3-3.5 hours' driving distance; 240 km). convenient daily flights and high speed train can take you to Hangzhou from almost domestic cities and popular tourist destinations. Besides, many international flights also well link Hangzhou with many other countries (regions).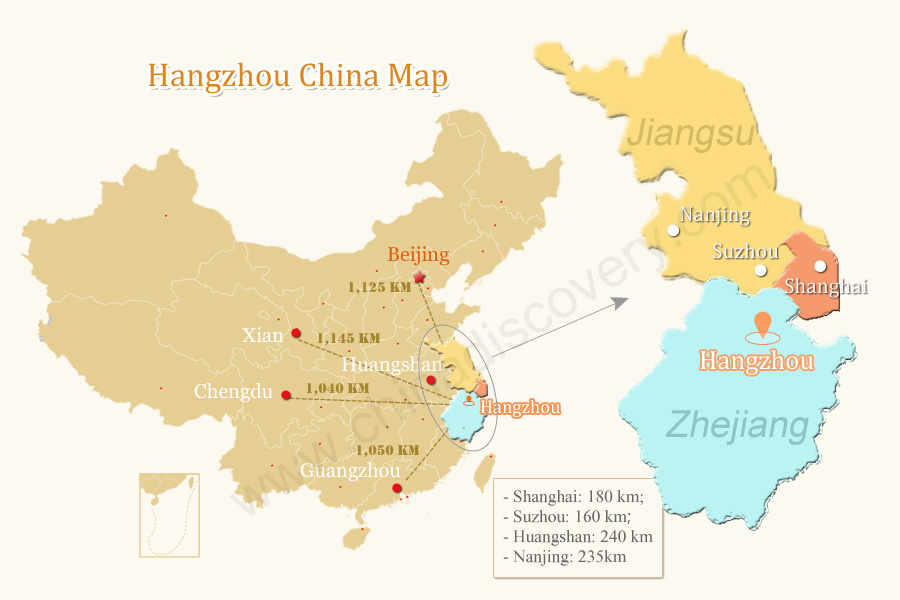 Hangzhou China Map
Click to Jump to:
How to Plan a Hangzhou Tour
Get Inspired by Real Travel Stories of Our Customers