Why Visit Yalong Bay, Sanya, Hainan, China?
Amongst the so many beaches and bays in Sanya, Yalong Bay enjoys the best reputation. Covering an area of 66 square kilometers, Yalong Bay boasts amazing oversea views, soft and fine beach and various kinds of above water and underwater activities, allowing one hundred thousand people swimming and relaxing and thousands of yachts chasing at the same time! In 1992, the Secretary-General of the World Tourism Organization once marked that Yalong Bay embraces the unique and unparalleled natural settings, sands, crystal sea water, endless seashore, unspoiled hills and pristine vegetation, making it a paradise for holiday travelers. In 2005, Yalong Bay was also ranked as the top of the Eight Most Beautiful Coasts in China by Chinese National Geography.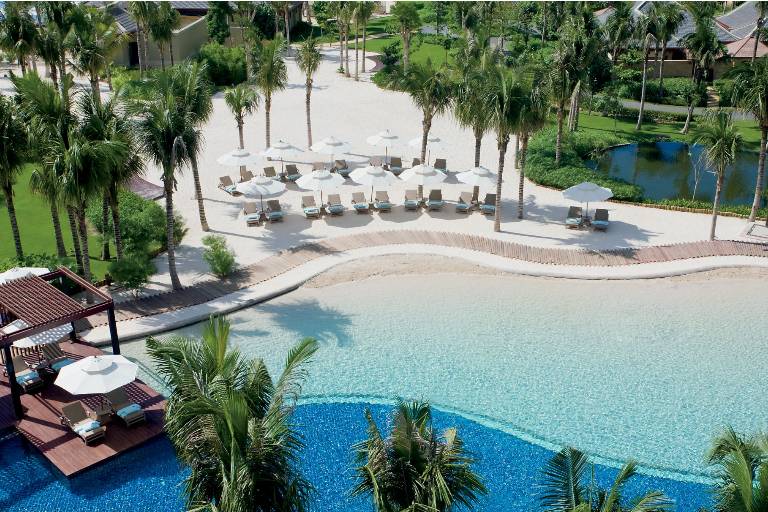 A Corner of the Private Beach of Ritz Carlton Sanya Yalong Bay
Best Things to Do at Yalong Bay
A 7.5-kilometer-long beach with the finest and most soft sands in the whole Sanya;

When it comes to a trip to Sanya, there is nothing better than lying under the shades of coconut tree umbrellas and watching the sea waves approaching and fading away. Yalong Bay gives you the best experience of its kind. It has a 7.5-kilometer-long beach, which is three times as long as that in Hawaii! Therefore, you can very easily to find to place to lie down and relax. Also, you can have sand fun with your friends or family after you get enough rest. The sands there are considered to be the best in Sanya and even whole China!

Along the coastline of the bay area, there are plenty of upscale resorts and hotels to relax yourself and many large commercial shopping centers to do shopping and sea foods spree;

Being one of the earliest bays in Sanya to welcome visitors from all over the globe, Sanya Bay has well-constructed resort and hotel clusters. World-renowned upscale resorts that can be found there include Hilton, Pullman, Sheraton, etc. If you are looking for some relatively budget apartments, Yalong Bay also has many good options to offer. In addition to the resorts, there are also a full range of mature shopping malls and food streets to satisfy your shopping desire and taste mud.

Diverse kinds of activities to have fun at Yalong Bay Underwater World, including jet skis, golf games, sunbathing and so forth;

A visit to Sanya without close touches of water is never enough. Here at Yalong Bay, you can enjoy different kinds of amazing activities to cheer yourself up, including riding jet skis, playing golf, sea walking, etc.

The best forest park in Sanya and even the whole Hainan is also settled here.

If you want more tropical flavor in Sanya, you are highly suggested to visit Tropical Paradise Forest Park at Yalong Bay. Here, you can enjoy forest adventure, Rope Bridge roaming, glass bridge walking and a panorama view of Yalong Bay and the surrounding. Longtou Rock (Dragon Head Rock) of the park is believed to be the best place to admire the sunrise. The tiny villas dotted in the forest on the hill top will also blast your eyes.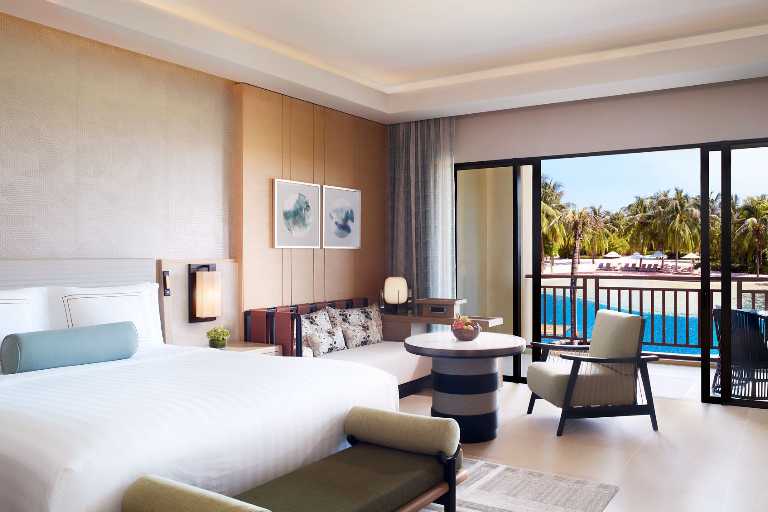 Ritz Carlton Sanya Yalong Bay, top upscale resort at Yalong Bay
Yalong Bay Golf Club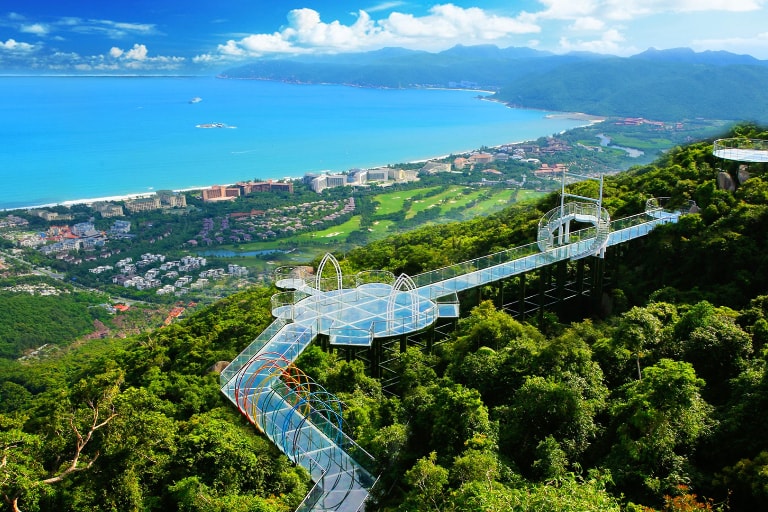 Yalong Bay Tropical Paradise Forest Park
Where to Stay at Yalong Bay?
The resorts and hotels at Yalong Bay are divided into two classes. The first-class hotels refer to those settled adjacent to the Yalong Bay Beach, with a garden connecting the hotel with the beach in direct. Most of the famous resorts belong to this class, including Ritz-Carlton Sanya, Sheraton, Marriott, Hilton, St. Regis, MGM Macau, Mangrove, Palace Resort, etc.
The second-classes refer to those hotels being separated from the beach by a road. Visitors who staying in the second class hotels are required to pass through at least a driving road to get to Yalong Bay Beach. However, the walking distance is not too long, most of which are within one kilometer. Second-classes include Pullman, Shama, Palace Resort Villas, Cactus Resort Sanya, etc.
Normally, the first-classes are more recommended. However, as the upscale resorts of second-class are not really very far away from the beach and usually offer free direct sightseeing bus to the beach, it not always follows the rule. You are suggested to choose your best hotel to stay according to your habit, budget and specific needs such as children care facilities. If you are in budget, you can also choose an apartment to stay.
Yalong Bay Accomodation - Where is Yalong Bay in Sanya?
Yalong Bay (亚龙湾), or called Asia Dragon Bay, is a semilunar bay located in the southeast region coast of Sanya, roughly situated in the same latitudes as Hawaii of the tropical monsoon area. Amongst all the four popular bays in Sanya, including Sanya Bay, Dadonghai Bay, Haitang Bay and Yalong Bay, it is located to the east of the city center, bordering Haitang Bay to the east and Dadonghai Bay to the west.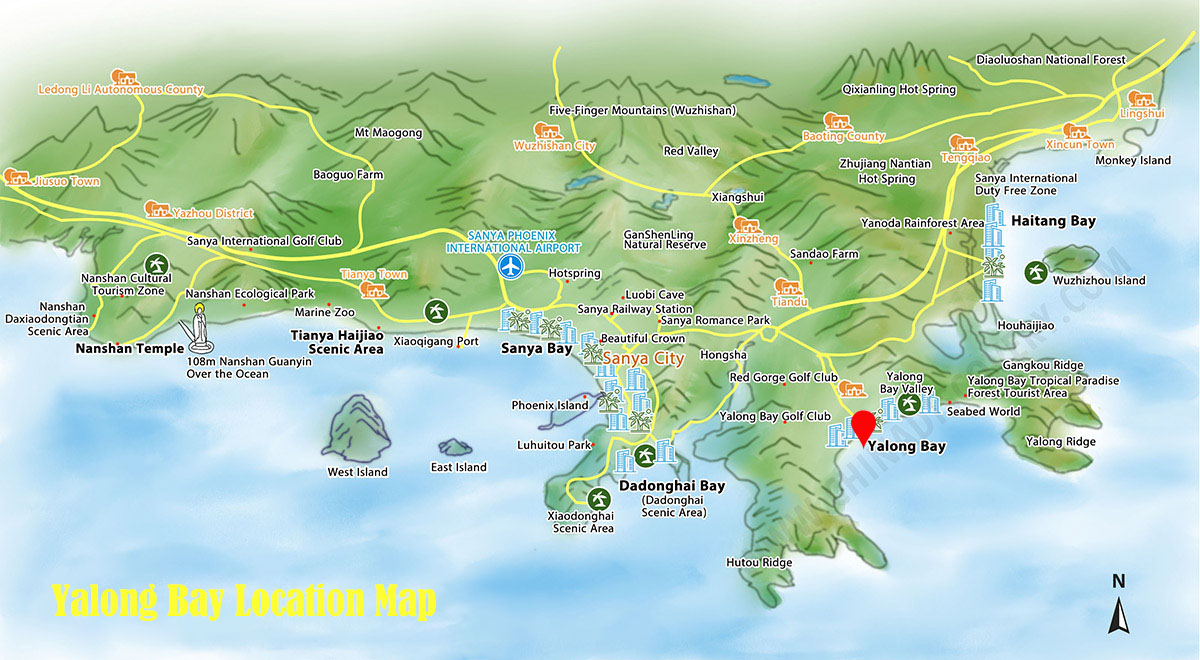 How to Get to Yalong Bay?
Most of the upscale resorts and top-luxury hotels at Yalong Bay offer free airport shuttle bus running to/from Sanya Phoenix International Airport. Therefore, you can ask the resort you booked for help to get to or get away from Yalong Bay. If the resort or hotel you chosen don't offer such a choice or ask high extra fee on such a service, you can also get to Yalong Bay by taxi or city bus Line 27 (it may be changed, check it is still the right bus line before you hop on the bus).
If you come to Sanya by bullet train and want to head to Yalong Bay upon arrival, you are suggested to get off the train at Yalong Bay Railway Station instead of Sanya Railway Station, which is closer to Yalong Bay, with a driving distance for about 10 kilometers (15~20 minutes by car). Also, ask taxi or city bus Line 27 (it may be changed, check it is still the right bus line before you hop on the bus) for help to get there.
How to Plan a Yalong Bay Tour?
Visitors usually spend at least one night at a resort/hotel at Yalong Bay and spend the next day(s) to enjoy sunbathing and more fun at the beach, forest and undersea. Such a classic Yalong Bay tour needs 1~3 days . If someone have more days in Sanya, he/she may also spend more days here, while more people choose to get more surprises at more bays and islands in Sanya , like Haitang Bay and Wuzhizhou Island, Sanya Bay and West Island, etc. Don't forget duty free shopping! Asia's largest duty free mall, namely Sanya Duty Free City, is located at Haitang Bay. In addition to Sanya Duty Free City, you can also enjoy shopping at the duty free malls at Sanya Phoenix International Airport and the one next to Sanya Qianguqing Performance Scenic Area.
Travel Sanya with China Discovery
Let our professional travel consultant help you with the resort booking, airport pick-up and drop-off and day-by-day arranging! Even though Sanya has already built a convenience tourism system, it maybe still a troublesome thing to plan a tour by yourself, let alone there are some vital notices you may be ignored, such as you are required to relax at least 18 hours after more than two times of deep diving. We China Discovery have made careful researches on every resort, bay, beach and island in Sanya ad have helped numerous visitors enjoy their holiday there. We know the best picks for you or your family. If you go with us, you can indulge in the coastal landscape and activities, and we will take care of the rest. The tour is customized for you with your interest, need, group size and every special requirement. If you are interested, please feel free to contact us !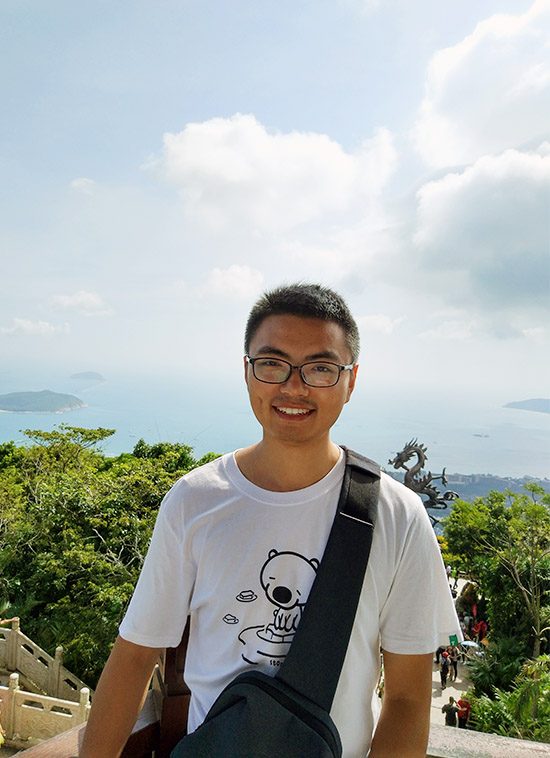 To make better recommends and provide better service, our travel consultant visited Sanya to do research. Photo taken at Yalong Bay Tropical Paradise Forest Park.
How to Plan a Sanya Tour
Best Time to Visit Sanya: October ~ Next May
Places to Visit: Various bays, Betelnut Valley, Nanshan Buddhism Cultural Park, Yanoda Rainforest Park
How to Get There: International flights from London, Singapore, Seoul, Jakarta, Moscow, Novosibirsk, etc., and domestic/regional flights from most major cities like Beijing, Xian, Shanghai, Chengdu, Guangzhou, Chongqing, Hong Kong, Macao, Taiwan, etc.
Generally, a Sanya tour can be short or long, and many travelers choose to stay in Sanya for about 4~7 days. We suggest you visit at least one bay for a real "holiday", such as Yalong Bay, Sanya Bay, Dadonghai Bay or Haitang Bay where you can immerse yourself in the relaxing atmosphere by taking a sunbath, strolling on the soft beach, viewing the coastal scenery, etc. It is also available to spend several hours or more time experiencing some watersports. For travelers interested in the primitive nature of tropical forests, Yalong Bay Tropical Paradise Forest Park or Yanoda Rainforest Park, which needs 0.5~1 day, is worthwhile. Besides, Nanshan Temple (0.5~1 day) with the world's largest statue of Avalokitesvara - Nanhai Guanyin is also recommended if you have a Buddhist faith or want to appreciate a religious savory. For travelers needing an in-depth tour, Binglanggu is a nice option for local minorities exploration!
☛ 4 Days Sanya Beach Resort Tour
☛ 6 Days In-depth Luxury Sanya Tour with Two Free Days
Want to escape the crowds and explore Hainan? Don't miss Haikou - the capital city with lots of culture fun. A classic Haikou tour takes about 2 days. The top highlights include informative Hainan Museum, old buildings in Qilou Old Street, Volcanic Crater Park, etc. Besides, you can spend 1~2 days exploring the undeveloped bays and uninhabited islands, 1~2 days appreciating the peaceful town of Boao and its unique natural landscapes, 1~2 days involving in the sunny homeland of minorities in Lingshui, etc.
Notice: The pictures on this page, except for additional remarks, are all from the official websites of local attractions and tourism bureaus.
Keep Reading About Sanya
Keep Reading About Hainan
Keep Reading About Sanya Hotels
Recommended Sanya Tours
Top 3 Sanya tours chosen by most customers to explore Sanya in the best way. Check the detailed itinerary, or tailor your own trip now with us.
Start planning your tailor-made holiday to China by contacting one of our specialists. Once inquired, you'll get a response within 0.5~23.5 hours.
Customize a Trip
Have a question? Get answers from our travel experts or guests
Your Question:

Your Name:

Your Email: