Why visit Wuzhizhou Island?
Wuzhizhou Island is located in Haitang Bay, the national coast of Sanya City, Hainan Province, China. It is also known as "Lovers' Island". Overlooking from above, Wuzhizhou Island is naturally heart-shaped, like a bright star shining on the shore of the South China Sea. It is the first island resort in China that integrates seaside amusement, diving, high-end hotels, gourmet catering and leisure sightseeing.
The vegetation coverage rate on the island is over 90%. Sea visibility up to 27 meters; The surrounding waters are rich in coral species and have a high coverage rate of living coral. Moreover, it is also located in the golden latitude of the world's tourist attractions - the magical 18 degrees north latitude, plus the pleasant tropical ocean monsoon climate, which will make your body and mind poetic dwelling here.
With advantaged natural resources, Wuzhizhou Island not only has many famous attraction sites, but also has introduced international advanced maritime entertainment equipment. It is committed to creating a new benchmark of one-stop and all-round island tourism.
Attractions on Wuzhizhou Island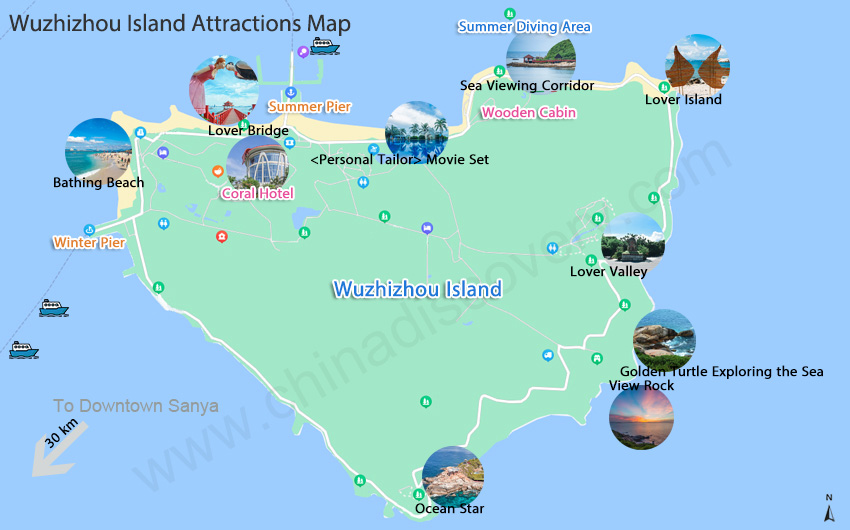 Being praised as the "Maldives of China", Wuzhizhou Island is one of the few small islands around Hainan Island with fresh water resources, and rich and diverse plants. Pure white sand beach, winding coast, rugged rocks, stunning sunrise, exquisite bridge and romantic valley are all highlights of the island.
View Rock (观日岩)
The View Rock is like a natural stone Buddha, facing the sea. Visit here in the early morning, visitors can see the red sun rising slowly from the sea, which is a unique view of the sunrise over the sea. When the wind blows and the surf lashes, the crest of the wave is more than ten meters high, showing quite a spectacular scene!
The Golden Turtle Exploring the Sea (金龟探海)
Located under the View Rock, the scenic spot is made up of natural boulders. The overall outline of the boulders is shaped like a huge turtle, whose head and armor can be clearly identifiable. When the waves hit, it looks like a turtle is paddling with its feet, dynamic and realistic, as if a giant turtle is slowly crawling towards the sea.
Ocean Star (海洋之星)
Located on the southeast cliff of Wuzhizhou Island, the Ocean Star is the hiking point on the island. Beside it, there is a sea view ladder winding around, leading to the Wish Pavilion on the top. Standing in the pavilion, you can overlook the whole island and the vast South China Sea.
Lover Bridge (情人桥)
Originally a chain bridge, it was once the sea lookout point for the troops guarding the island. Walking on the rickety bridge, people need to hold hands tightly and rely on each other, hence the bridge got the name of "The Lover Bridge". Now this bridge has been transformed from the original chain bridge into a wooden bridge and has become a popular spot for couples.
Lover Valley (情人谷)
Lover Valley, rich in negative oxygen ions, is a natural oxygen bar. Visitors may also have a chance to see the "four wonders of the rainforest" here: parasites, buttress root, stranglers and saprophytes.
Bathing Beach (海滨浴场)
The Bathing Beach on Wuzhizhou Island is located on the left side of the Winter Pier. The coastline is clear, the sand is fine and soft, and the sea shows a gradual color here. If you want to have a simple sunbathing, sea-swimming or spend a relaxing time with your family and friend, the bathing beach is a perfect place.
Sea Viewing Corridor (观海长廊)
On the west side of Wuzhizhou Island, wooden corridors and platforms were built along the coast. Travelers may appreciate the clear sea water while strolling along the corridor. Because there are abundant rocks in this area, visitors can see crabs "walking" on the rocks. If lucky, you may also see schools of tropical fish swimming among the coral reefs.
Movie Location of "Personal Tailor" (私人定制)
This is one of the important locations for Director Feng Xiaogang's 2014 New Year comedy "Personal Tailor". Next to the Pirate bar on Wuzhizhou Island, a green pool is hidden between the blue sky and coconut groves. Beside the pool, there is a white building in the shape of a bird's nest, which looks particularly quiet and tranquil against the background of bougainvillea, blue sky, crystal pool and coconut shadows.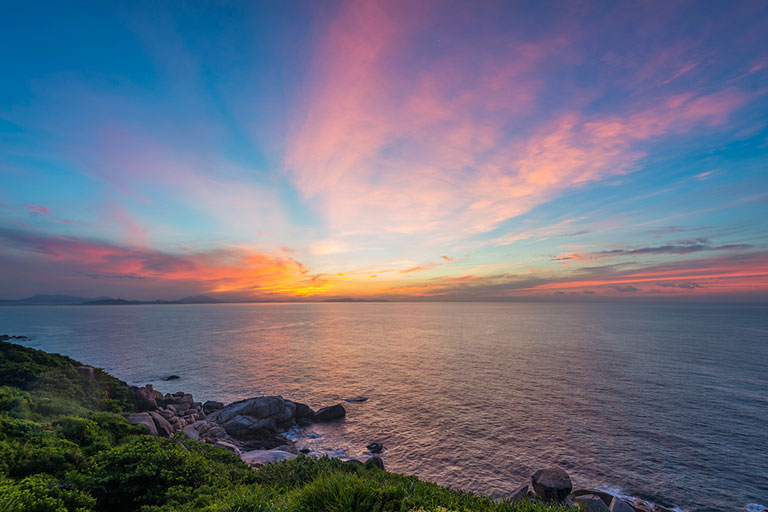 View Rock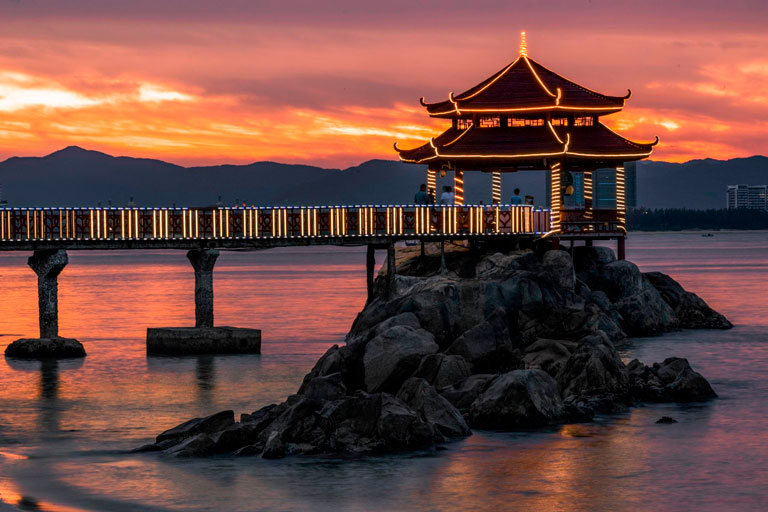 Lover Bridge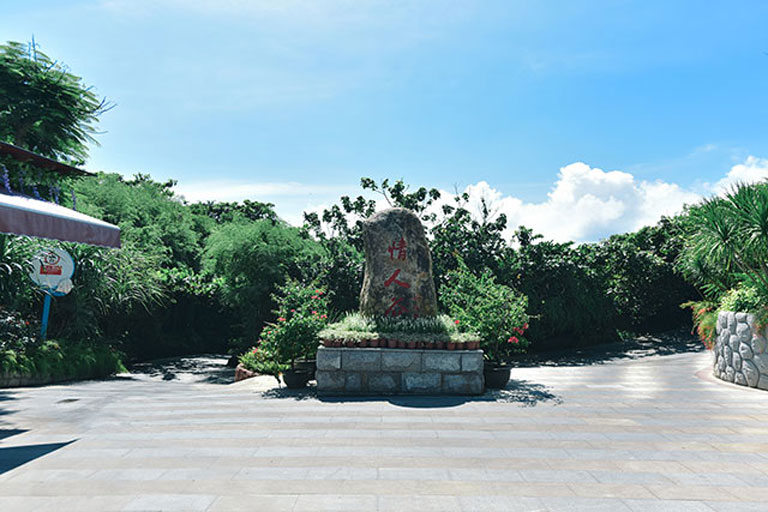 Lover Valley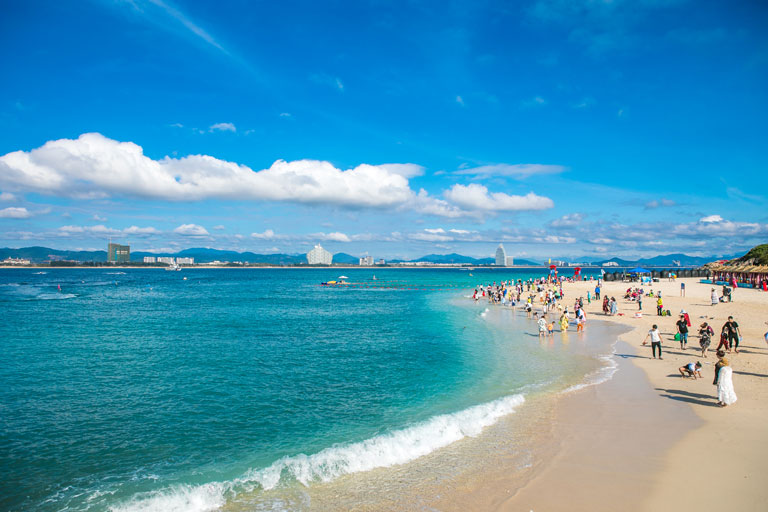 Bathing Beach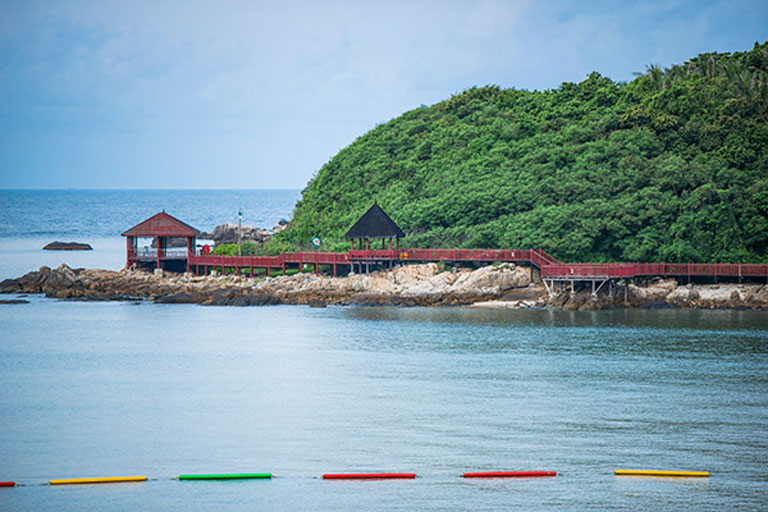 Sea Viewing Corridor
Tickets of Wuzhizhou Island
Island Entry Fee + Round-trip Boat: CNY 144/person
Island Sightseeing Buses: CNY 138 per round per person; CNY 200/day
(Notice: Prices given above are only for your reference, might change according to the real situation.)
How to Get to & around Wuzhizhou Island
Wuzhizhou Island Location
Wuzhizhou Island is located in Haitang Bay in the north of Sanya City, with the Nanwan Monkey Island standing far apart facing it in the north, and Yalong Bay, the top bay in Sanya, is adjacent to the south. Wuzhizhou Island is about 3 km away from the coastline and covers an area of 1.48 square kilometers.
It is about 30 km away from downtown Sanya, about 38 km from Sanya Phoenix International Airport, and close to the Haikou-Sanya highway. It enjoys advantageous geographical location and convenient transportation. Travelers who would like to pay a visit to Wuzhizhou Island usually reach Sanya by flight or train first, then take a car/taxi to Wuzhizhou Island Wharf at Haitang Bay and then transfer to a boat (the only way) to get on the island. More details about How to Get to Sanya >>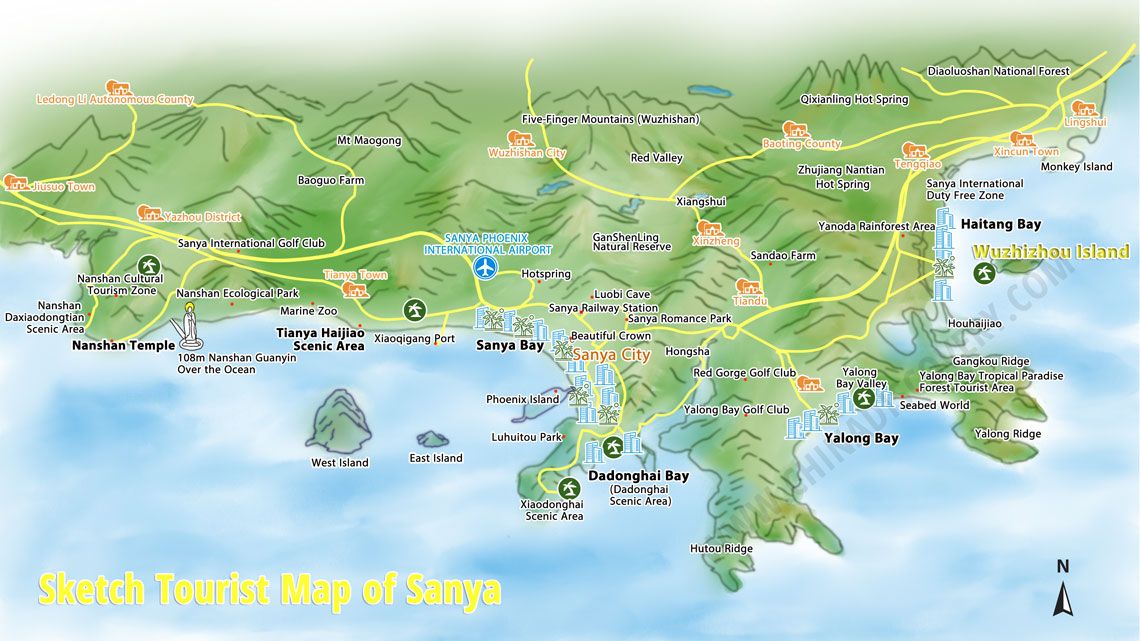 Sanya Wuzhizhou Map
Get on Wuzhizhou Island By Boat, Wuzhizhou Island Wharf
Taking a boat is the only way to get on Wuzhizhou Island. Travelers need to take a car/taxi/bus to get to Wuzhizhou Island Wharf (蜈支洲岛码头) first, and take a boat there. The wharf is about 30 km (50 minutes' drive) away from downtown Sanya and about 23 km (30 minutes' drive) from Yalong Bay. Besides, there are also free shuttle buses from downtown, Yalong Bay and Haitang Bay to Wuzhizhou Island Wharf. Tourists need to book the island gate ticket and boat tickets in advance, and make a reservation one day before boarding.
Location of Wuzhizhou Island Wharf: Houhai Village, Haitang District, Sanya City, Hainan (海南岛三亚市海棠区后海村)
Get around Wuzhizhou Island
There are sightseeing buses (require extra charges) running around the island. The bus would stop at 6 tourist areas: Bathing Beach (海滨浴场) - View Rock (观日岩) - Lover Valley (情人谷) - Lover Island (情人岛) - Island Teahouse (海岛茶馆) - Personal Tailor (私人定制) -- Back to Bathing Beach (海滨浴场).
If you have enough time, and plan to stay more days on the island, you can also explore the island on foot.
Accommodation and Where to Stay on Wuzhizhou Island
There are only a few types of accommodation on Wuzhizhou Island, which are near sea log cabin rooms, wooden villas and high-end Coral Hotel. Near sea cabin type accommodation (临海木屋) features emotional appeal, reflecting the romantic feelings of the seaside holiday. Coral Hotel (珊瑚酒店) is one of the most luxurious accommodations on the island, with first-class rooms and amenities.
Wuzhizhou Island is not large and can be visited within a day, so you can also choose to offshore the island and stay overnight in hotels at Haitang Bay, Yalong Bay, Sanya Bay or downtown Sanya. Check more about Where to Stay in Sanya, Sanya Hotels and Accommodation >>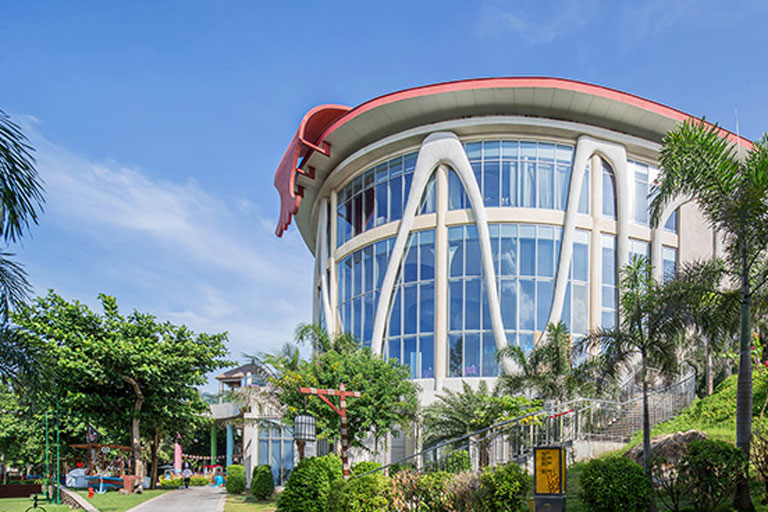 Coral Hotel on Wuzhizhou Island
More Travel Tips about Wuzhizhou Island
1. Wuzhizhou Island Weather: Wuzhizhou Island belongs to the Tropical Marine Climate Zone. Similar to the weather of Sanya, Wuzhizhou Island also has little change in cold and heat around the year. The average monthly temperature here is from 22°C (January) to 29°C (July). Precipitation is mainly concentrated in summer and autumn. Check more about Sanya Weather & Best Time to Visit >>
2. Dressing Tips: UV radiation is strong on the island, visitors are suggested to wear sun hats, sunscreen and sunglasses, etc. to protect the skin;
3. Highlights nearby Wuzhizhou Island: There are many other highlights near Wuzhizhou Island, including Atlantis Aquaventure Waterpark, Haitang Bay Duty Free, Binglang Ethnic Village, Yalong Bay and Yalong Bay Tropical Paradise Forest Park, etc. Check more about Top Attractions and Things to Do in Sanya >>
How to Plan a Sanya Tour
Best Time to Visit Sanya: October ~ Next May
Places to Visit: Various bays, Betelnut Valley, Nanshan Buddhism Cultural Park, Yanoda Rainforest Park
How to Get There: International flights from London, Singapore, Seoul, Jakarta, Moscow, Novosibirsk, etc., and domestic/regional flights from most major cities like Beijing, Xian, Shanghai, Chengdu, Guangzhou, Chongqing, Hong Kong, Macao, Taiwan, etc.
Generally, a Sanya tour can be short or long, and many travelers choose to stay in Sanya for about 4~7 days. We suggest you visit at least one bay for a real "holiday", such as Yalong Bay, Sanya Bay, Dadonghai Bay or Haitang Bay where you can immerse yourself in the relaxing atmosphere by taking a sunbath, strolling on the soft beach, viewing the coastal scenery, etc. It is also available to spend several hours or more time experiencing some watersports. For travelers interested in the primitive nature of tropical forests, Yalong Bay Tropical Paradise Forest Park or Yanoda Rainforest Park, which needs 0.5~1 day, is worthwhile. Besides, Nanshan Temple (0.5~1 day) with the world's largest statue of Avalokitesvara - Nanhai Guanyin is also recommended if you have a Buddhist faith or want to appreciate a religious savory. For travelers needing an in-depth tour, Binglanggu is a nice option for local minorities exploration!
☛ 4 Days Sanya Beach Resort Tour
☛ 6 Days In-depth Luxury Sanya Tour with Two Free Days
Want to escape the crowds and explore Hainan? Don't miss Haikou - the capital city with lots of culture fun. A classic Haikou tour takes about 2 days. The top highlights include informative Hainan Museum, old buildings in Qilou Old Street, Volcanic Crater Park, etc. Besides, you can spend 1~2 days exploring the undeveloped bays and uninhabited islands, 1~2 days appreciating the peaceful town of Boao and its unique natural landscapes, 1~2 days involving in the sunny homeland of minorities in Lingshui, etc.
Notice: The pictures on this page, except for additional remarks, are all from the official website of Wuzhizhou Island.
Keep Reading About Sanya
Keep Reading About Hainan
Keep Reading About Sanya Hotels
Recommended Sanya Tours
Top 3 Sanya tours chosen by most customers to explore Sanya in the best way. Check the detailed itinerary, or tailor your own trip now with us.
Start planning your tailor-made holiday to China by contacting one of our specialists. Once inquired, you'll get a response within 0.5~23.5 hours.
Customize a Trip
Have a question? Get answers from our travel experts or guests
Your Question:

Your Name:

Your Email: