Why Visit Sanya Bay, Sanya, Hainnan, China?
You may seldom know Sanya Bay, however, you must have ever heard the name Tianya Haijiao, which means the end of sky and the rim of the sea. When someone ask for promise from their beloveds, the most romantic response must be "I would be forever at your feet even you go to Tianya Haijiao". Therefore, Tianya Haijiao has long been believed as the best witness of love stories, and thus attracts floods of couples and lovers to come! In addition to Tianya Haijiao, Sanya Bay also boasts a 22-kilometer-long beach, which is the longest in Sanya. The sunset view on the beach there, especially along Coconut Dream Corridor with lovely coconut trees, is somewhat considered to the best of this region. Between the shore and sky, the dizzying sunset rays dancing with the waves, which is really impressive! If lucky, you can also meet with local fisherman when the tide is ebbing, who are going to collect seafood with their nets. After night falls, Sanya Bay will be busy with beerhouses and street singers. Hotels along Sanya Bay are almost the most affordable while compared with other bays in Sanya, plus the closest distance to Sanya Phoenix International Airport and a short driving to Sanya downtown, Sanya Bay is usually the best choices for travelers who are looking for a short glimpse of Sanya.
Major Attractions of Sanya Bay
Tianya Haijiao
Ticket: CNY 81/pp
Opening Time: 07:30-18:20
Tianyta Haijiao is, of course, the landmark of Sanya Bay. It is located on the west part of the bay and is only 15~20 minutes away from Sanya Phoenix International Airport by driving. Here, you can stroll around the beach and small forest to get a strong tropical holiday atmosphere. Or, you can ride a jet ski to have fun on water. Don't forget to standing in front of the two famous stones, which name Tianya and Haijiao in separate, to create some eternal memories of your love. There is also an interesting Imperial Edict Museum and a bookstore for you to visit.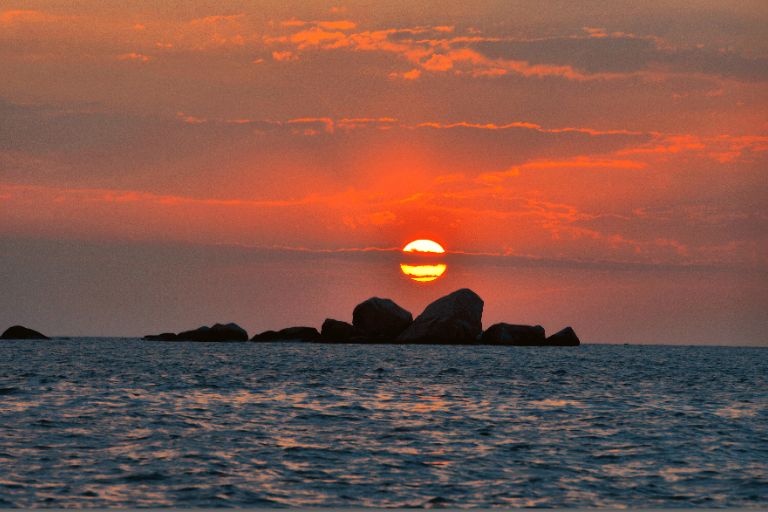 Sun and Moon Stones of Tianya Haijiao
Coconut Dream Corridor
Ticket: free of charge
Opening Time: all day around
Coconut Dream Corridor is a seashore scenery avenue built along Sanya Bay, with coconut trees standing along the roadside, forming a wonderful picture with the golden beach and blue sea water. During the sunset time, warm rays of sunshine will be decorated on the crevices of coconut trees.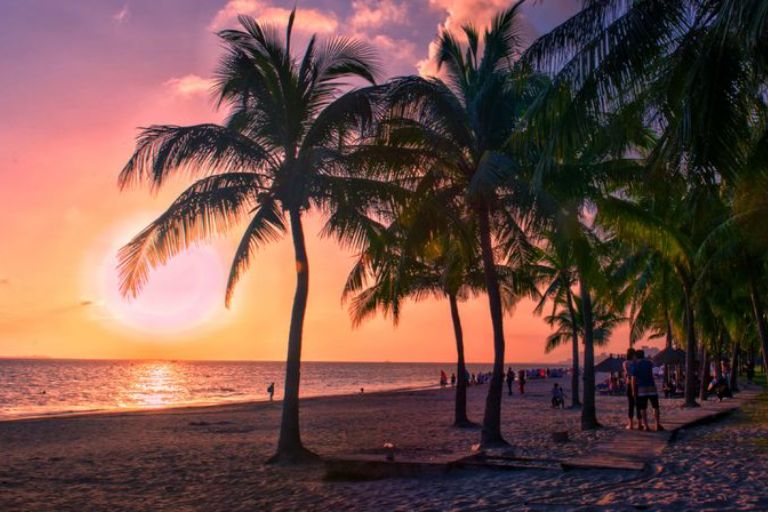 Stunning Sunset at Coconut Dream Corridor
West Island
Ticket: CNY 98/pp
Opening Time: 08:30-17:30
Compared with Wuzhizhou Island at Haitang Bay, the tiny West Island of only 2.8 square kilometers in total is little known by visitors. However, it has its own unique features to stand it out - a 400-year-old fishing village, which is praised as the most beautiful fishing village in China. It must a unique experience to get up close to the primitive fishing houses with coral stone walls and lovely museums built on water. Diving and many other activities there are also very popular.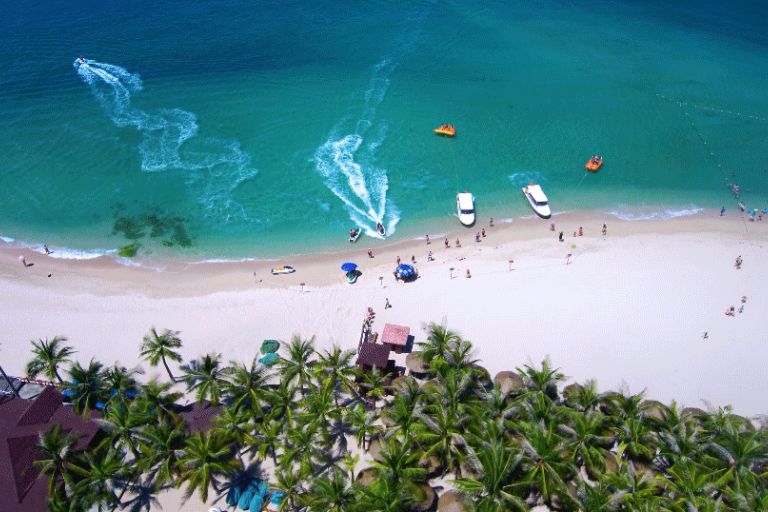 Amazing West Island
Nearby Attractions of Sanya Bay
Phoenix Island
If you wander around the Coconut Dream Corridor and look east from the beach, you will see five sail-like modern buildings dotted on an islet, which is the Phoenix Island. Phoenix Island is an artificial island with many upscale resorts, yacht club and business club. Sanya Bay gives you the best angel to admire its charm from a distance.
Luhuitou Scenic Area
Ticket: CNY 35/pp during off season and CNY 42/pp during peak season
Opening Time: 08:00-22:30
Not very far away from Phoenix Island is Luhuitou Scenic Area, which faces Sanya downtown on one side and the broad sea on the other three sides. Hike up to its view platform, you will be rewarded with a grand panorama view of Sanya, including the city center, bay, beach and sea. If lucky, you may also meet with adorable monkeys there.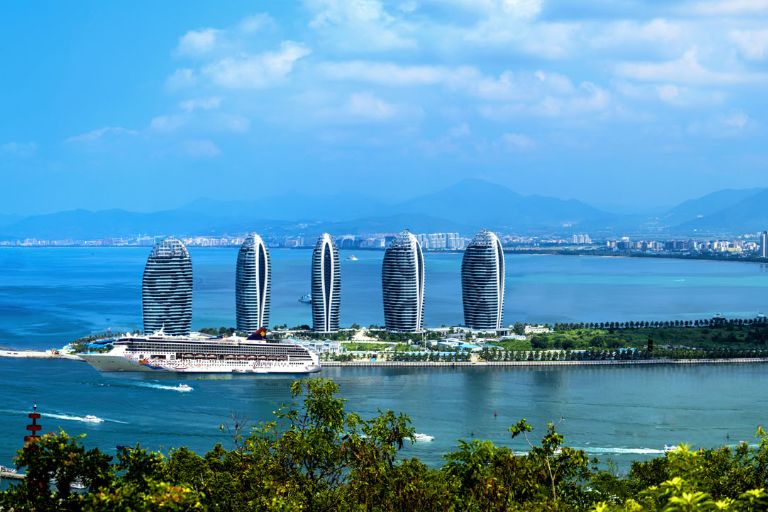 Phoenix Island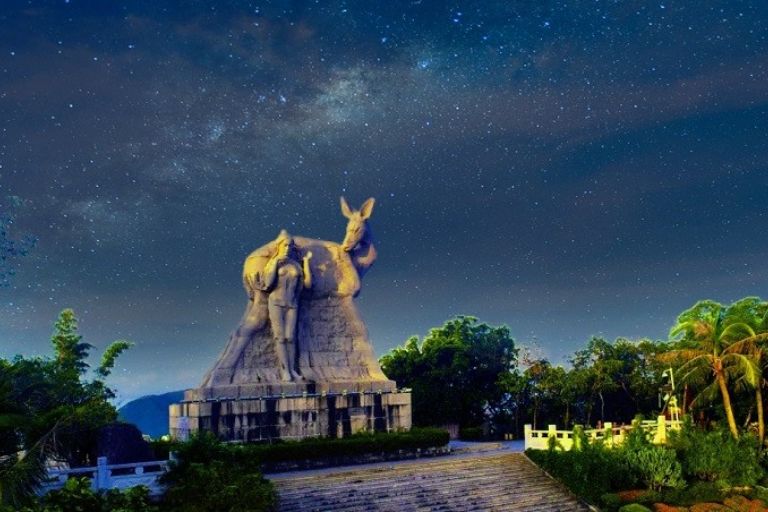 Luhuitou Scenic Area
Where to Stay at Sanya Bay?
Thanks to its close distance to Sanya downtown and Sanya Phoenix International Airport. Sanya Bay is no shortage of affordable hotels, which guarantee you comfortable stays during your Sanya Holiday. Popular choices include Sanya Phoenix Airport Hotel, Hilton Garden Inn Sanya, etc.
If you ask much on hotel and are looking for some luxury hotels, there are also some good options. There are Pullman Oceanview Sanya Bay Resort & Spa, Ramada Plaza by Wyndham Sanya Bay, Ocean Sonic Resort Sanya, Wyndham Sanya Bay, etc.
Where is Sanya Bay? - Location & Map
Sanya Bay is about 16 kilometers and half an hour or so from Sanya downtown by car. If you drive from Sanya Phoenix International Airport, the driving usually takes less than 15 minutes. Normally, asking a taxi for help is the best way to get there.
To Sanya Airport: 6 KM / 15 minutes or so by car
To Sanya Downtown: 16 KM / half an hour or so by car
To Yalong Bay: 39 KM / 1 hour or so by car
To Haitang Bay: 44 KM / 1 hour or so by carHow to Get to Sanya Bay
Worry-free Sanya Private Car Service
Want to book a private car service in advance so that you can get rid of the troublesome of finding taxies or city buses after landing or before departing? We China Discovery can help! Contact us to get the best price!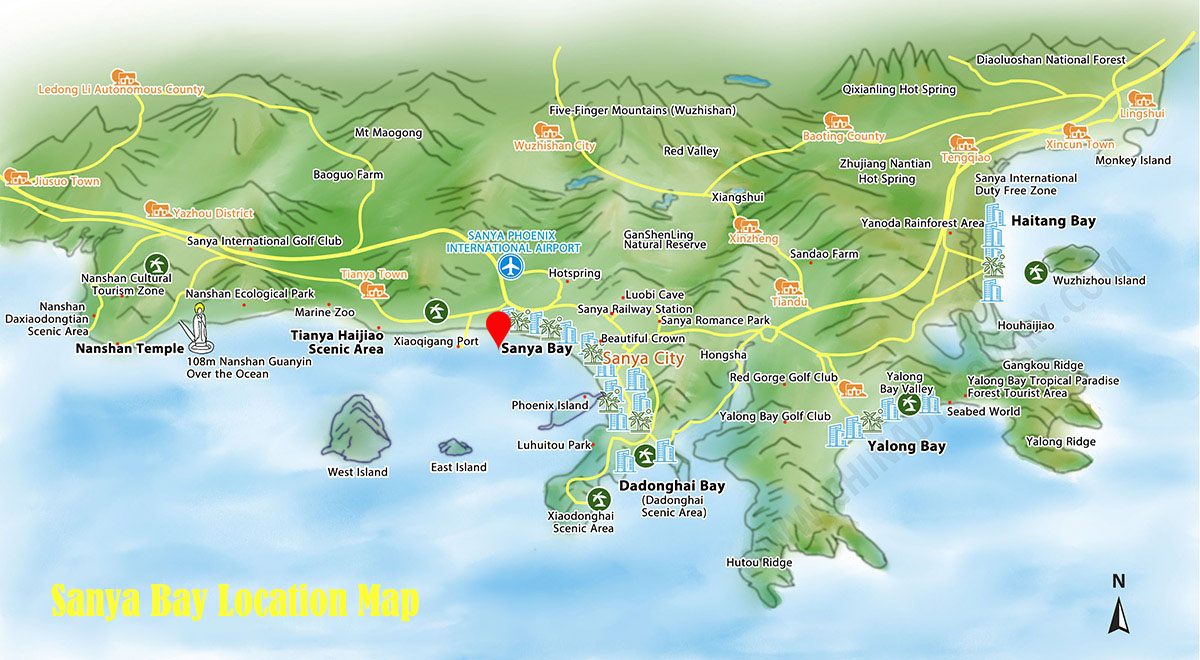 How to Plan a Sanya Bay Tour?
Visitors usually spend half day or one day around at Sanya Bay to visit its attractions like Tianya Haijiao and have fun on the beach. Some may spend another half day around to visit West Island and enjoy diving, jet ski riding, etc. At night, you can easily find a bar or seafood restaurant there to treat yourself. Such a brief Sanya tour takes 1~2 days.
If you are looking for luxury stay or want more beach tour, you can spend 1~3 days to nearby Yalong Bay. Shopping enthusiasts? Don't forget Duty Free Shopping in Sanya. There are four duty free malls, while Sanya Duty-free Shopping Center at Haitang Bay, which is the world's largest duty-free mall, is our best recommendation.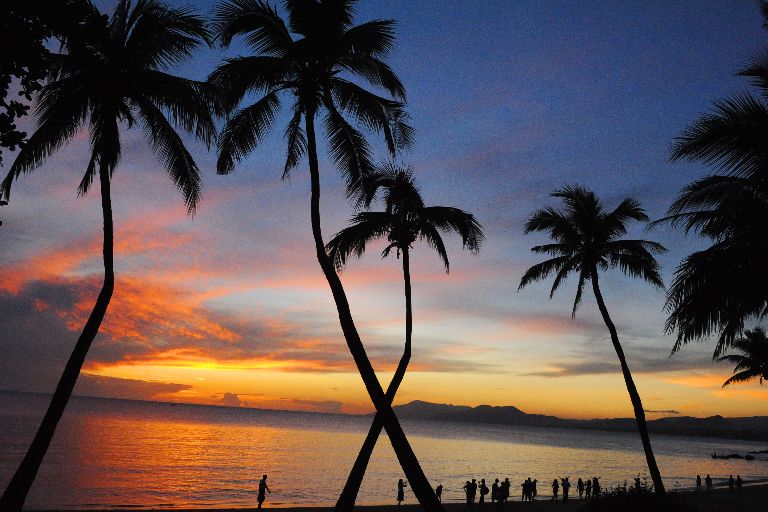 Couple Tree at Tianta Haijiao
Travel Sanya with China Discovery
Let our professional travel consultant to help you with the resort booking, airport pick-up and drop-off and day-by-day arranging! Even though Sanya has already built a convenience tourism system, it maybe still a troublesome thing to plan a tour by yourself, let alone there are some vital notices you may be ignored, such as you are required to relax at least 18 hours after more than two times of deep diving. We China Discovery have made careful researches on every resort, bay, beach and island in Sanya ad have helped numerous visitors enjoy their holiday there. We know the best picks for you or your family. If you go with us, you can indulge in the coastal landscape and activities, and we will take care of the rest. The tour is customized for you with your interest, need, group size and every special requirement. If you are interested, please feel free to contact us !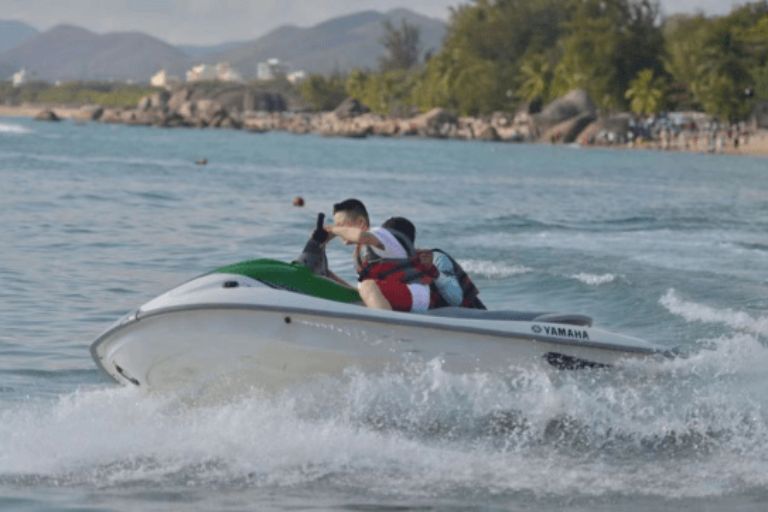 Jet Ski Joyment
How to Plan a Sanya Tour
Best Time to Visit Sanya: October ~ Next May
Places to Visit: Various bays, Betelnut Valley, Nanshan Buddhism Cultural Park, Yanoda Rainforest Park
How to Get There: International flights from London, Singapore, Seoul, Jakarta, Moscow, Novosibirsk, etc., and domestic/regional flights from most major cities like Beijing, Xian, Shanghai, Chengdu, Guangzhou, Chongqing, Hong Kong, Macao, Taiwan, etc.
Generally, a Sanya tour can be short or long, and many travelers choose to stay in Sanya for about 4~7 days. We suggest you visit at least one bay for a real "holiday", such as Yalong Bay, Sanya Bay, Dadonghai Bay or Haitang Bay where you can immerse yourself in the relaxing atmosphere by taking a sunbath, strolling on the soft beach, viewing the coastal scenery, etc. It is also available to spend several hours or more time experiencing some watersports. For travelers interested in the primitive nature of tropical forests, Yalong Bay Tropical Paradise Forest Park or Yanoda Rainforest Park, which needs 0.5~1 day, is worthwhile. Besides, Nanshan Temple (0.5~1 day) with the world's largest statue of Avalokitesvara - Nanhai Guanyin is also recommended if you have a Buddhist faith or want to appreciate a religious savory. For travelers needing an in-depth tour, Binglanggu is a nice option for local minorities exploration!
☛ 4 Days Sanya Beach Resort Tour
☛ 6 Days In-depth Luxury Sanya Tour with Two Free Days
Want to escape the crowds and explore Hainan? Don't miss Haikou - the capital city with lots of culture fun. A classic Haikou tour takes about 2 days. The top highlights include informative Hainan Museum, old buildings in Qilou Old Street, Volcanic Crater Park, etc. Besides, you can spend 1~2 days exploring the undeveloped bays and uninhabited islands, 1~2 days appreciating the peaceful town of Boao and its unique natural landscapes, 1~2 days involving in the sunny homeland of minorities in Lingshui, etc.
Notice: The pictures on this page, except for additional remarks, are all from the official websites of local attractions and tourism bureaus.
Keep Reading About Sanya
Keep Reading About Hainan
Keep Reading About Sanya Hotels
Recommended Sanya Tours
Top 3 Sanya tours chosen by most customers to explore Sanya in the best way. Check the detailed itinerary, or tailor your own trip now with us.
Start planning your tailor-made holiday to China by contacting one of our specialists. Once inquired, you'll get a response within 0.5~23.5 hours.
Customize a Trip
Have a question? Get answers from our travel experts or guests
Your Question:

Your Name:

Your Email: