Why Visit Haitang Bay, Sanya, Hainan, China?
Haitang Bay, the eastern gate to Sanya, is one of Sanya's five major bays together with Talong Bay, Sanya Bay, Dadonghai Bay and Yazhou Bay. Just Like other bays in Sanya, it offers breathtaking tropical landscapes - blue sea waters, sugary beach with golden sands, colorful coral reefs blue sky and coconut trees as well as many water sports. Moreover, the beach is quite quiet and clean, which making it a great place to be away from the hustle and bustle of the city and enjoy a fully relaxing holiday. Haitang Bay is a newly-developed holiday resort and a little far from the city center, which makes the beach much less crowded and much cleaner. Besides, many new high-end hotels are built here. If you want a relaxing holiday and don't want to be disturbed, Haitang Bay couldn't be more worth the trip.
Best Things to Do at Haitang Bay
Join in Featured Activities in Wuzhizhou Island
Wuzhizhou Island, located in the golden latitude of the world's tourist attractions - the magical 18 degrees north latitude, is the top attraction of Haitang Bay as well as of Sanya. It is also known as Love Island because of its natural heart shape while overlooking from above. Therefore, many newlyweds come here to spend their honeymoons. With a visibility of up to 27 meters of sea water, Wuzhizhou Island also offers a great view of different coral species. In addition to the impressive scenery and romantic atmosphere, water sports are also a big highlight of Wuzhizhou Island. Wuzhizhou Island's unique natural conditions and international advanced Marine entertainment facilities make the outdoor activities more enjoyable. The high-end water sports take you to the sky or the sea to enjoy colorful corals or flocks of fish around.
Explore Primitive Coastal Landscape in Yezizhou Island
Yezizhou Island or Coconut Chau, made up of 17 islands, is one of Hainan's most primitive islands. If you want to catch a view of the original coconut forest and enjoy the quiet time alone, Yezizhou Island is a nice choice. Covering a total area of about 3.3 square kilometers, it always delivers visitors an amazing sightseeing experience. The lush coconut palm spreading out looks like an emerald on the seashore. Together with the glittering sea water, rosy clouds, and silver beach together, it constitutes a refined painting scroll where visitors can release any worry, stress and tension, but immerse themselves into the nature and peace.
Experience the Laid-back Life in Houhai Fishing Village
Houhai Village (also called Tenghai Village) is a small fish village where Wuzhizhou Wharf is located. Many visitors refer to it as a hidden paradise with crystal clear water and golden beaches. Though many tourists visited Wuzhizhou Island via this village, it seems undisturbed. In the small village, the villagers still enjoy a peaceful and laid-back life, and fishing is their daily work. Surrounded by sea water on three sides, Houhai Fishing shows different featured vistas on different sides. In addition to local life and great landscape, Houhai Fishing Village is also a great wonderland for suffering. No matter you are a suffering beginner, or a professional suffers, it won't disappoint you.
Shop in the Sanya Duty-free Shopping Center
Sanya Duty-free Shopping Center (Sanya DFS), situated at Haitang Bay, is recognized as the world's largest individual duty-free mall. If you go to Haitang Bay, you may not want to miss this shop. It has magnificent architecture and many branded shops such as Gucci, Prada, Armani, Piaget, Rolex, etc. for a much cheaper price. Please note that: 1) only visitors who are above 16 years old and will fly out of Hainan Island but not in an outbound travel are allowed to shop at Sanya DFS; 2) foreign travelers can purchase products only with flight numbers and passports; 3) the unit of the goods you buy should not be more than CNY 8,000 and the accumulative price of all the good you buy should not be more than CNY 8,000; 4) you can only shop in Sanya DFS twice a year.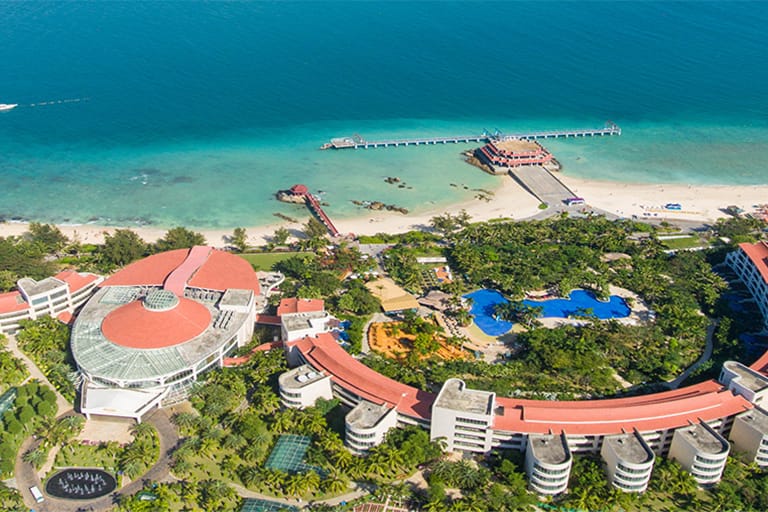 A Panoramic View of Wuzhizhou Island © wuzhizhou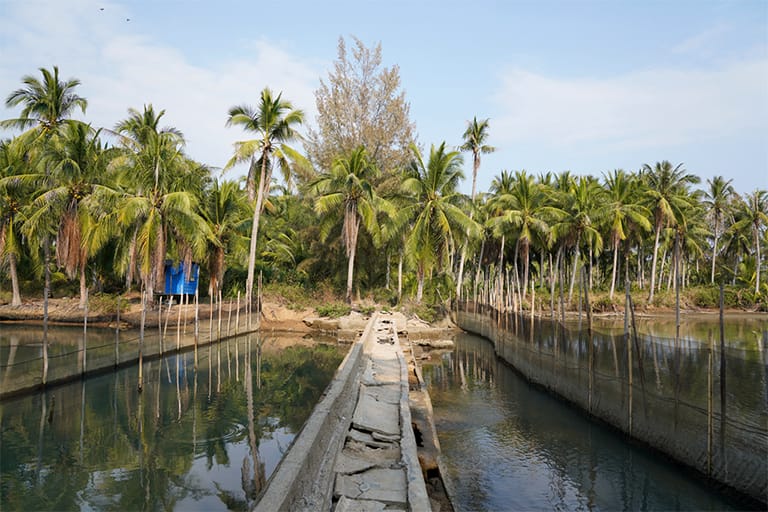 Peaceful Yezizhou Island © 深深 / mafengwo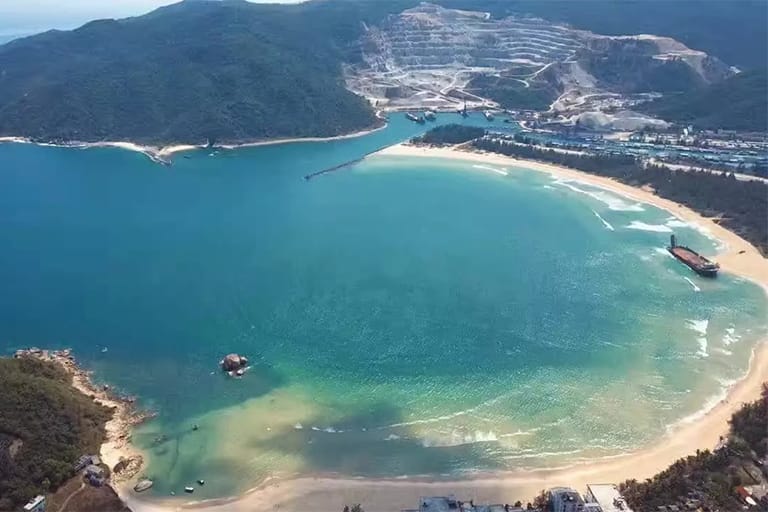 Houhai Fish Village Scenery © 阿拖施晓君 / mafengwo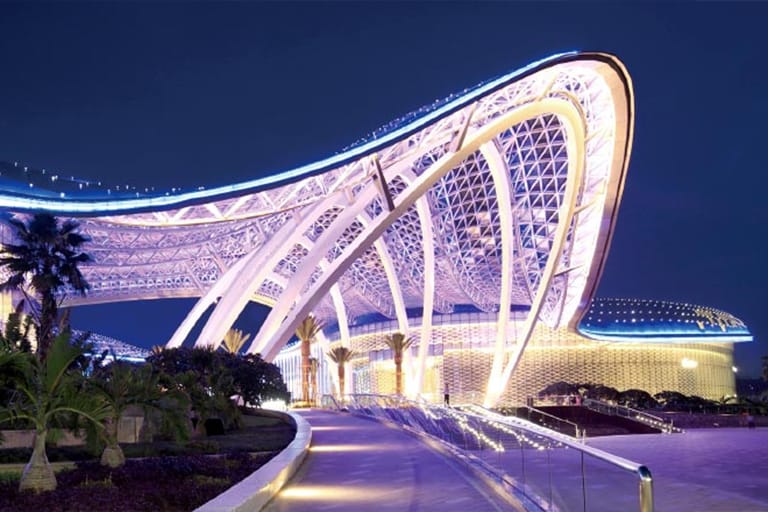 Sanya Duty-Free Shopping Center © cdfgsanya
Where to Stay at Haitang Bay?
Haitang Bay is suitable for a long holiday and various hotels can be found, including many recently-open hotels with new decoration. If you want a luxury stay, recommended hotels are Atlantis Sanya (5-star), Sofitel Sanya Leeman Resort (5-star), The Sanya Edition (5-star), Renaissance Sanya Haitang Bay Resort (5-star), Grand Hyatt Sanya Haitang Bay Resort and Spa (5-star), The Westin Sanya Haitang Bay Resort (5-star), JW Marriott Sanya Haitang Bay Resort & Spa (5-star), etc. It is also quite convenient to choose some comfortable hotels, such as Sheraton Sanya Haitang Bay Resort (4-star), InterContinental Sanya Haitang Bay Resort (4-star), Crown Plaza Sanya Haitang Bay Resort (4-star), etc.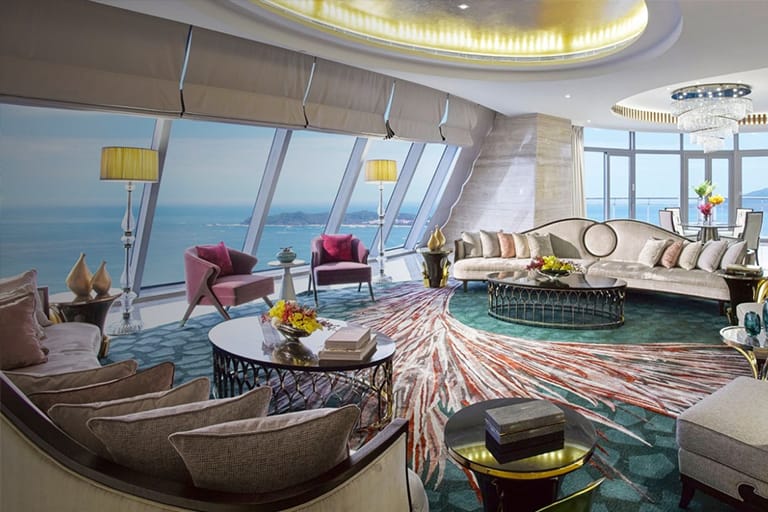 Atlantis Sanya © atlantis
How to Get to Haitang Bay
Haitang Bay is 40 km (about 50 minutes' drive) from Sanya Phoenix International Airport, 35 km (about 45 minutes' drive) from Sanya Railway Station. The nearby bus stops include Haitang Bay Square Stop (海棠湾广场), Kempinski Hotel Stop (凯宾斯基酒店), The Fairmont Hotel Stop (开维费尔蒙酒店),Wanda Vista Hotel Kaiwei Stop (开维万达文华酒店), Haiyan Villa Stop (海晏别墅) and Haitang Mandarin Hotel Stop (海棠华著酒店).
Travel Sanya with China Discovery
Want to enjoy a worry-free Sanya tour? Just travel with China Discovery! China Discovery is a leading travel agency offering private China tour packages with great flexibility, comfort and personalized services for decades. We have got 1,620+ good reviews on TripAdvisor.com, and 3,310+ China travel reviews from the customers. Before your travel, our experienced travel expert will communicate with you one-on-one and organize everything (accommodation, transfer, itinerary…) well. In your Sanya trip, our local travel guide will accompany you all the way and introduce the highlights of every place to you. Of course, you will also have enough flexible time to enjoy a relaxing time. All the experience can be tailor-made according to your group size, travel time, personal interest, travel budget and other needs. If you are interested, please feel free to contact us !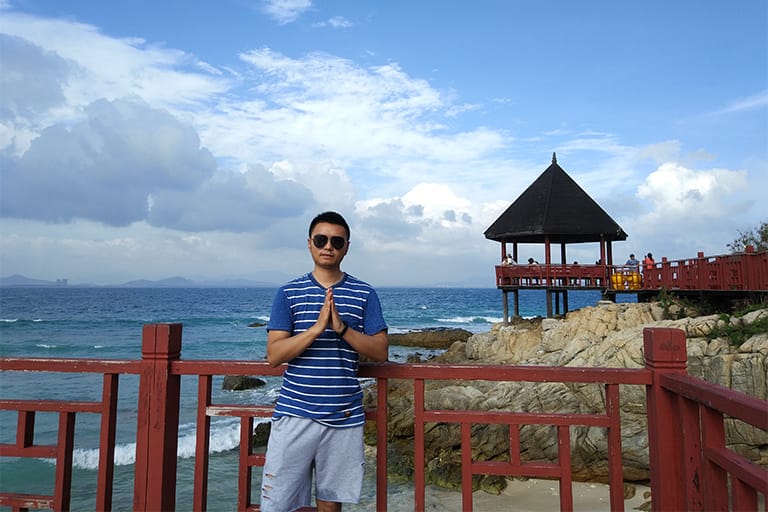 Our travel consultant Sean visited Wuzhizhou Island
How to Plan a Sanya Tour
Best Time to Visit Sanya: October ~ Next May
Places to Visit: Various bays, Betelnut Valley, Nanshan Buddhism Cultural Park, Yanoda Rainforest Park
How to Get There: International flights from London, Singapore, Seoul, Jakarta, Moscow, Novosibirsk, etc., and domestic/regional flights from most major cities like Beijing, Xian, Shanghai, Chengdu, Guangzhou, Chongqing, Hong Kong, Macao, Taiwan, etc.
Generally, a Sanya tour can be short or long, and many travelers choose to stay in Sanya for about 4~7 days. We suggest you visit at least one bay for a real "holiday", such as Yalong Bay, Sanya Bay, Dadonghai Bay or Haitang Bay where you can immerse yourself in the relaxing atmosphere by taking a sunbath, strolling on the soft beach, viewing the coastal scenery, etc. It is also available to spend several hours or more time experiencing some watersports. For travelers interested in the primitive nature of tropical forests, Yalong Bay Tropical Paradise Forest Park or Yanoda Rainforest Park, which needs 0.5~1 day, is worthwhile. Besides, Nanshan Temple (0.5~1 day) with the world's largest statue of Avalokitesvara - Nanhai Guanyin is also recommended if you have a Buddhist faith or want to appreciate a religious savory. For travelers needing an in-depth tour, Binglanggu is a nice option for local minorities exploration!
☛ 4 Days Sanya Beach Resort Tour
☛ 6 Days In-depth Luxury Sanya Tour with Two Free Days
Want to escape the crowds and explore Hainan? Don't miss Haikou - the capital city with lots of culture fun. A classic Haikou tour takes about 2 days. The top highlights include informative Hainan Museum, old buildings in Qilou Old Street, Volcanic Crater Park, etc. Besides, you can spend 1~2 days exploring the undeveloped bays and uninhabited islands, 1~2 days appreciating the peaceful town of Boao and its unique natural landscapes, 1~2 days involving in the sunny homeland of minorities in Lingshui, etc.
Notice: The pictures on this page, except for those with additional remarks, are all from the official websites.
Keep Reading About Sanya
Keep Reading About Hainan
Keep Reading About Sanya Hotels
Recommended Sanya Tours
Top 3 Sanya tours chosen by most customers to explore Sanya in the best way. Check the detailed itinerary, or tailor your own trip now with us.
Start planning your tailor-made holiday to China by contacting one of our specialists. Once inquired, you'll get a response within 0.5~23.5 hours.
Customize a Trip
Have a question? Get answers from our travel experts or guests
Your Question:

Your Name:

Your Email: