Why Visit Dadonghai Bay, Sanya, Hainan, China?
Traveling Sanya, you must visit at least one of its beautiful bays where you can enjoy a fully relaxing holiday. Among Sanya's several bays, Dadonghai Bay is really a popular one honored as the symbol of Sanya and listed in China's 40 Best Landscapes. Surrounded by mountains on three sides, Dadonghai Bay enjoys a coastline of 2.9 kilometers long. The blue sky, fresh air, clear sea, dense mountains, green coconut trees, white beach, magnificent seabed coral reefs, and great hotels make Dadonghai Bay an amazing hangout for both travelers and locals. Moreover, lots of superior hotels and many shopping centers (including food vendors and souvenir shops) are also accessible in Dadonghai Bay.
Top Highlights in Dadonghai Bay
Dadonghai Beach - Crescent-shaped Beach with Warm Sea Water
Dadonghai Beach features a crescent shape with natural beauty. The water temperature is about 20°C (70°F) even in winter. There are some sunbeds equipped on the beach for visitors. No matter you walk along the beach to appreciate the glistening South China Sea, or just laze on the soft sand for a comfortable sunbathing, Dadonghai Beach is a nice choice. For travelers who want to take part in some water sports for close interaction with the sea, Dadonghai Beach never fails to deliver you a superb experience as well. Because of the convenient transport and well-equipped facilities, Dadonghai Beach might be a little crowded compared with other less-obvious beaches.
Upscale Hotels in Dadonghai Bay
Few people visit Sanya but only take a short glimpse of the bays without staying one night here. In order to give travelers a real "vacation", Dadonghai Bay is equipped with lots of hotels, especially upscale hotels, both internationally branded and local boutique ones. These hotels not only occupy a seaside location, but also offer comfortable accommodation, great meals, sea view rooms as well as fun activities. The strongly recommended ones include JW Marriott Hotel Sanya Dadonghai Bay (5-star, 1 km from central Dadonghai Beach), Harman Resort Hotel Sanya (5-star, about 800 m from central Dadonghai Beach), InterContinental Sanya Resort (5-star, 2 km from central Dadonghai Beach), Crowne Plaza Sanya City Center (5-star, about 1.3 km from central Dadonghai Beach), The Shanhaitian Resort Sanya (5-star, about 300 m from Dadonghai Beach), etc.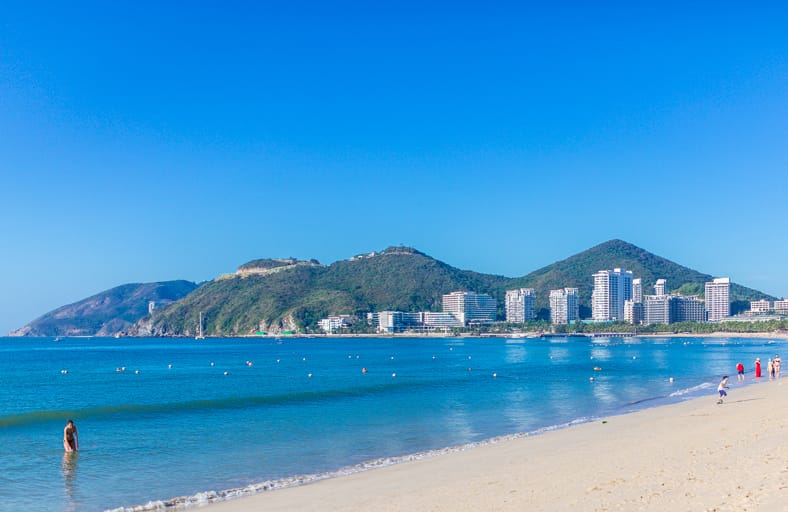 Sanya Dadonghai Beach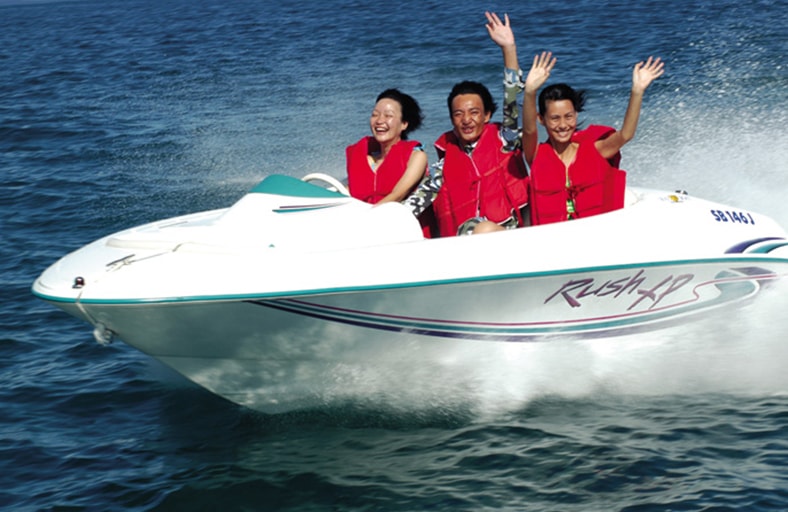 Yachting Experience in Dadonghai Bay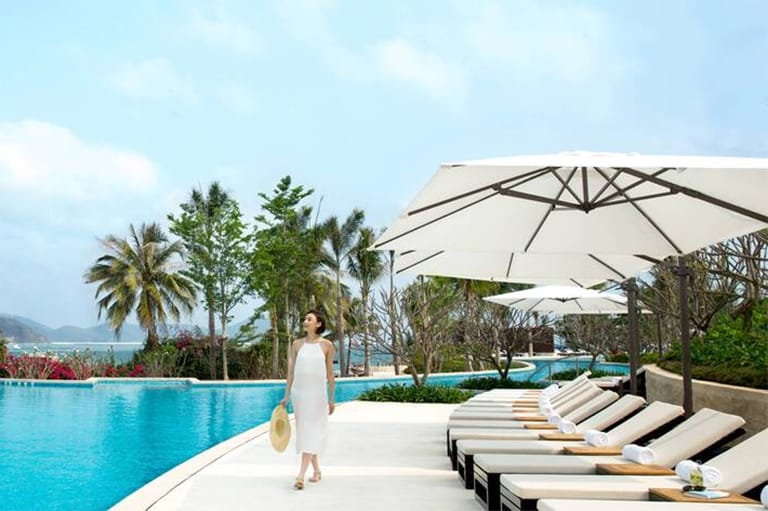 JW Marriott Hotel Sanya Dadonghai Bay
How to Get to Dadonghai Bay
Conveniently, Dadonghai Bay is just located only 3 kilometers from the city center of Sanya and just off the main road. It is quite easy to take a public bus or call a taxi to Dadonghai Bay from the airport, the railway station or your hotel. The nearby bus stops include Donghai Longgong Stop (东海龙宫站), Yintai Hotel Stop (银泰大酒店站), Dadonghai Stop (大东海站) and Zhujiang Garden Park Stop (珠江花园停车场站). Many starred hotels in Dadonghai Bay also offer pick-up services, and remember to book it in advance.
Please note: there are available sightseeing buses running between Sanya's major attractions, including Tianya Haijiao, Sanya Bay, Haitang Bay, Dadonghai Bay.
Best Time to Visit Dadonghai Bay
Just like any other bays, Dadonghai Bay is suitable to visit all the year around, and many travelers visit it during November ~ March of the next year for a warm winter holiday. Belonging to the tropical maritime monsoon climate, Dadonghai Bay enjoys an annual average temperature of about 26°C. The lowest temperature takes place in January and the highest temperature takes place in July. If you visit in summer (June ~ August), it is important to bring sunblock, hat and sun glasses to avoid sunburn. In addition, we suggest avoid Dadonghai Bay during the Chinese festivals like Spring Festival because it will be rather crowded.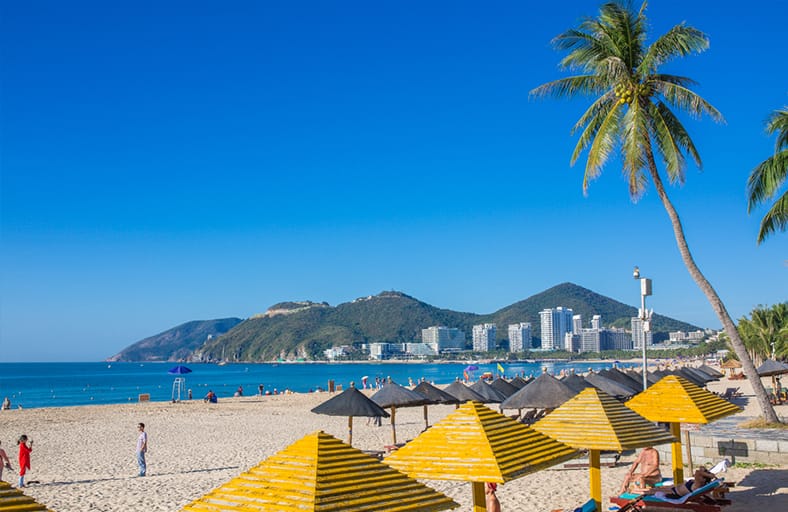 Dadonghai Bay Scenery in December
Travel Sanya with China Discovery
Want to enjoy a worry-free Sanya tour? Just travel with China Discovery! China Discovery is a leading travel agency offering private China tour packages with great flexibility, comfort and personalized services for decades. We have got 1,750+ good reviews on TripAdvisor.com, and 3,510+ China travel reviews from the customers. Before your travel, our experienced travel expert will communicate with you one-on-one and organize everything (accommodation, transfer, itinerary…) well. On your Sanya trip, our local travel guide will accompany you all the way and introduce the highlights of every place to you. Of course, you will also have enough flexible time to enjoy a relaxing time. All the experience can be tailor-made according to your group size, travel time, personal interest, travel budget and other needs. If you are interested, please feel free to contact us !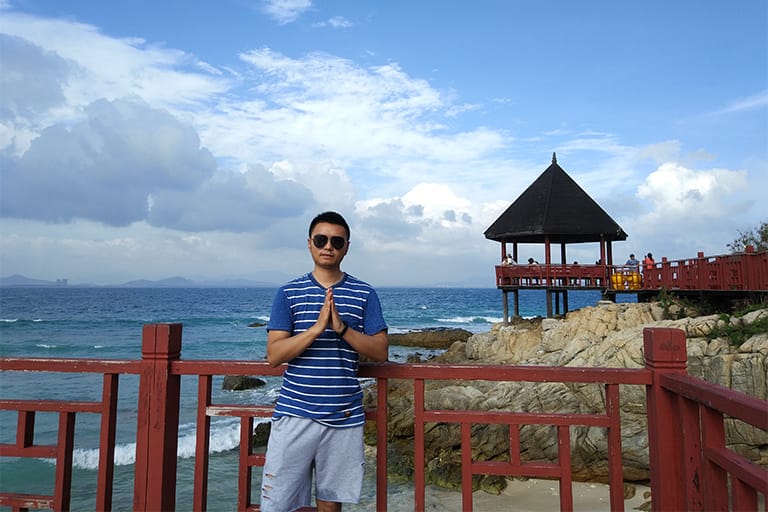 Our travel consultant Sean visited Wuzhizhou Island
How to Plan a Sanya Tour
Best Time to Visit Sanya: October ~ Next May
Places to Visit: Various bays, Betelnut Valley, Nanshan Buddhism Cultural Park, Yanoda Rainforest Park
How to Get There: International flights from London, Singapore, Seoul, Jakarta, Moscow, Novosibirsk, etc., and domestic/regional flights from most major cities like Beijing, Xian, Shanghai, Chengdu, Guangzhou, Chongqing, Hong Kong, Macao, Taiwan, etc.
Generally, a Sanya tour can be short or long, and many travelers choose to stay in Sanya for about 4~7 days. We suggest you visit at least one bay for a real "holiday", such as Yalong Bay, Sanya Bay, Dadonghai Bay or Haitang Bay where you can immerse yourself in the relaxing atmosphere by taking a sunbath, strolling on the soft beach, viewing the coastal scenery, etc. It is also available to spend several hours or more time experiencing some watersports. For travelers interested in the primitive nature of tropical forests, Yalong Bay Tropical Paradise Forest Park or Yanoda Rainforest Park, which needs 0.5~1 day, is worthwhile. Besides, Nanshan Temple (0.5~1 day) with the world's largest statue of Avalokitesvara - Nanhai Guanyin is also recommended if you have a Buddhist faith or want to appreciate a religious savory. For travelers needing an in-depth tour, Binglanggu is a nice option for local minorities exploration!
☛ 4 Days Sanya Beach Resort Tour
☛ 6 Days In-depth Luxury Sanya Tour with Two Free Days
Want to escape the crowds and explore Hainan? Don't miss Haikou - the capital city with lots of culture fun. A classic Haikou tour takes about 2 days. The top highlights include informative Hainan Museum, old buildings in Qilou Old Street, Volcanic Crater Park, etc. Besides, you can spend 1~2 days exploring the undeveloped bays and uninhabited islands, 1~2 days appreciating the peaceful town of Boao and its unique natural landscapes, 1~2 days involving in the sunny homeland of minorities in Lingshui, etc.
Notice: The pictures on this page, except for those with additional remarks, are all from the official website of Nanshan Cultural Tourism Zone.
Keep Reading About Sanya
Keep Reading About Hainan
Keep Reading About Sanya Hotels
Recommended Sanya Tours
Top 3 Sanya tours chosen by most customers to explore Sanya in the best way. Check the detailed itinerary, or tailor your own trip now with us.
Start planning your tailor-made holiday to China by contacting one of our specialists. Once inquired, you'll get a response within 0.5~23.5 hours.
Customize a Trip
Have a question? Get answers from our travel experts or guests
Your Question:

Your Name:

Your Email: