Why Visit Upper Langde Miao Village?
Upper Langde Miao Village, named Chinese Folk Art Village, is a very primitive and simple Miao village which still maintains the old way of living of the Miao people. "Dynamic Xijiang and quiet Langde" is the difference between Xijiang Miao Village and Langde Miao Village. Compared with Xijiang Thousand-household Miao Village, it is much less developed and crowded with about 100 households. It is the only authenticrural village passed by the Beijing Olympic torch in 2008.
Upper Langde Miao Village is featured in "Long Skirt Miao" which means travelers can see Miao people wear long skirts. Taking a visit to Langde, you can also appreciate the special Miao wooden stilted buildings and feel the enthusiasm and hospitality of Miao people and enjoy colorful Lusheng singing and dancing performed by the local villagers.
Recommended Hot Tours to Upper Langde Miao Villages:
▶ 3 Days Kaili Minority & Cultural Experience Tour with Xijiang Miao Village
▶ 5 Days Guizhou Miao & Dong Minority Essence Tour
What to See & Experience in Upper Langde Miao Village
Welcome Ceremony
Travelers to Langde Miao Village are welcomed by the 12 courses of "block-way" rice wine set from the foot of the village to the entrance gate. In every block-way, the local Miao people in traditional Miao costumes will toast you with two bowls of rice wine which means enjoy both happiness and longevity. In the last block-way at the entrance gate, the bowl is changed into a big horn. For those who are not good at drinking, put your hands behind and bend over to sip a little of rice wine and say "thank you" and you'll pass the block-way test. Besides the 12 courses block-way rice wine taste, guests are welcomed by firecrackers, toasting songs and more.
Traditional Miao Architecture
Once enter into Langde, you'll see many typical Miao ethnic architecture, including Wind and Rain Bridges, Wooden Stilted Houses and Tonggu Singing and Dancing Ground.
There are three beautiful wind and rain bridges in and near the village. The bridges are a particular type of covered bridges with reclined eaves. The whole structure is a combination of wooden corridors lined with benches and verandas and Chinese pavilions which rest on one or several stone or concrete piers.
The wooden stilted houses, called Diao Jiao Lou in Chinese, are built one next to another on a mountain slope. The buildings usually have three storeys with different use, and the first floor is mainly used for raising animals and the second floor is used for living and rest and the third floor is used for storing grains and other living goods. There are five streets leading to the central Village and three village gates in the east, west and north.Moreover, there are two copper drum grounds and one Lusheng ground in Langde Upper Miao Village.
Sing and Dance Performance
Traditional singing and dancing shows are performed in the morning when tour groups come. All the local villagers both man and woman, old and young welcome visitors from far away. After the 12 courses of block-way, the performance begins in the Copper Drum Ground. The typical shows include traditional Miao's singing and dancing, Lusheng dance, bench dance, wooden drum dance, copper drum dance and so on. At the end of the performance, all the hospitable Miao people invite the visitors to dance happily together.
(Please note: Miao's performance cannot be performed anytime of the day, please arrange your visiting time properly. And if visitors are few, performance may not be performed. If you have more questions about the Singing and Dancing performance, please let your tour guide ask more information from the village head.)
Welcome Ceremony
Welcome Ceremony
Wooden Stilted Houses
Miao's Singing and Dancing Performance
Nearby Miao Villages
Xijiang Nationality Miao Village (西江千户苗寨)
Xijiang Qianhu Nationality Miao Village, the largest Miao village in the world, is about 32km from Kaili. The first time visitors would be impressed by the magnificent scale of the Miao villages in Xijiang as a whole. The massive scaled Miao village is embraced between mountains, with stilted buildings arranged in an orderly and well-proportioned way. The crystal river winds at the bottom of the valley, gently passing through the village. The edge of the village is surrounded by layered rice fields. What a picturesque landscape pastoral scenery! More information about Xijiang Miao Villages >>
Nanhua Miao Village (南花苗寨)
Nanhua Miao Village, situated along Bala River, is about 15 kilometers from Kaili. It is called a natural museum presenting Long Skirt Miao and their traditional agricultural civilization. It has about 187 household with 824 people in Nanhua Miao Village. When visiting Langde Miao Village, you can either have a look at from afar in your car or you can make a stop to visit this elegant and quiet village to explore more about Miao culture.
Jidao Miao Village (季刀苗寨)
Jidao Miao Village also situated along Bala River, is about 20 kilometers in the southeast of Kaili. The highlights of Jidao are the Time-honored Granaries, the Cave of the Immortal, the Footprints of Buffalos& Horses, the Old Geomantic Trees, Singing and Dancing Square, etc. The Miao New Year is a grand festival in Jidao which is held in October by lunar calendar. You can make a stop at Jidao Miao Village on the way to Langde Upper Miao Village.
More famous ethnic Miao and Dong Villages, please visit Top 10 Ethnic Minority Villages in Guizhou >>
Xijiang Miao Nationality Village
Nanhua Miao Village
Jidao Miao Village
Location & How to Get to Langde Miao Village
Upper Langde Miao Village, situated on the Danjiang Riverside at the foot of Leigong Mountain,is 7km from Leishan County and 29km from Kaili downtown area.
Our private Kaili Tour packages include transferring to and sending off Langde Upper Miao Village that travelers can enjoy worry free transfer service all the way. If you are independent travelers, you can take a flight, train or bus to get to Kaili first and then transfer to local buses to Langde Upper Miao Village.
More information about how to get to & around Kaili, please visit Kaili Transportation | Guiyang to Kaili | Guilin to Kaili >>
Travel with China Discovery by Private Car
Take a private tour with China Discovery and you will no longer need to worry about how to travel from Guiyang or Kaili to Langde Miao Villages, and our experienced private car driver will pick you up from airport, train stations or any other places in Kaili and then send you to Langde Miao Village. Along the trip, our local guide and driver would well arrange every step to provide you a comfortable trip. If interested, you can take a visit to some other attractions along the way, such as Zhenyuan Ancient Town, Xijiang Miao Villages, Mount Leigong, etc. It takes about 3hrs to get to Langde Miao village from Guiyang by car. If you have any questions, please feel free to contact us.
Get to Langde Miao Villages by Bus - Independent Travelers
Kaili to Langde Maio Village: Travelers can take bus from Kaili Ximahe Bus Station to Langde with about 40 minutes' drive. Along the way, travelers can see Nanhua Miao Village and Jidao Miao Village. If you take the bus from Kaili to Leishan County, you should make a stop at the crossroad of Langde Village and walk about 10-20mins to Upper Langde Miao Village.
Leishan County to Langde Miao Village: There are direct buses from Leishan County to Langde every half hour.
Private Car Service by China Discovery
Upper Langde Village Location Map
Useful Travel Tips
1. Best Time to Visit
To fully taste the beauty and culture of Miao in Upper Langde Village, you'd better come in February for Lusheng Festival and Spring Festival activities, in April for Siyueba Festival, in July for New Rice Tasting Festival, in November for Miao's New Year, etc.
2. Extra Tickets
Two spots in the villages need to pay extra 20 Yuan/person to visit, including Former Residence of Yang Daliu (hero of Miao) and Miao's Folk Museum. No entrance fee is needed.
How to Plan a Upper Langde Miao Village Tour
For those who envision a peace and quiet place to experience the authentic Miao culture, Langde Miao Village might be a better choice than Xijiang. However for most first-time visitors, Langde Miao Village is just one stop in their 2-3 days Qiandongnan Miao & Dong Minority Tour. Besides visiting Langde Miao Village, visitors can go further to Xijiang Miao Village, Matang Gejia Village, Qingman Miao Village, each villages has their own characteristics. If you have one more day, you can extend to thousand-year-old Zhenyuan Ancient Town .
Since Kaili is located in the east of Guizhou, between Guiyang City and Rongjiang/Congjiang. It is a good idea to extend your Kaili trip longer that you can add Guiyang, Congjiang, Rongjiang into your Guizhou Kaili trip. No matter you come from Guiyang or from Guangxi Zhuang Autonomous Region, you won't miss the most highlighted Miao and Dong ethnic villages in Southeast Guizhou.
>> 5 Days Guizhou Miao & Dong Minority Essence Tour
For another part of travelers would like to do an overall Guizhou trip for more sightseeing in the hot destinations, they usually put Kaili in the middle of the trip and cover Huangguoshu Waterfall in Anshun City for one day, Mount Fanjing in Tongren City for one or two days... Just tell us your likes and interests, China Discovery is here ready to help customize your own Guizhou tour with best prices! Contact Us now.
>> 6 Days Diverse Guizhou Tour (Guiyang - Fanjingshan - Kaili)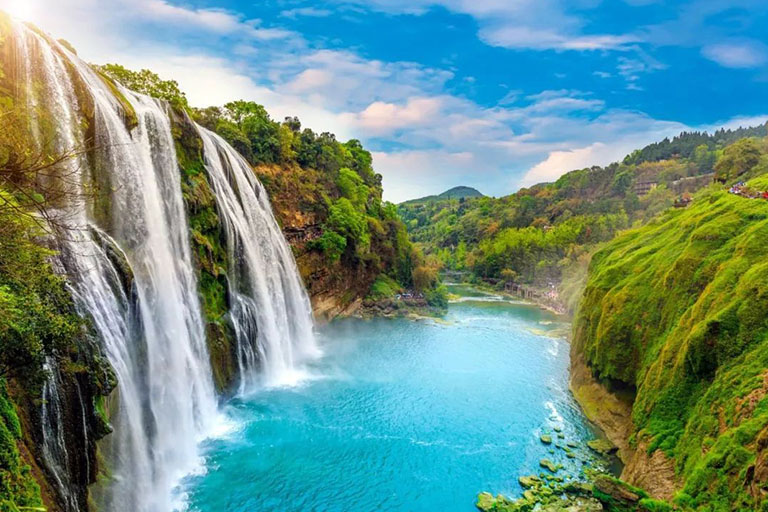 Huangguoshu Waterfall
Mount Fanjing
Travel Upper Langde Miao Village & Guizhou with China Discovery
Feel trouble to explore so many Miao and Dong villages hidden in the remote mountains? Looking for the best suggestions of which villages to visit according to your interest and plan? Travel with China Discovery, and all your problems will be perfectly solved! You will get a customized itinerary from our professional Guizhou travel consultants! Our driver will escort you from the airport/train station/hotel to the Miao Villages or Dong Villages directly. And our local guide will accompany you all the way and introduce you the unique and interesting local ethnic culture and customs. You can just leave all your hassles aside and indulge in the colorful ethnic atmosphere!
The tour can be customized according to your group size, budget, plan and every special need of you. If you are interested, please feel free to contact us to customize your personal Guizhou Kaili tour!
Keep Reading on Kaili
Useful Guizhou Travel Articles
Recommended Kaili Tours
Top 3 Kaili tours chosen by most customers to explore Kaili in the best way. Check the detailed itinerary, or tailor your own trip now with us.
5 Days Guizhou Miao & Dong Minority Essence Tour

Guiyang / Kaili / Rongjiang / Congjiang / Zhaoxing / Congjiang
6 Days Classic Guizhou Tour to Huangguoshu & Southeast Guizhou

Guiyang / Anshun / Kaili / Rongjiang / Zhaoxing / Congjiang
6 Days Guizhou In-depth Ethnic Tour with Jiabang Rice Terraces

Congjiang / Zhaoxing / Jiabang / Rongjiang / Kaili / Zhenyuan / Kaili / Guiyang
Start planning your tailor-made holiday to China by contacting one of our specialists. Once inquired, you'll get a response within 0.5~23.5 hours.
Customize a Trip
Have a question? Get answers from our travel experts or guests
Your Question:

Your Name:

Your Email: