Kaili, located in east Guizhou, is the capital of Qiandongnan Miao and Dong Autonomous Prefecture, about 125 kilometers from Guiyang. Kaili is called "a Pearl of Southeast Guizhou" with many ethnic groups living in Kaili, including Miao, Dong, Mulao, She, Bouyei, Shui and more ethnic minorities. Among them, Miao is the largest ethnic group with 2.84 million people.
No matter you go from Guiyang or from Rongjiang/Congjiang to Kaili, there are many primitive Miao villages you should never miss - Xijiang Miao Village, the largest Miao village in China and even in the world; Upper Langde Miao Village surrounded by beautiful countryside where you can experience the primitive traditional customs of Miao people; Matang Gejia Village with outstanding skill of wax printing; Nanhua Miao Village and Jiadao Miao Village along Bala River; "Short Skirt Miao" in Qingman Miao Village and Datang Miao Village… All the primitive Miao villages present you everything about Miao - festivals, architecture, costumes, ethnic food, art, embroidery, silverwork and their traditional way of living, etc. You won't leave any regrets when coming to Kaili in Guizhou Province!
Why Visit Kaili in Guizhou Province?
Colorful Ethnic Traditions & Performance - In the ethnic minority villages, travelers can enjoy colorful ethnic traditions and interesting performance, including Welcome the Guests in the Way, Wine Customs "no wine no etiquette, no wine no feast", cockfighting, bullfighting, Lusheng playing, singing and dancing performance in Copper Drum Ground…The Miao people will wear their Miao costumes and put on their most friendly smile and show their customs in their own way.
Festivals All Year Round - The Miao in Southeast Guizhou alone observe over 100 festivals, including the Spring Festival, Miao New Year, Sisters' Rice Festival, Mountain Slope Festival, Dragon Boat Festival, Double Third Festival, Double Sixth Festival, Fourth Month Eighth Day Festival. There are also festivals within festivals and sometimes the same festival is celebrated at different times. It is no exaggeration to say that for the Miao every day is a festival.
Get away from Hustle and Bustle and be Treated with Amazing Countryside Scenery - Many of you are from the busy modern city and sometimes you may want to get away the noise and seek for some quiet moment, then, Kaili is the kingdom giving you peace and quietness. Travelers can walk leisurely in the primitive rural villages with clear rivers flowing through and rice paddies surrounded by.
Top Attractions & Recommended Miao Villages in Kaili
The Miao people are one of the most fascinating ethnic minorities in China. Paying a visit to Miao people means you need to visit their habitation – different Miao Villages. Among them, Xijiang Miao Village is the largest Miao Village with over 1000 household and Langde Upper Miao Village is less crowded and developed Miao Village. Of course, you won't miss other highlighted Miao villages when visit Kaili. For more attraction info, please read All Attractions in Kaili.
Xijiang Miao Village
Called the "Open-air Museum", Xijiang Miao Village is largest Miao Village in China with thousand-household where you can explore typical Miao culture. Both daytime view and night view are amazing.
Upper Langde Miao Village
About 29 km from Kaili City, It is less commercialized than Xijiang Miao Village, giving you a chance to experience the traditional Miao customs in the hundred-household peaceful village.
Matang Gejia Village
Gejia women wear Typical Gejia customs - red fringe hats, silver ornaments, clothes with batik patterns and embroidery. Visitors can appreciate wax printings and embroidery arts in every family.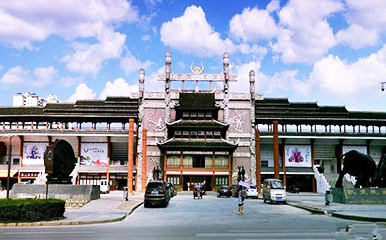 Kaili Minority Museum
Located in Kaili downtown area, Kaili Minority Museum shows the cultures of Miao and Dong in Southeast Guizhou, giving you overall idea about different ethnic groups' culture and costumes.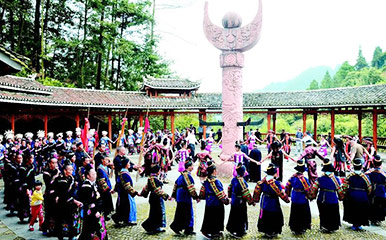 Nanhua Miao Village
It is on the way from Kaili to Langde Village. Nanhua Miao Village situated at the upper reach of Bala River with idyllic scenery. The Miao women wear long-shirt as long as 80cm. Besides, ox horn silver is another feature.
Xinqiao Miao Village
Xinqiao Miao Village is the hometown of short-skirt Miao. The ladies in the village usually wear 5-7 inches pleated skirt. The whole village has preserved Song Dynasty architecture, Ming & Qing costumes, 47 barns on water...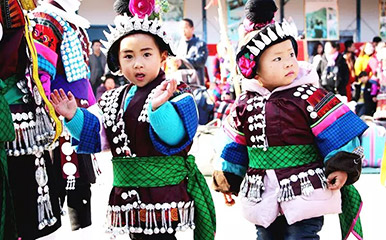 Qingman Miao Village
Keeping a history over 600 years, Qingman Miao Village is reputed as the "Hometown of Miao Embroidery". The whole village has preserved the traditional way of spinning, embroidery and cloth dyeing. It's worth your time to visit.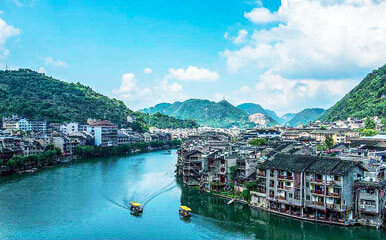 Zhenyuan Ancient Town
With a history over 2200 years, Zhenyuan Ancient Town, is located 108 km in the northeast of Kaili. The Wuyang River flows through the town in the shape of "S", forming eight diagrams. So it is called Eight Diagrams Ancient Town.
Top Things to Do in Kaili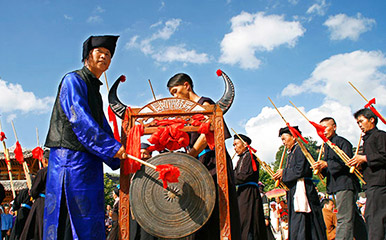 Enjoy Miao People's Distinctive Performances
All the Miao people in every village are very hospital and talented. They will welcome you at the entrance. Besides, interesting and distinctive singing and dancing are performed at different time.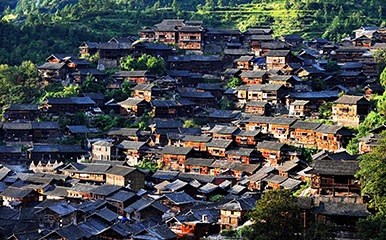 Catch Miao Villages' Panorama
The Miao Villages are built leaning the mountains with clear rivers flowing through. Travelers can get a panoramic view of the whole idyllic village. Of course, don't miss the spectacular view of Xijiang Miao Village.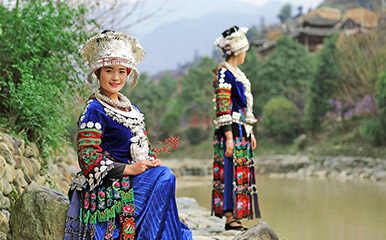 Hiking & Photography
Hiking in the primitive countryside is one of the best way to relax your mood and have the great chance to meet the local ethnic people. Don't forget to bring your camera to shoot the beautiful Miao or Dong Villages.
Kaili Weather & Best Time to Visit Kaili
Kaili is located on the east side of Yunnan-Guizhou plateau, belonging to the subtropical monsoon climate, characterized by mild weather all the year round. The average annual temperature is 14°C-18°C. The hottest month is July with an average temperature of 26 °C while the coldest month is January with an average temperature of 5 °C.
Kaili can be visited all the year round, especially in January, February, April, May, June, July and November for the famous ethnic festivals held. If you are interested in the festivals, you can come in Sisters' Meal Festival (usually in April), Miao New Year (usually in November) and Lusheng Festival (usually in January, February or November). To read more weather in Kaili, please read Kaili Climate, Weather & Season to Go.
Kaili Transportation & How to Get to and around
Getting to Kaili by Air, High Speed Train & Bus
Travelers can take flight, train and bus to reach Kaili. Kaili Huangping Airport is the airport served in Southeast Guizhou. There are flights connecting Kaili with Guilin, Hangzhou, Kunming, Jinan, etc. Kaili Huangping Airport is about 70km in the north of Kaili downtown area, which needs about 1.5 hours to transfer to transfer from the airport to downtown area.
High speed trains are available between Kaili and Guiyang (0.5 hour), Kunming (2.5-3 hours), Changsha (2.5-3 hours), Chongqing (3 hours), Chengdu (4.5 hours), Beijing (10 hours), Shanghai (8.5-9 hours), Wuhan (4.5 hours), Nanchang, Zhengzhou, Nanjing, Jinan, Xiamen, etc. Many travelers choose to take G trains from Guiyang to Kaili with only 30 minutes' transfer. Kaili South Railway Station, 8 kilometers from Kaili downtown area, is served as the high speed train station. It takes only 20-30 minutes by taxi or car to the downtown area of Kaili.
Getting around Kaili to Miao Villages
Buses are connected between Kaili and many Miao villages around Kaili, including Xijiang Miao Village, Langde Upper Miao Village, Rongjiang and Congjiang. Since the road condition is not so good and the buses are not fixed, it is highly recommended to travel with China Discovery and use our licensed private car with experienced driver and local guide to escort you all the way.
To check more detailed Kaili transportation info, please see How to Get to and around Kaili | How to Get from Guiyang to Kaili | How to Get from Guilin to Kaili.
Recommended Kaili Hotels & Where to Stay in Kaili
Travelers usually spend one or two nights in Kaili. The hotels are located in the downtown of Kaili, close to shopping area and tourist spots, like Kaili Ethnic Minority Museum. Some of the hotels are modern with well pointed facilities, clean rooms and good service. Some of the hotels are designed in Miao or Dong minority style. Travelers can choose your likes based on your requirements and needs. If you transfer to Xijiang Miao Village, you'd better stay one night there and enjoy the fantastic night view of the Miao village.
Learn more about Kaili Hotels & Where to Stay >>
Kaili Maps - Latest & Useful Maps for Kaili Travel
Traveling to Kaili with the surrounding ethnic minority villages of Southeastern Guizhou, here we've selected some useful Kaili Maps for you to better understanding the location and attraction sites. All the maps include Guizhou Kaili Maps, Kai City Maps and Transfer Maps from Kaili to Other Villages, etc. For more maps. please check 2023 Updated Kaili Maps.
Other Hot Destinations in Guizhou Province
Guizhou is a mysterious province in southwest China. Besides its brilliant ethnic minority cultures in Southeast, there are some other outstanding destinations to see and explore. You can extend from Guiyang to Huangguoshu Waterfall in Anshun City, reach Mount Fanjing in Tongren City, or travel to Libo for Small Seven Arches... Check the travel guide of each destination below to get inspired.
Other Popular Destinations in China
China is vast and diverse. You can choose your favorite destination among more than 70 tourist destination and regions. Following are 4 popular destinations you may get interested in. Check all destinations in China
Plan Your Kaili Tour
Kaili, though its name is not so famous among international travelers, is the hometown of Miao ethnic group with many primitive villages surrounded. Travelers who are planning a trip to Guizhou Province, they must spend 2 or 3 days in and around Kaili City. The highlights include Xijiang Miao Village, Upper Langde Miao Village, Matang Gejia Village, Qingman Miao Village, and more. If you have one more day, you can extend to Zhenyuan Ancient Town for further exploration.
Since Kaili is located in the east of Guizhou, between Guiyang City and Rongjiang/Congjiang. It is a good idea to extend your Kaili trip longer that you can add Guiyang, Congjiang, Rongjiang into your Guizhou Kaili trip. No matter you come from Guiyang or from Guangxi Zhuang Autonomous Region, you won't miss the most highlighted Miao and Dong ethnic villages in Southeast Guizhou.
For another part of travelers would like to do an overall Guizhou trip for more sightseeing in the hot destinations, they usually put Kaili in the middle of the trip and cover Huangguoshu Waterfall in Anshun City for one day, Mount Fanjing in Tongren City for one day... Just tell us your likes and interests, China Discovery is here ready to help customize your own Guizhou tour with best prices! Contact Us now.
Recommended Tours
MORE