Where to Stay in Fanjingshan, Tongren, Guizhou
Fanjingshan is a natural-created wonder as well as a sacred Buddhist site. Seldom tourists knew it until it was admitted to the World Heritage List in late 2018. However, it has become one of the most popular tourist destinations for a China tour now! This bright pearl is hidden in the mountains area of Tongren City, Guizhou Province, China. Tourists coming to visit it usually choose to arrive in Guizhou one day in advance and have a good sleep before enjoy hiking and sightseeing. Where to Stay to Visit Fanjingshan? In this accomodation guide, we will introduce you the best areas and places. A list of recommended hotels is also noted. Keep reading to know our pick of best and choose the one you like most according to your itinerary, preference and budget.
Best Areas to Stay to Visit Fanjingshan
To protect the scenery and environment, hotels are not allowed to build inside Fanjingshan Scenic Area. Therefore, you couldn't find any hotels to stay on the mountain. Usually, tourists choose to stay at the foot of the mountain, Jiangkou County, Tongren City or Guiyang City.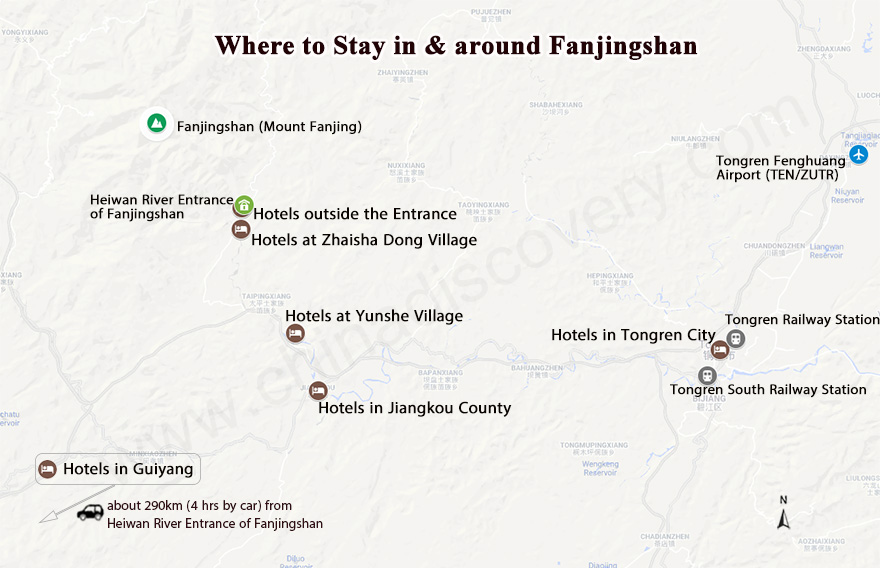 Where to Stay in & around Fanjingshan
Top 1: Stay at the Foot of Fanjingshan - Most Convenient & Best Recommended
Fanjingshan only allows 8000 tourists to visit it every day. To avoid the embarrassment of no ticket left and also the long queue for the ticket, you are suggested to arrive at the ticket counter in the early morning. Then, choose a hotel at the foot of Fanjingshan must be the best choice, because it is the closest place to the entrance. There are many areas for you to choose at the foot of the mountain, including the street right outside the entrance, Zhaisha Dong Village and Yunshe Village.
3 Days Classic Fanjingshan Tour >>
Hotels outside the Entrance of Fanjingshan
Outside the east gate of Fanjingshan, there is a short but lively street, where you can find many hotels and guesthouses to stay. Hotels there varies from 3-star to 5-star, while most of them are 3-star or 4-star hotels. Most of the hotels there can meet you all the basic needs like hot water, free Wi-Fi, luggage deposit, etc. And once you choose the hotels on this street, you could walk to the entrance of Fanjingshan in several minutes. So, if you are looking for the closest place to stay, you can put your eyes on the hotels outside the entrance of Fanjingshan.
Recommended Hotels:
3-star: Topfort Hotel (梵净山天福大酒店)
4-star: Mountain Fanjing Qixi Resort (梵净山栖溪度假酒店)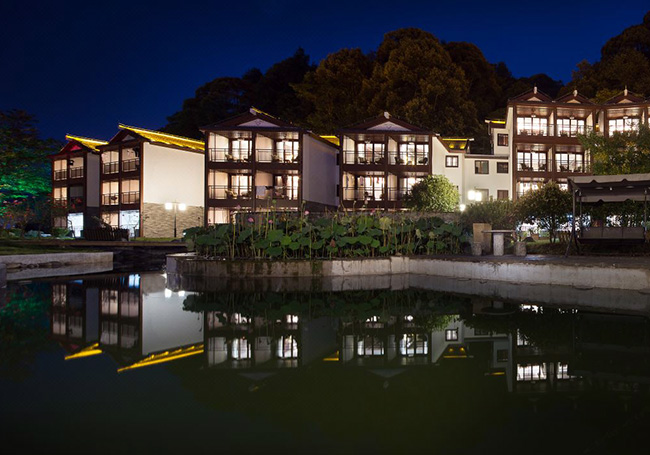 Mountain Fanjing Qixi Resort
Hotels at Zhaisha Dong Village
Zhaisha Dong Village (寨沙桐寨) is also settled at the foot of Fanjingshan, with a walking distance for about 3km (1.8 miles) to the entrance of Fanjingshan. The village is not only a place gathering great amount of hotels and guesthouses but also a popular tourist site itself. Once entering the village, you will be welcomed with traditional wooden stilt-houses, drawbridges, stages and also bell tower built by local Dong minority people. Hotels in and around Zhaisha Dong Village are in wooden-style appearance too. Therefore, they provide you an atmosphere of stepping into the local's houses. When the night falls, ethnic evening party will be held in the square. Then you can dance and sing with the Dong Minority people. If you are looking for somewhere close to the entrance of Fanjingshan and have colorful nightlife to stay, Zhaisha Dong Village should be the best choice.
Recommended Hotels:
3-star: Fanxi Guesthouse (梵溪小院)
4-star: Deng Yigeren Hostel (等一个人民宿)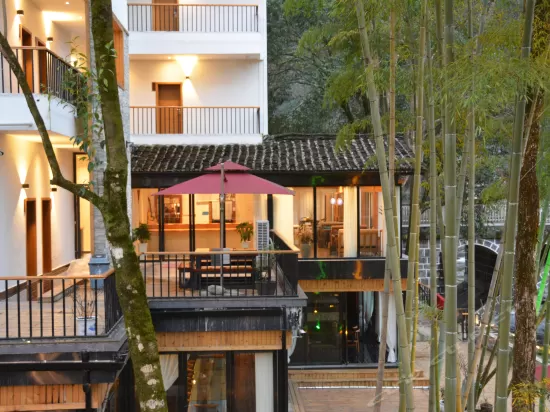 Fanxi Guesthouse
Hotels at Yunshe Village
Yunshe Village (云舍村) is located in the middle of Fanjingshan and Jiangkou County, with a driving distance for about 16km to the entrance of Fanjingshan. Known as the "No.1 Tujia Minority Village in China", Yunshe Village provides the most primitive, simple and peaceful idyllic scenery. Choosing a hotel there is somewhat the best choice to get close to the most authentic countryside life. The number of hotels in Yunshe Village is far less than in Zhaisha Dong Village. You could find only several 3-star and 4-star hotels there. So you are suggested to book your hotels in advance if you want to stay at Yunshe Village.
Recommended Hotel:
4-star: A Poetic place (行驿云舍)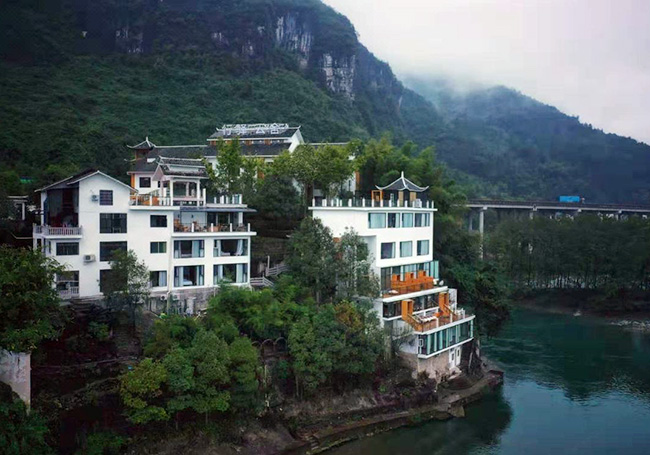 A Poetic place
Top 2: Stay in Jiangkou County - Good Alternative Option
Fanjingshan is located at the junction of Jiangkou County (江口), Yinjiang County (印江) and Songtao County (松桃) in Tongren City, Guizhou Province. And the closest and the most convenient county to the entrance of the mountain is Jiangkou. It takes only about half an hour to drive from Jiangkou to the entrance. So some visitors also prefer hotels at Jiangkou County. There are more than 100 hotels (2-star, 3-star and 4-star) for you to choose there. And most of the hotels are better and cheaper than the hotels at the foot of Mount Fanjing. So, Jiangkou County is a good choice to stay during the off season. However, the hotels at the foot of Fanjingshan are more suggested during some peak season like National Day and Labour Day. Because you can have more chance to be at the front of the line on the next day morning.
Recommended Hotels:
3-star: Fanxing Hotel (梵净山梵行酒店)
4-star: Yeste Select Hotel (雅斯特精选酒店)
4-star: Wenxi Mountain Resort Hotel (梵净山闻溪山居度假酒店)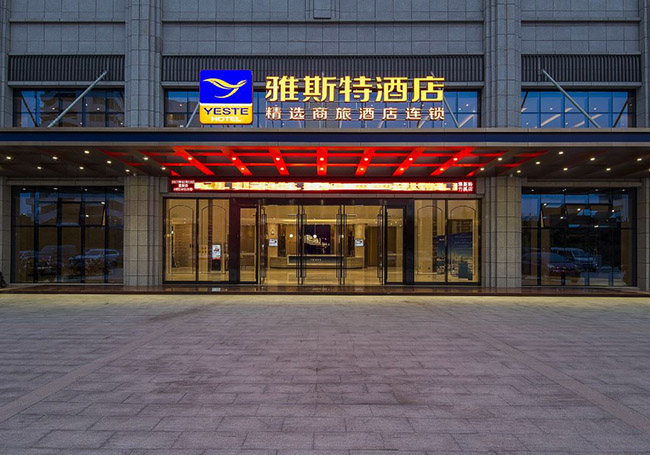 Yeste Select Hotel
Top 3: Stay in Tongren City - Best Choice If You Arrive Late
Tongren City is about 70-80 km from Fanjingshan. Dricing from Tongren to Fanjingshan takes about one hour around. In Tongren, you could find the closest airport to visit the sacred Mount Fanjing - Tongren Fenghuang Airport (ZUTR). If your flight arrives at Tongren in the late evening, you can also choose a hotel in Tongren City to stay at that day. And wake up earlier in the next morning to visit Fanjingshan. From the high-end luxury resorts, deluxe international brands, mid-end comfortable hotels, surprising featured boutique hotels, to common budget hostels and warm homestays, you can find what you want in Tongren. Most of the hotels gather at Jinjiang Bei Road (锦江北路) of the city. And you can find 5-star hotels at Bijiang District (碧江区).
Warm tip: Tongren City is also a good place to stay if you end your Fanjingshan tour a little bit late and want to visit Fenghuang Ancient Town in the next day.
Recommended Hotels:
4-star: Positano Hotel (铜仁波西塔诺酒店)
4-star: Jinjiang Hot Spring Hotel (铜仁锦江温泉宾馆)
4-star: Huaguoshan Rongxin Hotel (铜仁花果山榕信国际大酒店)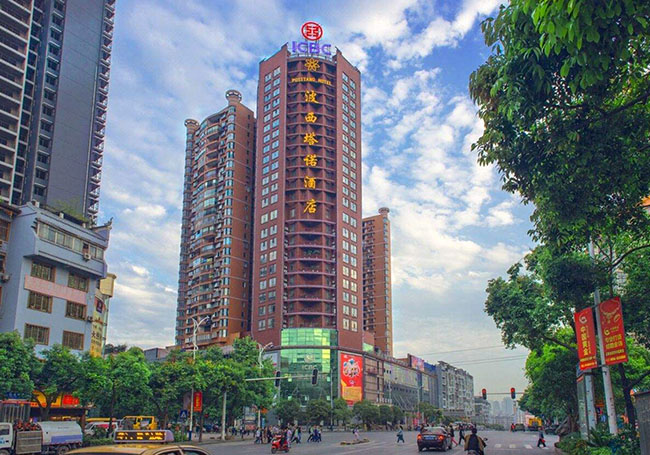 Positano Hotel
Top 4: Stay in Guiyang Downtown - Best Choice When Combined with Huangguoshu Waterfall
Guiyang downtown area is located on the way from the world's largest waterfall cluster Huangguoshu Waterfall to Fanjingshan. Driving from Guiyang downtown to Fanjingshan takes about 4 hours. If you are heading to visit Huangguoshu Waterfall after the visit of Fanjingshan Mountain, then the downtown area of Guiyang must be the best place to stay. Also, it is the best choice if you end up your Huangguoshu Waterfall tour late and plan to have a short visit of the sacred Fanjingshan in the next day. Never mind about the hotels in the downtown area, you could easily find what you want. And our recommends are as follow:
Recommended Hotels:
4-star: Regal Hotel (贵阳丽豪饭店)
5-star: Kempinski Hotel Guiyang (贵阳凯宾斯基大酒店)
5-star: Howard Johnson Plaza Guiyang (贵阳天怡豪生大酒店)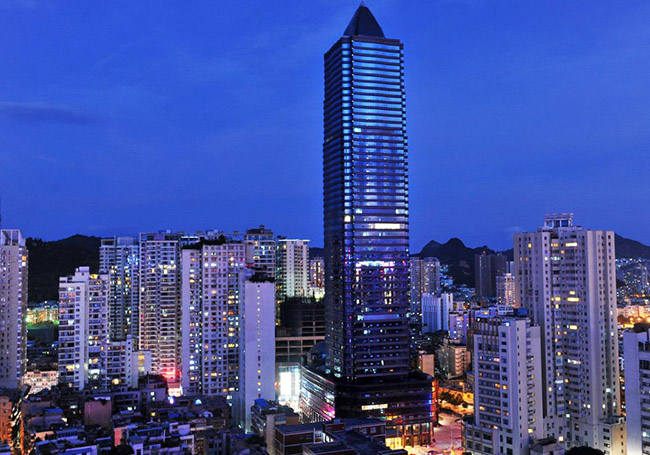 Kempinski Hotel Guiyang
Star Rating & Services of Fanjingshan Accommodation
Though hotels at the foot of Fanjingshan and Jiangkou County are not as good as in the downtown area of Tongren City and also Guiyang Province, the accommodation there can meet your basic needs, such as hot water, private washroom, etc. Besides, you can find several fantastic 4-star hotels and resorts there. Tongren City and Guiyang Province have more hotels for you to choose, including 5-star hotels that can be seldom found at the foot of Fanjingshan and Jiangkou County.
Usually, the hotels at the foot of Fanjingshan are the best choices. If you could not find satisfying hotels there, you can also put your eyes to Jiangkou County and Tongren City. Hotels in Guiyang downtown are good options if you have extending plans to visit other Guizhou attractions like Huangguoshu Waterfall.
Mushroom Rock of Fanjingshan
How to Plan a Fanjingshan Tour
A Fanjingshan tour need about 1.5 days. Tourists usually arrive at the foot of the mountain or the nearby county and city in advance, and spend a whole day to explore Fanjingshan on the next day. On the day, they would ride the cable car to the upper stage of the mountain and hike to the magical Mushroom Rock, "Red Clouds Golden Summit" and other Fanjingshan temples.
Thanks to the close distance from Fanjingshan to hot tourist destinations like Zhangjiajie, Guilin, Fenghuang, Kaili, some tourists also extend their Fanjingshan tour to these wonderful sites. It takes 4-5 more days to visit Zhangjiajie and Fenghuang, about 3-4 more days to visit Guiyang and Kaili, and 3-5 more days to savor the sightseeing of Guilin and Yangshuo.
Most popular Fanjingshan Tour Packages:
7 Days Zhangjiajie to Fanjingshan Unbelievable Nature Tour
6 Days Diverse Guizhou Tour to Fanjingshan
9 Days Guilin Guizhou In-depth Highlights Tour
If you prefer to add more surprises to your Fanjingshan tour, you can extend your journey to visit other cities and sites you like, such as Beijing, Shanghai, Xian, Chengdu, Huangshan, Jiuzhaigou, etc. The tour can be customized according to your plan, time, interest and budget. Please feel free to contact us if you have any other ideas.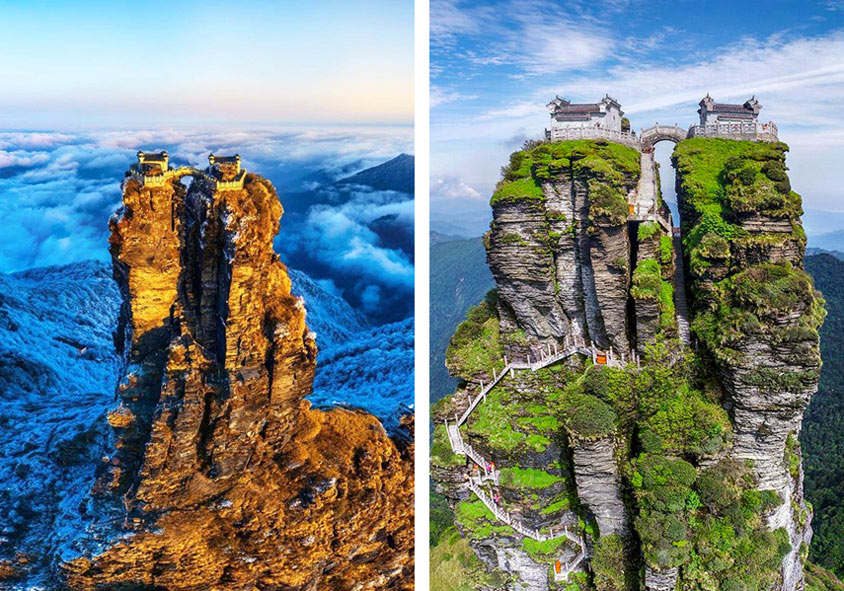 Red Clouds Golden Peak at Fangjingshan
Yangshuo Countryside in Guilin
Travel Fanjingshan with China Discovery
Travel Fanjingshan is not an easy job for first-timers, especially for foreigners. This sacred site is hidden deeply in the mountainous area. And it requires you to try several means of transportation to reach there. Don't worry! Travel with China Discovery, and then all your worries will be solved. Our experienced local driver will escort you from airport or railway stations to your hotels or the scenic area directly. During the whole journey, you can get really relax on the way and focus on the scenery!
If you are interested! Contact us and tell us your needs, our professional travel consultants will customize a memorable tour for you!
Fanjingshan
Other Useful Fanjingshan Travel Articles
Fanjingshan Tour Plan & Hot Tours
Keep Readings of Guizhou Travel
Recommended Fanjingshan Tours
Top 3 Fanjingshan tours chosen by most customers to explore Fanjingshan in the best way. Check the detailed itinerary, or tailor your own trip now with us.
3 Days Classic Fanjingshan Tour

Tongren / Fanjingshan / Tongren
7 Days Zhangjiajie to Fanjingshan Unbelievable Nature Tour

Zhangjiajie / Fenghuang / Fanjingshan
8 Days Guilin Guizhou In-depth Highlights Tour (Start from Guilin)

Guilin / Longsheng / Yangshuo / Zhaoxing / Kaili / Fanjingshan
Start planning your tailor-made holiday to China by contacting one of our specialists. Once inquired, you'll get a response within 0.5~23.5 hours.
Customize a Trip
Have a question? Get answers from our travel experts or guests
Your Question:

Your Name:

Your Email: