Fanjingshan Temple - Temples in the Air
Fanjing Mountain boasting the rare soaring up rock formation and listed as UNESCO World Natural and Cultural Heritage site in 2018 is a real miracle! Perched at the top of the most significant "Red Clouds Golden Peak" is the more incredible Fanjingshan Temple with 2,336 meters above the sea. Enjoying the so hard-to-see location on the column shaped peak, Fanjingshan Temple draws a lot of people to have a personal look at the real temple in the air and take fantastic novel pictures.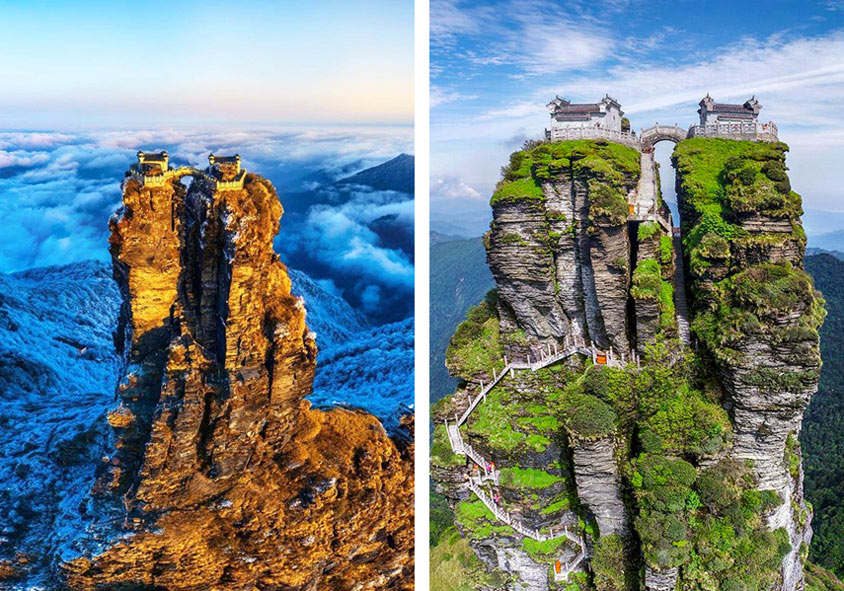 "Red Clouds Golden Peak" at Fangjing Mountain
Fanjingshan Temple - Temple of the Buddha & Maitreya Temple
Fanjingshan Temple is actually the two temples, namely Temple of the Buddha (释迦殿) & Maitreya Temple (弥勒殿), on the peak of the "Red Clouds Golden Summit (红云金顶)" (the New Golden Summit 新金顶) at Fanjing Mountain. One is for worshipping Sakiymuni representing the present and the other is for Maitreya representing the future. The two temples were originally built from Yongle period of Ming Dynasty, about over 500 years ago, and the present temples have been rebuilt according to its original look and with iron tiles to protect from the strong mountain wind. And there is only one hall for each temple, which is built with layers of stone pieces into 5.4 meters wide and 5.55 meters deep. There is a bridge linking between the two temples above the deep Gold Sword Gorge. And people to Fanjingshan can only climb up by the thousands of steps to first visit the Temple of Buddha on the south side, and walk across the bridge to visit Maitreya Temple on the north side of "Red Clouds Golden Summit", which proves the alternation from Sakiyamuni to Maitreya to mean from present to future in Buddhist theory.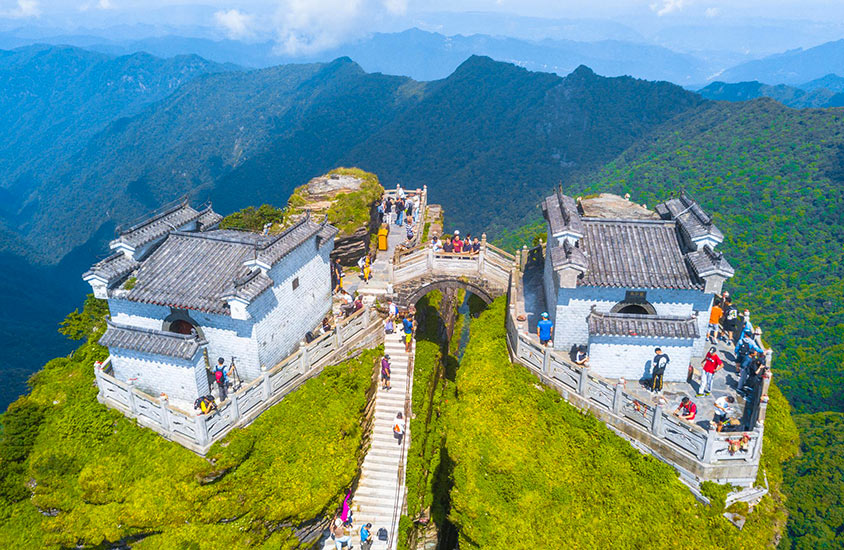 Temple of the Buddha & Maitreya Temple on "Red Clouds Golden Summit"
Since "Red Clouds Golden Summit" is often surrounded by mists and sea of clouds, standing on the platform outside of Fanjingshan Temple is really cool to admire the extraordinary view like viewing in the air. Thus, people from around the globe flock up to Fanjingshan to visit the iconic summit and Fanjingshan Temple to add such incredible experience and sightseeing into their travel memory.
Best Tour Packages to Visit Fanjingshan Temple:
▶ 3 Days Classic Fanjingshan Tour
▶ 7 Days Zhangjiajie to Fanjingshan Unbelievable Nature Tour (Fanjingshan + Zhangjiajie)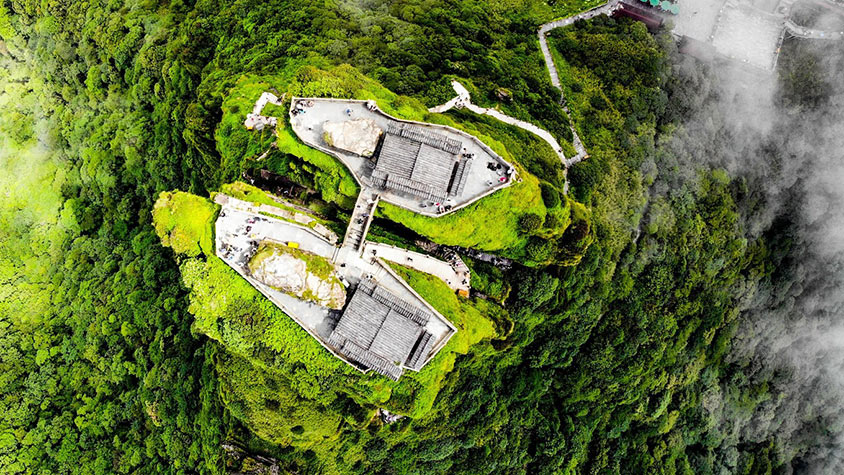 Bird's Eye View of Fanjingshan Temple
Destroy and Reconstruction of Fanjingshan Temples
Fanjing Mountain was a real sacred Buddhist cultural mountain at Wuling Mountain in the ancient time according to the historical materials, and lots of Buddhist temples were built along the mountain for the pilgrimage of world devoted Buddhists. However, during 16th century in Ming Dynasty, a large number of temples were destroyed, so the fame of Fanjing Mountain was suppressed at that time. Later in Qing Dynasty, the government ordered to rebuild the temples and build more new temples along the mountain way to "Red Clouds Golden Summit", including Cheng'en Temple, Baoguo Temple, etc. Until 1896, the fifth rebuilt of Fanjingshan Temples was finally finished. Thus, Fanjing Mountain gradually got its high Buddhist status among the world and was listed as the "No.5 Great Buddhist Mountain in China".
Other Top Temples at Fanjingshan
Besides Temple of the Buddha and Maytreya Temple on the "Red Clouds Golden Summit", there are about 50 temples in Fanjingshan for your savory of Buddhist culture and buildings and the profound Buddhist history of Fanjing Mountain.
Cheng'en Temple
Cheng'en Temple (承恩寺) is also known as Shangcha Hall meaning Tea Serving Hall. First built in early Ming Dynasty, the temple covers 1250 square meters. The main hall is 13.7 meters wide and 9 meters deep, with its door well preserved but some broken walls. There on the top of the door writes 7 Chinese characters of "Sheng Zhi She Ci Cheng En Si(圣旨敕赐承恩寺)" with clear and complete handwriting nowadays, which is the important proof of that Chengen Temple was once the royal temple under the imperial order.
Cheng'en Temple at Fanjingshan
Longquan Temple
Longquan Temple (Dragon Spring Temple龙泉寺) is only about 1 kilometer from the entrance of Fanjingshan. Here you can see a giant statue of Maitreya Buddha with plump belly and brilliant smile. Looking at this kind Buddha, you can be more broad-minded to face your life and worries more calmly.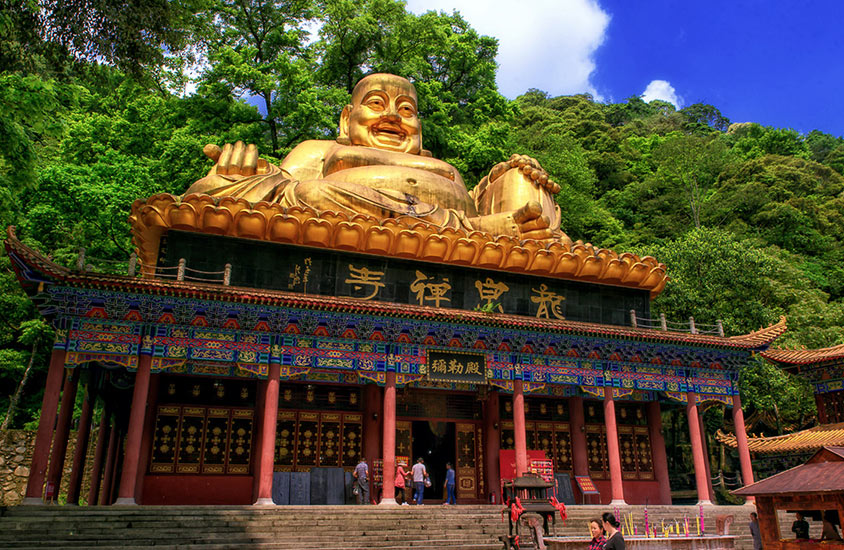 Longquan Temple at Fanjingshan
Huguo Temple
Huguo Temple (Nation Protection Temple 护国寺) was first built in 1126 BC. It is one of the four royal temples conferred during Wanli era in Ming Dynasty and also the largest and most grand temple in whole Fanjingshan. You can take a literary walk in the temple to admire the precious and excellent odes, poems and couplets, including the board about Summer Palace in Beijing. Located on the way of the west hiking route, this temple is more visited by Buddhist pilgrims and hikers.
How to Visit Fanjingshan Temple
Panoramic Map of Mount Fanjing
Fanjingshan Temple is within Fanjingshan Scenic Area. To get to Fanjingshan Temple, people usually start from the entrance of Fanjingshan and first take the sightseeing bus for about 20 minutes to Yuao Station and then take the cableway for about 20 minutes to the Cableway Station on the Top. Then, walk through the Forest Hiking Road for 45 minutes to visit the Mushroom Rock and the Old Golden Summit with another 30 minutes' walking. Next, walk along the steps way via Pudu Square up to the Red Clouds Golden Summit for about 65 minutes to climb up to Fanjingshan Temple on the peak. There is only one stone way to get to the peak. Visitors have to walk on the steep and narrow steps with holding the iron chains on one side to climb up. The way is really dangerous, so every step requires highly caution in case of falling down to the foot of the mountain. Usually, to walk up to Fanjingshan Temple on the "Red Clouds Golden Summit", it needs much energy and will take you at least 1.5 hour, and more during peak season. We suggest people have not so good physical condition or suffer acrophobia not to get up to Fanjingshan Temple, however, you can also appreciate the outlook of the strange mountain and peculiar temple from afar in Fanjingshan Scenic Area. (It needs about 4 hours to visit Fanjingshan if you want to walk up to only one peak.)
(Please note: Red Clouds Golden Summit and Old Golden Summit may be closed during bad weather days of heavy snow, icy road, rainstorm, etc. Please keep up with the weather forest of Fanjingshan to plan your trip there!)
Check more about Fanjingshan Maps >> | Fanjingshan Hiking >>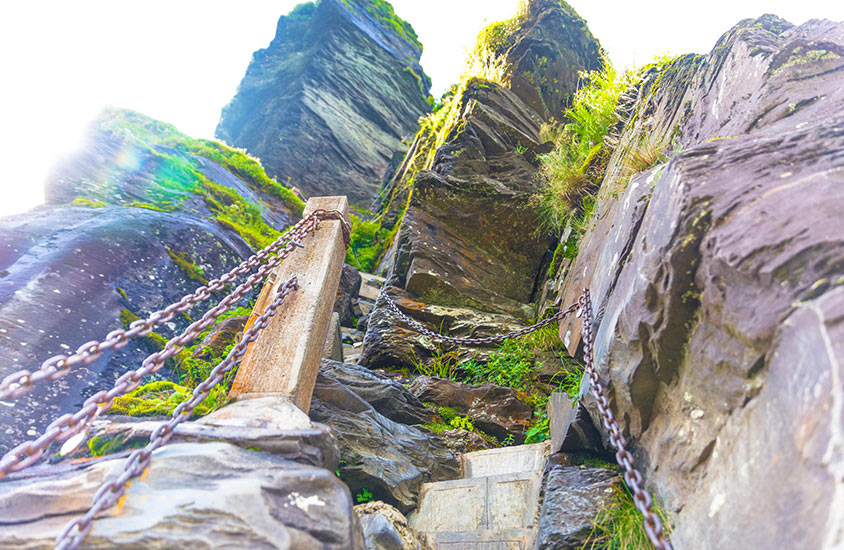 Steep & Narrow Path up to Fanjingshan Temple
Where is Fanjingshan & How to Get There?
To see Fanjingshan Temple, visitors need to get to Fanjingshan Scenic Area which is situated in Jiangkou County, Tongren City, Guizhou Province and about 70-80km's driving distance from Tongren City downtown for 50-70 minutes by car.
Tongren to Fanjingshan
You can get to Tongren first and transfer to Fanjingshan by taxi or local bus.
Tongren Fenghuang Airport has flights to and from Beijing (2.5h), Shanghai (2.5h), Guiyang (1h), Guilin (1h), Kunming (2h), Hangzhou (2.5h), Guangzhou (1.5h), Shenzhen (1.5h), Xiamen (2h), etc. Besides, Tongren South Railway Station is linked by bullet trains with Guiyang (2h), Chengdu (5h), Chongqing (4h), Guangzhou (6h), Kaili (1h), Changsha (3.5h), etc.
From Tongren, you can take a local taxi to Fangjingshan directly for about 1 hour and 20 minutes from Fenghuang Airport or about 1 hour and 40 minutes from Tongren South Railway Station. Besides, some direct buses are available from both airport and railway station to Fangjingshan.
Guiyang to Fanjingshan
Guiyang being the capital city of Guizhou Province is about 248km from Fanjingshan, and it usually needs about 4 hours with 290km's driving distance by car. Also, there are some direct buses.
Fenghuang Ancient Town to Fanjingshan
From Fenghuang Ancient Town, you can go to Fanjingshan by distance coach from Fenghuang Tourist Bus Terminal, which would cost about 1.5 hours and about 60 minutes. If you go by car, it would take about 1.5-2 hours.
Check more about How to Get to & around Fanjingshan >>
Travel with China Discovery
Transportation to Fanjingshan is a kind of complicated, particularly for international travelers. To help you enjoy a worry-free trip to Fanjingshan, we highly recommend you travel with us China Discovery by our private transfer service. Our local guide and driver will meet you at the airport, train station or anywhere you are in Tongren or the nearby cities and escort you to Fanjingshan directly by comfortable licensed private car with safety and speed. And you will be guided to see Fanjing Mountain and other sites with no worry. So you can save more time on the highlights from the transportation planning and navigation. Besides, our local guide will introduce all the attractions to let you catch the essence for a worthy trip. If you are interested in the private transfer service, please feel free to contact us for help!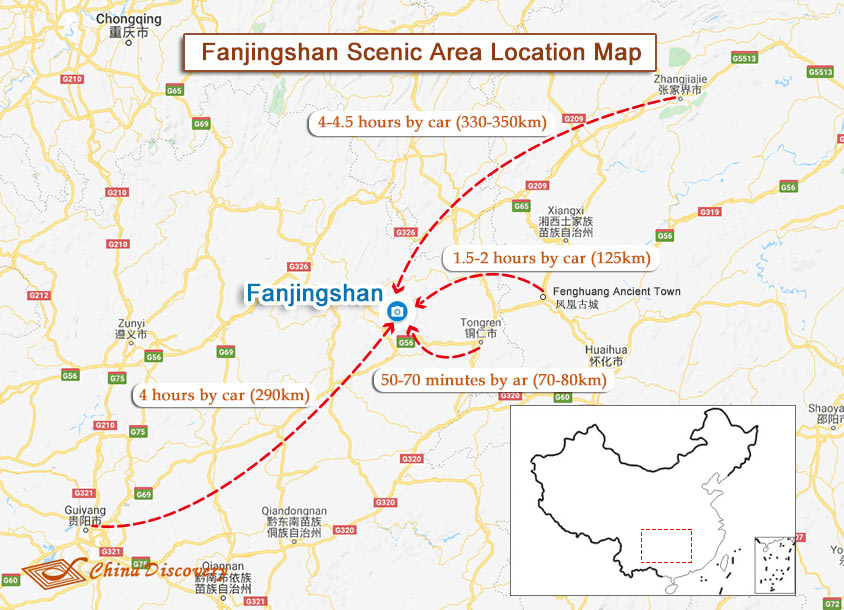 Fanjingshan Scenic Area Location Map
How to Plan a Fanjingshan Tour
Fanjingshan Temple with so rare and cool location up at the soaring column mountain is really appealing. Also Fanjing Mountain being the precious heritage site and Buddhist sacred place deserves your visit at least once. To visit such holy land, it usually takes 1-2 days to travel in the scenic area. For common visitors, you can spend 1 day in Fanjingshan Scenic Area to visit Fanjingshan Temple with the "Red Clouds Golden Summit" and other temples, the symbolic Mushroom Rock, admire the rich Buddhist culture, and more natural landscape there. However, we suggest you stay outside of the area 1 night before to save your time and energy. Besides, most travelers visit Fanjingshan together with other popular destinations, including Zhangjiajie, Guilin, Guiyang, Fenghuang, Kaili, etc. It usually takes about 4-5 more days to visit Zhangjiajie and Fenghuang, about 3-4 more days to visit Guiyang and Kaili, and 3-5 more days to savor the sightseeing of Guilin and Yangshuo.
Most popular Fanjingshan Tour Packages:
▶ 7 Days Zhangjiajie to Fanjingshan Unbelievable Nature Tour
▶ 6 Days Diverse Guizhou Tour to Fanjingshan
▶ 9 Days Guilin Guizhou In-depth Highlights Tour
▶ 5 Days Guiyang Fanjingshan Tour with Huangguoshu Waterfall
Furthermore, you can combine Fanjingshan with more top destinations in the vast China, such as Beijing, Shanghai, Xian, Chengdu, Hangzhou, Huangshan, Jiuzhaigou, Emei Mountain, Hong Kong, and so on to enjoy more great things to see and experience! All our itineraries are customizable. Please feel free to tell us about your interested destinations and any other ideas to let us help with your Fanjingshan trip planning!
Other Useful Fanjingshan Travel Articles
Fanjingshan Tour Plan & Hot Tours
Keep Readings of Guizhou Travel
Recommended Fanjingshan Tours
Top 3 Fanjingshan tours chosen by most customers to explore Fanjingshan in the best way. Check the detailed itinerary, or tailor your own trip now with us.
6 Days Diverse Guizhou Tour (Guiyang / Kaili / Fanjingshan)

Guiyang / Anshun / Kaili / Fanjingshan
7 Days Zhangjiajie to Fanjingshan Unbelievable Nature Tour

Zhangjiajie / Fenghuang / Fanjingshan
8 Days Guilin Guizhou In-depth Highlights Tour (Start from Guilin)

Guilin / Longsheng / Yangshuo / Zhaoxing / Kaili / Fanjingshan
Start planning your tailor-made holiday to China by contacting one of our specialists. Once inquired, you'll get a response within 0.5~23.5 hours.
Customize a Trip
Have a question? Get answers from our travel experts or guests
Your Question:

Your Name:

Your Email: