Fanjingshan Hotels: Accommodation in Tongren
Entitled as "the top 3 best trip in 2019" by National Geographic, Fanjingshan is an epic world heritage site, a fairyland where you'd like to stay once in your lifetime. However, as the sacred site is hidden in the mountainous area of Jiangkou County, Tongren City, Guizhou, tourists who are going to visit Fanjingshan are suggested to stay at least one night there. In order to protect the scenery and environment, it is not allowed to build a hotel on the mountain. The hotels at the foot of Fanjingshan, in Jiangkou County and Tongren City are the popular choices to have a stay.
1) Stay at the Foot of Fanjingshan (top recommended): Find a hotel at the foot of Fanjingshan is our best recommended choice, because you can easily get to the ticket office on the next morning. The scenic area only allows 8,000 people to visit it every day. It may be a sad thing if you failed to get a ticket. However, living at the foot of Fanjingshan allows you to arrive at the ticket office in several minutes by car and even by foot.
2) Stay in Jiangkou County: (best choice during off season) Jiangkou County is about 22km to the entrance of Fanjingshan. Driving from Jiangku to Fanjingshan takes about 30-40 minutes. Hotels in Jiangkou can offer you better service in cheaper price. So hotels in Jiangkou are the best recommends during off season from December to next March.
3) Stay in Tongren City: The closest airport (Tongren Fenghuang Airport) to visit Fanjingshan is located in Tongren. Therefore, stay in Tongren City is somewhat the best choice for tourists who arrive at the airport after midnight. It takes about 1 hour to travel from Tongren City to the ticket center of Fanjingshan by car. If you prefer hotels in Tongren, you are suggested to get up a little bit early on the next day morning, or you may have to waste a lot of time to queue for a ticket.
Know more about Where to Stay in Fanjingshan >>
Top Recommended Fanjingshan China Tours:
▶ 6 Days Diverse Guizhou Tour (Guiyang / Kaili / Fanjingshan)
▶ 7 Days Zhangjiajie to Fanjingshan Unbelievable Nature Tour
▶ 8 Days Guilin Guizhou In-depth Highlights Tour (Start from Guilin)
▶ 13 Days Classic China Tour with Diverse Guizhou (Fanjingshan & Ethnic Minorities)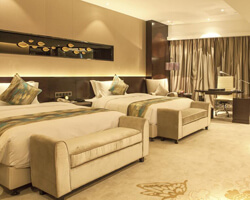 Fanjingshan Accommodation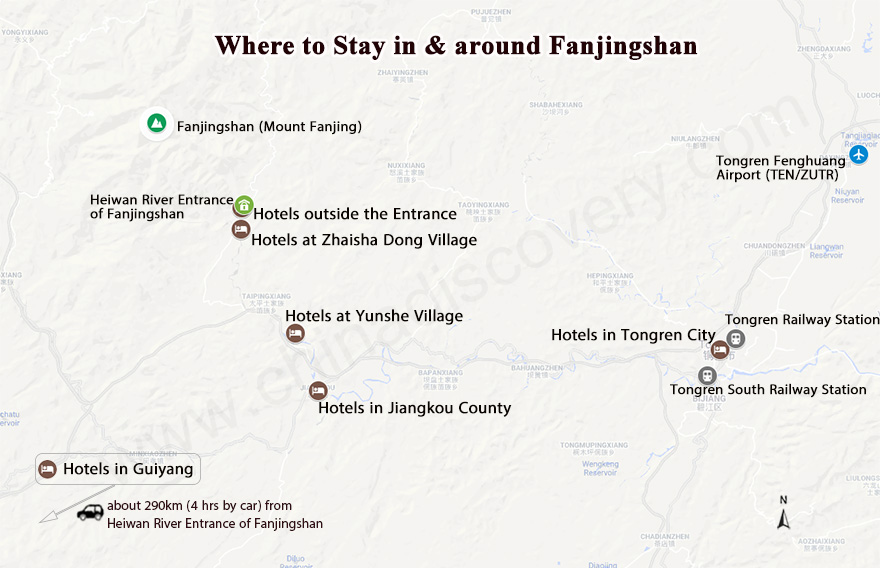 Fanjingshan Accommodation Map
Tongren Huaguoshan Grand Metropark Hotel

Breakfast: Chinese Food

Add: No. 31 Huaguoshan North Road, Bijiang District, Tongren, 554300, China

Distance: 117km to Fanjingshan Scenic Area; 26km to Tongren Airport; 3km to Tongren Railway Station; 65km to Tongren South Railway Station

Tongren Huaguoshan Grand Metropark Hotel is located in the city center of Tongren, With an area of 80,000 square meters and a building area of 50,000 square meters.The hotel has a magnificent appearance, elegant lobby, spacious room space, large and soft beds, 215 well-equipped rooms.

Chinese and Western restaurants bring you a variety of delicacies.Multifunctional halls, special exhibition halls and conference rooms are equipped with advanced facilities. With the cooperation of the business center, all kinds of banquets, meetings and exhibitions can be held here successfully.

Bars, chess and card rooms, billiards rooms, indoor and outdoor swimming pools are all open for you to relax, exercise and meet guests. You will certainly have a good stay here.
Tongren Jin Jiang Hotel

Breakfast: Chinese Food

Add: No.21 Jinjiang North Road, Tongren, 554300, China

Distance: 115km to Fanjingshan Scenic Area; 28km to Tongren Airport; 4km to Tongren Railway Station; 63km to Tongren South Railway Station

Located in the prosperous commercial center of Tongren City, Jinjiang hotel is about 115km away from the famousl Buddhist mountain Fanjingshan and 65 kilometers away from Fenghuang Ancient Town in Hunan.

The hotel covers an area of 86,000 square meters with 28 floors of the main building. It has 422 senior, luxury, administrative and presidential suites, which are supported by top international hardware facilities. Luxurious and elegant Chinese and Western restaurants can provide you delicious dishes at home and abroad. The pillarless banquet hall can accommodate 600 people for meetings and meals at the same time. Ten conference rooms with complete functions and advanced facilities meet the needs of different guests for meetings and business activities. The hotel also has foot bath, spa, indoor swimming pool, fitness center, KTV, chess and card room, cinema, and other recreational facilities, as well as super large parking lot and shopping mall, which can meet the different needs of all the customers.
Other Useful Fanjingshan Travel Articles
Fanjingshan Tour Plan & Hot Tours
Keep Readings of Guizhou Travel
Recommended Fanjingshan Tours
Top 3 Fanjingshan tours chosen by most customers to explore Fanjingshan in the best way. Check the detailed itinerary, or tailor your own trip now with us.
6 Days Diverse Guizhou Tour (Guiyang / Kaili / Fanjingshan)

Guiyang / Anshun / Kaili / Fanjingshan
7 Days Zhangjiajie to Fanjingshan Unbelievable Nature Tour

Zhangjiajie / Fenghuang / Fanjingshan
8 Days Guilin Guizhou In-depth Highlights Tour (Start from Guilin)

Guilin / Longsheng / Yangshuo / Zhaoxing / Kaili / Fanjingshan