Fanjingshan Tourist Map, Fanjingshan Attractions Map
What make Fanjingshan stand out are its unusual rock formations and profound Buddhist culture. All of these highlights are gathering at the top of the mountain. The following Fanjingshan Tourist Maps will introduce you useful Fanjingshan (Mount Fanjing) travel info like attractions, entrances, visiting & hiking routes, sightseeing bus and cable cars, etc.
Fanjingshan Tourist Maps: Attractions & Transportations in Fanjingshan
There are two entrances of Fanjingshan, one is in Jiangkou County and the other is in Yinjiang County. The former one in Jiangkou County is the mainly used and most popular one, namely Heiwan River Entrance. The visiting route from Heiwan River Entrance is called South Route.
South Route: From Heiwan River Entrance, you could find sightseeing buses to the lower station of cable car and the starting point of hiking trails. Hike uphill to the upper station of the cable car needs about 3-4 hours. And it only takes about 20 minutes if you choose to ride a cable car. Once arrive at the upper station, follow the wooden trail on your right side and then you could get to the Mushroom Stones and Old Golden Summit. If you choose the left way, you will arrive at the Chengen Temple and Red Cloud Golden Summit first. The wooden trail is more recommended, because you can get to the highest point of Fanjingshan and have a spectacular view of the surroundings first. Know more detailed tourist info at the Fanjingshan Tourist Attraction Map at below:
Notice: the west visiting route from the entrance in Yinjiang County is extremely wild, tough and also dangerous for tourists. And you have to hike all the way to get to the mountain top, because there is no alternative cable car or sightseeing bus for you to choose. Therefore, you are suggested to enter the scenic area from entrance in Jiangkou.
Hot tour: 3 Days Classic Fanjingshan Tour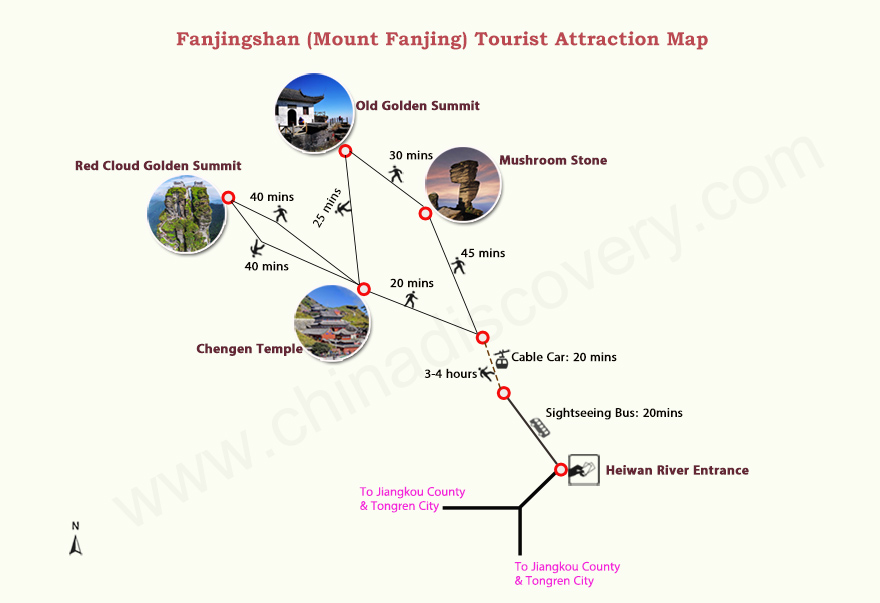 Fanjingshan Tourist Attraction Map
Map of Hot Tourist Destinations near Fanjingshan
Seldom tourists visit Fanjingshan only but arrange it as a middle stop in a longer trip. Most of them combine Fanjingshan with some other nearby popular attractions such as Huangguoshu Waterfall in Anshun, ethnic villages in Kaili, ancient town in Fenghuang, Avatar Mountains in Zhangjiajie, Karst Landscape in Guilin, etc. If you have more days in China, you are highly suggested to extend your Fanjingshan tour to these nearby tourist destinations too! It takes 4-5 more days to visit Zhangjiajie and Fenghuang, about 3-4 more days to visit Guiyang and Kaili, and 3-5 more days to savor the sightseeing of Guilin and Yangshuo. Add the tourist destinations you love most to your tour according to your time and budget!
Recommended tours:
7 Days Zhangjiajie to Fanjingshan Unbelievable Nature Tour (Zhangjiajie + Fenghuang + Fanjingshan...)
6 Days Diverse Guizhou Tour to Fanjingshan (Guiyang + Fanjingshan + Kaili...)
9 Days Guilin Guizhou In-depth Highlights Tour (Guilin + Longsheng + Yangshuo + Kaili + Fanjingshan...)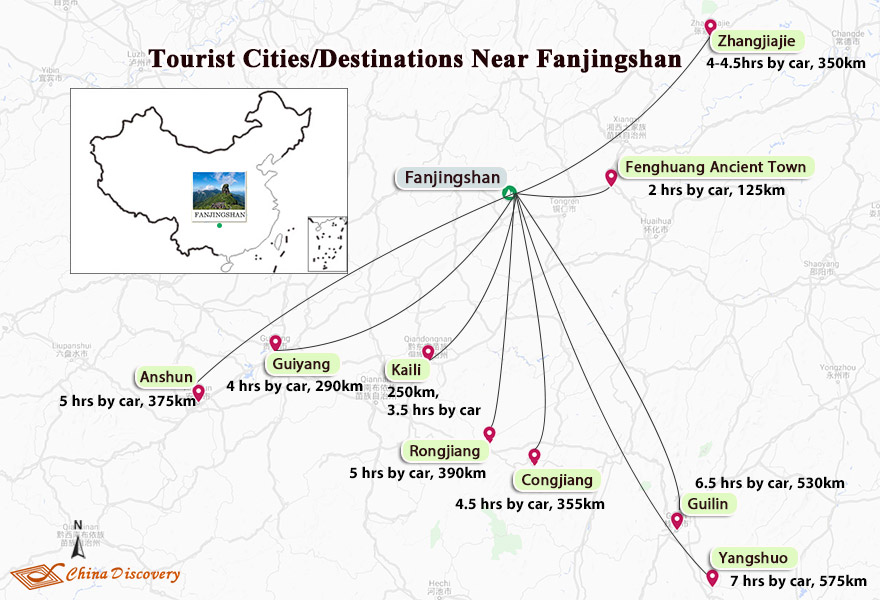 Fanjingshan & Nearby Tourist Destinations
Travel Fanjingshan with Other Popular Tourist Cities in China
Still looking for a longer China tour? Add more surprises to your Fanjingshan tour from the map at below! You can get more modern surprises from Shanghai, Hong Kong, Shenzhen, and Guangzhou, etc. And explore more Chinese culture and history in Beijing, Xian, Luoyang, Dunhuang, etc. Travel to Chengdu and then you can also have a date with adorable pandas! If you want more natural wonders, Yangtze River, Huangshan and Zhangye are also recommended… China is such a diverse country and offers numerous treasures waiting for your visit. Choose the destinations you love most and let us customize a memorable tour for you!
Travel Fanjingshan with China Discovery
If you want to get rid of the hustle of public transportation and troublesome navigation, you can book a private tour package which covers sightseeing, dining and transfer from us. Our local tour guide and driver will escort you to Fanjingshan Scenic Area with speed and convenience, and take care of all the details. You just need to focus on sightseeing.
The tour can be tailor made according to your plan, time, interests and demands. If you are interested, please feel free to contact us and tell us your needs, and we will customize a memorable tour for you! >>Contact us now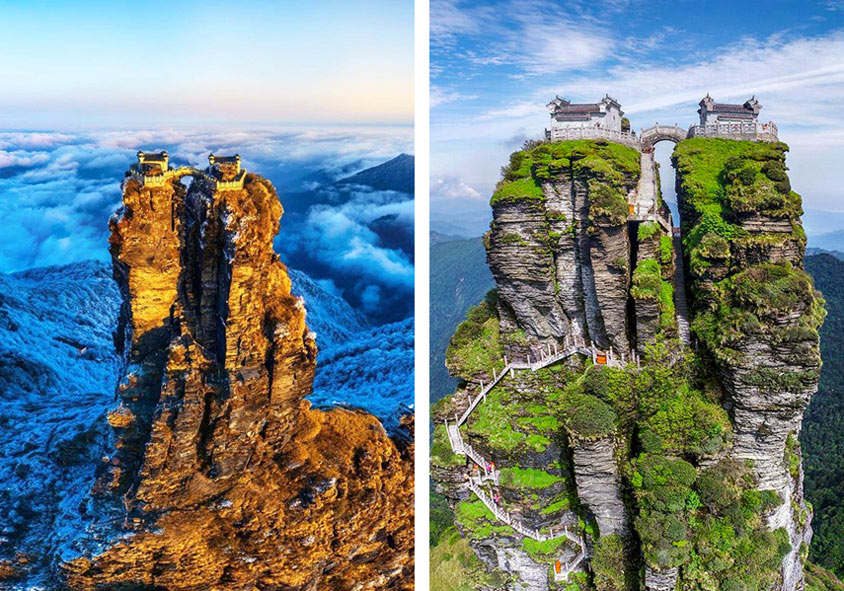 Red Clouds Golden Peak at Fanjingshan
Other Useful Fanjingshan Travel Articles
Fanjingshan Tour Plan & Hot Tours
Keep Readings of Guizhou Travel
Recommended Fanjingshan Tours
Top 3 Fanjingshan tours chosen by most customers to explore Fanjingshan in the best way. Check the detailed itinerary,or tailor your own trip now with us.
6 Days Diverse Guizhou Tour (Guiyang / Kaili / Fanjingshan)

Guiyang / Anshun / Kaili / Fanjingshan
7 Days Zhangjiajie to Fanjingshan Unbelievable Nature Tour

Zhangjiajie / Fenghuang / Fanjingshan
8 Days Guilin Guizhou In-depth Highlights Tour (Start from Guilin)

Guilin / Longsheng / Yangshuo / Zhaoxing / Kaili / Fanjingshan