Fanjingshan Hotels: Accommodation in Jiangkou
Entitled as "the top 3 best trip in 2019" by National Geographic, Fanjingshan is an epic world heritage site, a fairyland where you'd like to stay once in your lifetime. However, as the sacred site is hidden in the mountainous area of Jiangkou County, Tongren City, Guizhou, tourists who are going to visit Fanjingshan are suggested to stay at least one night there. In order to protect the scenery and environment, it is not allowed to build a hotel on the mountain. The hotels at the foot of Fanjingshan, in Jiangkou County and Tongren City are the popular choices to have a stay.
1) Stay at the Foot of Fanjingshan (top recommended): Find a hotel at the foot of Fanjingshan is our best recommended choice, because you can easily get to the ticket office on the next morning. The scenic area only allows 8,000 people to visit it every day. It may be a sad thing if you failed to get a ticket. However, living at the foot of Fanjingshan allows you to arrive at the ticket office in several minutes by car and even by foot.
2) Stay in Jiangkou County: (best choice during off season) Jiangkou County is about 22km to the entrance of Fanjingshan. Driving from Jiangku to Fanjingshan takes about 30-40 minutes. Hotels in Jiangkou can offer you better service in cheaper price. So hotels in Jiangkou are the best recommends during off season from December to next March.
3) Stay in Tongren City: The closest airport (Tongren Fenghuang Airport) to visit Fanjingshan is located in Tongren. Therefore, stay in Tongren City is somewhat the best choice for tourists who arrive at the airport after midnight. It takes about 1 hour to travel from Tongren City to the ticket center of Fanjingshan by car. If you prefer hotels in Tongren, you are suggested to get up a little bit early on the next day morning, or you may have to waste a lot of time to queue for a ticket.
Know more about Where to Stay in Fanjingshan >>
Top Recommended Fanjingshan China Tours:
▶ 6 Days Diverse Guizhou Tour (Guiyang / Kaili / Fanjingshan)
▶ 7 Days Zhangjiajie to Fanjingshan Unbelievable Nature Tour
▶ 8 Days Guilin Guizhou In-depth Highlights Tour (Start from Guilin)
▶ 13 Days Classic China Tour with Diverse Guizhou (Fanjingshan & Ethnic Minorities)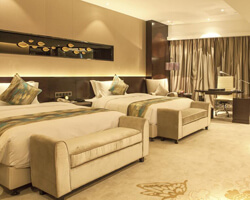 Fanjingshan Accommodation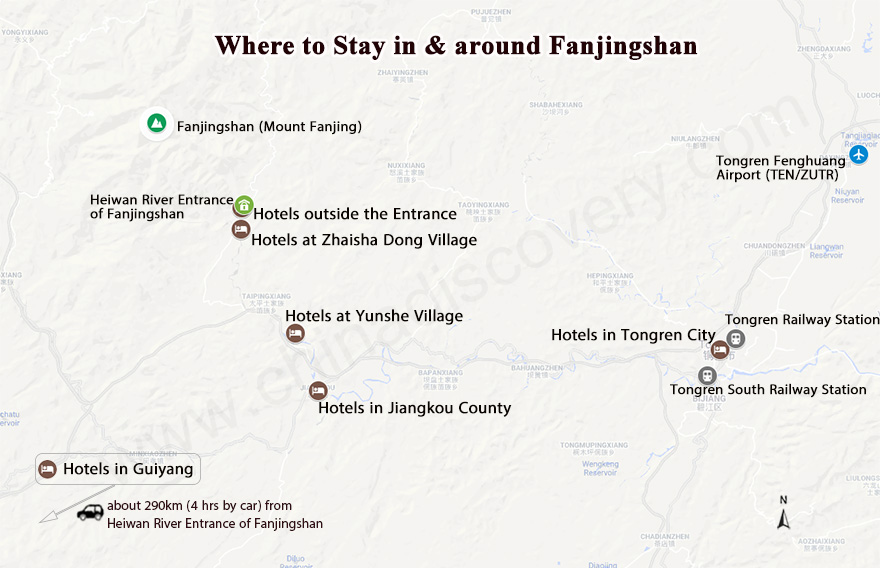 Fanjingshan Accommodation Map
Yeste Select Hotel

Breakfast: Chinese Food

Address: Near No.508 Road, Mowan Village Jiangkou

Surrounding: Jiangkou County

Distance: about 22km to Fanjingshan (half an hour by car), 65km to Tongren Fenghuang Airport (1 hour by car)

The Yeste Select Hotel (雅斯特精选酒店) is one of the newest hotels in Jiangkou County. It offers convenient free Wi-Fi in public areas, Luggage storage service and also free tourist map for guests. Compared with hotels at the foot of Fanjingshan, this hotel can provide you better service in cheaper price. And it is in a short driving distance to the entrance of Fanjingshan. Therefore, stay in this hotel is also a good choice to visit the sacred Mount Fanjing in ease, especially during the off season from December to next March.
Jiangkou Fengqi Hotel

Breakfast: Chinese Food

Add: Xiangshi Avenue, Jiangkou County, Tongren, 554300, China

Distance: 16km to Fanjingshan Scenic Area; 50km to Tongren Airport; 36km to Tongren Railway Station; 93km to Tongren South Railway Station

Fengqi Hotel is the best four-star hotel in Jiangkou County. On the first floor, there are reception hall, cafe, full-time restaurant, cafeteria, wood art exhibition hall, painting and calligraphy exhibition hall, etc.

The second floor specializes in Cantonese cuisine, Guizhou cuisine, Hunan cuisine, Sichuan cuisine, Western-style meals and other delicacies. There are 9 dining rooms, 1 banquet hall and 5 multimedia conference rooms. It can accommodate about 1000 people at the same time.

On the third floor, there is a fitness and entertainment club with excellent decoration and beautiful environment. From the fourth floor to the tenth floor, there are totally 194 rooms provided, including business single room, business double room, sightseeing room, luxury suite and so on.

It has adopted intelligent management system, intelligent central air conditioning, free wifi, electric curtains, intelligent lighting control system, to meet your staying expectations.
Other Useful Fanjingshan Travel Articles
Fanjingshan Tour Plan & Hot Tours
Keep Readings of Guizhou Travel
Recommended Fanjingshan Tours
Top 3 Fanjingshan tours chosen by most customers to explore Fanjingshan in the best way. Check the detailed itinerary, or tailor your own trip now with us.
6 Days Diverse Guizhou Tour (Guiyang / Kaili / Fanjingshan)

Guiyang / Anshun / Kaili / Fanjingshan
7 Days Zhangjiajie to Fanjingshan Unbelievable Nature Tour

Zhangjiajie / Fenghuang / Fanjingshan
8 Days Guilin Guizhou In-depth Highlights Tour (Start from Guilin)

Guilin / Longsheng / Yangshuo / Zhaoxing / Kaili / Fanjingshan