Yangshuo Transportation: Flight, Cruise, Train, Bus, Taxi & Bike
Yangshuo, the popular tourist city to enjoy the charming countryside life and appreciate the magnificent Karst scenery, is about 65km southeast of Guilin downtown. There are now many travel options for you to choose to get to this wonderful place, while the most popular and classic way to get there is taking the leisurely Li River cruise from Guilin… For more details about how to get to Yangshuo from Guilin, Longsheng, Hong Kong, Shenzhen, etc., please check below information.
Get to / away from Yangshuo
By Air
There is no airport in Yangshuo, so you can't visit Yangshuo by direct flights. However, you can arrive at Guilin Liangjiang International Airport (桂林两江国际机场) in the Guilin downtown first and then change to the airport shuttle buses, Li River cruise, high speed trains or local mini buses to Yangshuo. As one of the top tourist cities in China, Guilin can be accessed by some international and many domestic flights. Check more about flights to Guilin and Guilin Liangjiang International Airport.
By Train
Yangshuo has its own high speed railway station now (Yangshuo Railway Station), which is about 6km (4 miles) away from the famous Xingping Ancient Town. Driving from Yangshuo Railway Station to the Xingping Ancient Town takes only about 15 minutes. If you have already had a great Li River cruise experience before and want to visit Yangshuo directly from other hot tourist destinations like Shenzhen, Guangzhou, Shanghai, Chengdu, Chongqing, Guiyang, etc., you can also choose the convenient high speed trains to Yangshuo. For the travelers from Hong Kong to Yangshuo, you can take the high speed trains to Yangshuo via Guangzhou, Shenzhen or the closest railway station - Guilin, as what most of other travelers have done.
Recommended High Speed Train Tours:

>> 6 Days In-depth Guilin Tour from Hong Kong
>> 13 Days Chinese Treasures Tour with Panda
Useful Real-time Train Schedules:
By Bus
Yangshuo is connected to many popular destinations in the southern China like Guangzhou and Shenzhen with long distance buses. You can also travel from Guilin to Yangshuo or from Yangshuo to Guilin by local mini buses (coaches). There are two kinds of buses you can take, one is the normal buses traveling between Guilin downtown and Yangshuo, and the other is the Airport Shuttle Buses.
● From Guilin City Center to Yangshuo
Guilin South Passenger Station (桂林汽车客运南站) and Guilin Qintan Passenger Station (琴潭汽车客运站) provide daily bus service to Yangshuo. Yangshuo Bus Station (阳朔汽车总站) operates buses to Guilin Bus Terminal (桂林汽车总站), Guilin South Passenger Station (桂林汽车客运南站) and Guilin South Bus Station (桂林南站) (near Guilin Railway Station). The bus journey takes about 1.5-2 hours.
● From Guilin Airport to Yangshuo
There are about 6 pairs of airport shuttle buses travelling between Guilin Liangjiang International Airport and Yangshuo Bus Station. The bus journey takes about 1.5 hours or so for about 50 RMB per person.
From - To
Departure Time
Duration
Price (RMB)
Guilin Airport - Yangshuo Bus Station
09:30; 11:00; 12:30; 14:00; 15:30; 16:30; 18:00; 20:00
About 1.5 hours
About 50
Yangshuo Bus Station - Guilin Airport
07:00; 09:00; 11:30; 13:00; 14:30; 16:00; 17:30; 19:00
(Note: the above bus time, number and tickets are only for your reference, which may be adjusted according to practical situation.)
Useful Links:
>> Guilin to Yangshuo Bus | >> Guilin Liangjiang International Airport
● From Guangzhou or Shenzhen to Yangshuo
Regular long distance buses from Guangzhou and Shenzhen to Yangshuo can be found every day. Most of the buses are overnight buses arriving at Yangshuo at midnight or latter. Considering the unpleasant long-time journey in a cramped bus and also for security reasons, you are more suggested to get to Yangshuo by high speed trains or flights.
Guilin to Yangshuo Li River Cruise
Cruising leisurely over the shallow green water of Li River flanked by a procession of spectacular karst peaks must be one of the best experience of visiting Guilin and Yangshuo. There are 3 Star Cruises and 4 Star Cruises for you to choose. Usually, the cruises depart in the morning from Guilin Mopanshan Wharf (磨盘山码头) or Zhujiang Wharf (竹江码头) and travel for about 4-5 hours to Yangshuo. No middle stops on the way. Besides, there is no cruise available back from Yangshuo to Guilin. Check more about Guilin to Yangshuo Boat - Li River Cruise >>
Top Recommend Tour with Li River cruise Experience:
>> 4 Days Guilin Highlights Tour (Li River, Yangshuo & Longji Terrace)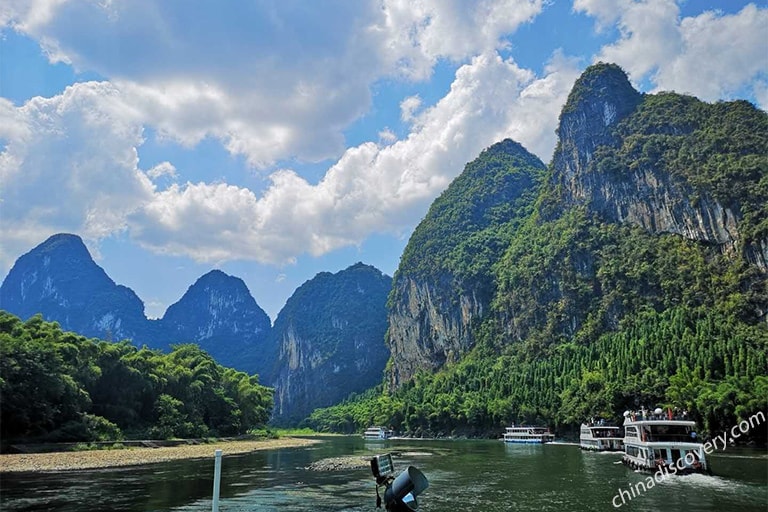 Guilin to Yangshuo Li River Cruise
Yangshuo to Longsheng Map
Get Around Yangshuo
There are many ways for you to go sightseeing around Yangshuo, including riding bicycles and taking the sightseeing buses, taxi, electric Two-wheelers and bamboo rafts.
By Bike Riding & Electric Two-wheelers
Riding bicycles in Yangshuo must be the most free and classic way to explore Yangshuo. There are many shops and hotels in Yangshuo that provide bike rental service, thus you can easily start a biking tour in Yangshuo. After paying about 10 RMB - 60 RMB for the rental and 200 RMB for the deposit, you can use the bike all day happily. The rental fee is charged according to the kind of bicycles you rent. There are also many Electric Two-wheelers in the bike rental shops in Yangshuo if you like, which charges about 50 RMB or so for a whole day. Check more about Yangshuo Biking Routes & Maps >>
Top Recommended Tour:
4 Days Leisure Guilin Tour with Half-day Cycling in Yangshuo >>
By Sightseeing Bus
There are two kinds of buses in Yangshuo. One is the sightseeing bus and the other is the golf car. The buses and cars can be mainly found along the Yulong River and Ten-mile Gallery. The sightseeing buses charge about 20 RMB for a whole day, and the golf car charges for about 10 RMB each time. After paying, you can get off and on anywhere on the middle way to explore more about your interested place along the Yulong River, while you need to get off at the scheduled bus stations (usually near the scenic spots like the Moon Hill) along the Ten-mile Gallery.
By Bamboo Rafting
Bamboo Rafting is one of the highlights of Yulong River. There are 6 wharfs along the Yulong River, and every wharf provides the rafting service. The most classic rafting route is from Jima (骥马) or Shuiedi (水厄底) to Gongnong Bridge (工农桥), which is widely regarded as the essence part of the Yulong River. However, adults over 70 years old and children under 7 years old are not to be allowed to take the raft.
Top Recommended Yangshuo Tour with Bamboo Rafting Experience:
2 Days Guilin Ideal Li River Cruise with Yangshuo Essence Tour >>
By Taxi
Taxi is seldom used in Yangshuo, but you can also easily found one near the roads next to the West Street (All the buses, private cars and the bicycles are forbidden on the West Street, so you should ask a taxi near the West Street instead of on the West Street). The taxi drivers there usually don't charge by the meter, so you'd better check the price before taking a taxi.
Yangshuo Yulong River Biking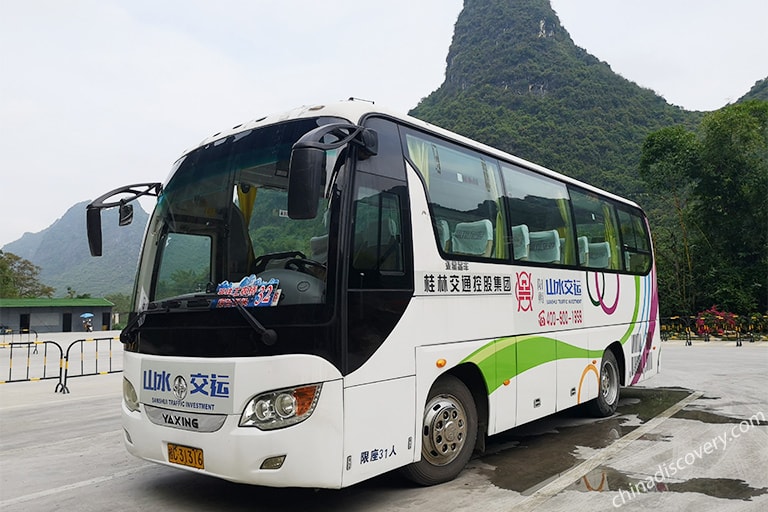 Yangshuo Sightseeing Bus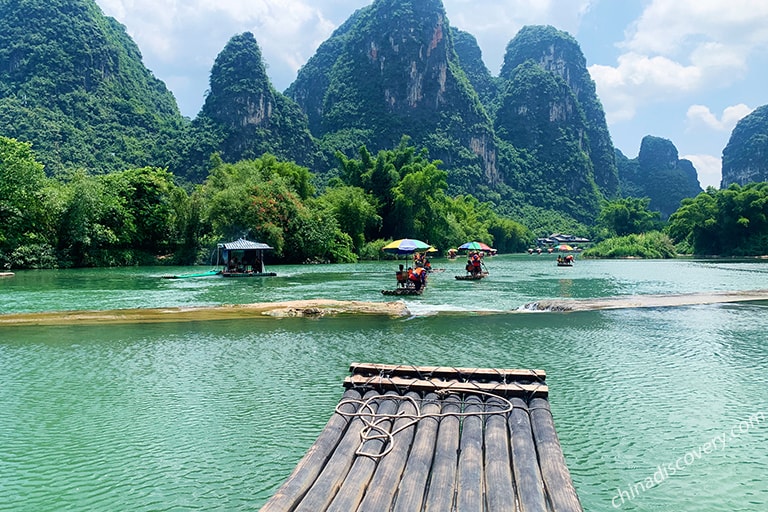 Yangshuo Yulong River Bamboo Rafting
Touring Yangshuo with China Discovery
Be amazed by the magnificent Karst landscape and charming countryside life of Yangshuo and feel annoyed about the complex traffic? Do not worry, we China Discovery provide well- organized Yangshuo Tours with a rich selection of bicycles, bamboo rafts, Li River cruise and also the intimate private cars according to your interests and needs. Then you can focus all your energy on the scenery and countryside life style of Yangshuo. After your Yangshuo tour, our local driver can escort you to your next destination. If you are interested, please feel free to contact our professional travel consultants for help and tailor an individualized Yangshuo tour for you.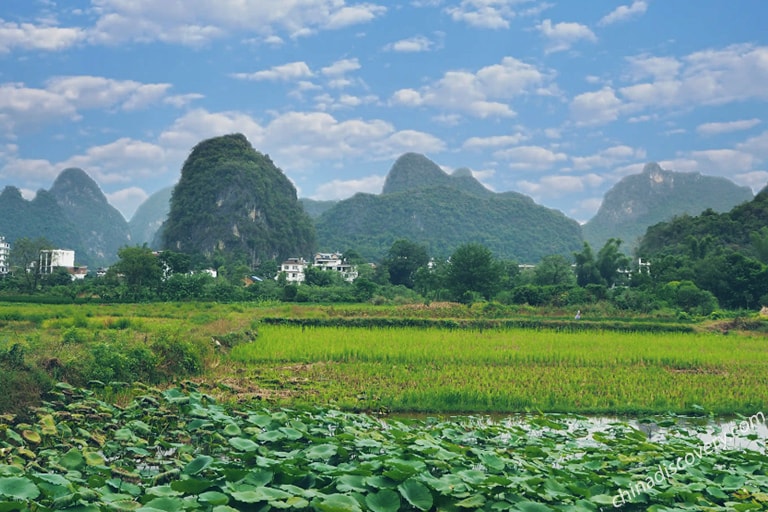 Yangshuo Countryside
Useful Guilin Travel Guide Info
Extending Readings for Guilin Travel Planning
Recommended Yangshuo Tours
Top 3 Yangshuo tours chosen by most customers to explore Yangshuo in the best way. Check the detailed itinerary, or tailor your own trip now with us.
10 Days Classic China Tour from Beijing - First Touch of China

Beijing / Xian / Guilin / Yangshuo / Shanghai
6 Days Guilin In-depth Photography Tour including Xianggong Mountain

Guilin / Longsheng / Guilin / Yangshuo / Guilin
Start planning your tailor-made holiday to China by contacting one of our specialists. Once inquired, you'll get a response within 0.5~23.5 hours.
Customize a Trip
Have a question? Get answers from our travel experts or guests
Your Question:

Your Name:

Your Email: