Where to Stay in Yangshuo - Best Yangshuo Accommodations
Yangshuo is widely known as a superb resort land to have a great physical and mental relaxes. Since it boasts the highly eye-pleasing natural sceneries of typical Karst landform and leisure countryside joy, it is extremely suggested to stay at least one night there in your Guilin discovery to admire the best landscape and wake up with surrounding nice weather and rural ease. However, as this scenic place is actually wide, where to stay in Yangshuo during your days in this beautiful place, Yangshuo downtown or Xingping? Due to the well development, Yangshuo offers quite many diverse accommodations in both the jubilant West Street, peaceful countryside villages along Yulong River, and the ancient Xingping Town. Below we will tell details about which area to choose to stay in Yangshuo and the top recommended accommodations based on the levels and types for your better choice for planning your Yangshuo Tour in China!
Best Areas to Stay in Yangshuo - Yangshuo or Xingping?
If you would drop by Xingping Town, it is absolutely advised to stay 1-2 nights there to catch more view of Li River and this old town at different time of a day. However, if you only plan a relaxing holiday in Yangshuo County, there you will have three major areas to choose from, including the West Street at the center of Yangshuo, Yulong River a little far away from the center, and the nearby villages. Compare their pros and cons at below to decide where to stay!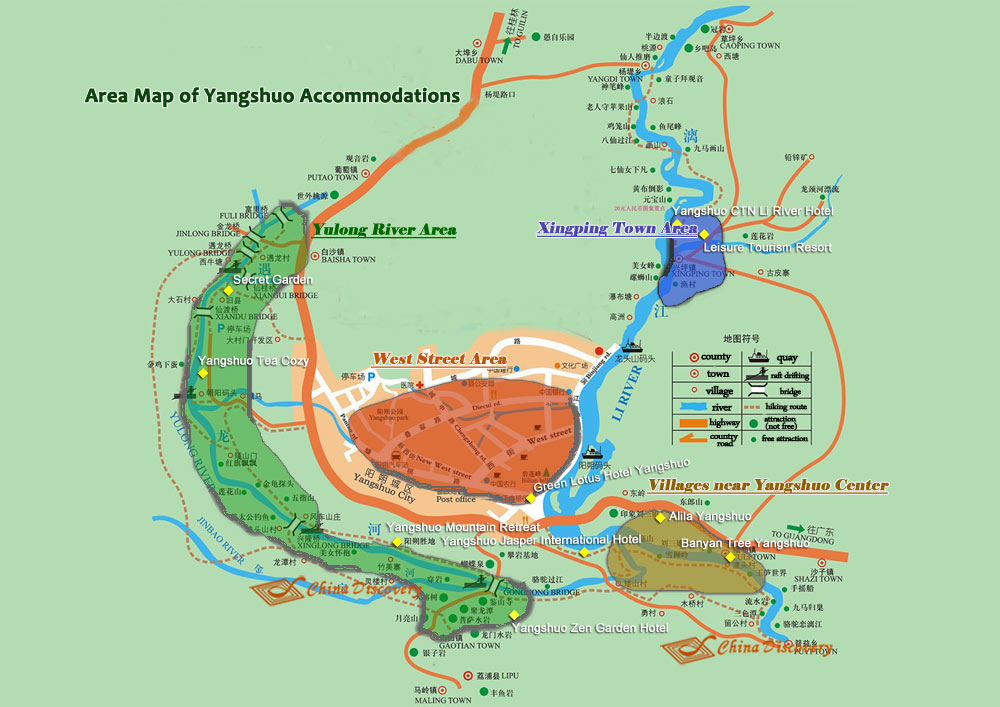 Area Map of Yangshuo Accommodation
Villages near Yangshuo Center
In all the choices in Yangshuo County, staying in the villages near Yangshuo Center (West Street 西街) is relatively the best choice, which lets you both savor Yangshuo sceneries in peace and worry no more about transferring by local vehicles long and troublesomely to enjoy food, buy some necessities, take a sip with your friends, etc. at West Street. Well, a lot of good hotels, resorts, hostels and homestays can be found easily, and they will satisfy all your parents, children, love and you a lot with their fine sets of equipment and amenities and considerate preparation. Great choices are mainly along the lower reach of Li River east of West Street, etc.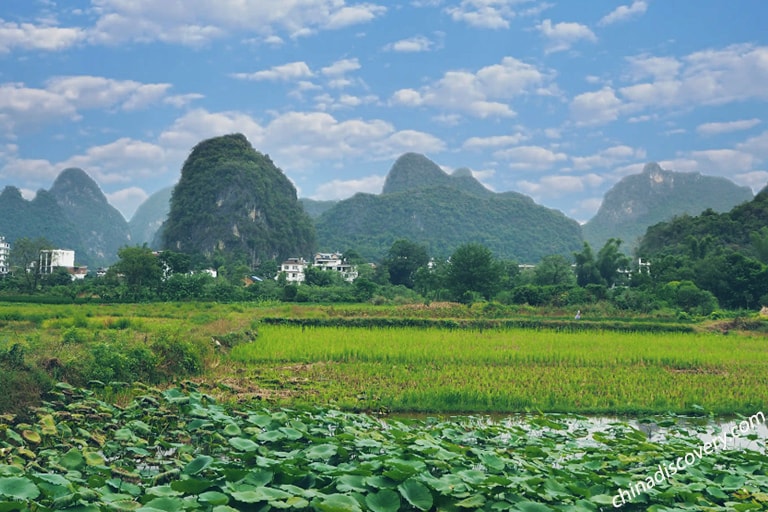 View of Villages near Yangshuo Center
West Street
West Street actually belongs to the center of Yangshuo County, where enjoys the best facilities for convenient shopping, transportation, entertainment, dining, etc. Though countless hotels and hostels of various levels set up there along and around the main street, the music from the bars and pubs will continue until the early morning at around 02:00, besides, as many local people get up a little early from 06:00, the sound of their daily chores and the alarms of motors may disturb you from a nice sleep. Therefore, unless you always can have a good sleep even in a noisy place, you are not so suggested to stay overnight in the West Street of Yangshuo. And if you are originally intend to have fully fun with the jubilance and excitement as well we the fabulous night neon of the international Yangshuo, there is no reason not to stay there.
However, for your high demands of convenience of everything, you are more advised to choose your accommodation several streets away, such as the Guanlian Road (观莲路) near Impression Sanjie Liu venue, Furong Road (芙蓉路), Fuqian Lane (府前巷), Yangshuo Park (阳朔公园) with plentiful stores and restaurants, etc.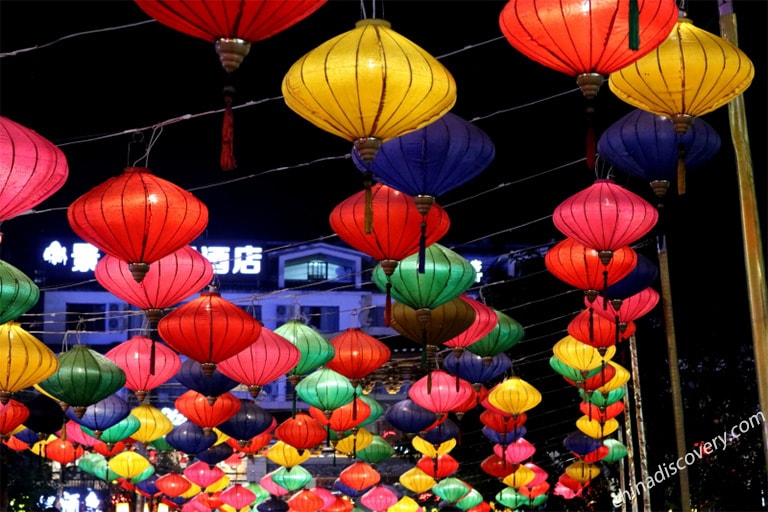 West Street Night Lights
Yulong River
Yulong River offers abundant accommodation for the leisure stay of Yangshuo visitors as well, most of which are boutique hotels, hostels and homestays. As the essential scenic park of Yangshuo, staying there enables you to embrace the best natural landscape surprises from the moment you open your eyes till your good-night kiss to your sweetheart. The relatively farer location from the bustling West Street entitles accommodations along Yulong River the best place to enjoy its ideal lovely countryside view of Karst landscape, local farming patches, domestic buffalos, ducks, chickens, floating stream, old bridges, etc., which really offers a wonderful vacation spot to escape from the urban noise and lay back to refresh mind. However, due to the traffic control of the whole Yulong River and Ten-mile Gallery, no motor vehicles are allowed to enter the park, so it will take more time and effort to transfer to the main West Street and other attractions in Yangshuo.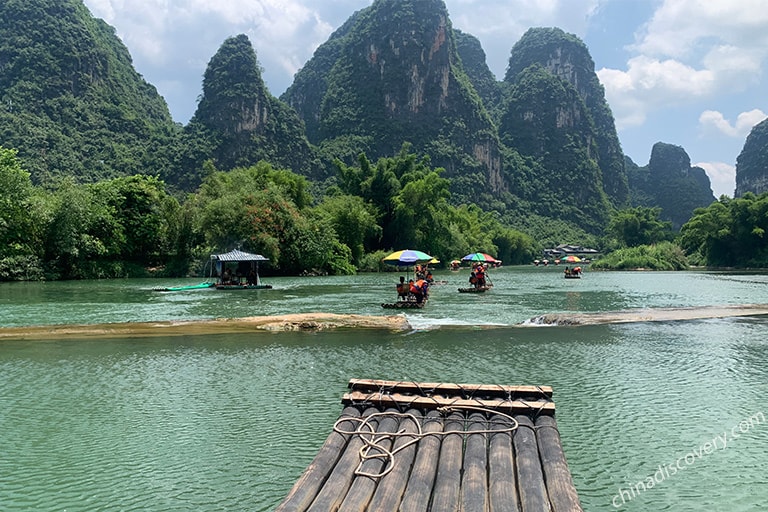 Yulong River
Xingping Old Town
Xingping (兴坪) is the dreaming hidden place for photographing of Li River and the exquisite Karst hills and feasting on the authentic ancient flavor of Yangshuo. Therefore, having one or more nights spending in the tranquil Xingping Town, you will have more time closing up with those scenic darlings, especially for catching the fabulous sunrise and sunset of the Yellow Cloth Shoal with fishermen, and of course the symbolic real image on the back of the 20 RMB note. However, compared to those in Yangshuo, accommodations in Xingping are not so luxury but still comfortable and are well equipped and decorated to have a sweet sleep there. You can choose a hotel in or around the old town to feel its old charm and at dawn, you are highly invited to have a leisure stroll along the poetic Li River to enjoy the breeze, sunset and rippling water.
Recommended Yangshuo Tour Package:
>> 2 Days Guilin Ideal Li River Cruise with Yangshuo Essence Tour (Bamboo Rafting, Yangshuo Biking, Family Visiting Experience...)
>> 3 Days Classic Guilin Tour (Li River, West Street, Yulong River...)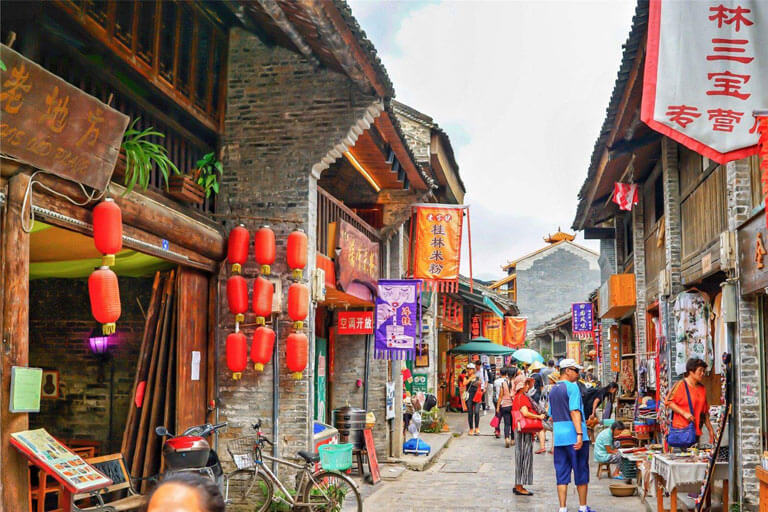 Xingping Old Town
Top Yangshuo Accommodations Based on Type
From the high-end luxury resorts, deluxe international brands, mid-end comfortable hotels, surprising featured boutique hotels, to common budget hostels and warm homestays, you can find what you want in Yangshuo. For your satisfying overnight in Yangshuo, here we have some top recommendations of luxury holiday resorts, boutique hotels, and starred hotels that have received good reputations from multiple Yangshuo visitors. Please check details at below!
Luxury Holiday Resorts
Seeking for the extreme luxurious enjoyment of sceneries, gourmet, services, amenities and recreations? The top luxury holiday resorts in Yangshuo offer the best all over for your best mind emptying!
● Banyan Tree Yangshuo (阳朔悦榕庄)
Ranking the top best super luxury resorts in this tourist county. Even though it is in Fuli Old Town, about 0.5 hour driving distance from the West Street, it truly provides the fine site for appreciation of surrounding Karst mountains and the emerald Li River as perfect natural background to attract continuous guests to this reputed brand. Decorated in the traditional Chinese style in the simplest black, white and grey, the whole resort conveys the typical Chinese elegant, in its around one hundred guestrooms and suites. The outstanding Spa and outdoor swimming pool services will leave the most comfortable peaceful moment in this lovely land.
Area: Village near Yangshuo Center
Address: No. 168 Zhengdong Street, Fuli Town, Yangshuo (阳朔县福利镇正东街168号)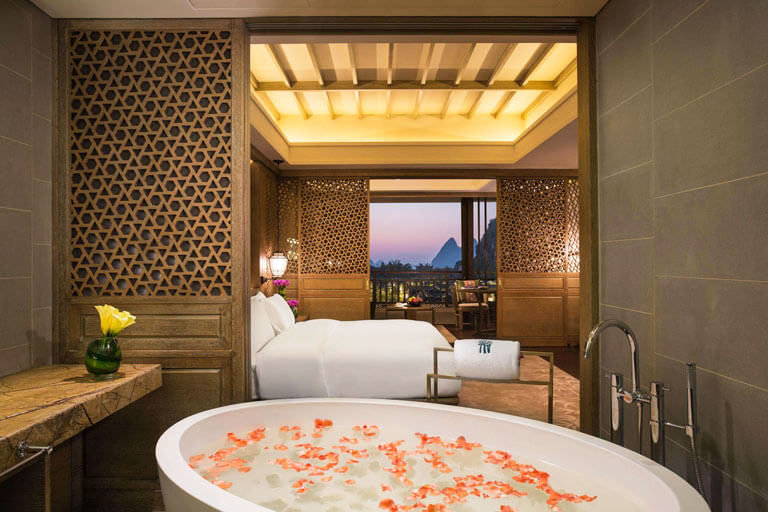 Banyan Tree Yangshuo
● Yangshuo Mountain Retreat (阳朔胜地酒店)
Facing the terrific landscape of Yulong River, it has long been chosen by travelers' to Yangshuo. You can not only have the handy leisure of inspiring river sceneries and the simple countryside lifestyle away from city noise, but also receive the professional and warm services from the well trained hotel staff members (some with fluent English) within its riverside traditional architecture.
Area: Yulong River
Address: Foot of Wanggong Mountain, Fenglou Village, Gaotian Town, Yangshuo (高田镇凤楼村委王公山脚)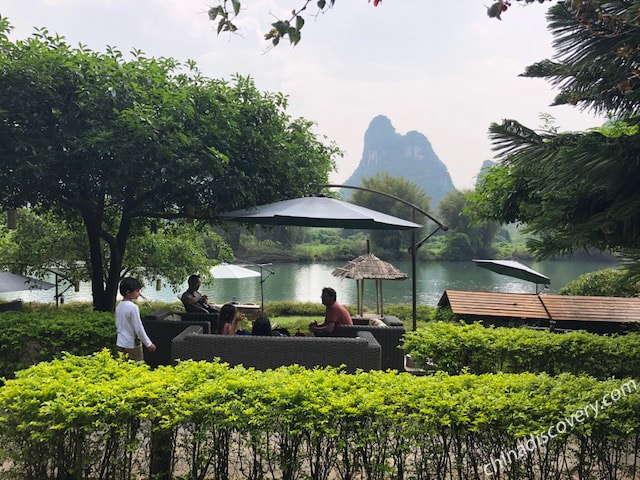 Yangshuo Mountain Retreat
● Leisure Tourism Resort (阳朔三千漓)
Belonging to a scenic resort at the essence of Li River, the luxury and elegant Three Thousand Li Hotel in Xingping offers the atmospheric admiration of the exquisite rolling Karst mountains of Li River, symbolic Yellow Cloth Shoal, Nine Horses Hill, etc. and a fine cultural block outside your French windows.
Area: Xingping Old Town
Address: No.1 Fenghuang Road, Xingping Town, Yangshuo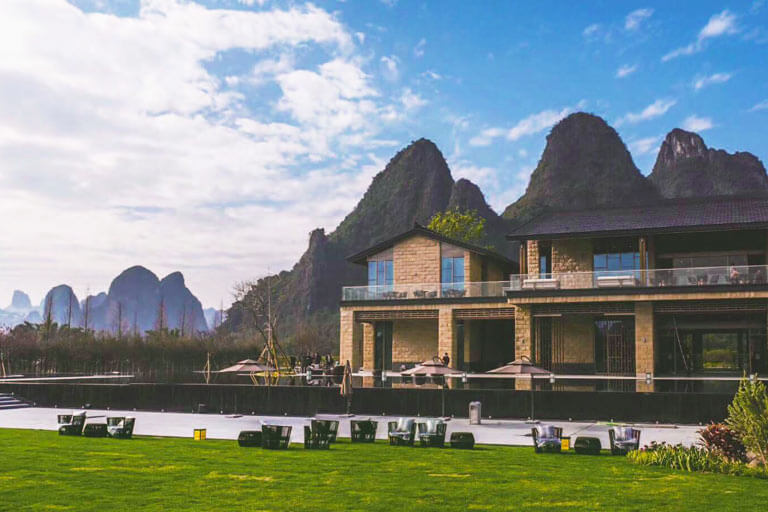 Yangshuo Leisure Tourism Resort
>> 2 Days Guilin Ideal Li River Cruise with Yangshuo Essence Tour
Boutique Hotels
Yangshuo boasts a praisable cluster of boutique hotels which will impress you big surprises of its fancy theme styles, exquisite rooms, fabulous scenery location and excellent care for everything and every day of you!
● Alila Yangshuo (阿丽拉阳朔糖舍)
Alila Yangshuo is one of the 12 Alila resort hotels globally. Their great simplicity can help with your mind resting. And the elaborately arranged rooms, amenities and services always gain thumbs-up to please you as well. Also called Sugar House, it draws lots of visitors' curiosity as it's refurbished from a real sugar mill. And you can capture its history and the processing from sugarcane to sugar in its mill museum and also have fun with some DIY activities, especially when traveling with kids. Also, rock-climbers can take the spotlight at the nearby site.
Area: Village near Yangshuo Center
Address: No. 102 Dongling Road, Yangshuo (the original Sugar House, near Provincial Road 305 (阳朔东岭路102号 (原糖厂), 近305省道)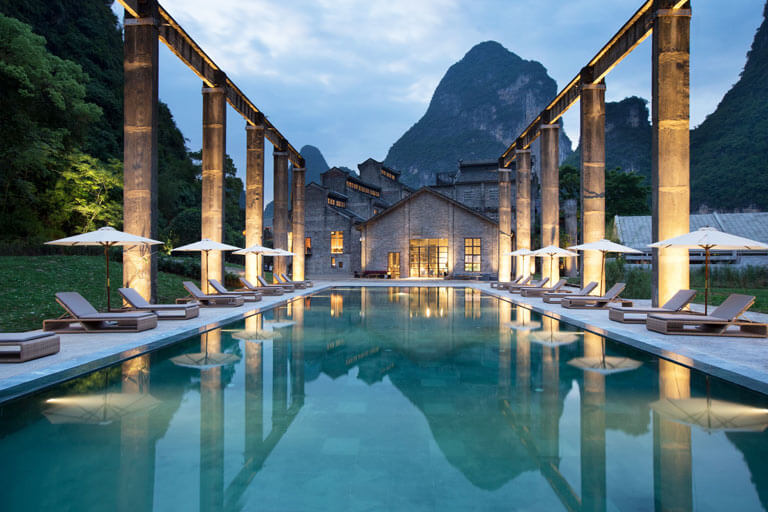 Alila Yangshuo
● Secret Garden Yangshuo (阳朔秘密花园)
Specially decorated from the authentic hundred-year old local house from Qing Dynasty and run by a foreigner, the famous Secret Garden just several steps away from Yulong River still preserves its historic brick wall, grey tiles, and cobblestones paved paths in its antique courtyard, which is really ideal to live like locals. As so many people come attracted by its fame, one room is hard to find.
Area: Yulong River
Address: Jiuxian County, Yangshuo (阳朔旧县村)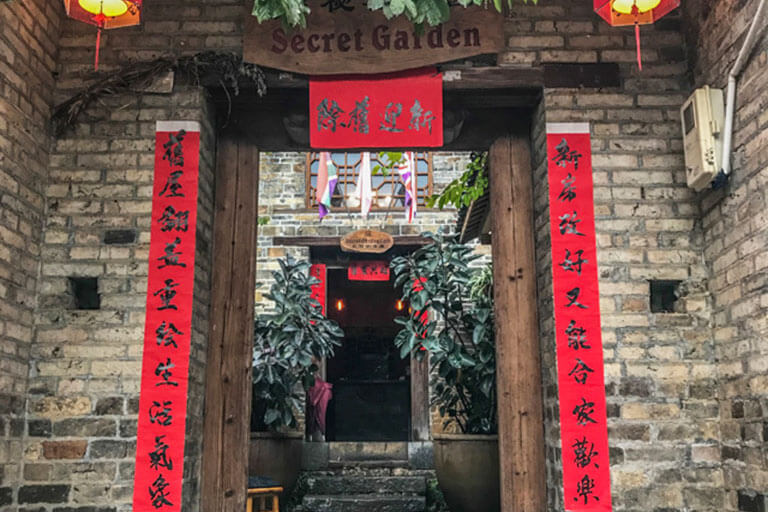 Secret Garden Yangshuo
>> 3 Days Classic Guilin Tour - Guilin Brief Vacation
● Yangshuo Zen Garden Hotel (竹窗溪语禅艺度假酒店)
Yangshuo only hotel themed with Zen culture. The simple but elaborate design and layout from the straight lined structure, American industrial style, to the furnishing in log color extends the natural and Zen state. Moreover, the classic Zen dance and tea will comfort your body and mind to the best natural state to get totally relaxed.
Area: Yulong River, Ten-mile Gallery
Address: No. 122, Jiwodu Village near Gongnong Bridge, Yangshuo (阳朔工农桥附近鸡窝渡村122号)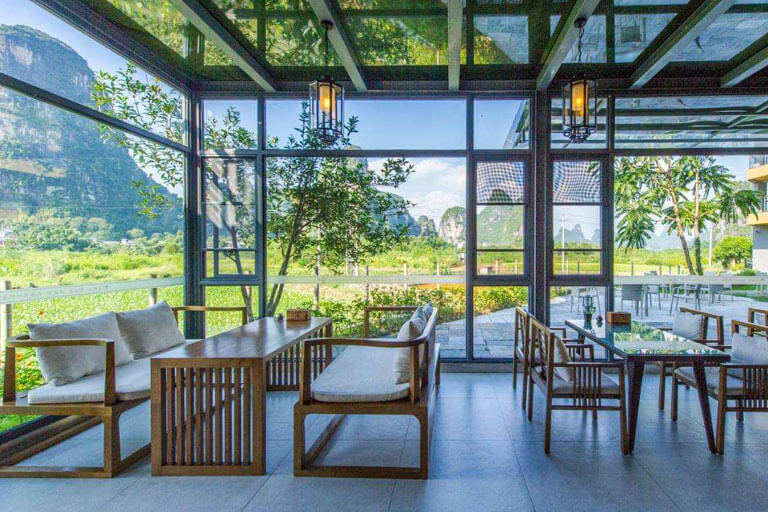 Yangshuo Zen Garden Hotel
● Yangshuo Tea Cozy (阳朔水云阁酒店)
Another outstanding boutique inn by Yulong River. The characteristic stilted houses of Miao ethnic style and exquisite Jiangnan class garden charm gather the green mountains and river closer in front of your large glass window. The traditional Chinese beautiful rooms are so amazing for a cozy rest and feeling of Yangshuo countryside paintings.
Area: Yulong River
Address: No.212 Xiatang Stockade, Baisha Town, Yangshuo (阳朔白沙镇夏棠寨村212号)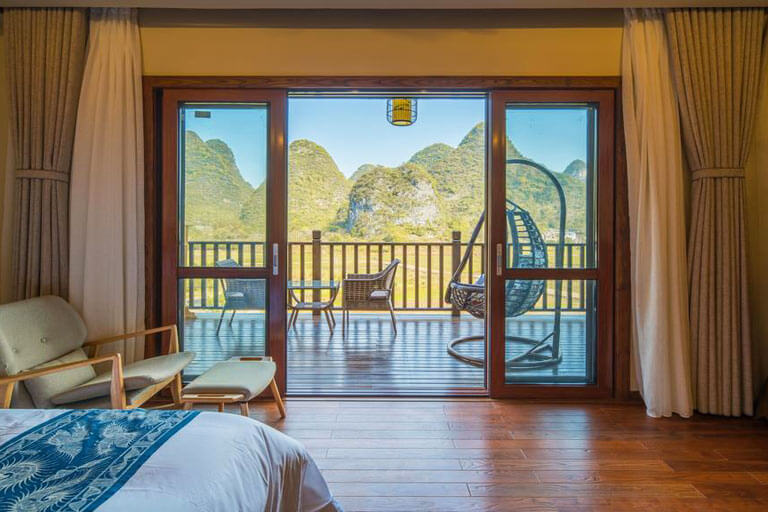 Yangshuo Tea Cozy
● Yangshuo CTN Li River Hotel (Jingranju Boutique Hotel (阳朔静然居精品酒店)
Enjoying the super enviable location just facing the image on back of the 20 RMB note, this boutique hotel are frequently recommended for occupants in Xingping Town. No matter you travel with your family or alone, you can find a comfortable fully equipped room or suite among the total 15 choices. Once you are visiting Xingping for fun or photography, it surely will be your wise choice.
Area: Xingping Old Town
Address: No.8 Egendi Road, Xingping Town, Yangshuo (阳朔 阳朔兴坪镇厄根底8号)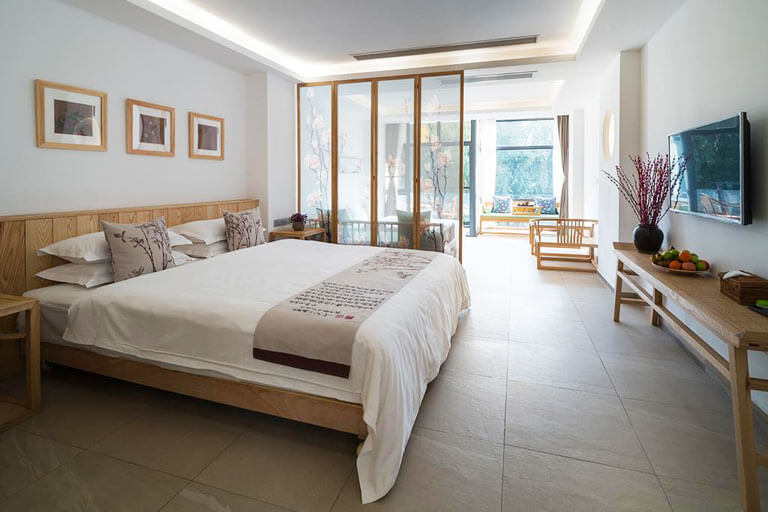 Yangshuo CTN Li River Hotel
Starred Hotels
Standard and higher level starred hotels are never lacked of in Yangshuo. Tremendous hotels from 3-star to 5 star can easily be found in and around West Street and the nearby areas along Li River.
● Green Lotus Hotel Yangshuo (阳朔碧莲江景大酒店)
This 5-star hotel has received hundreds of thousands of guests since its operation in 2008. With its advantaged location off the Li River and near the West Street block, it enables you to have a romantic roam along the river bank to enjoy the sightseeing and walk in the old but international West Street within 5 minutes on foot. Also, several hundred meters away from Impression Sanjie Liu venue, it encourages an unhurried dinner before the famous night show.
Area: near West Street
Address: No.1 Guanlian Road, Yangshuo (阳朔观莲路1号)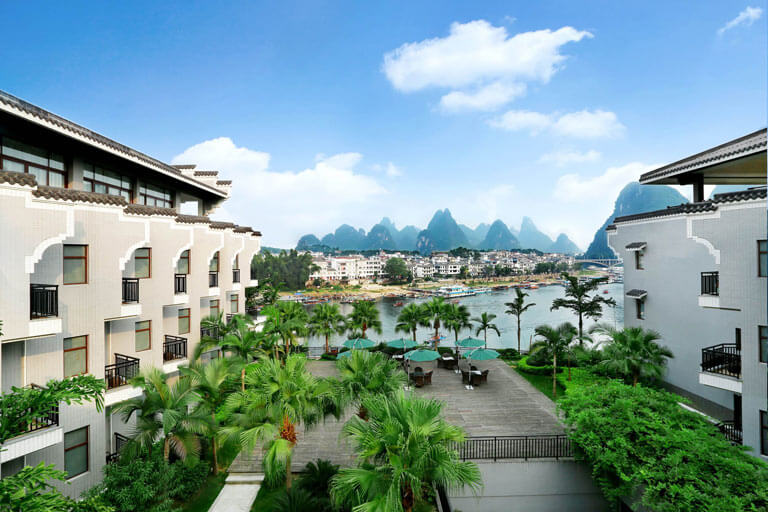 Green Lotus Hotel Yangshuo
● Yangshuo Jasper International Hotel (阳朔碧玉国际大酒店)
Designed and decorated under the international standards of 4-star hotels, it serves every guest well to stay in their 450 guestrooms and suites and feel ease with their specially prepared ecofriendly cotton beddings, Chinese and Western food, fun entertainment, etc. for a worriless holiday in Yangshuo. West Street essence and Li River beauty are easy at hand.
Area: near West Street
Address: No.103-31 (South Building), No. 103-11 (North Building), Shima Road Yangshuo (阳朔 石马路103-31(南楼) 103-11 (北楼) )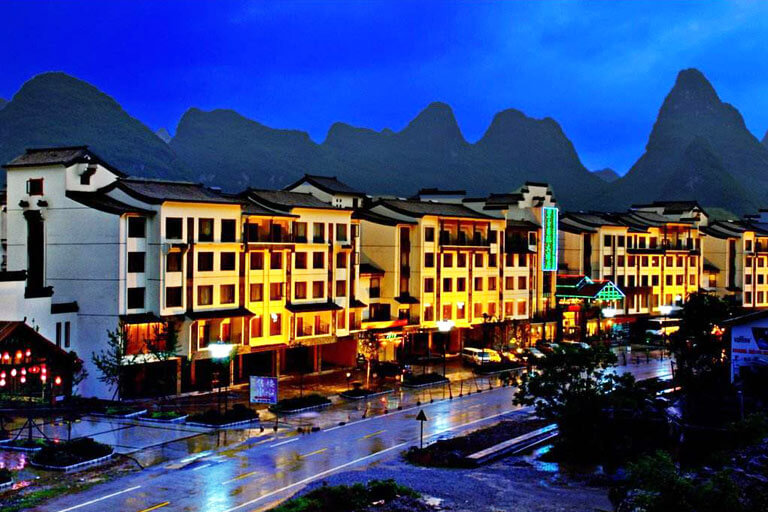 Yangshuo Jasper International Hotel
How to Plan Your Yangshuo Tour
No matter whether you have visited Yangshuo before or not, you are highly suggested to plan a tour with overnight(s) in this awesome scenic destination. For first-timers to Yangshuo, you can plan a 2-day tour to enjoy the Li River cruise from Guilin and capture the essences of Yulong River with various activities, Ten-mile Gallery, Impression Liu Sanjie show, and West Street. And if you got more days, you can spend another 1-3 days to visit the terrific sceneries at Xianggong Mountain, Cuiping Mountain, and the old Xingping Town to see diverse images of Li River. Furthermore, for most travelers, they usually plan a Yangshuo tour together with Guilin City and Longji Rice Terraces to seek for more highlights of this charming place. It usually needs 4-7 days to cover all three places in one go.
>> 4 Days Guilin Highlights Tour (Li River, Yangshuo & Longji Rice Terraces)
>> 5 Days Best Guilin In-depth Vacation (Li River, Yangshuo & Longji Terrace)
>> 6 Days In-depth Guilin Tour from Hong Kong
Travel with China Discovery
Are you considering travel Yangshuo but no more time and effort on the public transportation choosing and waiting? Travel with China Discovery, and our professional local tour guide and driver will escort you among your ideal tourist areas with comfortable private car, therefore, you can fully enjoy your every minutes on the highlights on the way and the introduction from the guide. Besides, our travel expert will help you plan your own tour according to your interests and needs, even a vast China tour including Beijing, Shanghai, Hong Kong, Xian, Chengdu, Chongqing, Yangtze River Cruise, Lhasa, and so forth. If you are interested, please feel free to contact our travel expert!
More Popular Guilin Travel Articles
Extending Readings for Guilin Travel Planning
Recommended Tours
Top 3 tours chosen by most customers to explore in the best way. Check the detailed itinerary, or tailor your own trip now with us.
3 Days Classic Guilin Tour - Guilin Brief Vacation

Guilin / Yangshuo
5 Days Best Guilin In-depth Vacation (Li River, Yangshuo & Longji Terraces)

Guilin / Longsheng / Guilin / Yangshuo
2 Days Guilin Ideal Li River Cruise with Yangshuo Essence Tour

Guilin-Yangshuo
Start planning your tailor-made holiday to China by contacting one of our specialists. Once inquired, you'll get a response within 0.5~23.5 hours.
Customize a Trip
Have a question? Get answers from our travel experts or guests
Your Question:

Your Name:

Your Email: