Guilin Map 2023: Updated, Detailed and Downloadable
Famed as one of the top scenic cities in China, Guilin is located in the southwest of China, Guangxi Province, about 460km to Hong Kong and 390km to Guangzhou. There are multiple spectatcular natural and cultural attractions, streching over not only in Guilin city, but also Yangshuo and Longsheng county.
Below are some useful maps for you to travel in Guilin, including Guilin China Map, Guilin Tourist Map, Li River Map, Yangshuo Scenic Map and Longji Terraced Fields Map. All of the detailed and completed maps will help you get a better understanding preparing for your Guilin tour, Yangshuo & Longsheng.
All the Guilin Maps below are downloadable and printabe.
>>Learn More about Yangshuo Maps
>>Learn More about Longsheng Maps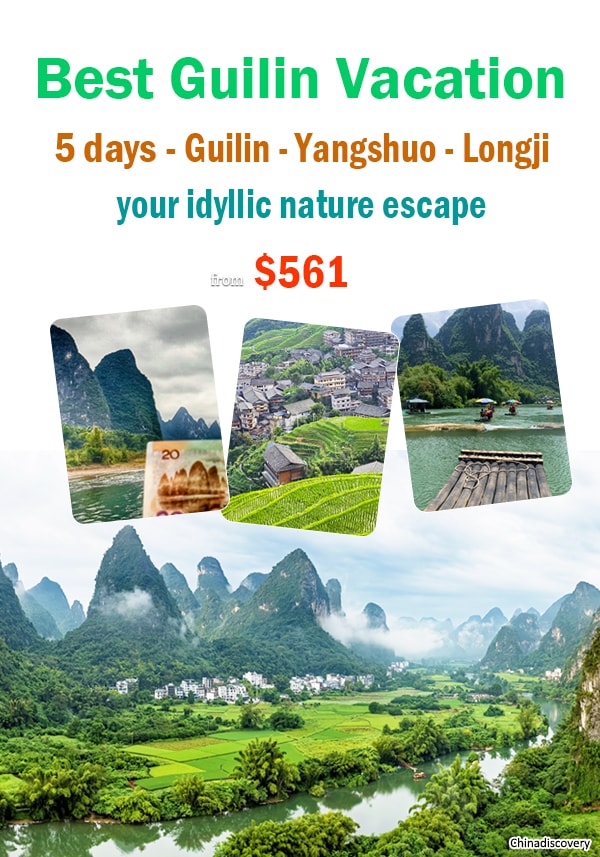 Guilin City Map
To get better understanding of the location of Guilin city, and the administrative areas in different districts, the following Chinese and English maps are provided for your references before your travelling in Guilin.
Guilin Attractions Map
The major attractions in Guilin mainly spread in Guilin city, Yangshuo county and Longsheng county. Yangshuo is located in the southeast of Guilin, 78km to Guilin City, connected by Li River; while Longsheng is in the northwest, 88km to Guilin downtown. All of them are worthwhile scenic spots.
>>Learn More about Guilin to Longsheng
>>Learn More about Yangshuo to Longsheng
>>Learn More about Guilin to Yangshuo
Guilin Transportation Map
Known as one of the top scenic cities in China, Guilin serves millions of tourists every year. Owning 3 major high speed bullet train stations, one airport, and expecting city metro to be built by 2022, Guilin is easily accessible from many other cities in China. Guilin Railway Station is right in the city center, and all other train stations and the airport are reachable in one hour from Guilin downtown by car.
The following maps include Guilin Rail Network Map and Domestic/International Flights to Guilin Map. Since the airport has been reconstructed in 2018, a lot of the facilities are internationalized, and the high speed railway makes it possible for travellers to reach Guilin from most of the major cities in mainland China and Hong Kong with fast speed and security.>>Learn More about Guilin Transportation
How to Plan Your Guilin Tour
A combined tour of idyllic Guilin with the picturesque Yangshuo county and Longsheng county nearby is the most popular choice for tourists. You can either visit the attractions such as Elephant Trunk Hill, Reed Flute Cave in Guilin City, and try the Li River Cruise there to Yangshuo where you can get to experience the bamboo rafting and biking tour, enjoying the stunning karst landscape such as the Moon Hill and taking pictures at Xianggong Mountains/Ten-Mile Gallery. If you are excited to explore more, Longji Rice Terraces is an amazing trekking spot. You will get to experience the tranquility of the heavenly fairyland in Guilin. Since Guilin has become the 72-hour visa-free city in China, it's even more convenient to get there. Based on your itinerary, budget and schedule, you could plan a Guilin & Yangshuo tour for about 2 days and a trekking tour at Longsheng about 1 day or longer to get a brief or full exploration in Guilin. To connect all the scenic spots you are interested in, please don't hesitate to contact us for professional advices.
>>Learn More Hong Kong Guilin Tours
>>3 Days Classic Guilin Tour - Guilin Brief Vacation
>>4 Days Guilin Highlights Tour (Li River, Yangshuo & Longji Terrace)
>>5 Days Best Guilin In-depth Vacation (Li River, Yangshuo & Longji Terraces)
Travel with China Discovery
If you book a tour from China Discovery, our skilled driver and knowledgeable guide will pick you up at the airport or railway station and escort you to your hotels, restaurant, the pier and other tourist destinations. You won't need to worry about the complicated transportation anymore and just feast on sightseeing.>>Contact us now
We have helped many global travelers enjoy their memorable trips to Guilin for the past few years. Among them, Vijay's family and friends have traveled China for about 20 times with us and visited Guilin for many times, and also shared us their travel story. Travel with China Discovery to create your wonderful Guilin trip memories!
Guilin Attractions
Useful Guilin Travel Guide Info
Extending Readings for Guilin Travel Planning
Recommended Guilin Tours
Top 3 Guilin tours chosen by most customers to explore Guilin in the best way. Check the detailed itinerary,or tailor your own trip now with us.
4 Days Guilin Highlights Tour (Li River, Yangshuo & Longji Terraces)

Guilin / Yangshuo / Longsheng
3 Days Classic Guilin Tour - Guilin Brief Vacation

Guilin / Yangshuo
5 Days Best Guilin In-depth Vacation (Li River, Yangshuo & Longji Terraces)

Guilin / Longsheng / Guilin / Yangshuo