Guangzhou Metro Map: Latest & PDF Downloadable Subway Map 2023/2024
Guangzhou city is covered with a huge metro system with 14 lines. By taking those cheap, fast, punctual and convenient metro lines (or called subway lines), you can travel to almost anywhere within the city. Therefore, the metros must be the best choice for you to go around the city, especially at your free hours during your business travel in Guangzhou.
The following latest Guangzhou metro map shows you all the Guangzhou subway lines and the major connecting attractions, train stations and airport on each line. You can download it to your phone or print it out to have a better plan your Guangzhou tour. If you are interested, you can also check Guangzhou Metro to get more detailed stations and highlights along each metro line.
Line 1: Chen Clan Academy (陈家祠), Guangzhou People's Park (广州人民公园), Guangzhou East Railway Station (广州东站)
Line 2: Guangzhou South Railway Station (广州南站), Sun Yat-sen Memorial Hall (纪念堂), Guangzhou People's Park (广州人民公园), Yuexiu Park (越秀公园), Guangzhou Railway Station (广州火车站)
Line 3: Canton Tower (广州塔), Baiyun Airport (广州白云机场), Guangzhou East Railway Station (广州东站)
Line 4: Nansha Passenger Port (南沙客运港)
Line 5: Guangzhou Railway Station (广州火车站), Guangzhou Zoo (广州动物园)
Line 6: Beijing Lu (北京路), Haizhu Square (海珠广场)
Line 7: Guangzhou South Railway Station (广州南站), Hanxi Changlong (汉溪长隆)
Line 9: Guangzhou North Railway Station (广州北站)
APM Line: Canton Tower (广州塔), Guangzhou Opera House (大剧院)
Guangfo Line: Foshan Zumiao (祖庙)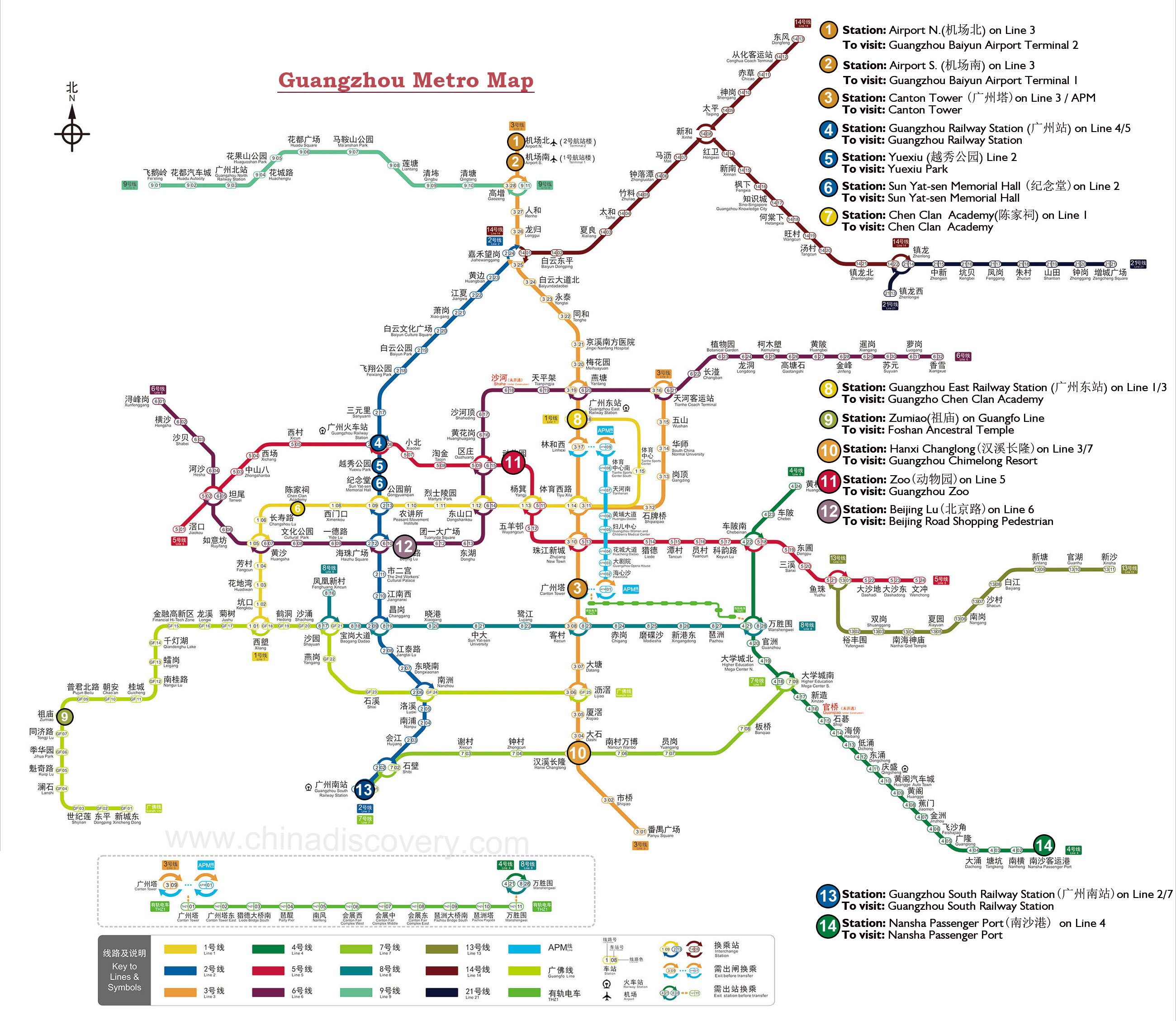 Click to Enlarge Guangzhou Metro Map (updated in November, 2019 - check latest metro lines at official website)
How to Plan a Guangzhou Tour
Usually, it takes about 2-3 days for the travelers coming to Guangzhou to savor the delicate and delicious Cantonese Food and catch its top classic highlights like Chen Clan Ancestral Hall, Canton Tower, Museum of the Mausoleum of Nanyue King, Yuexiu Park, Temple of the Six Banyan Trees, Sun Yat-sen Memorial Hall, Shamian Island, Pearl River, etc.
>> 2 Days Guangzhou Best Essence Savory Tour
>> 3 Days Guangzhou Short Stay Tour
If you are traveling Guangzhou with your family, you can spend 1-2 or more days to visit Chimelong Safari Park to create more happy memory with your kids.
>> 4 Days Guangzhou Family with Kids Tour
For the visitors on business travel to attend the Canton Fair (usually lasts for 3 days) in Guangzhou, you are suggested to spend 6 days in total to enjoy the big global event and also explore the famous attractions of Guangzhou.
>> 6 Days Canton Fair & Guangzhou Highlights Tour
All Useful Guangzhou Maps You May Be Interested
Top Attractions in & around Guangzhou
Other Useful Travel Articles of Guangzhou